At present, museums are still operating, albeit with extra safeguarding measures in place.
While we love hanging out in Singapore's prettiest outdoor places, in this current climate we're spending more and more time at home. Yes, we're full of ideas and inspo regarding social-distanced activities to do, but are there still things to do outside the home? Totally! In light of the Covid-19 situation, the Ministry of Health has laid out some safeguarding measures for malls, museums and attractions to take note of. As well as travel declarations, temperature screening and reducing operating capacities to ensure venues don't have more than one person per 16 square metres of usable space, they have also ensured all guided tours and shows within attractions are cancelled. Wherever you choose to visit, just remember to practise social distancing – and wash your hands. Read on for our updated guide to the kid-friendly museums in Singapore right now.
ArtScience Museum
Thinking of bringing the kids to the ArtScience Museum? If you are, take note: the museum has safe distancing and capacity control measures in place, and have suspended museum tours as well. Remember to adhere to the queue markers and stand at least one metre apart from other visitors. Plus, its operating capacity in the galleries are reduced in light of the Covid-19 situation. As such, tickets are limited, so purchase them online before heading down. Take note, you'll also have to take your temperature and fill out a form before entering the museum.
Where: ArtScience Museum, 6 Bayfront Ave, Singapore 018974
2219: Futures Imagined
Until further notice
Why dwell on the past when you can explore the future? Discover the possible futures of Singapore 200 years from now in a series of interactive experiences, films, sculptures and paintings at 2219: Futures Imagined. There's also a drop-in workshop that'll teach you how to make special paper beads using recycled materials. Cool!
Future World: Where Art Meets Science
Ongoing
Immerse yourself in a world of art through these digital interactive installations created by teamLab. There are a total of 16 artworks across four themes: City in a Garden, Sanctuary, Park and Space. Each theme has several installations that tell a unique story, with interactive activities for the whole family to participate in. For example, head to the Sketch Piston to create your own symphony of sounds. Or, pop by the Sketch Aquarium, where you'll get to see aquatic animals come to life on a screen. You'll be able to add to this aquarium by submitting your own drawing of an underwater animal of your choice, too. Fun and totally kid-friendly.
Asian Civilisations Museum
The good news: this kid-friendly museum is still open. Temperature screening will be taken prior to entry, and you'll have to fill in a registration form, too.
Where: Asian Civilisations Museum, 1 Empress Place, Singapore 179555
Southeast Asia in the World
Ongoing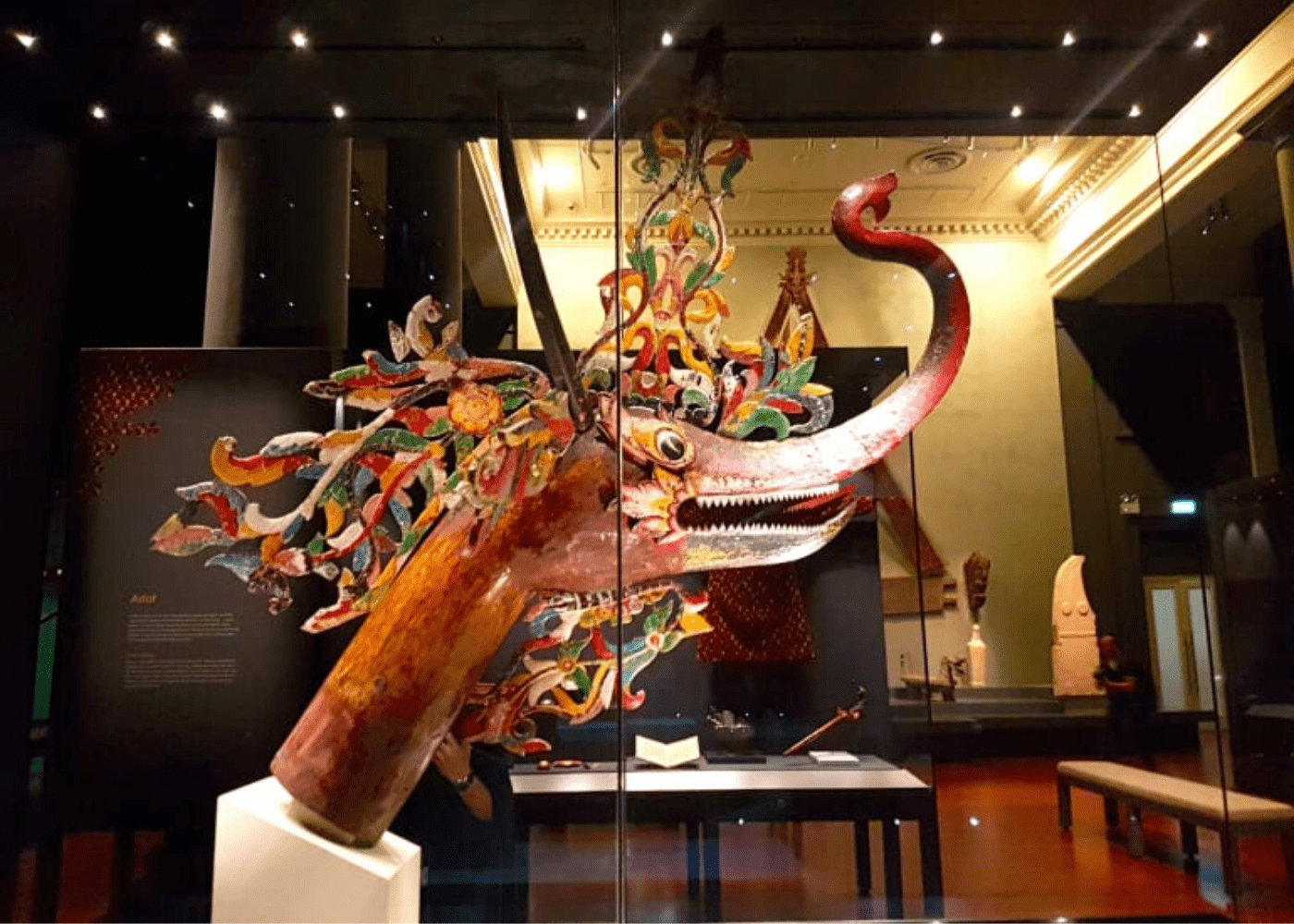 The Asian Civilisations Museum now has permanent galleries on Christian Art, Islamic Art and Ancestors and Rituals to highlight the importance of Southeast Asia in the World. The exhibits focus on art that demonstrates an exchange of ideas and cultural interactions within Southeast Asia and between Asia and Europe. Grab one of the colourful activity booklets (complete with stickers and postcards) and try out the new museum trails to discover how faith and belief have spread across Asia through religious art.
Living With Ink: The Collection of Dr. Tan Sze Chor
Till 26 April 2020
Explore the passions of Chinese art as you take a glimpse into the Singapore art world in the 20th Century with this current exhibition at the Asian Civilisations Museum. The exhibition features more than 130 Chinese paintings from Dr. Tan Sze Chor's collection from renowned Chinese artists as well as Singaporean artists from the 1930s to 1980s. It'll only be around till 26 April, so don't miss it!
National Museum of Singapore
The National Museum of Singapore has always been one of our favourite kid-friendly museums to visit. If you're thinking of taking the little ones along, take note: the museum will be implementing temperature taking and will require you to fill out a form prior to entering its premises. As such, there may be a delay.
Where: National Museum of Singapore, 93 Stamford Road, Singapore 178897
The Glass Rotunda: Story of the Forest and Singapore, Very Old Tree
Ongoing
Our kids can't get enough of the larger-than-life, kid-friendly and interactive installation, Story of the Forest at the National Museum of Singapore! The installation mimics the sights and sounds of Southeast Asia's lush tropical rainforests by transforming 69 drawings (from the William Farquhar Collection of Natural History Drawings collections) to life in a virtual experience that will blow the whole family away. Get up close and personal with awesome flora and fauna: watch out for our favourite, the Malayan Tapir! Once you're done with interactive heaven, do check out Singapore, Very Old Tree: a phenomenal photography exhibition by renowned local artist, Robert Zhao. The 17-piece collection explores the nation's identity as a 'Garden City' by shining the spotlight on some of the most iconic trees across the island.
The SPF200 Exhibition: Frontier Town to Safest City
Until 17 May 2020
Singapore's a pretty safe city, and we're really thankful for that. But safety in Singapore shouldn't be taken for granted – especially with its past history of riots and violent incidents that have shaken the country to its core. Well, take a look at some of these learning points and explore the history of the Singapore Police Force in this exhibition! Travel back 200 years ago when the city's police force consisted of only 12 men and how it has expanded to the force it is today. Look through archival photos, videos and artefacts that police officers have faced! It's pretty interesting and definitely worth taking a look around with the kids.
National Gallery Singapore
The National Gallery is famed for having multiple entrances, making accessing this kid-friendly museum super easy! However, due to the current Covid-19 situation, there will be designated entrances and exits for museum visitors. Additionally, if you've travelled to any country within the last 14 days, you will not be permitted into the museum. Oh, and the museum will be taking the temperatures of each guest before entering as well. Events, programmes and guided tours are cancelled but will hopefully resume after 30 April, although be sure to double check just in case that changes. Plus, the museum has reduced its visitor capacity for several galleries, which may result in some waiting time.
Where: National Gallery Singapore, 1 St Andrew's Road, Singapore 178957
City Hall: If Walls Could Talk
On until 29 August 2021
Travel back in time in this multimedia experience and get front-row seats to defining events in City Hall: If Walls Could Talk. From the swearing-in of the nation's first president to the unveiling of the national flag, get an insight into pivotal moments of Singapore's history through augmented content and an interactive digital wall.
Gardens by the Bay
Unfortunately, all indoor and outdoor shows at Gardens by the Bay will be suspended until further notice, as will the Far East Organization's Children's Garden (sob). Additionally, in practising safe distancing, the number of visitors allowed in the indoor attractions will be reduced. You'll have to fill out a declaration form, too. As such, be prepared to wait in line, or head early to the venue.
Where: Gardens by the Bay, 18 Marina Gardens Dr, Singapore 018953
Floral Fantasy, Gardens by the Bay
Ongoing
We've explored every inch of Gardens by the Bay including the Flower Dome and Cloud Forest, which is why we're excited to have not one, but four new garden landscapes to explore at Floral Fantasy, including a 4D ride as a dragonfly (currently closed though; see above). Dance, drift, waltz or float away on bubbling brooks, past waterfalls, hanging plants and more at this attraction. Super kid-friendly – be prepared to take plenty of photos!
Science Centre Singapore
Likewise, visitors to the Science Centre Singapore will be subjected to mandatory temperature screening. In addition, if you have a fever, cough, runny nose or shortness of breath, you will not be allowed entry into the centre. Within the facility, there are markers in place for visitors to practise safe distancing from other guests. Looking to get some grub before or after your visit? Science Centre Singapore's food and beverage outlets are reducing its capacity for diners to ensure that social distancing measures are still adhered to. So, best get a quick bite at home before you visit this kid-friendly museum!
Where: Science Centre Singapore, 15 Science Centre Road, Singapore 609081
Future Makers
Ongoing
The permanent exhibition at the Science Centre is ready to wow all future makers with an object theatre boasting moving screens and very important missions for all little engineers. Once you've been briefed on the mission, you can check out the interactive exhibits and earn secret codes to play an escape room. Put your piloting skills to the test at the special drone-rover arena; you can even bring your own drone or RC car to pilot. It's a dry-weather activity only so be sure to go when the sun's out!
Phobia: The Science of Fear
Ongoing
Most of us have a phobia (spiders, yuck!) and this addition to Science Centre Singapore is a permanent exhibit exploring fear from a historical, cultural and psychological perspective. Kids will be taken on a journey through the different types of fears, from the fear of being buried alive to monsters under the bed and even every student's worst fear – exams! Better prep the kiddos for some hair-raising moments.
Know Your Poo
Ongoing
Be sure to bring the kiddos to this fun exhibition about poo and all things related to bodily function. Learn the history and evolution of sanitation and toilets through interactive exhibits! Identify what you should or shouldn't flush down the toilet, learn what makes fart smelly and pose for a picture with the porcelain royal throne. It's an entertaining exhibit that will blow you away!
Butterflies Up-Close
Ongoing
Hands up if your kids made you read one of the all-time favourite classics, The Very Hungry Caterpillar, a gazillion times as part of the bedtime routine? Little ones LOVE following the story of that greedy little critter all the way through to its transformation into the prettiest butterfly in the garden. They can meet a small army of caterpillars and butterflies (more than 500 at the last count) that have crawled and fluttered their way over to the Science Centre's colourful, interactive display.
Omni-Theatre — SE Asia's First 8K 3D Digital Dome Theatre
Cancelled till further notice
Asia's first-ever 8K 3D Digital Dome is screening five fantastic shows in a totally immersive experience across a 23m seamless screen: a learning journey like no other! Venture into the wilds of the rainforest in this showing of Great Bear Rainforest.
Playeum
Unfortunately, one of our favourite kid-friendly museums, Playeum, is currently closed because of the Covid-19 situation. For more updates, be sure to join its mailing list to find out when it'll open again!
Where: Playeum, Gillman Barracks, 47 Malan Road, #01-21/22/23, Singapore 109444
I-Opener
Closed till further notice
Playeum's sixth hands-on exhibition I-Opener is the brainchild of four artists with a disability: Dr Dawn-joy Leong, Cavan Chang, Sol Pickens and Jo Devadason. One of our favourite hands-on exhibits for little ones aged one to 12 has all sorts of inclusive sensory experiences to spark imagination in kids of all abilities. Expect light projections, a tactile soft area to chill out in (bubs will LOVE it – check out our main picture), shadow puppets and even a space where you can paint using just the movement of your eyes! We're suckers for the maker space, too. Just watch out for those hot glue guns…
Ion Sky
Similarly to Playeum, Ion Sky is currently closed till further notice. If you've purchased your ticket, it'll be reinstated and its validity will be extended till 30 June 2020. In the meantime, check out Ion Orchard's website for updates.
Where: Ion Sky, Orchard Turn, Level 56, Singapore 238801
Adventures in Food Wonderland
Currently closed
We bet you didn't know about this projection light show in the heart of Orchard Road! Bring the kids round to Ion Sky and get to know Ang Ku Kueh Girl and her friends in this exhilarating adventure through food wonderland. See whether you can spot local delights like nasi lemak, roti prata, pineapple tarts and more as you walk through the gallery.
Marina Bay Sands
Marina Bay Sands has safe distancing and contact tracing measures in place, as well as temperature screening of guests as well. Be sure to head early to avoid disappointment and long wait lines.
Where: Marina Bay Sands, The Shoppes, 10 Bayfront Ave, Singapore 018956, p. 6688 8888
Digital Life Canvas, Marina Bay Sands, The Shoppes
Ongoing
We may have lost (for now) one of the few ice skating rinks we have in Singapore, but we'll let that go because its replacement is really pretty awesome! Where there was once fake ice, there is now an amazing light sculpture and LED floor, all part of Digital Life Canvas, a collaboration with teamLab. Expect some pretty impressive light imagery – birds flying through the light sculpture while fish dart about beneath your feet, and flowers blooming underfoot are all part of the fun.
Malay Heritage Centre
Going to the Malay Heritage Centre? The kid-friendly museum will be implementing temperature taking and safe distancing measures in light of the current Covid-19 situation.
Where: Malay Heritage Centre, 85 Sultan Gate Singapore 198501
Ongoing
Head over to Istana Kampong Gelam (aka the Malay Heritage Centre), the former home of the Sultanate of Singapore, for a cool history lesson and to check out the permanent exhibits showcasing the colourful history and culture of the Malay community in Singapore. There are six galleries spread over two levels, so plenty to keep everyone busy with!
Madame Tussauds
Looking to see some celebs in the flesh? Well, they're mostly made out of wax, but regardless, you'll be able to see them in person at Madame Tussauds as it is still open to visitors. However, its Marvel 4D cinema will be closed till 30 April 2020 (subject to change). Take note: temperature checks will be taken, and hand sanitiser will be offered to guests before entering the attraction as well. Oh, you'll also need to practise safe distancing while you're there.
Where: Madame Tussauds, Sentosa, 40 Imbiah Road, Singapore 099700
Ongoing
Are your kids big fans of football stars and heart-throb boy bands? Take them on a trip to celebville at Madame Tussauds, where they can share the stage with One Direction, test their sporting skills against heroes like David Beckham or shake hands with the world's biggest political leaders. For a nice breather after an afternoon of fawning over wax versions of your idols, take a boat ride through an enchanted Singapore forest where you'll be treated to mini Singapore in its all swanky splendour.
Urban Redevelopment Authority Centre
If you're heading to the Urban Redevelopment Authority Centre, be prepared to fill up a declaration form and have your temperature taken. Be sure to practise safe distancing when in queues or in waiting areas.
Where: The URA Centre, 45 Maxwell Road, Singapore 069118
Singapore City Gallery
Ongoing
If you've ever wished for the ability to see into the future then you're in luck! Head over to the Singapore City Gallery exhibit, where you'll find the fascinating story of Singapore's massive urban renewal and also get a look at the future plans for our small, but mighty city. Kids will love getting a bird's eye view of large-scale architectural models where they will keep busy trying to find their home on the island-wide model! Our personal highlights? Interacting with the old and new streetscapes while discovering the history behind some of Singapore's heritage gems at the 'A Brush With History' exhibit, and journeying through Singapore's hidden urban systems in 'How Our City Works'. Family winner for sure.
River Safari
Heading to the River Safari? The park is still open, however, several attractions such as the Reservoir Cruise, Amazon River Quest and Squirrel Monkey Forest have been suspended. Mandatory temperature screening and queue markers are currently in place for guests to practise safe distancing. Additionally, its food and beverage outlets have reduced capacity so that diners can spread out. Make sure to remember to practise good hygiene, too.
Where: River Safari, 80 Mandai Lake Road, Singapore 729826
Amazon Flooded Forest
Ongoing
Travel to the Amazon, the second-longest river in the world, at River Safari's Amazon Flooded Forest exhibits. This enormous freshwater aquarium transports you straight into the flooded waters of the river and offers different immersive experiences thanks to its multi-levels of viewing. We'd also suggest ending the day with a boat ride down the Amazon River Quest for an exciting, scenic end to the day.
Lee Kong Chian Natural History Museum
Unfortunately, one of our favourite kid-friendly museums, the Lee Kong Chian Natural History Museum is currently closed. Lookout for its re-opening date on its website soon, though.
Where: Lee Kong Chian Natural History Museum, Faculty of Science, National University of Singapore, 2 Conservatory Drive, Singapore 117377
Closed
The two-storey gallery is the place to go if you're keen to learn more about the Earth's history and diversity, plus get up close and personal with iconic specimens of Singapore's geology and ecosystem. From a slice of the rare (and now locally extinct) Changi tree, to the Singapore sperm whale, examine the weird and wonderful from our very own shores. Did we mention there's dinosaur fossils?
Trick Eye Museum
(No) Thanks to Covid-19, the kid-friendly Trick Eye Museum will be opened from Thursdays to Tuesdays (closed on Wednesdays) from 10am to 6pm. Plan your schedules accordingly!
Ongoing
For an afternoon of giggles and optical illusions, head to the Trick Eye Museum. This place is all about the art of turning two-dimensional paintings into three-dimensional scenes – just watch how the surfaces of the museum walls, floors and ceilings come alive! Arm yourself with a camera, get creative with your poses and go nuts creating the wackiest visual narratives at the various themed galleries. We've taken too many hilarious photos here to count.
Where: Trick Eye Museum, 26 Sentosa Gateway, Resorts World Sentosa, Singapore 098138
Cancelled
Unfortunately, thanks to the Covid-19 situation in Singapore, these events are currently cancelled. Look out for them when the situation improves!
Arts in Your Neighbourhood
Looking for a fun activity to do during the holiday break? We reckon you should take the kids exploring and learning more about Bukit Panjang with exhibitions at this edition of Arts in Your Neighbourhood (AYN)! There are tons of family-friendly events ranging from a roving audio installation and dance performances to a street art trail and more where you'll get to learn more about this eclectic neighbourhood. The kiddos can also try their hand with some craft activities, too!
Where: Arts in Your Neighbourhood, various locations in Bukit Panjang