Photography: National Gallery Singapore
Singapore has so many amazing museums, and even better, most are kid-friendly, making for the perfect family day out. Yay!
We love visiting Singapore's museums with the kids in tow – and we're spoilt for choice with so many fab exhibits right on our doorstep. From delving into Singapore's history, as well as nations near and far, to getting up close with wildlife and learning about different habitats – there's a kid-friendly museum for all interests right here in Singapore! Museums never mean boring either. Oh no, we're talking interactive, all-singing-all-dancing exhibits, making any museum trip super-fun and educational. Honestly? We can't think of a better day out with the family. So without further ado, here are our favourite museums and exhibits in Singapore for your next family outing…
Kid-friendly museums and exhibits in Singapore
1. Mint Museum of Toys
Take the youngsters down your memory lane at the Mint Museum of Toys and show them the toys you used to play with back in the day when there were no game consoles. With its world-class collection of vintage toys and childhood memorabilia from more than 40 countries, this place will serve up a heap of nostalgia for parents, and puzzled wonderment for the kids.
Where: Mint Museum of Toys, 26 Seah Street, Singapore 188382
2. Asian Civilisations Museum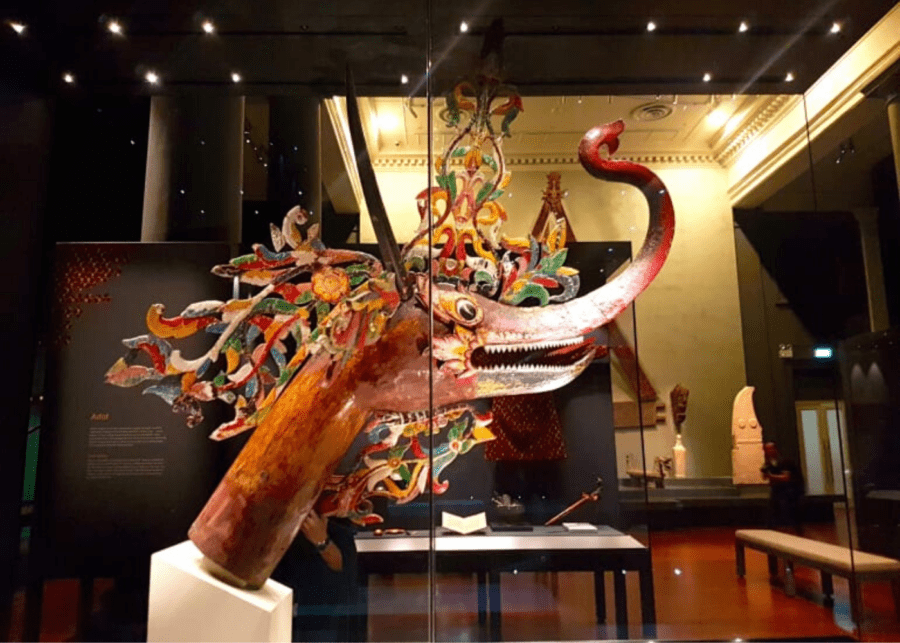 The Asian Civilisations Museum offers up loads of learning opportunities to discover Southeast Asia from a time gone by. We also love their "Let's Learn About…" series, which introduces a new topic every month specifically for the littlies. Besides highlighting the relevant artefacts related to that topic for the kids to hunt down in the museum, there's also a whole host of online activities to keep them busy! Don't forget to grab one of the colourful activity booklets (complete with stickers and postcards) and try out the museum trails.
The exhibit – Apa Khabair? Peranakan Museum in the Making
While the Peranakan Museum is undergoing renovations, this pop-up exhibition is held here to showcase key milestones from the museum's past and present the Peranakan way of life and culture. Walk down memory lane and discover the history of the Peranakan Museum, marvel at the cultural heritage and crafts, and take a look at Peranakan masterpieces.
When: Until 29 May 2022
Where: Asian Civilisations Museum, 1 Empress Place, Singapore 179555
3. National Museum of Singapore
The National Museum of Singapore has always been one of our favourite kid-friendly museums to visit, with plenty of permanent and one-off exhibits to entertain the kids. Don't forget to download your Get Curious: My Family's Stories kit before your visit to accompany your trip for the perfect family day out! Here are some of our favourite exhibits to have on your list:
The exhibit – Homeground
Go back in time and relive the days of travelling to our neighbouring country via land at this installation. Homeground features a life-size replica of the Keretapi Tanah Melayu (KTM) train that used to run from Tanjong Pagar Railway Station. You can also watch a video detailing the station's transformation into the current Railway Corridor. There are drop-in activities that littlies can participate in, too.
When: Until 5 June 2022
The exhibit – Rooting for Change: Artistic Responses to Climate Change & Sustainability
Climate change is a conversation that we need to have with the kids now. Address this global issue with them through Rooting for Change, which is showcased on the LED Wall opposite The Salon. Three multimedia artworks drew inspiration from the museum's collection to create connections between environmental issues that affect us presently and let us imagine what the future will look like.
When: Until 31 July 2022
The exhibit – The Glass Rotunda: Story of the Forest
Our kids can't get enough of the larger-than-life, interactive exhibit that is Story of the Forest at the National Museum of Singapore! The installation mimics the sights and sounds of Southeast Asia's lush tropical rainforests. It transforms 69 drawings (from the William Farquhar Collection of Natural History Drawings collections) to life in a virtual experience that will blow the whole family away. Get up close and personal with awesome flora and fauna: watch out for our favourite, the Malayan Tapir!
When: Permanent exhibit
The exhibit – Singapore, Very Old Tree
Once you're done with interactive heaven at Story of the Forest, do check out Singapore, Very Old Tree: a phenomenal photography exhibition by renowned local artist, Robert Zhao. The 17-piece collection explores the nation's identity as a 'Garden City' by shining the spotlight on some of the most iconic trees across the island.
When: Permanent exhibit
The exhibit – Wings of a Rich Manoeuvre
This majestic piece, hanging high above the bridge at the second level, consists of eight kinetic chandeliers that sway in mid-air with dramatic movement. Each chandelier was constructed from stainless steel and Swarovski crystals so imagine how heavy they are. The little ones will definitely be mesmerised by them!
When: Permanent exhibit
Where: National Museum of Singapore, 93 Stamford Road, Singapore 178897
4. National Gallery Singapore
The National Gallery Singapore is worth a trip for the building alone! And then you've got a collection of fab exhibits, and of course, our all-time favourite: Keppel Centre for Art Education. The latter is filled with hands-on activities to keep all ages entertained, good luck leaving. Here's the lowdown on must-see exhibits for planning your outing:
The exhibit – Children's Biennale 2021
This annual kid's exhibition is our perennial favourite to bring the little people to, and we're beyond pleased that it's back for its third edition in "phytigal" form! Via the theme Why Art Matters, kiddos (and you!) will be empowered with empathy and confidence through nine artworks by artists from Singapore and Southeast Asia.
When: Until 31 December 2022
The exhibit – Keppel Centre for Art Education
This interactive space encourages imagination, creativity and self-led exploration for kids. The little ones can play in this dedicated kids section of the museum. From designing their own virtual sculptures to attending workshops, there's plenty of space to roam around and let their imagination soar.
When: Permanent exhibit
Where: National Gallery Singapore, 1 St Andrew's Road, Singapore 178957
5. Malay Heritage Centre
Head over to Istana Kampong Gelam (aka the Malay Heritage Centre), the former home of the Sultanate of Singapore, for a cool history lesson. Check out the permanent exhibits showcasing the colourful history and culture of the Malay community in Singapore. There are five galleries spread over two levels, so plenty to keep everyone busy! Don't miss Adventures in Nusantara, where you can learn more about Singapore's history and take away useful learning points. Complete the trip by purchasing the mini briefcase activity pack!
The exhibit – Rainbow Connection II
Experience the beauty of a rainbow (that lingers a lot longer) at this outdoor installation. It comprises 500 suspended light modules made from upcycled cookie containers and solar lights. The installation comes alive via shadows, lights, and colour when the individual light units sway and rotate in the wind. The light units have been designed and painted by beneficiaries from social service agency Brighton Connection.
When: Until 29 May 2022
The exhibit – Cerita (Stories) Special Exhibition
This special exhibition shines the spotlight on the shared stories and the role of the storyteller. New and returning visitors can discover fresh insights and perspectives on Malay culture and heritage from the vast Nusantara or Malay archipelago. Guided tours in English, Malay, and Mandarin are available.
When: Until 31 July 2022
Where: Malay Heritage Centre, 85 Sultan Gate, Singapore 198501
6. Indian Heritage Centre
Ever wanted to know how the Indian population in Singapore came to be? Find out at the Indian Heritage Centre with its exhibits full of facts and colourful displays documenting the incredible journey from the Indian sub-continent to Southeast Asia. The exhibit will have you setting off on your own little adventure too, as you explore history from the 1st century right up to the 21st century.
Where: Indian Heritage Centre, 5 Campbell Lane, Singapore 209924
7. Singapore Chinese Cultural Centre
Learn more about the Chinese community in this little red dot at the Singapore Chinese Cultural Centre. Spanning the second level of this museum, the six zones explore the uprising of the Chinese population and culture in Singapore, and how it slowly birthed the unique Chinese Singaporean identity.
The exhibit – Life is Sweet: Ang Ku Kueh Girl
Ang Ku Kueh Girl is one of Singapore's well-known illustrations, which was inspired by creator Wan Shijia's reflections on life's joys and struggles. The character is determined, persistent, and a thankful optimist – traits that Shijia wish she has. Many of these illustrations have been updated with new details and colours. There are also traditional Chinese motifs added to convey Shijia's well-wishes to the visitors of the exhibition.
When: Until 30 June 2022
The exhibit – Mythology RELooked
Venture into the mystical realm and find out more about Chinese mythology in this interactive and immersive art experience. More than 20 art installations and works by local artists are displayed through augmented reality (AR) and digital reactive media. Experience them through your mobile phones as you relive the epic stories of various mythological characters.
When: Until 31 July 2022
Where: Singapore Chinese Cultural Centre, 1 Straits Boulevard, Singapore 018906
8. ArtScience Museum
You'll know ArtScience Museum from its iconic home along Marina Bay. Aside from having some serious Insta credentials from the outside, there are loads to snap inside too. Have your cameras at the ready! We're also big fans of how interactive the exhibits are, especially Future World: Where Art Meets Science. See below for all the full deets!
The exhibit – Hope from Chaos: Pandemic Reflections
Do you remember when the pandemic took over the world? This exhibition, Hope from Chaos, commemorates Covid-19's second anniversary in Singapore. Learn the science behind the infectious disease, and read up on personal stories of artists as they came up with the artworks. The produced works might help visitors tune into their feelings and emotions as everyone navigates the chaos of this pandemic.
When: Until 3 July 2022
The exhibit – Attack On Titan: The Exhibition
Fans of the manga and anime series, this one's for you. Step into a sprawling dystopia and be introduced to a world where the last humans are hiding behind walls to fight against mindless gigantic humanoids. Attack On Titan: The Exhibition features over 180 artworks that cover the manga's earliest days to the present alongside new pieces, drafts, and sketches that have not been displayed. Visitors can even experience an immersive battle sequence that takes place in the Great Titan Theatre!
When: Until 3 July 2022
The exhibit – Future World: Where Art Meets Science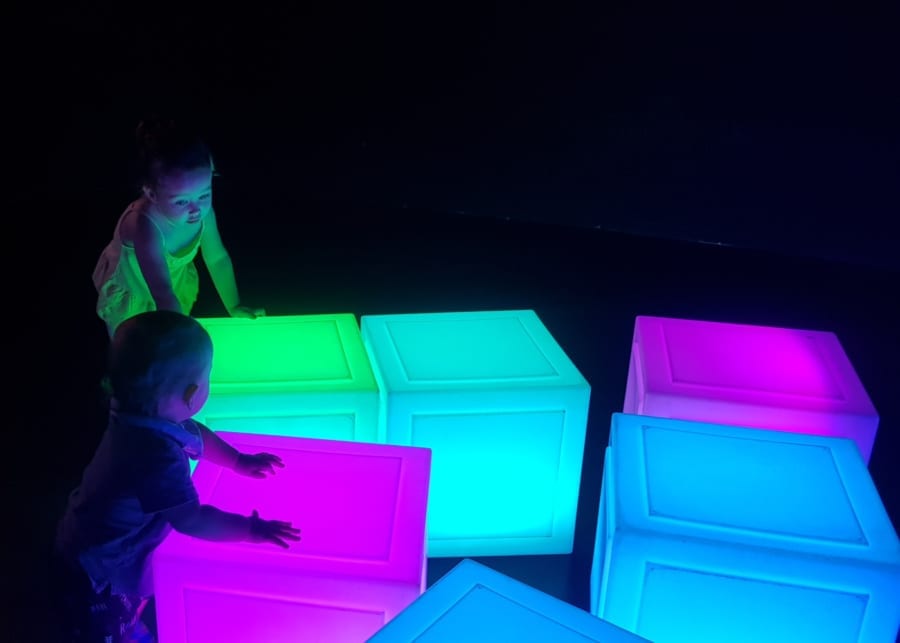 Is this the best exhibit in Singapore? Quite possibly! Immerse yourself in a world of art through digital interactive installations by teamLab at Future World. Each themed zone of the exhibition has several installations that tell a unique story, with interactive family activities to participate in. For example, head to the Sketch Piston to create your own symphony of sounds. Fun and totally kid-friendly.
When: Permanent exhibit
Where: ArtScience Museum, 6 Bayfront Avenue, Singapore 018974
9. River Wonders
Travel to the Amazon, the second-longest river in the world, at River Wonder's Amazon Flooded Forest exhibits. This enormous freshwater aquarium transports you straight into the flooded waters of the river and offers different immersive experiences thanks to its multi-levels of viewing. We'd also suggest a boat ride down the Amazon River Quest for an exciting, scenic end to the day.
Where: River Wonders, 80 Mandai Lake Road, Singapore 729826
10. Madame Tussauds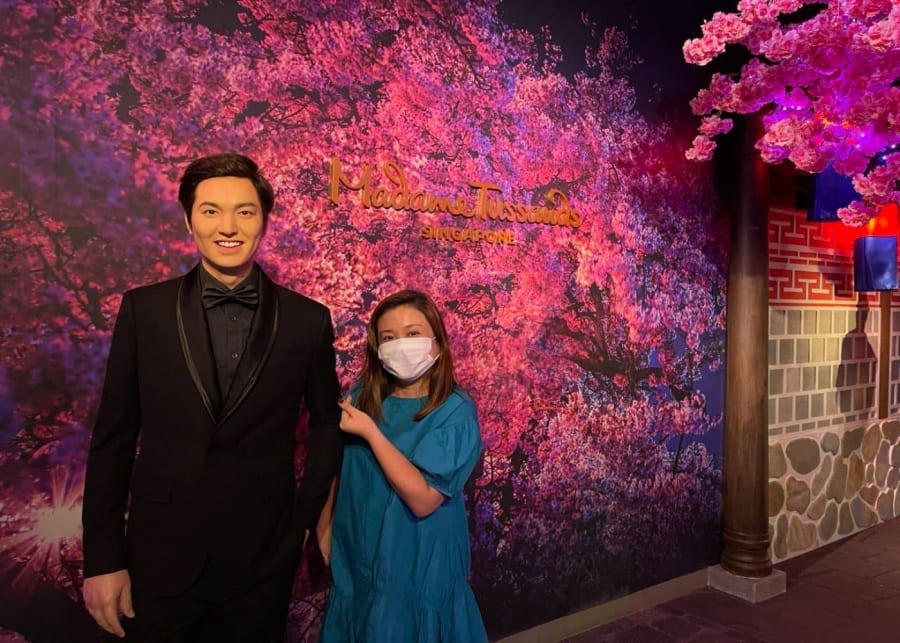 Are your kids big fans of football stars and heartthrob boy bands? Take them on a trip to celebville at Madame Tussauds, where they can share the stage with One Direction, test their sporting skills against heroes like David Beckham or shake hands with the world's biggest political leaders. For a nice breather after an afternoon of fawning over wax versions of your idols, take a boat ride through an enchanted Singapore forest. You'll be treated to mini Singapore in all its swanky splendour.
Plus, don't miss the Images of Singapore exhibition. A 1.5-hour learning journey where kids can learn about the history of Singapore! Follow a time-travelling host as you're transported to different iconic moments in our country's life.
Where: Madame Tussauds, 40 Imbiah Road, Sentosa Island, Singapore 099700
11. Sun Yat Sen Nanyang Memorial Hall
Why study communist China from your social studies textbook when you can just visit a museum instead? If you've ever wanted to know more about the Chinese culture – specifically Dr Sun Yat Sen's revolutionary activities in Southeast Asia and his contribution to Singapore during the 1911 Revolution – you'll want to take a peek into the galleries at Sun Yat Sen Nanyang Memorial Hall. Not only that, but they have loads of one-off kid-friendly exhibits taking place throughout the year, so be sure to keep your eyes peeled!
The exhibit – Wan Qing Dragon Boat Festival 2022
Celebrate Chinese arts, heritage, and culture at this year's Wan Qing Dragon Boat Festival. Find out more about the festival through enthralling storytelling seshs, learn how to make your own dragon boat, and design your own dumpling perfume sachet. Kids can partake in woodblock printing (12 years and above) and festive drumming workshops.
When: Until 3 June 2022
The exhibit – Nian Hua: Of Deities, Guardians and Auspicious Art
A collaboration with the Chongqing China Three Gorges Museum, this special exhibition showcases new year prints produced from the Qing dynasty to the 1980s. These prints, which are deeply rooted in popular beliefs and folk customs, provide insights into the rarely documented attitudes and values of the folks in China.
When: Until 25 September 2022
Where: Sun Yat Sen Nanyang Memorial Hall, 12 Tai Gin Road, Singapore 327874
12. Gardens by the Bay
Gardens by the Bay is one of our favourites for a family day out. There's plenty of outdoor space, amazing (and free!) water play, and a range of food choices. Plus, there are plenty of indoor options, perfect for when you need to cool off or the weather goes array.
The exhibit – Rose Romance
Be transported to Italy with this stunningly beautiful and fragrant rose display. You'll find a plethora of rose varieties in a landscape inspired by Italy, with the narrow, winding alleyways of Italian towns and the rustic, arcadian feel of its countryside. Psst… don't miss this IG-worthy photo op! In a nod to the Italian origins of Romeo and Juliet, one of the most enduring love stories of all time, there's a representation of Verona's famous Juliet balcony.
When: Until 12 June 2022
The exhibit – Otah & Friends Volume 2: Blast Off
The playful otter and friends are back for more fun adventures following last year's successful run. In this brand new game experience, you'll have to race against time to collect seven items that will help launch Otah's rocket into space. Rummage through colourful spaces such as a library and a classroom to uncover these secret tools! There's even a secret room if you look hard enough…
When: Until 30 June 2022
The exhibit – Jumptopia: Wonder Garden
Technically not an exhibit, but Jumptopia: Wonder Garden by Kiztopia has arrived and it's worth a mention. Let the kids run wild and conquer eight indoor garden-themed bouncy castles with a maze, slides, swings, ball pits, obstacle course, and so much more. They'll be all tired out and happy, and you'll definitely get a good night's rest later at home!
When: Until 3 July 2022
The exhibit – Weird but True!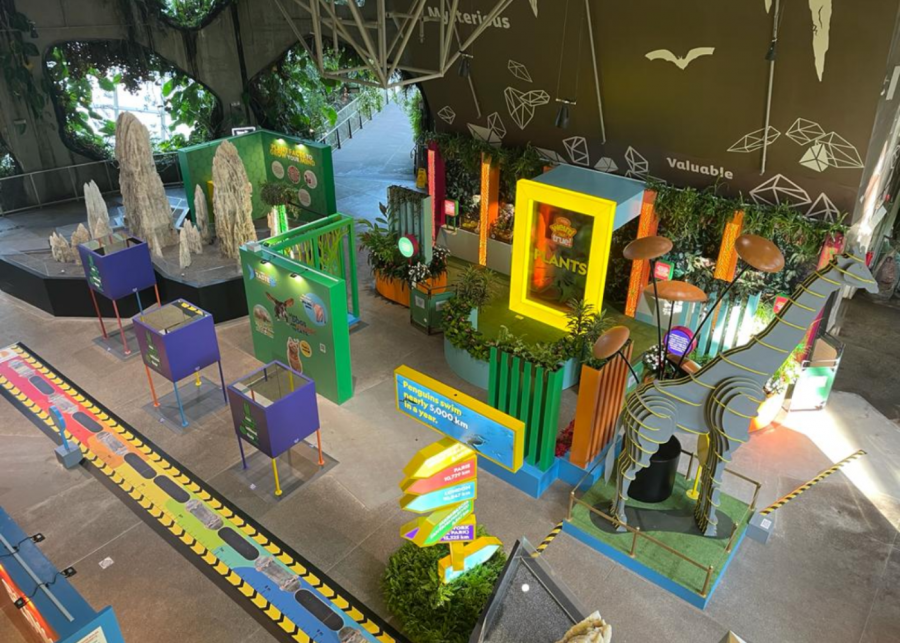 National Geographic is in town and it's bringing kid-fave 'Weird but True' exhibit to the Cloud Forest. And better still, it's the first of four new exhibits to launch, yay! Head on down and be inspired by fun facts about the animal and plant kingdom – it's going to be a wild ride.
When: Until 31 July 2022
The exhibit – Floral Fantasy
We've explored every inch of Gardens by the Bay, including the Flower Dome and Cloud Forest. And that's why we're excited to have not one, but four new garden landscapes to explore at Floral Fantasy. Dance, drift, waltz or float away on bubbling brooks, past waterfalls, hanging plants and more at this attraction. Super kid-friendly – be prepared to take plenty of photos!
When: Permanent exhibit
Where: Gardens by the Bay, 18 Marina Gardens Drive, Singapore 018953
13. Science Centre Singapore
The Science Centre Singapore has exhibits galore for all ages, from the toddlers, right the way through to the reluctant (but sure to be impressed) teens. Make a day of it and be sure to have these fabulous exhibits on your radar:
The exhibit – Brickman Wonders of the World
Travel the world without the need for a passport at Brickman Wonders Of The World. This Lego exhibition features more than 50 larger-than-life replications of the world's most iconic landmarks. Lego bricks will also be scattered at several play-table stations so visitors can come up with their unique creations. Psst, if you're a member of Science Centre Singapore, you can enjoy 10% off tickets until 30 April.
When: Until 3 July 2022
The exhibit – Omni-Theatre — SE Asia's First 8K 3D Digital Dome Theatre
Head over to the Omni-theatre at Science Centre Singapore to watch the latest, larger-than-life encounter with Sea Lions: Life by a Whisker. Or, check out Dinosaurs of Antarctica – you'll be wowed by the spectacle alone, all while being taken on a roar-some adventure through primitive forests and thick swamps to encounter extraordinary dinosaurs!
The exhibit – Future Makers
The permanent exhibition at the Science Centre will wow children and all little engineers. Once you've been briefed on your mission, you can check out the interactive exhibits and earn secret codes to play an escape room. Put your piloting skills to the test at the special drone-rover arena. You can even bring your own drone or RC car to pilot. It's a dry-weather activity only, so be sure to go when the sun's out!
When: Permanent exhibit
The exhibit – Phobia: The Science of Fear
Most of us have a phobia (spiders, yuck!) and this addition to Science Centre Singapore explores fear from a historical, cultural and psychological perspective. Kids will be taken on a journey through the different types of fears. From the fear of being buried alive to monsters under the bed and even every student's worst fear – exams! Better prep the kiddos for some hair-raising moments.
When: Permanent exhibit
The exhibit – Know Your Poo
Be sure to bring the kiddos to this fun exhibition about poo and all things related to bodily function. Learn the history and evolution of sanitation and toilets through interactive exhibits! Identify what you should or shouldn't flush down the toilet, learn what makes farts smell and pose for a picture with the porcelain royal throne!
When: Permanent exhibit
The exhibit – Butterflies Up-Close
Hands up if your kids made you read one of our all-time favourite classics, The Very Hungry Caterpillar, a gazillion times as part of the bedtime routine? Little ones LOVE following the story of that greedy little critter all the way through to its transformation into the prettiest butterfly in the garden. They can meet a small army of caterpillars and butterflies (more than 500 at the last count) that have crawled and fluttered their way over to the Science Centre's colourful, interactive display.
When: Permanent exhibit
The exhibit – Energy Story
Energy is not visible to the naked eye, but it's all around us. This exhibition, jointly presented by Energy Market Authority and SP Group, showcases humankind's progression after discovering energy and its continuous work towards sustainability. There are six zones filled with multimedia displays and interactives where you can learn about the sources, uses, and transformation of energy. There's also a section dedicated to Singapore's energy sector.
When: Permanent exhibit
The exhibit – Earth Alive
Bring the kids 'round this engaging exhibit that takes you through sections explaining the changes that Earth goes through. And, how these changes affect us critically, and what can be done to save the planet.
When: Permanent exhibit
The exhibit – Professor Crackitt's Light Fantastic Mirror Maze
Navigate around Professor Crackitt's laboratory, a life-size labyrinth of mirrors and endless hallways, and help him find his lost pet parrot. Have fun creating coloured shadows around the room! Just be sure not to bump into yourself as you make your way through the identical corridors.
When: Permanent exhibit
The exhibit – The Mind's Eye
Is your little one interested in optical illusions? Or maybe you're a fan yourself. Pop by this curated exhibition that challenges your perspectives and lets you see that things may not always be the way they appear.
When: Permanent exhibit
The exhibit – Smart Nation Playscape
Are your kids into tech? The latest Smart Nation Playscape exhibition might be one to check out. Through eight tech zones, you'll get a glimpse into future technology and its role in developing Singapore. There's also a cool opt-in personalised experience, where you can collect digital stamps and take a snapshot of your journey and receive a 'PlayScape Passport' via email to remember your digital escapade!
When: Permanent exhibit
Where: Science Centre Singapore, 15 Science Centre Road, Singapore 609081
14. Lee Kong Chian Natural History Museum
One of our favourite kid-friendly museums, the Lee Kong Chian Natural History Museum is the place to go if you're keen to learn more about the Earth's history and diversity, plus get up close and personal with iconic specimens of Singapore's geology and ecosystem. From a slice of the rare (and now locally extinct) Changi tree to the Singapore sperm whale, examine the weird and wonderful from our very own shores. Did we mention there are dinosaur fossils?
The exhibit – Body Snatchers
Parasites and body snatchers and zombifying infesters, oh my! Their mere mention is enough to strike terror in most folks. But is their reputation entirely undeserved? In this exhibition, which is separated into three ecosystems (air, land, and water), visitors get to learn the life history of parasites and delve into nature's house of horrors. Prepare to be greeted with an aura of unease and curiosity.
When: Until end-October 2022
Where: Lee Kong Chian Natural History Museum, Faculty of Science, National University of Singapore, 2 Conservatory Drive, Singapore 117377
15. Singapore Discovery Centre
If you're keen to discover (wink wink) Singapore's story, make a trip down to the Singapore Discovery Centre, located near one of the country's military camps. Besides learning more about Singapore's history and future challenges, the kids can have fun in the escape room, watch the latest films at the iWerks Theatre, and enjoy local delicacies at the Bottle Tree Cafe Restaurant. The journey may be far for some, but the enjoyment and discovery are worthwhile.
Where: Singapore Discovery Centre, 510 Upper Jurong Road, Singapore 638365
16. Trick Eye Museum
For an afternoon of giggles and optical illusions, head to the Trick Eye Museum. This place is all about the art of turning two-dimensional paintings into three-dimensional scenes. Just watch how the surfaces of the museum walls, floors and ceilings come alive! Arm yourself with a camera, get creative with your poses and go nuts creating the wackiest visual narratives at the various themed galleries. We've taken too many hilarious photos at this kid-friendly museum to count.
Where: Trick Eye Museum, 26 Sentosa Gateway, Resorts World Sentosa, Singapore 098138
17. Marina Bay Sands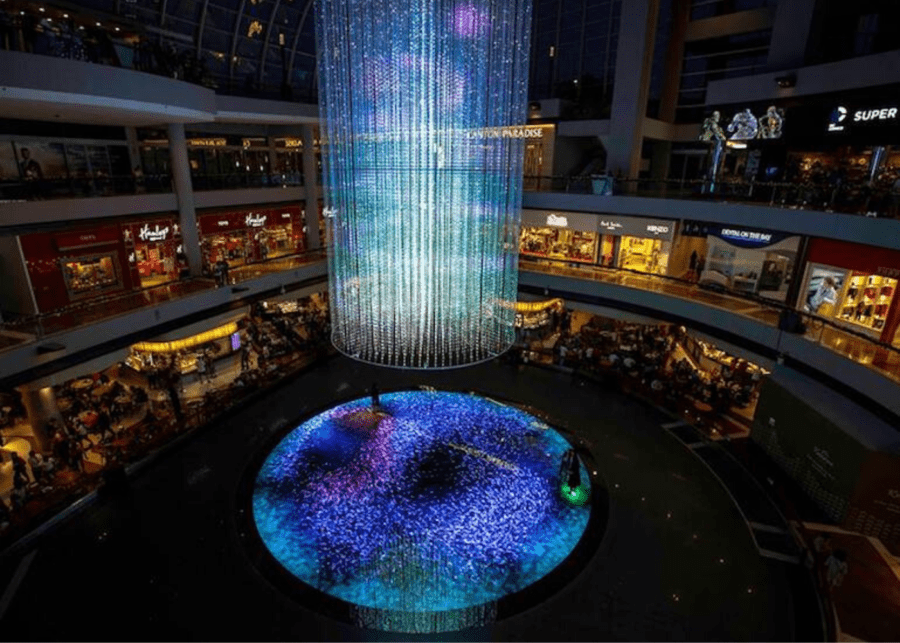 Thought The Shoppes at Marina Bay Sands were just about, well, shops? Think again! Make a beeline for the amazing light sculpture and LED floor, all part of Digital Life Canvas, a collaboration with teamLab. Expect some pretty impressive light imagery. Think birds flying through the light sculpture while fish dart about beneath your feet, and flowers blooming underfoot. It's all part of the fun!
Where: The Shoppes, Marina Bay Sands, 10 Bayfront Avenue, #B2-50, Singapore 018956
18. Singapore Maritime Gallery
Sea voyagers, sailors, and those curious about the sea, the Singapore Maritime Gallery is where you can learn about Singapore's maritime heritage. Keep a lookout for 10 fun facts as you explore the place. Don't forget to pick up an activity booklet so that you can discover more through quizzes, puzzles, and other fun stuff.
Where: Singapore Maritime Gallery, Marina South Pier, 31 Marina Coastal Drive, Level 2, Singapore 018988
19. Sustainable Singapore Gallery at Marina Barrage
Learn more about Singapore's efforts to create a livable and sustainable country for all at the Sustainable Singapore Gallery. Housed on the second floor of Marina Barrage, this 1,618 square-metre modern and interactive gallery is divided into six zones. Each zone addresses the various sustainability themes this tiny dot is working on, such as climate change and food waste management. You'll leave the gallery with lessons learned and a stunning view of the barrage. Psst, head down towards the later part of the afternoon so that you'll get to see a pretty sunset!
Where: Sustainable Singapore Gallery, Marina Barrage, 8 Marina Gardens Drive, Level 2, Singapore 018951
20. Singapore City Gallery at the Urban Redevelopment Authority Centre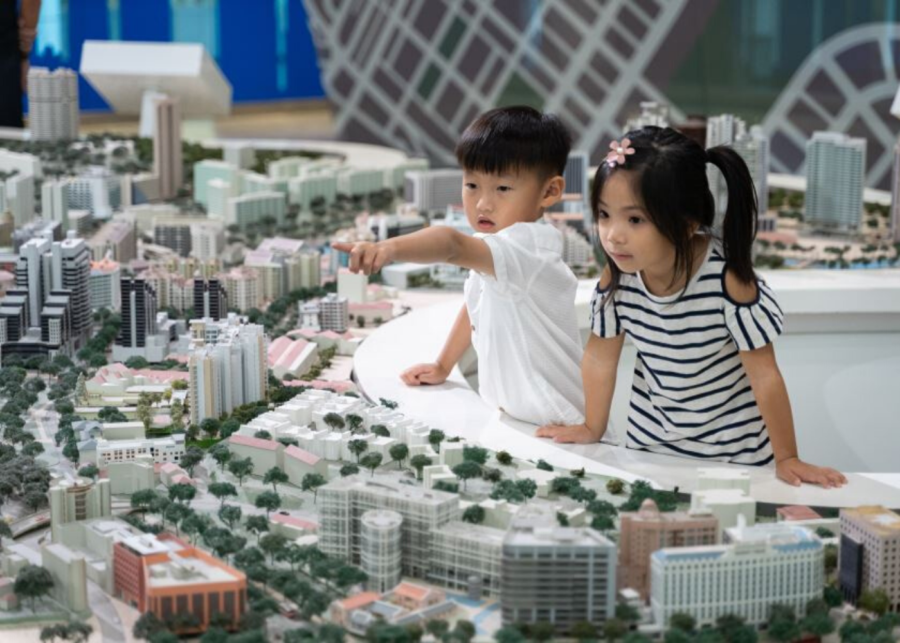 If you've ever wished for the ability to see into the future then you're in luck. Head over to the Singapore City Gallery exhibit, where you'll find the fascinating story of Singapore's massive urban renewal and also get a look at the future plans for our small, but mighty city. Kids will love getting a bird's eye view of large-scale architectural models where they will keep busy trying to find their home on the island-wide model! Our personal highlights? Interacting with the old and new streetscapes while discovering the history behind some of Singapore's heritage gems at the 'A Brush With History' exhibit. Plus, take a journey through Singapore's hidden urban systems in 'How Our City Works'. Family winner for sure.
Where: The URA Centre, 45 Maxwell Road, Singapore 069118
21. Changi Chapel and Museum
Here's another museum in Singapore that delves into the country's history. The Changi Chapel and Museum is a commemorative site that highlights the personal stories, courage, and resilience of prisoners of war (POWs) and folks who were interned in Changi prison camp during the Japanese Occupation. When you're done with the exhibitions, wander around the chapel built by the POWs during their internment. Appreciate how quiet and peaceful the chapel is during your visit.
Where: Changi Chapel and Museum, 1000 Upper Changi Road North, Singapore 507707
22. Changi Experience Studio at Jewel Changi Airport
Take the fam down to Jewel Changi Airport and check out the Changi Experience Studio! Made up of ten interactive zones, you can learn all things Changi as well as get the chance to go behind the scenes and take part in simulations of airport activities. Or, make a day of it and check out the camps and workshops taking place, like the Airport Emergency Service Experience (where you get to meet Changi's very own firefighters!) or the exciting Champions of the Smart Airport RoboMaster workshop.
Where: Changi Experience Studio, Jewel Changi Airport, 78 Airport Boulevard, Level 4, Singapore 819666
23. Hell's Museum at Haw Par Villa
You don't need to wait for Halloween to give the kiddos a little scare – just take them to Hell's Museum. Stretched over 3,800 square meters, visitors will learn more about death and dying through the 10 Courts of Hell. It's all very graphic here, not quite a kid-friendly museum, and defo not recommended for littles under nine years old. But it'll be good to give them a little scare while parents might have a hell of a time!
Where: Hell's Museum, Haw Par Villa, 262 Pasir Panjang Road, Singapore 118628
24. Museum of Ice Cream
When you're at Dempsey Hill, see if you can spot the Museum of Ice Cream's bright pink doors. Spend 90 minutes at the happiest place in Singapore as you interact with 14 fun, quirky installations that include a dragon playground inspired by the one at Toa Payoh and a tunnel filled with over 10,000 bananas in shades of yellow, red, and pink. The kiddos will definitely enjoy jumping around the Inflatable, a bright pink bouncy castle, and Sprinkle Pool, probably the most anticipated installation. Plus, enjoy unlimited servings of delicious ice cream at dedicated stations.
When: Ongoing
Where: Museum of Ice Cream, 100 Loewen Road, Singapore 248837
See you at the museum, folks!