Illustration: Emily Rosadi
Bookmark this guide for all the info on the newest playgrounds, latest fam-friendly restaurants, upcoming kid exhibits, attraction openings, and much more!
Singapore has so many attractions for treating the kids to a fun day out. Still, we're always looking for something new to impress – whether for our energetic littlies or temperamental teens. Luckily, the Little Red Dot always has a new treat in store, be it a museum opening, a fantastic new playground, or a fun theatre show for the fam. The difficulty is finding them. You can call off the search – we've done the hard work and compiled a list of all the best new openings in Singapore! Without further ado, here are all the new things to do with kids in Singapore, including Chaos Lab, the new KidzWorld at Singapore Zoo and Harry Potter: A Forbidden Forest Experience… Make sure you scroll till the end for all the details!
New things to do in Singapore with kids – updated for December 2023
1. Paragon has a new jungle-themed playground!
We were shopping in Paragon recently and were surprised and delighted to see a brand new jungle-themed playground is taking shape on Level 5! As at December 4, this was still under maintenance, but we have it on record that this area will reopen very soon. With a climbing gym and slide for the big kids and a cute bear-themed see-saw, we can't wait to try this out! Keep your eyes peeled, and give us a shout out if you see it in operation with an email to [email protected]. In the meantime, here's a list of our favourite shopping mall playgrounds to enjoy with the kiddos!
2. Get in the Festive spirit with loads of new Christmas-themed events!
Singapore is alive with the Christmas spirit, and there are so many fun things to do to celebrate the festive season! Christmas Wonderland is back again, with snowfall sessions and the always amazing walk of lights. Experience a snowy white Christmas at Ice Magic, and win prizes in the carnival games at Changi Festive Village. There's also Jumptopia at Sands Expo, and plenty of places to meet Santa! Check out our full list of things to do this Christmas for more inspo!
3. Brand new playground at Whampoa Park
We love taking the kids outdoors to explore Singapore's many parks and playgrounds. This week we're celebrating the opening of the new playground at Whampoa Park! Designed for everyone from the kiddos to the grandparents, there's play and gym equipment that will keep the whole fam active and entertained! We can't wait to check out the facilities for ourselves – look at the cool climbing frames and that giant slide. You can find this gem near to Whampoa Community Club.
4. Space Fest
Embark on a cosmic adventure at Space Fest, a big indoor space-themed carnival happening in Singapore at Expo. With over 20 rides and games by Uncle Ringo, F&B and retail booths, food trucks, stage performances and loads of photo opps, this is set to be one super fun space adventure. Admission is free for all, happening from 2 – 31 December at Expo Hall 6.
5. Visit SmileyWorld Town at Downtown East
There's fun at photo opps aplenty at Downtown East's SmileyWorld Town! Test your skills with the 2m-tall giant foam Jenga setup and  nostalgic claw machines. Take a dive in the 5m-long ball pit packed with adorable SmileyWorld floats, or check out the interactive board that'll bring a festive surprise to life. These activities are available daily from 10am to 9pm, so drop by whenever you need a dose of excitement! More info on SmileyWorld can be found over on Honeycombers.
6. New indoor play centre alert: Kiztopia SkyPark at Orchard Cineleisure now open
Looking for a new kid-friendly hangout? Opening in Singapore this weekend, SkyPark is the latest indoor play park, taking over a corner of Level 4 at Orchard Cineleisure. Chill out in the air conditioning rain or shine while the kids run riot. With loads of sporty concepts including rock climbing and adrenaline boosting suspension play, the tasks are set to inspire even the hardest to please tween. We can't wait to check out the multi-level challenges – get ready for a little family competition! There's lots for the littlies too, with  are vertical gyms, a ball pit, and tricycles! Prices start from $15, available online at Klook.
7. Comic Con returns, with appearances from Bluey and Transformers Cybertron Fest!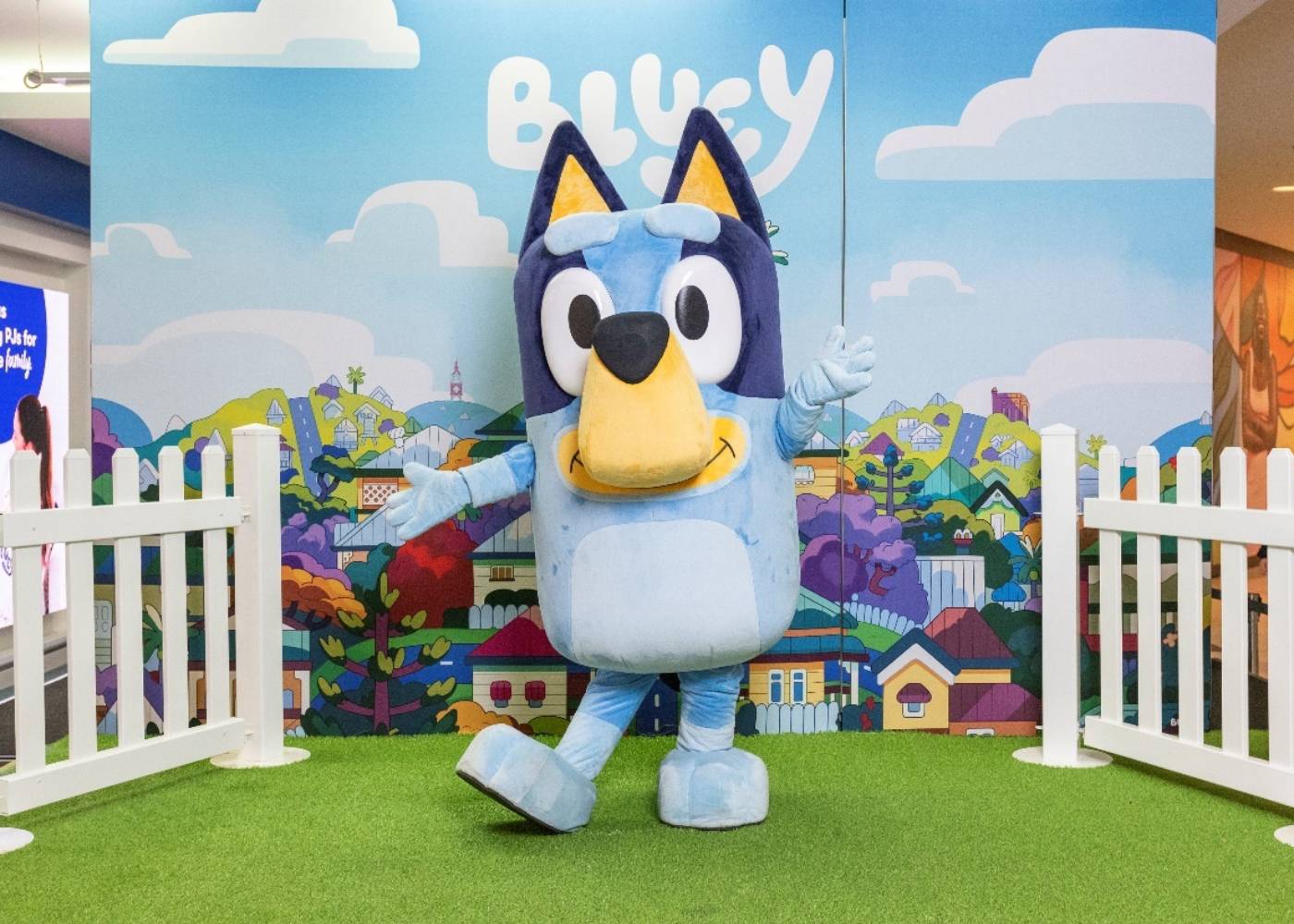 Whether you're a die-hard fan of the sci-fi action film series, an avid gamer or simply young at heart, experience all things futuristic at this Transformers Cyber Tron Fest, happening at Comicon on 9 and 10 December. Including exclusive sneaks and promotions as well as the biggest Transformers fan collection showcase in Singapore, your tweens and teens are sure to love this! Little ones will want to catch a meet-and-greet with everyone's favourite pup, Bluey! Head to Comic Con for more info.
8. Family-friendly blockbuster movies hitting cinemas this month
We love taking the kids to the cinema, and December is a fab month for new movies! First on our list is Wonka, a retelling of a Roald Dahl's much-loved classic. This is the origin story of how the world's greatest inventor, magician and chocolate-maker became the beloved Willy Wonka we know today. There's also Trolls Band Together, a new Marvel movie, and our new favourite from Disney, Wish. Check out our full list of what you need to be booking tickets for!
9. An enchanting new ballet – Cinderella
There's something magical about seeing a ballet at Christmas time, and this brand new production of an all time favourite fairytale classic – Cinderella, is a perfect addition to Christmas festivities. Following the story of the lovely and kind Cinderella following her heart to become the belle of the ball, this is a production that is sure to enthrall. Book your tickets now to this ballet!
When: Thursday, 14 December – Sunday, 17 December 2023
Where: Cinderella by Singapore Ballet, Esplanade Theatre
10. Go glamping with penguins at Bird Paradise!
Looking for something fun and different for a family staycay? Why not try glamping with penguins? We got to check out this cool experience at Bird Paradise recently and went behind the scenes with these cute critters, staying in our very own air conditioned tent where we watched the penguins swim by! It includes exclusive avian encounters and guided tours throughout the day, and there's even a display of the northern lights to send you off to sleep! Minimum age is 5 years old, and prices start from $1,699 per tent of 4 pax. Read our review here!
11. Book your tickets for the Disney Immersive Experience
18 November to 31 December 2023 
Do you love Ariel, and have you ever wanted to feel like you are part of her world? Now you can be, in this very cool experience where you are surrounded by millions of bubbles! Our little ones love a bubble machine at the best of times, but this looks next level… we can't wait to visit the Disney Immersive Animation Experience in Singapore!
12. NEW: Listen in to mini-episodes of our podcast for tips on FREE things to do with the kids in Singapore!
Our host Ange has called on our Editor, Syazana, for all our tips on things to do with the kids in Singapore in these brand new mini-episodes of our HoneyKids Asia podcast. In under ten minutes per episode, we'll cover everything from the latest happenings in Singapore, the best waterparks and loads of ideas for things to do with the kids during the school holidays, and so much more! Check out the latest episode now:
13. Shopping for toys? Check out this new play area at Kiddy Palace, Toa Payoh
Looking to combine toy shopping with some indoor play? Head to the outlet at Toa Payoh (Blk 500 Lorong 6 Toa Payoh #03-30, 310500) and let the kids run wild at Royal Playland! A package of 10 x 1 hour play sessions is for sale online for $200. We've also rounded up all of our favourite toy stores in Singapore, if you're looking for gifting inspo!
14. New fam-friendly cafe alert: Three Little Coconut
Mr. Coconut fans, you can now finally savour your favourite drinks at the brand's newest dine-in establishment. Taking up space in One Punggol, the tropical-themed 30-seater cafe offers desserts and beverages that heavily feature its fruity namesake.
Croffles with coconut ice cream? Check. Coconut cheesecake? You read that right. Peach gum coconut tang shui? Yup, that's on the menu too. Plus, sink your teeth into treats like cendol burnt cheesecake, mango sticky rice cheesecake, and black glutinous rice. Of course, you must get the signature coconut shake when you're here, too. Three Little Coconut, #01-03, One Punggol, 1 Punggol Drive, Singapore 828629. Looking for more inso? Check out our guide to cafes that open early!
15. Get your skates on! Check out Rollermania 3.0, Singapore's first pop-up retro skate rink
A full carpark level transformed into a retro skating rink? Yep, you heard it right! Take a trip back into the 70s and get the thrill of rock and roll right here in Singapore at Rollermania 3.0. Plaza Singapura has completely decked out what was once a dreary old carpark into a disco wonderland full of neon lights and funky music. Lace up and skate away to rock and roll, Swifties, TikTok, and K-pop hits. Haven't skated a day in your life before? Drop by this weekend to catch skating veterans Nick, Faith, and Chuan who will be around to host quick lessons so that you're not falling all over the place.
Make sure you keep scrolling for what else is coming up in 2024!
---
New-ish things that you may have missed…
16. Let the kids go crazy at Chaos Lab!
Chaos Lab features 11 interactive activity stations where you and the fam can let your creativity run wild, mixing it up with a bit of chaos. Get ready for an awesome journey through each activity, taking on the role of an 'intern' under the wing of Chaos Lab's resident 'mad scientist,' Dr. Splat. This entire experience is all about letting loose and having a ton of fun while exploring your wildest imagination! From the Gravity Wall, where you can channel your inner Einstein and learn about the laws of gravity, to the AR Sand, where the kids can dig in, build sand sculptures, and watch them light up, and the super experimental Slime Station for wee scientists – there's heaps more to look forward to. So, book your tickets pronto!
Where: Changi Airport Terminal 2, Viewing Mall North #03-03, Singapore 819643
When: Now until Q2 2024, Monday-Sunday: 11am-10pm, Entry for last session is 9pm
Tickets: Children 0-3: Free, Children 4 to 12: $30, Adults (13 and above): $9
17. Check out the newly opened KidzWorld at Singapore Zoo
If your little ones have been patiently waiting for KidzWorld at Singapore Zoo to open, they're not alone. We think we might be more excited than the kiddos! With brand new play areas (including a wet zone with a water maze and a Treehouse Playground) and new animal encounter experiences, we had a sneak peek and can confirm this is definitely worth a visit on your next trip to the zoo!
If you're heading to Bird Paradise, we hear that Eggsplash waterplay has reopened, so make sure you pack your swimmers and towels! With all this hot weather we've been having you might want to check out our list of free water play areas all around Singapore. If you're a family of thrillseekers, we've also listed out the best waterparks in and around Singapore, with some of the biggest slides!
18. Explore the revamped T2 Terminal
Gather the fam and explore the all-new revamped Terminal 2 (T2), where nature vibes meet modern design. Expect to find a fresh fusion of architecture and nature that the fam will love. Think features like the carpet mimicking natural landscapes, guiding your way, while the ceiling plays host to dancing cloud art. With all those natural materials and calming colours, the terminal's all about giving everyone a chill and peaceful experience.
19. Trifecta is now open! Surf, skate and snowboard at the newest indoor sports arena
We're so excited for the newest sports centre that has just opened in Orchard! Trifecta by The Ride Side is going to be huge – 49,611sqft to be exact, the size of four Olympic swimming pools. Indoors and with a snow arena, surf pool and a hybrid skate bowl, visitors will get to surf, ski and skate all in one place no matter the weather. We can't wait for this! Make sure you keep an eye on our guide to Trifecta for all the latest info and ticket deals.
Things to look out for in January 2024 (and beyond)
If you're someone who's always planning ahead, here are some things that you might want to bookmark:
20. Madagascar the Musical
Fans of the Madagascar movies won't want to miss this! Join Alex the Lion, Marty the Zebra, Melman the Giraffe, Gloria the Hippo and those hilarious, plotting penguins as they bound onto the stage in a musical adventure!
Based on the smash hit DreamWorks animated motion pictures, Madagascar – The Musical follows all your favourite cracka-lackin' friends as they escape from their home in New York's Central Park Zoo and find themselves on an unexpected journey to the madcap world of King Julien's Madagascar.
When: 18 January – 28 January 2024
Where: Madagascar the Musical, Esplanade Theatre
21. Harry Potter: A Forbidden Forest Experience is coming in Feb 2024
Tickets on sale now
Fancy walking through the Forbidden Forest on the fringes of Hogwarts alongside fellow Muggles? You and your budding Potter-heads are in luck. The Harry Potter: A Forbidden Forest Experience is a breathtaking light trail that opens on 3 February 2024 in the awe-inspiring woods of the Coastal Trail on Sentosa Island.
On this trail, you can experience the iconic scenes from the movies! Imagine getting up close with mystical creatures like the Hippogriff, the scary Aragon and many more! You also might not want to alarm the Weasleys' car! Tickets start from $39 for kids and $51 for adults, and are now available for purchase! Other highlights include the iconic wizarding world beverage Butterbeer and exclusive merchandise from the Harry Potter and Fantastic Beasts movies at the gift shop. An unforgettable evening lies ahead!
22. Disney on Ice is returning in 2024!
Disney is turning 100, and as superfans of all things Disney, we are super excited to share that Disney on Ice is returning to Singapore with a new show celebrating 100 years of Wonder! With beloved characters from all your favourite stories brought to life on the ice, buy all the merch and get ready to sing all the songs in the ice-tastic extravaganza!
When: 9 – 17 March 2024
Where: Disney on Ice: 100 Years of Wonder, National Indoor Stadium
Pssst… Check out more kids theatre in Singapore for the tickets you need to book in advance!
We're busy updating this list all the time. So stay tuned for more fam-friendly openings and new things to do in Singapore!