Bookmark this guide for all the info on the newest playgrounds, latest fam-friendly restaurants, upcoming kid exhibits, attraction openings, and much more!
Singapore has so many attractions when it comes to treating the kids to a fun day out, but we're always on the lookout for something new to impress them with – whether it's for our energetic littlies or temperamental teens. Luckily, the Little Red Dot always has a new treat in store, be it a museum opening, a snazzy new playground, or a fun theatre show for the fam. The difficulty is finding them. The good news is you can call off the search because we've done the hard work for you and compiled a list of all the best new openings in Singapore. So, without further ado, here are all the new things to do with kids in Singapore…
New things to do in Singapore with kids
1. Explore the Museum of Ice Cream – opening in August 2021!
You read that right. Our favourite part of town, Dempsey Hill, will soon be home to the Museum of Ice Cream – the stuff of kid's (and, let's be honest, parent's) dreams! Opening the second half of 2021, this is a pretty exclusive import to Singapore, with the original (and only) Museum of Ice Cream being based in NYC. Can't wait until then? Don't fret; you can sample the sweet delights in store ahead of the grand opening at the pop-up store in Design Orchard. Get a sneak peek at one of the 14 installations, plus check out MOIC-themed products. We will be queuing up to sample ice cream from the collaboration with The Ice Cream & Cookie Co!
2. Check out the views at the SkyHelix Sentosa – opening in 2022
Can Sentosa get any more fun? Apparently so, with the new announcement of the SkyHelix Sentosa! Set to open in 2022, this new attraction will be situated in the Imbiah Lookout area of Sentosa and will form an open-air rotating gondola, offering amazing views over Sentosa and beyond! Definitely one for the Singapore bucket list…
3. Extreme thrills aplenty at Slingshot in Clarke Quay – opening in 2021
Got a head for heights? Adrenaline junkies should make a beeline for Slingshot in Clarke Quay, which is due to open later this year. Located next to the existing attraction, GX-5 Extreme Swing, the new addition will take the accolade of the tallest slingshot in Asia! So if you fancy being catapulted 70m into the air, add this to the list. Definitely one for teens and above only!
4. Burn some energy at SuperPark Singapore!
SuperPark Singapore has reopened with over 20 activities for the whole family to enjoy, spread across three zones: an Adventure Area, Game Arena and Freestyle Hall. We're talking trampolines, foam pits, rock walls, and even archery! Then there's a kid-friendly gym, skate and scoot areas, pedal car tracks, a flying fox, obstacle courses… we could go on!
5. Fun for all the family at Coastal PlayGrove in East Coast Park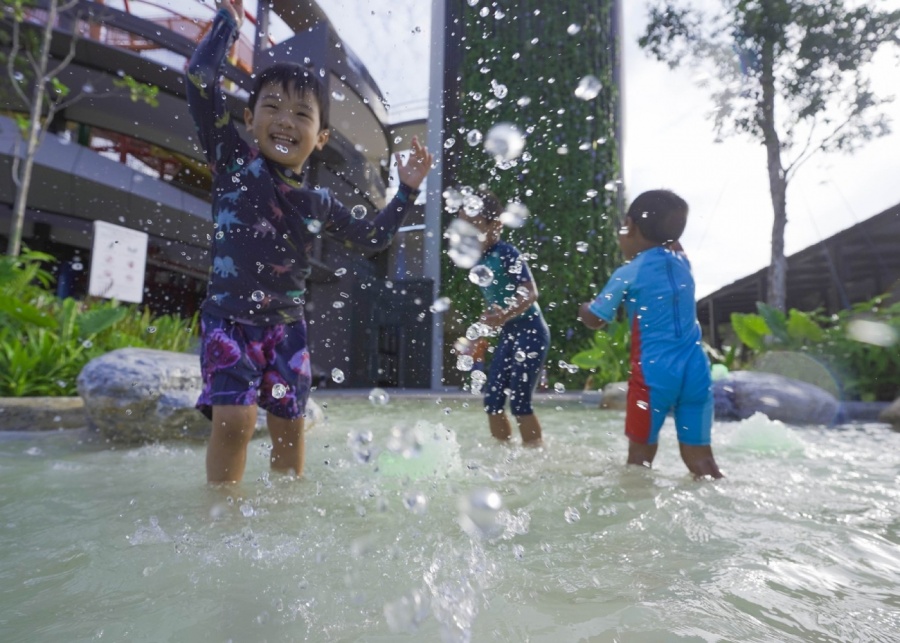 Coastal PlayGrove is the latest play spot to arrive at East Coast Park, with plenty of fun for everyone. Based at the former Big Splash site, there's a nod to its waterpark roots with structures similar in style to the much-loved former waterslides. Older kids will make a beeline for the four-storey play tower filled with netplay areas, rope-based challenges, and of course, tube slides! There's a smaller play area for the littlies and a sand play area, amazing water play, plus a nature playground. Best make a day of it!
6. Get back to nature at COMO Adventure Grove – Singapore Botanic Gardens
West siders don't miss out when it comes to new playgrounds either; Singapore Botanic Gardens just got even more fun with the addition of COMO Adventure Grove. Located in the Gallop Extension, we love that this playground has so many nods to its surroundings. From the weeping fig play structure to the giant jackfruit to clamber over. Then there are the play structures based around the saga tree pods for the little ones to explore. Don't forget a stroll along the Mingxin Foundation Rambler's Ridge before your day is done!
7. Check out the interactive exhibits at the Forest Discovery Centre
Whilst you're in Singapore Botanic Gardens checking out the new COMO Adventure Grove, you should also pop along to Forest Discovery Centre @ OCBC Arboretum. The beautiful black and white bungalow is worth a look for the building alone, and that's before you step inside and check out the interactive displays. The centre shines a spotlight on the amazing biodiversity that this area offers and is a fun, educational (and cool!) option to have on your list post-playground fun!
8. Uncle Ringo's Funfair is in town
We love visiting fam-friendly Punggol,  and now Uncle Ringo's funfair is in town; there's another reason to visit! There are loads of rides to choose from, including a Ferris wheel, train ride, and that favourite pirate ship! Open every Thursday – Sunday until December 2022; there's all-out fun to be had. Plus, the Punggol Container Park has some fab food options, too – yay!
9. I12 Mall in Katong reopens later this year!
After a revamp, I12 Mall in Katong will be opening its new snazzy doors later this year, and we can't wait to check it out! There's indoor fun for the kids with Climb Asia, Golden Village, plus a play area! And we also hear that a PS Cafe will also be opening too, hooray!
10. Adventure Cove is back!
Ok, so not new as such, but we couldn't be more excited about the news that Adventure Cove is reopening this May! Get your discounted tickets for the grand reopening and take on the rapids on the Adventure River, or for thrill-seekers young and old, try the Whirlpool Washout! We'll see you on the rapids!
11. New playground alert for the Westies – Bukit Batok Central playground
What's this? More new play areas to enjoy? That's right, the latest addition to add to that already lengthy list of outdoor playgrounds is another one for the West siders. As part of Bukit Batok Neighbourhood Park, the new play space has plenty to offer up, with kids young and old well catered for. There's netplay, a mini climbing wall, super-duper tube slides, and that's just for starters. Plus, there are some great walks when you've finished up at the playground via the newly opened boardwalk. Add it to the family day out bucket list!
12. Kiztopia is opening new locations in May and July 2021!
Great news – the ever-popular Kiztopia is opening two new Kiztopia clubs at Jurong Point and Punggol Town Square in May and July 2021, respectively! Featuring multiple play zones, trampolines with AR, and vertical climbing structures, the kids are sure to be kept busy! There's also a family cafe for a much-needed pit-stop post play (and your caffeine fix!)
We're busy updating this list all the time, so stay tuned for more fam-friendly openings and new things to do in Singapore coming soon!
Top image: COMO Adventure Grove in Singapore Botanic Gardens, photography by NParks