Bookmark this guide for all the info on the newest playgrounds, latest fam-friendly restaurants, upcoming kid exhibits, attraction openings, and much more!
Singapore has so many attractions when it comes to treating the kids to a fun day out, but we're always on the lookout for something new to impress them with – whether it's for our energetic littlies or temperamental teens. Luckily, the Little Red Dot always has a new treat in store, be it a museum opening, a snazzy new playground, or a fun theatre show for the fam. The difficulty is finding them. The good news is you can call off the search because we've done the hard work for you and compiled a list of all the best new openings in Singapore. So, without further ado, here are all the new things to do with kids in Singapore…
New things to do in Singapore with kids
1. Minion Café
Calling all Minion fans! A Minion café pop-up just rolled up in the buzzing hub of Clarke Quay, and it's serving up some tasty Minion-themed food! Dishes like the Minion big-pan breakfast and Minion Wagyu lunch plate are almost too cute to eat. And the Minion banana boat? To die for! The kitchen is helmed by 1-Group's head chef Tom Kung (so you know the food is fantastic) and the café is adorned with Minion-inspired decor all over t0o. Come by for breakfast, lunch, or dinner, but hurry – the pop-up café isn't here to stay…
2. Terra Madre organic store & restaurant
The trendy Dempsey Hill just got even lovelier with the recent arrival of new resident, Terra Madre. Boasting 6,000 sq ft of space, Terra Madre is Singapore's largest organic and natural store. Seriously, it's massive. The retail store carries over 1,000 products, from baking ingredients to proteins and superfoods. We've got our eyes on its organic Hot Chocolate, just in time for Christmas. And have we mentioned the adjacent restaurant? The Terra Madre restaurant serves up exceptional Australian inspired dishes across breakfast, lunch and dinner. There are also delicious vegetarian and vegan dishes, plus a wide selection of organic drinks. Sounds fab? Check it out!
3. Wild about Twilight at Night Safari
Until 31 December, you can get to know the elusive pangolins through a series of activities at Night Safari. First, catch Berani – a Sunda pangolin – along Leopard Trail as he navigates trees and vines in his new exhibit. Then, go on a walking trail to locate some AR animals by completing challenges on your Animal Quest app. You can also participate in other activities such as the VR journey with Kirra the explorer, get to know the animals you meet on this journey, challenge yourself at Wild Quiz, and let your creativity run wild at Animal Doodles. And last up, snap some cute wefies with its AR animal star – the Sunda pangolin. Fun fun fun!
4. Festive celebrations at Rainforest Lumina
Once you're done at Night Safari, cross over to Rainforest Lumina at Singapore Zoo for snowy night walks. Yep, you heard that right! There will be snowfall at the heart of Singapore Zoo! In this final (and very special) season, the rainforest will be illuminated with Christmas magic. There will also be tons of holiday craft activities for the whole fam to enjoy together. Things, like decorating Christmas ornaments and embarking on the Rainforest Lumina's adventure quest, will surely excite the young ones.
5. Disney exhibition pop-up
Hop in, we're going on an adventure with the one and only Mickey Mouse! From 19 November – 20 March 2022, a Mickey Mouse exhibition, which first made its debut at Disneyland Resort in California, is coming to Suntec Convention Centre. And we're super excited! There will be seven themed experiences filled with multi-dimensional visual displays, where art and the perfect photo ops come together to make magical memories. Other playful surprises to look out for include the giant Minnie Mouse bow sofa in Mickey and Minnie's Love room, Sorcerer Mickey's Magic Room that's filled with fantasy, and the Mickey Loves Singapore thematic room which celebrates all things Singapore. Mickey has come a long way to be here with you in Singapore, so snatch your tickets on Klook!
6. Mrs. Pho House hotpot restaurant
Since we're still waiting for a VTL flight to Vietnam, here's something truly Vietnamese for the whole fam to enjoy (if you like hotpot like we do…). Enter Mrs. Pho House – a new hotpot restaurant from the same people behind the famous Vietnamese joint Mrs. Pho. Located inside Takashimaya shopping centre, we can't think of a better place to refuel after a productive shopping day. Dishes to look forward to include four specialty (and authentic) broths made using the chef's mum's recipe, plus delicious grilled meat, seafood and vegetables. And, young jackfruit nuggets! Yummy…
7. Waterbike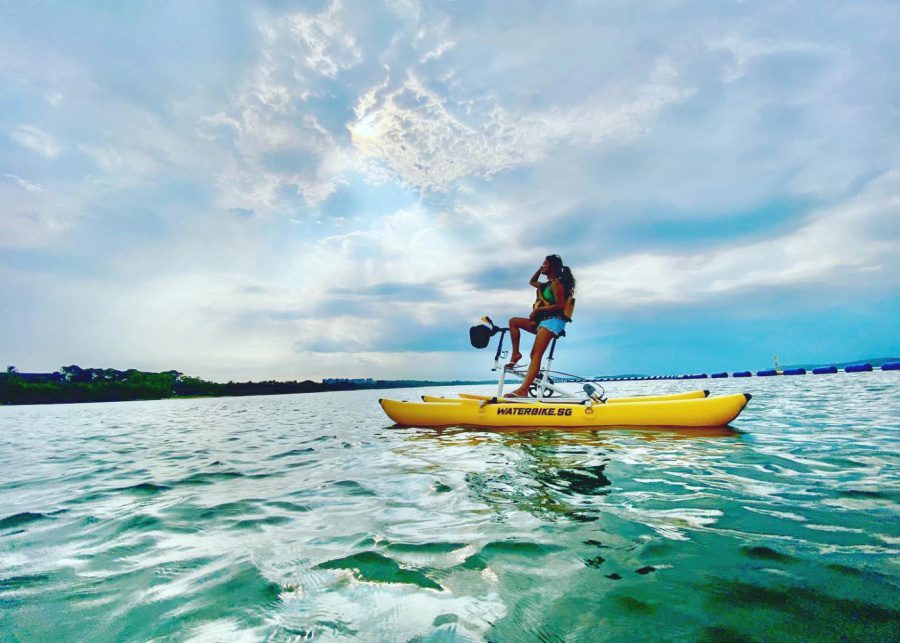 Singapore's got a lot to offer when it comes to cycling. There are cycling trails, indoor cycling studios, and aquatic spin classes too! But have you heard of water biking? If your answer is nope, then you'll definitely want to visit the folks at Waterbike this month. Officially launched on 2 October, Waterbike is a whole new way to have some outdoorsy fun at the beach. You'll get a chance to cycle on water, but instead of wheels, the water bike consists of two floats. It's a safe and easy way to explore the beaches without getting wet or having to balance! Which is great for those who can't keep their balance when standup paddleboarding (that's us)…
8. Singapore Brickfest 2021
Calling all fans of LEGO! A one-of-a-kind LEGO exhibition is happening at ION Gallery from now until 14 November. It focuses on two themes – 'memories' and 'imagine', and features unique fan builds by both local and international Adult Fans of LEGO. Other highlights at the exhibition include a massive medieval castle diorama, various builds by world-class artists such as Kelvin Low and Arthur Cao, and other builds by budding builders from its 'Our Everyday Heroes' competition. You'll also get a chance to participate in online workshops by LEGO master Jeffrey Kong. Plus, stand a chance to win vouchers for use at the LEGO certified store at ION Orchard. Yay!
9. Festival of Lights @ Indian Heritage Centre
Deepavali celebrations are still going strong at the Indian Heritage Centre this month. Whenever you and the kids are ready, head over and take in the sights, sounds, and revelry of this exciting festival. On top of that, the NHB also has a bunch of exciting activities in store just for you! Check out workshops on Indian traditional flower tying, Kolam painting, Oyilattam, Museum Roundtable 25th anniversary travelling exhibition, and more!
10. STEAM Festival at Science Centre Singapore
A whole lotta events are happening at Science Centre Singapore this November, and the kids surely won't want to miss out! Firstly, centre's annual blockbuster event UNTAME: STEAM Festival is still happening from now until December, and features many engaging and immersive cross-platform activities to promote kids' STEAM learning experiences. Secondly, an upcoming series of free onsite activities to commemorate International Science Centre and Science Museum day will take you on an inspiring photo journey through its galleries. Thirdly, the KidsSTOP activities week is also back with tons of exciting activities during this school holiday! And lastly, nab some exclusive merchandise when you participate in the Dinosaurs of Antarctica IG photo contest. Enjoy!
11. Taco Tuesdays @ Super Loco and Lucha Loco
Calling all taco fans! Taco Tuesday is officially a thing in Singapore, and it's happening at Super Loco and Lucha Loco. However, instead of ordering from the existing taco menu, you'll get the chance to create your own tacos! The DIY taco platter consists of one protein and various condiments and sides. At Super Loco Robertson Quay, there's kid-friendly mojo de ajo prawns with achiote mayo, crunchy tajin roasted cauliflower with chickpeas, or chipotle barbecued chicken for those who can handle a mild heat. If you'd like to spice things up a little bit more, opt for the citrus braised pork that's dressed with red mojo sauce. Its DIY taco platter is available every Tuesday from 5pm -10pm, at Super Loco Robertson Quay, Super Loco Customs House, and Lucha Loco Duxton Hill. Each restaurant has a unique selection of new special taco fillings, so you can mix things up!
12. Slurping Good
In conjunction with Eatbox 2021, Slurping Good has officially come to town – an instant noodle-themed playground for all die-hard fans of this piping hot bowl of goodness! Let's be honest – we know how much you love instant noodles, and you'd have it daily if you could (same for us…). So, it'd be a shame if you miss out on this first-ever instant noods pop-up. Some of the things you can expect to ogle at include 13 interactive and Insta-worthy rooms with murals, installations, and games, all instant noodle related! There's also a 1.7-metre tall installation of Nissin's best selling cup noodles, and noodle slides! This is guaranteed to be a hit among both adults and children. Now excuse us while we go make a cup of noodles…
13. Museum of Ice Cream
It's official: the Museum of Ice Cream Singapore is now open in Dempsey Hill! You've no doubt seen this candy-pink attraction sprinkled all over your Instagram feed already (pun intended)! This is a pretty exclusive import to Singapore, with the original (and only) Museum of Ice Cream being based in NYC. We've already explored its 14 never-before-seen installations, dedicated to the celebration and experience of enjoying ice cream! We give a big thumbs-up to the dragon playground, the pink and yellow jungle with 10,000 bananas, and the largest MOIC sprinkle pool ever created! The experience lasts up to 90 minutes, and yes, there are ice-cream tasting stations dotted throughout (which we think is the best part of the tour!). Tickets sell out fast, so be sure to grab yours!
14. Eggslut
The iconic American egg sandwich restaurant, eggslut, has finally rolled up on the shores of Singapore, calling Scotts Square its forever home. Perhaps you've seen its massive yellow banner. And maybe you've come across queues of people waiting to get their first taste. But if you haven't, definitely make a trip down to Orchard this month and check it out! Its menu features six signature sandwiches, and they're all egg-cellent. Be prepared to sink your teeth into the juiciest and fluffiest egg sandwich… and, get ready to wait in line!
15. The Tiara Society
Everyone, and we mean everyone (kids and adults alike) loves fairytales and playing dress-up. Which is why you need to take the whole family to this new indoor playground to satisfy your fairytale fantasy! The Tiara Society's Once Upon A Time is the only royal dress-up playground in Asia, boasting a chamber make-believe concept and an extensive walk-in wardrobe with over 200 princess and prince/knight costumes for both children and adults. There's also an ice palace, a knight's fort, a princess carriage, and a talking tree in the enchanted forest. Have we mentioned there's an escape room for older kids to go on a magical quest through the secret chambers? The Tiara Society also has a preschool enrichment program, Open Book, that takes you and your kiddies on little adventures. Got tweens or teens? Check out their masterclasses and summer camps provided by Open Mind. There's so much to keep kids of all ages occupied! Psst – use the promo code TTSHONEYKIDS10 to nab 10% off party bookings!
16. Crucycle Orchard
So, this isn't exactly a kids' hangout spot. But parents, if you've got older teens and furkids and are in the mood to exercise after one too many Eggslut sandwiches, then you've come to the right place. This swanky new fitness studio has just opened its doors, and it's popping. From spin classes to yoga with weights and high-intensity training classes, this is currently the trendiest studio that all of Singapore's fitness fiends frequent. However, the best part about Crucycle Orchard is, in our opinion, its pet-friendly policy! A workout and the chance to pet furry friends? We're in!
17. Eatbox
Artbox's little sister Eatbox is back for good! Spanning 9000 sqft at Tekka place, it features both local gastronomy and event-grub. Dishes we've been eyeing include live seafood, grilled steaks, burgers, takoyaki, and Thai milk tea. Besides feasting on delicious food, you can snap some cool pics with its many Instagrammable murals, and shop to your heart's content!
18. Spring Rolls Trampoline Park at Forum The Shopping Mall
New indoor playground alert! The new Spring Rolls Trampoline Park at Forum The Shopping Mall is open, and it looks fantastic! While the trampoline park isn't huge, it has everything to keep the kids fully occupied so parents can get a breather too! Here's something very interesting about this new playground: it is fully automated! Yep, you heard that right. There won't be any staff here. Everything is self-service. All you need to do is tap your credit card at the front, and let the kids jump to their heart's content. But, here's a catch: kids can't re-enter for free once they exit. So, make sure they've got everything they need before going in. It's located at level B1 at Forum The Shopping Mall. Once they're done bouncing around, don't forget to check out the new Eggslut right next door if you haven't been!
19. Mud Krank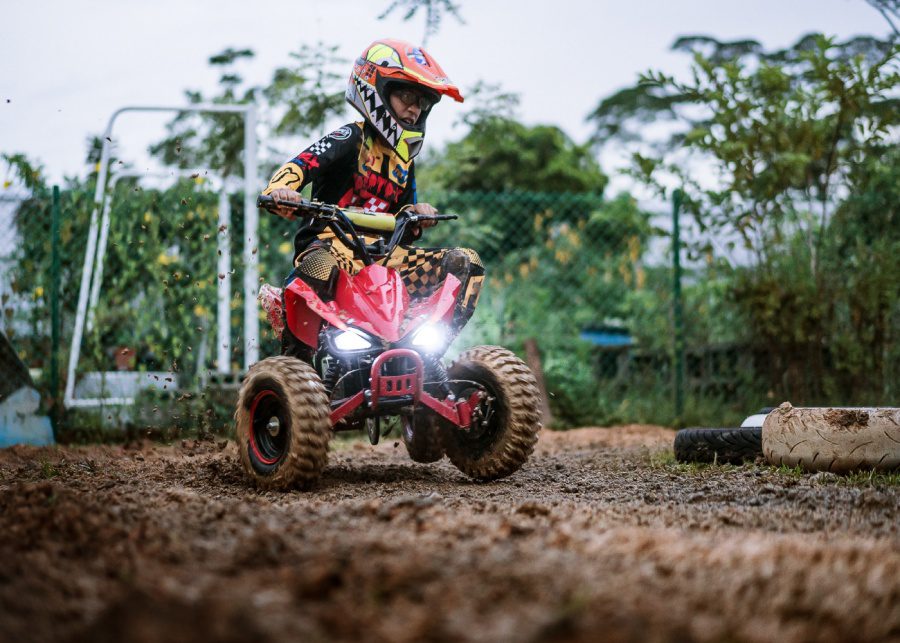 Got a need for speed? Got a kid who's an adrenaline junkie? Then bring them to the brand new Mud Krank at Gallop Kranji Farm resort, and watch them own the circuit in their chic All-Terrain Vehicles (ATV). Each session is 15 minutes, and the kiddos get to drive their ATVs round and round the circuit, adjusting the speed, navigating bends, and crossing obstacles. Don't worry, they will be fully and safely geared up before racing…
20. Mondrian Hotel Singapore (opening in 2023)
If you from the US or the UK, then you must have been to or, at the least, heard of the insanely famous Mondrian Hotel. Before Covid hit, we've had the pleasure of visiting the trendy Mondrian in Los Angeles. And boy, did we fall in love. That's why we're so excited to announce that, at the beginning of 2023, Mondrian Hotel will be rolling up on Singapore's shores, and making the vibrant Duxton Hill its forever home. The luxe lifestyle hotel will feature 300 rooms, a restaurant, a rooftop bar, and a lounge. Its prime location in the middle of the buzzing Duxton lets you do as much or little as you'd like! However, if this rooftop bar and lounge is anything like the one in LA, then we think you'll probably want to spend your entire day here. Watch this space for more updates!
21. SkyHelix Sentosa  (opening in 2022)
Can Sentosa get any more fun? Apparently so, with the new announcement of the SkyHelix Sentosa! Set to open in 2022, this new attraction will be situated in the Imbiah Lookout area of Sentosa and will form an open-air rotating gondola, offering amazing views over Sentosa and beyond! Definitely one for the Singapore bucket list…
22. Slingshot in Clarke Quay  (opening end of 2021)
Got a head for heights? Adrenaline junkies should make a beeline for Slingshot in Clarke Quay, which is due to open later this year. Located next to the existing attraction, GX-5 Extreme Swing, the new addition will take the accolade of the tallest slingshot in Asia! So if you fancy being catapulted 70m into the air, add this to the list. Definitely one for teens and above only!
We're busy updating this list all the time. So, stay tuned for more fam-friendly openings and new things to do in Singapore, coming soon!