Here's where we'll be celebrating with the kids on Singapore's special day – at all the fun family-friendly National Day events!
Party poppers at the ready! National Day is fast approaching, and plenty of events are lined up to celebrate the nation's big five-seven, with no shortage of kid-friendly picks. We'll either be celebrating from our homes or outside. Without further ado, here's all the fun for families this National Day 2022…
Family-friendly National Day 2022 events in Singapore
1. Watch the National Day Parade on the telly
Didn't manage to score tix to Singapore's birthday celebration? Gather the fam in front of the telly and catch the live telecast of the National Day Parade, which takes place at The Float @ Marina Bay. The parade is divided into two segments: Strength of Our Nation, featuring the actual parade and ceremony, the presidential gun salute, and the state flag flypast; and The Story of Us, the show segment which tells the story of Singaporeans over the last two years. No tickets, no problem! Plus, you don't have to jostle with the crowd to catch a glimpse of the fireworks.
When: 9 August, telecast expected to start at 5pm
Where: All free-to-air channels (Mediacorp Channel 5, Channel 8, Suria, and Vasantham Central)
2. Join in the National Day fun at the heartlands
If you do plan to head out but not too far, NDP @ Heartlands will happen at five carnival locations on the first weekend of August. Folks can look forward to family activities, exhibitions, performances, and a display by the Singapore Armed Forces and Home Team. The Red Lions will be performing free-fall jumps over at Bishan and Ghim Moh on the morning of 7 August. On the evening of 9 August, catch the Fighter Island Flypast and Fly Our Flag by the RSAF, and fireworks at five locations.
When: 6-7 and 9 August
Where: Various locations
3. Experience the iconic National Day Light-Up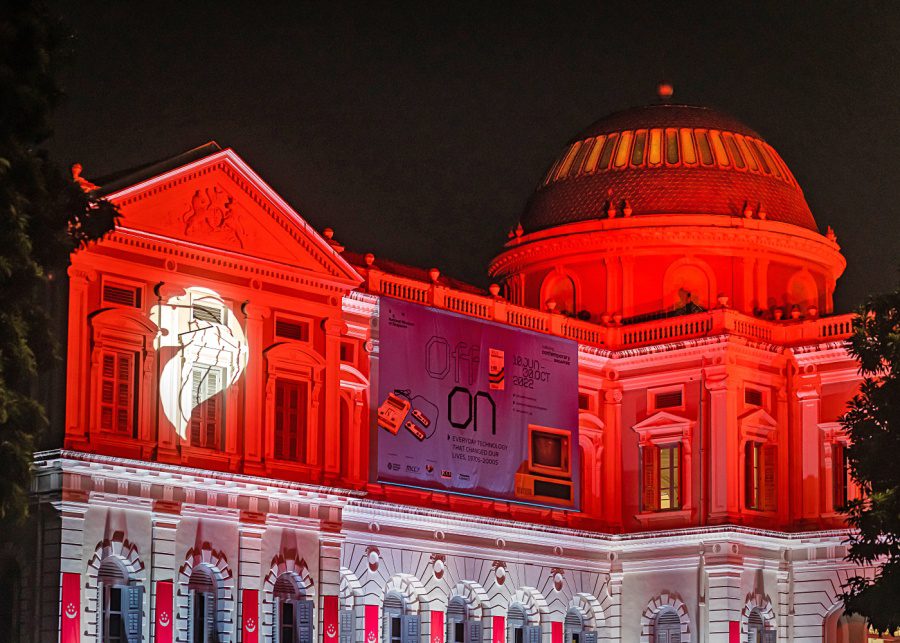 This is one event that we look forward to every National Day! Witness six historical landmarks in the Bras Basah.Bugis precinct light up in the National Flag colours of red and white all throughout August. These landmarks, four of which are gazetted National Monuments, will take you on a journey through Singapore's shared history. The red and white illumination serves as a reminder that your future is your own path to blaze.
When: 1-31 August, 7.30pm to 12am daily
Where: National Museum of Singapore, Cathedral of the Good Shepherd, Central Fire Station, The Cathay, National Design Centre, and Stamford Arts Centre
4. Check out an art exhibition by persons with disabilities
The Opera Gallery in ION Orchard is displaying artworks by persons with disabilities that have been featured in the National Day Parade collaterals for the past three years. Organised by SG Enable in collaboration with Third Space, Our Gift to Singapore showcases all 63 pieces that highlight the artists' unique perspectives and interpretations of building a better Singapore regardless of abilities.
When: 5-10 August, 11am to 8pm
Where: Opera Gallery, ION Orchard, 2 Orchard Turn, #02-16, Singapore 238801
5. Experience Singapore Discovery Centre's National Day celebrations
Have a razzle-dazzle National Day celebration with a slew of colourful activities at Forward Future. Look forward to savouring the country's various culinary delights, taking part in both carnival and TV console games, and learning more about the history of lighting. But what we're most excited about is the silent disco party! Put on the colourful headphones and groove to beloved songs – with a twist!
When: 6-7 & 9 August, 11am to 8pm
Where: Singapore Discovery Centre, 510 Upper Jurong Road, Singapore 638365
6. Gather your pets for a unique National Day celebration!
Non-profit volunteer group Hope For Animals has organised SingaPAW Weekend 2022 @ South Beach Avenue, which takes place on the first weekend of August. Expect fun-filled activities, shopping booths, an adoption drive, and more. Bring your pet and join members of the Singapore Special Club in forming the largest pet walkabout. Who knows – you may end up breaking Singapore's Book of Records! Definitely a pawfect to celebrate National Day this year, we say.
When: 6-7 August, 11am onwards
Where: South Beach Avenue, 26 Beach Road, Singapore 189768
7. Let the Singapore Chinese Orchestra serenade you with National Day tunes
The picturesque Flower Field at Gardens by the Bay comes alive with lovely renditions of uniquely Singaporean tunes, such as the Liang Wern Fook Medley, Singai Naadu, and National Day Medley, delivered by the Singapore Chinese Orchestra. The SCO Music Oasis Concert is supported by the Ministry of Culture, Community & Youth (MCCY), National Arts Culture (NAC), Tote Board, and Temasek Foundation.
When: 6 August, 2pm and 3.30pm
Where: Flower Field Hall, Gardens by the Bay, 18 Marina Gardens Drive, Singapore 018953
8. The first-ever sing-along event takes place at Capitol Singapore
Miss karaoke? Then head down to Capitol Singapore's Outdoor Plaza and be part of SingNation!, a free event hosted by Voices of Singapore. You'll get to croon along to several familiar tunes, including past and present National Day theme songs and local folk songs. The first 150 people to turn up will also get a complimentary mini flag. While you're there, have a look around the outdoor bazaar with booths selling products made in Singapore. There are also life-size displays of Singapore icons where you can strike a pose and take photos for the gram.
When: 6 August, 6 and 8pm
Where: Capitol Singapore, 13 Stamford Road, Singapore 178905
9. Head down to GBTB for its National Day concert
Celebrate Singapore's 57th birthday with the highly-anticipated return of the Gardens by the Bay and Mediacorp National Day Concert 2022! Audiences can look forward to electrifying musical performances and laugh-out-loud comedy segments starring beloved local talents. One performance that's sure to get everyone excited is the National Day duet, "Reach Out For The Skies", by respected actress Rui En and our first Singapore Idol Taufik Batisah. Taufik will also be performing this year's theme song, "Stronger Together". Look out for 500 drones lighting up the night sky at the end of this National Day event! President Halimah Yacob is set to grace this event.
Those who did not manage to score tickets can catch the live stream at Supertree Grove; the concert will also air on MeWatch, Mediacorp Channel 5, and Mediacorp's YouTube channel on 13 August at 8pm.
When: 6 August, 7.30 to 9.30pm
Where: Supertree Grove, Gardens by the Bay, 18 Marina Gardens Drive, Singapore 018953
10. Listen to renditions of popular Singaporean songs by the Singapore Wind Symphony
Bring the family down to Esplanade for a free concert, Singapore! A Musical Celebration. The Singapore Wind Symphony will be performing songs that you may be familiar with, such as "Home" (AKA that iconic National Day song), "Rasa Sayang", "Munnaeru Vaalibaa", and more. This National Day event is free and will take place in two one-hour time slots.
When: 7 August, 2pm and 5.30pm
Where: Esplanade Concert Hall, Esplanade – Theatres on the Bay, 1 Esplanade Drive, Singapore 038981
11. Enjoy a concert in the park all for a noble cause
Relax amidst the greenery of the Botanic Gardens on the evening of 7 August and immerse yourself in pop-opera. This free-for-all charity concert will be performed by Fivera, the first (and only) Thai pop-opera group. The classically-trained quintet will charm you with their versions of classic operatic arias and international pop favourites. The concert is organised by Viva Foundation for Children with Cancer. Concert-goers are invited to play a part in the foundation's mission by donating to its cause.
When: 7 August, 6 to 7pm
Where: Shaw Foundation Symphony Stage, Singapore Botanic Gardens, 1 Cluny Road, Singapore 259569 
12. Go on a walk and learn more about our National Monuments
How well do you know our tiny red dot? Do you know why the flag is coloured red and white? What do the five stars and crescent moon mean? If we've left you scratching your heads, then you should sign up for this walking tour by National Heritage Board. Hear the stories of how Singapore's national symbols came about and the inspirations behind them, among other things. Admission is $5 for adults and $3 for students and senior citizens.
When: 7, 13, 21 and 27 August, 10 to 11.30am
Where: The Arts House, Victoria Theatre and Victoria Concert Hall, and National Gallery Singapore
13. Marina Bay Sands has a slew of National Day programmes for you
Welcome Singapore's 57th birthday in style at Marina Bay Sands this month. Enjoy panoramic views of the city – during the day or at night – at SkyPark Observation Deck. Guests also get to enjoy a complimentary glass of frozen Singapore Sling, which comes with a handheld Singapore flag. Cute! Tickets are to be purchased prior to visiting. Over at ArtScience Museum, celebrate the nation by watching films made by local filmmakers and/or making your own National Day tote bag.
When: 9 August to 8 September
Where: SkyPark Observation Deck and ArtScience Museum
14. Participate in Singapore Sports Hub's National Day Fiesta
Rah-rah to the Singapore Sports Hub this 9 August for its National Day Fiesta! Experience an exciting line-up of fun-filled family activities, including old-school carnival games, a dance workout with a uniquely Singaporean twist, and a heritage exploration challenge. Don't forget to pack a picnic basket so that you can nom while watching the live telecast of the parade, which culminates in a spectacular fireworks display along the Stadium Riverside Walk.
When: 9 August, 9am to 9pm
Where: OCBC Square, Singapore Sports Hub, 1 Stadium Drive, Singapore 397629
15. Take part in the National Day celebrations at the National Museum of Singapore
Dress in your National Day best and celebrate Singapore's 57th birthday at the National Museum of Singapore with the fam. There are plenty of activities to participate in, from an outdoor playground and a National Day hunt in the galleries to drop-in activities where the kids can create mementoes based on Singapore's icons. In the evening, catch the live telecast of the National Day Parade on the front lawn while images of past parades are projected on the museum's facade.
When: 9 August, 10am to 12am
Where: National Museum of Singapore, 93 Stamford Road, Singapore 178897
16. Watch the annual National Day Concert by the SSO
Music lovers, you'll want to catch the Singapore Symphony Orchestra (SSO) 's annual National Day Concert. Not only is it a great family-friendly event, but it's also another National Day event we look forward to catching every year. Expect to see and hear a celebration of Singaporean musicians, compositions, and spirits. The SSO is joined by the Singapore Symphony Choruses, members of the Singapore National Youth Orchestra, and special guests, The Lorong Boys. Tickets sell for $15 onwards. The concert will also be streamed live on SSOLOUNGE and the SSO YouTube channel.
When: 13 August, 7.30pm
Where: Esplanade Concert Hall, Esplanade – Theatres on the Bay, 1 Esplanade Drive, Singapore 038981 and online
17. Partake in the #TOGOSG57 National Day Challenge 2022
Get your outdoorsy fix with this sports challenge! From now until 22 August, make it your mission to get the whole fam out (furkids included!) and complete 57km of either cycling, running, or both, in order to contribute to Togoparts's goal of achieving 570,000km before 22 August. What an awesome way to celebrate the nation's 57th birthday! All you gotta do is sign into your Togoparts account, and connect with your Strava app to record the distance. We hear there's some cool merchandise waiting for ya at the end of the challenge. Need help to get started on your biking journey? Check out our ultimate guide to all the fam-friendly biking trails, along with a curated list of bike rentals in SG, in case you need one.
When: Until 22 August (registration ends 10 August)
Where: Togoparts
18. Have a National Day feast!
This National Day, skip the cooking and the dishes altogether and take the fam out to dine on some National Day-exclusive dishes. Whether you're into dim sum or you're a big fan of chilli crab, we've got you covered!
Happy National Day, Singapore!