National Day is on the horizon (9 August!) and you'll soon see everyone decked in red and white.Here's where to snag some cool threads for the little ones (and you)!
Whoop! National Day isn't that far away, and we are already EXCITED. If National Day is all new to you and the fam, have a read of our quick guide to the history of Singapore and catch yourself up. Then, of course, you'll want to find out all about this year's SG58 and NDP celebrations, including what the theme song is and where to catch the fireworks. But first… make sure you deck yourselves and the kiddies out in red and white clothes for National Day! There's no better way to get in the festive spirit!
Where to get red and white clothes for National Day 2023
1. Little Kooma
Celebrate Singapore's 58th Birthday in style with Little Kooma's 100% cotton matchy red short-sleeve tees for kids, available from newborn to teen. The collection features prints that kids will adore, including Singapore cityscapes, a colourful Merlion logo, and even designs for military enthusiasts. Complete the look with plain snow-white cotton shorts or long pants, all conveniently available at Little Kooma. Get ready to capture a memorable family snapshot and show your National Day spirit in 2023!
Little Kooma, available online
2. UNIQLO
If your family is seeking a more subdued colour palette for National Day 2023, look no further than Uniqlo. This one-stop-shop offers a wide selection of modest yet stylish designs that are sure to please the whole family. With an abundance of white options available, ranging from tees to dresses, you'll have endless choices to find the perfect outfit. Embrace a more understated look while still celebrating Singapore's 58th Birthday in style by heading to the nearest Uniqlo store and taking your pick from their fabulous collection.
Uniqlo, available islandwide and online
3. Nike
If your family is a sporty bunch, look no further than this sportswear hotspot for your National Day attire. They have a fantastic selection of reds and whites that will have the whole family looking stylish and coordinated. From cotton tees to ribbed jerseys and even golf polo skirts, there's something for everyone. Not only will you look great, but you can also beat the Singapore weather with the comfortable and breathable fabrics on offer.
Nike, available across the island
4. Gen Woo
There's nothing we love more than a clothing brand that prioritises both sustainability as well as aesthetics. Gen Woo is a great choice for sustainable kidswear that's fashionable, comfortable, and affordable. Being a Singapore family-run brand, you can find loads of red and white clothes for the kids. Be it casual basics like polo tees, or cute athleisure tops – the choices are endless! Plus, all of Gen Woo's clothing is made from sustainable fabric (eg. BCI cotton, recycled polyester, FSC viscose, etc.) through energy efficient methods. Looking good while staying sustainable – win-win!
Gen Woo, available online and in its Holland Road Shopping Centre outlet; as well as ISETAN Shaw House; and OG Department Stores in Albert Complex and Peoples Park.
5. dressedingabe
There's only one design (pictured up top) that you can get from dressedingabe for your red and white National Day clothes, but we're willing to let it slide when it's just so darn cute! Parents, get this to match with your kiddos. There's even a sleeveless bodysuit version for the little bubba. Twinning to the max, we say.
Dressingabe, online
6. Label of Love Studio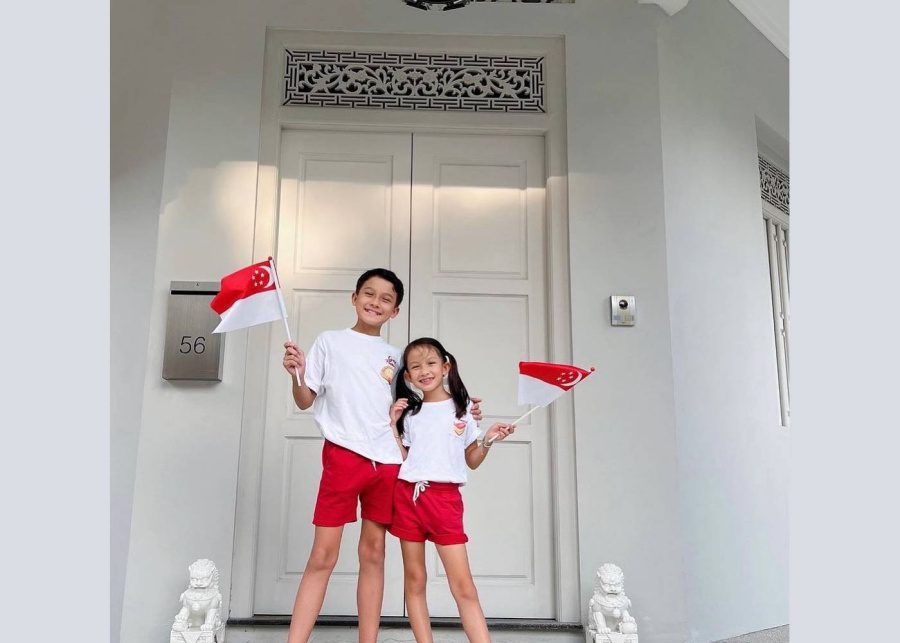 National Day is a fantastic opportunity to support local businesses that offer great threads for the kiddies, like Label of Love Studio. This store has adorable, simple and no-fuss rompers and tees for the tots this National Day. Psst, you can even personalise the red or white romper with bub's name! Bonus points for affordability, too.
Label of Love Studio, online
6. Kids21
If this National Day celebration is about going beyond the tees, we suggest checking out the red and white collections at Kids21. Your little ones can flash those NDP colours in style in dainty embroidered dresses, Milano dresses and scallops-cut shorts. Because nope, you aren't going to find many of these on the streets on National Day 2023!
Kids21, online and various outlets across Singapore 
7. Cotton On Kids
Cotton On Kids never lets us down when it comes to the right party outfit, National Day included. There are plenty of red and white tees, shorts, dresses and even shoes for kids of all ages, with some cool accessories available, too. Plus: so affordable!
Cotton On Kids, various outlets across Singapore
8. Next SG
Dress the gang from top to toe in SG colours with fashionable red and white pieces for the whole family from Next! You'll find pieces to add to your shopping cart from this affordable British fashion giant. Delivery is $10, and you'll want to put in your orders in advance before National Day comes around – get shopping!
Next, online only
9. H&M
What more can we say about this Swedish clothing company? H&M is a sure winner when it comes to picking up stylish threads for all occasions for the whole fam. Not to mention, there are plenty of patriotic picks which are wallet-friendly, too! A solid option when shopping for red and white clothes for National Day.
H&M, multiple stores throughout Singapore
10. Angelibebe
Shop at this gorgeous online boutique for the little ones this National Day. Angelibebe's contemporary and classic outfits for kids are loved around the world, and you can save big on their quality threads, too. Plus, you know you'll be getting bang for your buck because the tots will be wearing these fashionable pieces for months after National Day. Very cute!
Angelibebe, online only
11. Le Petit Society
We have just the pick for you if white is your choice of colour this National Day 2023! Le Petit Society has a wide selection of white wear perfect for the celebration, from baby rompers, dreamy white dresses for le petit ladies, dapper long-sleeve shirts for little boys, and even Papa and Mama tees. They have everyone in the fam covered!
Le Petit Society, online and various outlets across Singapore, including The Paragon and Downtown Gallery
12. Mothercare
Our usual go-to kids' outfitters, Mothercare often has markdowns on its clothes for little people. So, you'll have no problem finding affordable red and white clothes for National Day for the teensy weensy newborns and sturdier kiddos up to six years old. If all else fails, it has red and white bandanas and bibs in stock!
Mothercare, several locations, including Harbourfront Centre, Paragon, and Marina Square
13. Pocketpig Diary
We've showered this homegrown brand with lots of love for its oh-so-adorbs range of kids' clothing, and now it's gone one step further by featuring too-cute-for-Singapore togs for its National Day collection! From their 2022 collection, there are red and white tees for the whole family (there's even a romper version for the bubs) or red collar shirts, if you want to make the brood wear matchy stuff. Otherwise, we're loving the reversible dress that comes with a belt. Two outfits for the price of one, hurrah! The Pocketpig Diary NDP 2023 collection is yet to launch, and we can't wait to show you what they have in store!
PocketPig Diary, online only
14. Giordano
This brand, with its 'I Love SG' tees, is ubiquitous throughout Singapore. You'll see the red and white clothes pop up as National Day approaches, worn by both locals and expats alike. This year's NDP collection includes polo tees, the collection's logo printed on short-sleeved tees. Show your big love for this tiny island with Giordano!
Giordano, available on Qoo10, Shopee, and various outlets throughout Singapore
15. Skechers
If you and the fam aren't National Day red-dy just yet, we have great news for you! Skechers is all set to dress the fam up head to toe in all the bright reds and whites you can imagine. We are talking about snazzy red and white shoes, leggings and unisex tees. Looking to up your game with matching accessories? Skechers is well stocked on that front as well, with caps, unisex waist bags and tote bags on the shelves. The good news is there are attractive discounts on offer too! Yay! Think 58% off on second regular-priced items between 4 to 13 August 2023. So what are you waiting for?
Skechers, available online 
16. Love Bonito
Saturated with the regular tees' casual look for National Day? Love Bonito has plenty to offer and are very schmancy indeed. Think of the stylish Arlenis cross-back dress available in red or white for mums or teens looking to sport something a little more dressy. Love Bonito is also well stocked on other silhouettes to amp up your National Day style quotient, like blouses, jumpsuits and more. What's not to love?
Love Bonito, available online and in-store
17. Toddley Thoughts
If you are on the lookout for a personalised touch to your littlie's National Day look, Toddley Thoughts is the place to hit up. This one-stop apparel shop has cool rompers and tees with an adorable National Day logo, plus you can also add your tiny's name to it. Pretty cool! Our advice? Make note of your little one's exact size measurements before shopping, as Toddley Thoughts does not have the option to exchange.
Toddley Thoughts, available online 
18. bossini
Celebrate Singapore's 58 years of independence with this local staple's NDP collection. It offers red and white themed clothes, perfect for National Day to show off your patriotism. This year's family tees sports prints of some cultural faves too, like kuehs and kopi. Everything in this collection is made of cotton jersey, meaning you won't be sweating buckets and showing off embarrassing wet patches as you wade through the heat and humidity.
bossini, multiple locations across Singapore
Happy National Day, everyone!