A family that eats together stays together, and we believe it's the best way to cut that birthday cake with Singapore! Explore some of the best restaurants, and their signature National Day-themed dishes to make this celebration the most delicious one yet!
Singapore may be that little red dot on the world map, but size does not define the strength of a lion. In the hearts of every Singapore resident, the country has only grown 57 years stronger, younger and more vibrant. So we say the only way to really celebrate the glory of this nation is with a feast that signifies its accomplishments and is fit for a lion (aka our family). If you hadn't guessed, we are big foodies here at HKA, so had no trouble putting together this list of the best national day feasts for you and your little cubs to devour to make this national day celebration memorable. So wave your Singapore flags high, sing the anthem strong and let the feast BEGIN!
National day food guide 2022: Best family restaurants for National Day dining
1. Yàn
Dim sum-body say it was Singapore's Birthday?! If you are looking to add something steamy into your bread basket for a hearty National Day celebration feast, we know just the place! Known for its classic Cantonese flavours, Yàn brings you a special National Day Dim Sum menu for lunch that you and your little dumplings will enjoy.
Dive into a Cantolicious spread infused with local flavours, like wok-fried Nyonya-style carrot cake, steamed Assam cod fish and prawn dumpling, braised pork belly in a steamed bun, steamed Xiao Long Bao with Bak Kut Teh stock, steamed Hainanese chicken with sticky rice wrapped in lotus leaf, and the list goes on! In our books, this sounds dim sum good! Have your fave dim sum puns and phrases at the ready, and make Singapore's 57th a hearty celebration!
Yàn, 6 to 31 August, dishes starting from $6++; #05-02, 1 St Andrew's Road, National Gallery Singapore, Singapore 178957
2. Binary
Are you looking to try a fusion of flavours for your special National day treat? This gastro bar's binary approach to cuisine offers you an exceptional National day menu expressed through Asian culinary approaches and a Western mixology classic. How fancy!
Celebrate Singapore's 57th with a carefully curated National Day set menu ($57++ for two persons), comprising three dishes infused with some favourite local flavours. The three dishes include chicken wings "Nasi Lemak" served with house-made sambal tumis, seafood laksa paste, and jumbo chicken satay, coupled with two glasses of Binary's signature Milo-tini. The jumbo chicken satay ($18++) and Milo-tini ($24++) are available for a la carte should you want a second round.
Binary, 8 to 14 August, 12-5pm; #01-01A, 390 Orchard Road, Singapore 238871
3. Rempapa x Path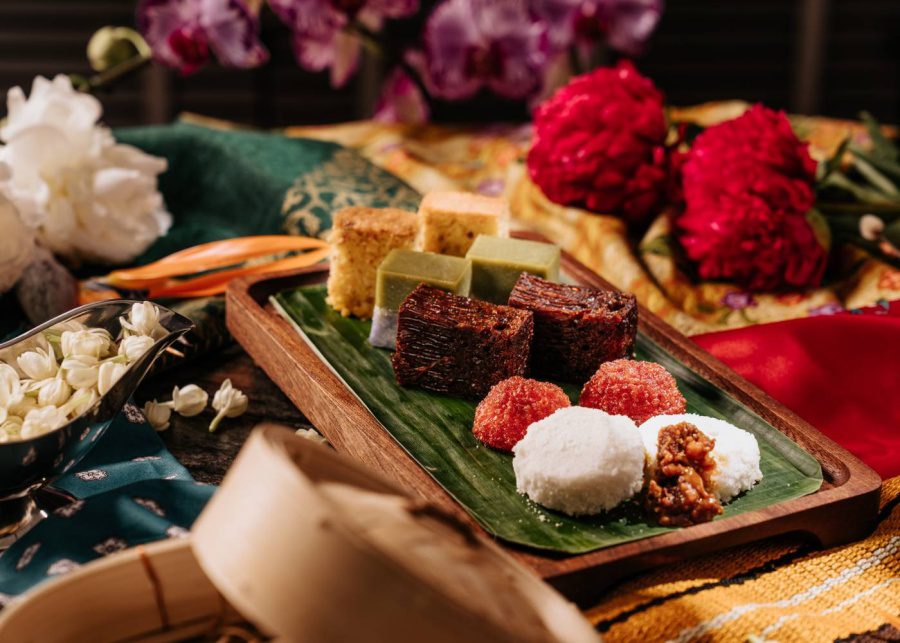 Celebrating Singapore's 57th birthday has to be with local go-to favourites. That is where Chef Damian D'Silva of Rempapa, Chef Marvas Ng of Path, and home cook Vasunthara Ramasamy (contestant from Masterchef Singapore Season 2) come into the picture. The three food musketeers have joined hands together to curate a series of mouth-watering cuisines you can enjoy throughout the National Day season.
To spice things up a notch, the Rempapa × Vasunthara collab taps into Singapore's culinary legacy to present a mouth-watering Indian set lunch, including communal sharing dishes like three thosai and three chutneys, three sides, and one dessert. A delicacy you can expect to find is Kuzhi Paniyaram with chutney & podi.
13 August only, 11am-1 pm and 1.15-3pm, $68++/person, min. four pax
Are you looking to relish some goodies at home? Do not miss out on the multicultural kueh box by Rempapa inspired by traditional sweet treats from Chinese, Indian, Eurasian, Malay, and Peranakan cuisines. This takeaway includes five assorted kuehs, two pieces each.
6 to 9 August – For takeaway only, $22++
So there you have it. Between chopsticks and fingers, these collaborations will make for a memorable experience!
Rempapa, Bookings and pre-orders open from 20 July; #01-01/02/03, 2 Paya Lebar Road, Park Place Residences at PLQ, Singapore 409053
4. WAKANUI Grill Dining
Landing on Singapore shores from the land of the rising sun, WAKANUI Grill Dining will be churning out some signature Zichar favourites with quality ingredients from New Zealand and infused with local flavours. We are going international with this one!
Your sumptuous multi-course meal kickstarts with Crab Pie Tee inspired by Singapore's chilli crab, followed by freshly shucked oyster topped with lime granita and Ikura. For appetisers -Kelong Ceviche made with thinly sliced raw grouper, Japanese Somen in Dashi broth topped with Sakura Ebi. The show stoppers include signature Ocean Beef Ribeye grilled over Binchotan charcoal and a luxurious butter-poached lobster topped with salted egg crumble and cured egg yolk.
If the inflow of delectable offerings is a mouth full already, hold your horses – we are not done yet! Framboise Sable, made with fun flavours like gula Melaka and Calpissorbet, makes for a sweet ending. Good luck fighting the kids to finish this one!
WAKANUI Grill Dining, four-course lunch $108++/person, six-course dinner $188++/person
5. The Marmalade Pantry
If a fun lip-smacking tea spread is what will give you brownie points with the family, we suggest a National Day pitstop at The Marmalade Pantry. Treat the fam to a lovely mid-afternoon treat with dine-in and takeaway options at various outlets dotted across the island.
Before you head out, take note of the unique specials served at different outlets – like Otah Mousse Toast, Satay Chicken Brioche, and Crab Coleslaw Ciabatta at the ION and Downtown venues. The Marmalade Pantry Petite Bugis outlet offers a slightly different spread from the Nostalgia Petite Afternoon Tea Set, including prawn crostini and cranberry chicken sandwiches. We think even fussy eaters will be covered here!
The Marmalade Pantry, 1 August until 31 October, $78++ for two pax; various locations
6. Kinki Restaurant + Bar
We all know Singapore is a big foodie nation, and what better way to satiate that enormous appetite than with a celebration at Kinki Restaurant + Bar. Tuck into the ever-popular Bottomless Brunch for its all-time Japanese classics and a free flow of beverages whilst soaking in the unparalleled views of Marina Bay. What a treat for the fam!
Feast on unlimited servings of sushi, sashimi and maki like Lobster Salad Maki, cold dishes like Hiyayakko (chilled silken tofu topped with kimchi and fried shallots), and warming dishes like Spicy Miso Edamame. Expect to find bold and comforting flavours in the mains, like Buta Kimchi featuring stir-fried sliced black pork belly and kimchi, Wagyu Foie Gras Donburi–a rice bowl of thinly sliced Wagyu and pan-seared foie gras drizzled with beef teriyaki sauce, to name a few. This calls for a refreshing sorbet or ice cream after all that food. Choose from an array of flavours like yuzu and green tea.
If you want to let your hair down and take that much-needed break from the kids, then the National Day Rooftop Package is the one you need to grab! With delicious bar bites such as wings and Cassava Nachos, drinks, and a live DJ working the decks, your National day 57 celebration will be a jubilant affair!
Kinki Restaurant + Bar, 9 August, Bottomless Brunch, Kinki Restaurant, Level 2, 12-3 pm, $68++/person, top up $38++/person for unlimited alcoholic beverages
National Day Rooftop Package, Level 3, 5pm-12am, $588++/table of six persons

7. PastaMania
This homegrown Italian chain is a familiar name with every Singapore household because – we all love pasta, right?! But to amp up the National Day celebratory vibe, PastaMania will have an exclusive spread infused with local flavours, especially for Singapore's 57th! Win, win for the kids!
Celebrate Singapore's special day with two PastaMania specials. The first is an Otah-inspired Otah Aglio, a pasta sautéed with minced garlic, fried baby shrimp, crispy prawn chilli, fish otah and parsley. The moreish special Nasi Lemak Pizza is the second dish with a base of sambal chilli, mozzarella cheese, and otah generously topped with hard-boiled egg slices, crispy Ikan Bilis, fried peanuts, diced cucumbers, and finished with sambal mayo.
These specials are available for a la carte and set meal orders for dine-in, takeaway, and delivery. The Family Feast (for four pax) is perfect for a cosy celebration with the fam with two kinds of pasta (Otah Aglio and/or selected pasta), a 10-inch Nasi Lemak Pizza, and a choice of four beverages.
Pastamania, 25 July to 11 September, various locations across the island
8. The Spot
Calling all brekky people! We've found just 'The Spot' for a scrumptious breakfast to kick start your National Day Celebration! Inspired by a typical Singaporean breakfast, this four-course feast will be a winner in your books, courtesy of Executive Chef Lee Boon Seng.
Dive into an imaginative first course with a starter reminiscent of the island-fave kaya toast. Romantically interpreted as "Love Letter Cookie" Mille Feuille, the dish comes layered with chicken liver mousse and pandan apple jam. Imaginative indeed! The Lobster Rice Paper Roll will transport you to bustling cha chan teng (Hong Kong teahouse) in Chinatown, served with egg curd and warm crustacean vinaigrette. How about a Spiced Lamb Shortloin with mild green chilli sambal and green cherry tomato for the main course? The Pineapple Mousse "Tart" with pineapple marmalade, burnt Gula Melaka, and served with vanilla coconut ice cream will bring your brekky to an end on a happy note.
The Spot, 8 to 14 August, four-course menu priced at $108++/person; #01-26/27, 5 Straits View, Marina One, Singapore 018935
9. TONITO Latin American Kitchen
Put your exploration hat on and discover what other international cuisines have to offer as a tribute to Singapore's 57th birthday! We know of an 'a-maize-ing' place where you can begin this exploration with the fam! TONITO Latin American Kitchen has put together a delicious meal for you, celebrating maize as the key ingredient across its menu.
Dive into a multi-course menu with dishes like Hamachi Carpaccio cured in kiwi tiger's milk and topped with puffed cancha corn, Pollo Mole Taco made with chicken braised in a chocolate spiced sauce, and a festive mixed platter (with grilled lamb rack, halibut, chorizo and Kurobuta sausage, and grilled baby corn). A decadent Pastel de Elote (corn cake) drizzled with a dulce de leche will leave you with a sweet memory at the very end of your celebration. If you think you've explored every facet of corn…think again! Wait till you try a mocktail made from purple corn. Yup! We told you so.
Tonito Latin American Kitchen, 6 to 9 August 2022, $150++/person, #02-248, 78 Airport Boulevard, Jewel Changi Airport, Singapore 819666
10. Dolce Vita, Mandarin Oriental Hotel
We know you need a break from the kids sometimes (don't worry, we're not judging), and National Day could be that special day you could sneak out with your better half. Clink your wine glasses, mums and dads, because this special one is just for you two! Share a fabulous National Day 5-course set meal at Dolce Vita at Mandarin Oriental hotel, with a festival of National Day fireworks in the background to spark that romance.
Celebrate National Day with scrumptious Italian courses, including Marinated Cured Salmon with Oscietra caviar, Overnight Braised Beef Cheek with mashed potatoes, slow poached organic egg with summer truffle and special Riserva Acquerello rice with aged parmesan. Make room for some refreshing dessert! End the meal on a sweet note with Raspberry Chocolate Tart accompanied by a raspberry chocolate whip and almond frangipane raspberry sorbet. The date night of dreams!
Dolce Vita, 9 August, 5.30-7.30 pm and 8-10 pm, $178++/person; 5 Raffles Avenue, Marina Square, Mandarin Oriental Hotel, Singapore 039797
11. Thirty Six Brewlab & Smokehouse
For all those looking for a fresh contemporary take on Singaporean favourites coupled with some brewed beers, fresh off the tap, we know just the place for you! This microbrewery and restaurant will showcase two Singaporean faves in a brand new light. Cheers to that! Head on over to Thirty Six Brewlab & Smokehouse and celebrate 57 years of Singapore history with chicken rendang cottage pie ($28++) and Cendol panna cotta ($16++). Both specials are also available in the two-course set menu ($36++) and for a-la-carte purchase.
Thirty Six Brewlab & Smokehouse, 1 to 31 August, Sat to Wed 11.30am-12am, Thu to Fri 11.30am-1am; 36 Club Street, Singapore 069469
12. Super Loco Customs House
Dress up in your red and white best and hop over to viva la Mexico to celebrate Singapore's 57th birthday fiesta. Super Loco Customs House has a contemporary Mexican cuisine in line with the big celebration aptly located by the Marina Bayfront where the festivities will be at their best.
Kickstart your celebration with a three-hour free flow of drinks like Margaritas and other thirst-quenching bubbles, followed by a Mexican dinner. Expect to find some mouth-watering specials on the menu, including oysters topped with fiery habanero and passion fruit salsa, fire-grilled Angus beef ribeye steak dressed in earthy porcini and guajillo rub with cactus salad on the side. End your meal with crunchy pandan churros served with coconut dulce de leche. Delish all the way!
Super Loco, exclusively for ticketed guests, 9 August 2022, 6-9 pm, Minimum spend $199++/person (premium bayfront table of up to five guests), followed by $179++/person at other seating areas, $100++/person for free-standing ticket reservations; Click here to book your tickets now; #01-04, 70 Collyer Quay, Customs House, Singapore 049323
13. Shabestan Shandiz
So how do the Persians join in the big Singaporean celebration? Head on over to Shabestan Shandiz to find out! The restaurant has some delicious Persian food in store with three new creations added to their executive lunch menu, just for Singapore's big day. The executive lunch kickstarts with a tropical-inspired mocktail, Fruit Paradise Mocktail ($57++), or Saffron Moutai Sling ($22++). Pair your drink with mouthwatering Persian Mezze like Kash-E-Bademjan (eggplant) and Shirazi salad, to name a few. For your mains, choose from a range of five bestseller kebabs like mixed Kubideh Kebab and chicken Masti. They also have two delicious stews on the menu to try. Vegetarians can expect to find something special from the Persian bread basket like Impossible Fesenjan. Close the curtains on your scrumptious Singaporean-Persian treat with a National Day theme cake especially created by executive chef Hany.
Shabestan Shandiz, 1 to 9 August, #01-13, 80 Mohamed Sultan Rd, Singapore 239013
14. Permata
How about a platter fit for a lion? Culinary director chef Mel Dean of Permata has curated a special Lion City Platter- featuring Malay, Chinese, Indian, Eurasian and Peranakan flavours that complement each other harmoniously. Showcasing a vibrant gastronomic offering of each culture, you may expect to find the Malay fish sambal made with sambal tumis, the ever-so-popular Chinese kung pao chicken, and Indian grilled lamb masala served with pineapple chutney and a Eurasian special of green chilli prawn sambal. An accompaniment of wok-fried rice, Ulam Raja and a Peranakan Nyonya Achar completes the dish.
Permata, 8 to 14 August 2022, $57++/person with minimum two pax to dine in, Click here to make reservations; 73 Sultan Gate, Singapore 198497
15. The Gyu Bar
Calling all beef eaters! The sakura flower has drifted towards Singapore with flavours all the way from the land of the rising sun. Experience a unique Japanese offering at The Gyu Bar with a service rooted in traditional omotenashi – the Japanese tradition of consummate hospitality that pays attention to the smallest detail.
Chef Tomoo Kimura of the eponymous one-Michelin-starred restaurant at Palais Renaissance steps into the picture and takes the overall experience of wagyu to a new level with this National day treat. Taking premium wagyu sourced from Japan, the restaurant showcases a variety of cooking techniques, including yakiniku, sukiyaki and shabu shabu. The Gyu Bar also has a limited edition of sukiyaki that incorporates flavours well-loved by Singaporeans with a special Spicy Tomato Sukiyaki ($208++) and house-made warishita. You can also expect to find other highlights perfect for two persons like an assorted platter of Hida, Miyazaki, and olive Wagyu sirloin ($328++ for dine-in; $268+ for takeaway)–that offers a variety of quality wagyu to devour along with many delicious accompaniments.
Make note – You can elevate your national day celebration experience from the comfort of your home with The Gyu Bar's option to rent a portable tabletop gas stove for $40 inclusive of delivery and pick up.
The Gyu Bar, 8 to 31 August, dine-in, takeaway and islandwide delivery options are also available, Mon to Sun – Lunch: 12-3pm, Dinner: 6-10pm; #01-08, 30 Stevens Road, Singapore 257840
16. LeVeL 33
LeVeL 33 has a range of multi-course meals inspired by classic Singaporean flavours to offer, with unobstructed views of the Marina Bay waterfront for you to soak in the firework festivities. Picture perfect! Clink your champagne flutes to a vegetarian five-course National Day set dinner ($158++/pax) or non-veg 5-course National Day set dinner ($228++/pax) experience with exclusive access to the terrace to view the fireworks display.
For the non-vegetarian experience, you can expect to begin your feast with three Singaporean-inspired snacks set like salted egg mud crab. The main course has mouth-watering offerings with a touch of technique and creativity, like a local take on LeVeL 33's signature smoked heirloom tomato. The vegetarian experience kickstarts with a Singapore-style snack platter showcasing delicacies like Singapore-style fried tofu with seaweed caviar and a delicious mushroom & soy tortellini for the main course.
If you are going for something a bit more casual, LeVeL 33 also offers a National Day Sharing Menu ($118++/per pax or minimum spend of $150++) that features highlights from the five-course meals of the dining room with some bestsellers of the socials a-la-carte menu. If neither of the multicourse-meals appeals to you, guests can choose from an a-la-carte menu. You can opt to reserve tables at the LeVeL 33 terrace at $250++/person. Good luck choosing!
LeVeL 33, 9 August 2022; #33-01, 8 Marina Boulevard, Marina Bay Financial Centre Tower 1, Singapore 018981
17. voco Orchard
If you've got hungry little cubs in tow for this national day celebration, voco Orchard has some F&B specials in store, including the all-famous Sunday brunch at Opus Bar and Grill and some national day treats at D9 Cakery.
The Sunday brunch showcases Singaporean favourites and myriad classic and fusion dishes on top of the usual international spread with a free flow of Bandung. Expect to find appetisers like Hainanese Chicken Roll with Ginger Chilli Aioli to kickstart your meal. Dive into unique specials from the main course like Singapore Seafood Laksa, creative culinary fusions like "Chilli Crab" Pizza and meat lovers specials like Grilled Char Siew Hangar Steak.
End your meal on a sweet note with contemporary desserts given a local revamp like Lychee Soy Milk Panna Cotta. Your littlies can especially tuck into some Singaporean charm at an ice cream cart offering Potong ice cream sandwiches in biscuit and coloured bread. There are loads of Singaporean sweet delicacies on the celebration platter as well, like Pineapple Tarts and an array of Nyonya Kueh. Take a big bite into the Chendol Bandung Cake ($65 for a whole cake of 1kg and $9 per slice), specially crafted to resemble the Singapore flag by D9 Cakery. (Exclusively available from 25 July to 4 August).
voco Orchard, 7 August, Sunday brunch between 12.20 and 3.30 pm, $118++/adult and $59++/child, Opus Bar and Grill, Click here to make a reservation; 581 Orchard Road, Singapore 238883
18. Melt Cafe, Mandarin Oriental
The authentic Singaporean gastronomic experience is best showcased at the hawker. For many, it is where memories are fondly woven around tiny bustling food stalls and an array of traditional offerings, all under one roof. What better way to celebrate Singapore's birthday than by taking a deep dive into something that is the most definitive of Singapore's culture? Melt Cafe's monthly dinner will be taking on a local twist as part of the Hawker Fare Dinner experience showcasing traditional Singaporean flavours.
The international showcase of cuisines offers guests a large selection of appetisers, Asian delights, Japanese platters, Indian delights etc, to choose from. So go bonkers with an all-you-can-eat spread and enjoy the true Singaporean feast with the fam!
Melt Cafe, 5 to 14 August, Monday to Thursday: $98/adult; Friday to Sunday and 9 August 2022: $108/adult, 7 to 12 years old: $48/child; 5 Raffles Ave, Marina Square, Mandarin Oriental, Singapore 039797
19. Tablescape
Teatime spreads are always a winner with the kiddos, and Tablescape's Afternoon Tea Set has an array of sweet and savoury faves to feast on this National day.
For those with sweet tooths, indulge in specials like honey peach mascarpone from the Sweet Delights Tier and Singapore Sling Chocolate Praline. For savoury fans, there are many Singaporean faves to choose from, like the Ciabatta Chicken Salad, Daikon and Nori. There is also something special for those in between sweet and savoury, like Salted Egg Scones. For all Tablescape fans, there will be a good inflow of regulars from their menu as well, like Black Sandwich Open Face with Smoked Salmon and Ikura.
Tablescape also presents a limited-time promotion featuring local dishes and drinks in The Classics & The Indulgent–Special National Day Sets.
The Classics ($28++) showcases a fusion between Singapore's faves and European ingredients. For example, the Nasi Goreng features paella rice and other ingredients. Or dive into something more enticing from The Indulgent ($57++) showcase like Lobster Thermidor. Quench your thirst with a special Bandung Sangria.
Tablescape, 1 to 31 August, $78 nett takeaways and delivery, $78++ dine-in; Level 3, 10 Coleman Street, Grand Park City Hall, Singapore 179809
20. Pita Tree
With this national day treat, we bring our roundup to a hearty wrap! A Pita Tree wrap! But, after all the options we have been through, this restaurant is definitely worth satay-ing for (if you know what we mean)! Pita Tree takes their specialty dish, chicken satay, to four versatile levels, including chicken satay salad, chicken satay pita pocket, chicken satay wrap and chicken satay rice bowl. Creative huh?
The drool-worthy charcoal grilled chicken kebabs accompanies well by a chunky dollop of Pita Tree's signature peanut sauce. Aren't we going nuts over this already?!
Pita Tree, 1 to 31 August, $15 for dine-in, takeaway and $17.12 on delivery platforms such as Deliveroo, Grabfood, Foodpanda and Pita Tree's islandwide delivery service; Locations: Pita Tree Marina One, #B2-37, 5 Straits View, Marina One East Tower, Singapore 018935; Pita Tree Forum The Shopping Mall, #01-K3, 583 Orchard Road, Forum The Shopping Mall, Singapore 238884
Treat yourself with these amazing options for takeaway and delivery this National Day long weekend, you deserve it. Happy feasting!