Time to light the lanterns and feast on mooncakes – Mid-Autumn Festival is here! Learn more about this traditional festival that's all about family, togetherness and dazzling displays of light.
In case you haven't noticed all the beautiful lanterns and the abundance of mooncakes around town, it's Mid-Autumn Festival time in Singapore (FYI – this year it lands on Saturday 10th September)! There are so many perks to living in a multicultural city – we love celebrating all the cultural events that make the local calendar so lively. Sure, we're fairly clued up on all things Chinese New Year, dazzling Deepavali, and the big Hari Raya Aidilfitri festivities. But how about the story behind Mid-Autumn Festival? Read on to find out about this colourful cultural experience…
All you need to know about the Mid-Autumn Festival
So what's the Mid-Autumn Festival all about?
Marking the end of the Autumn harvest, the Mid-Autumn Festival is a time to show gratitude to godly entities. The most popular tale is of Hou Yi and his wife Chang'e. Long ago, the sky was filled with 10 suns, which burnt and devoured the greenery on Earth and caused people to perish. So, a young archer, Hou Yi, came to the rescue. He used his bow and arrows to shoot down nine of the suns, saving the human race. Hurrah! As a reward for his heroism, The Queen Mother of the West presented him with a bottle of magic elixir, a potion that would guarantee his immortality.
… but wait!
However, the archer didn't want the gift, as he loved his wife more than the prospect of eternal life without her (aww!). Instead of downing the elixir and sealing his immortal fate, Hou Li chose to hide it. Enter a dastardly student, Pang Meng, who tried to steal the elixir for himself. What Pang Meng didn't bargain for was running into Chang'e, who thwarted the plot by drinking the elixir herself! As a result, Chang'e not only became immortal, but the potion caused her to fly higher and higher until she reached the moon. Here, she was destined to spend eternity in her new role as the Moon Goddess.
Heartbreak hotel
Hou Yi was heartbroken. So he took action by moving a table laden with food and offerings directly under the moon in the hope that it would somehow entice his beloved back to earth. Ever since then, during the Mid-Autumn Festival, the traditions of offering worship to the moon and the Goddess have continued.
Mark your diary for 10 September 2022!
The festival is honoured on the 15th day of the eighth month in the Chinese Han calendar and Vietnamese calendar (within 15 days of the autumnal equinox), on the night of the full moon (get all that?). This year it falls on 10 September 2022. Celebrations usually involve the gathering of friends and family (a reunion), to give thanks for the year's harvest.
It is also a time to pray for what you really wish for. That might be a new baby, a spouse, good health, longevity or a happy future. And of course, gatherings are sure to include mooncakes (washed down with Chinese tea) and the chance to get crafty making colourful lanterns.
Lovely lanterns
Making lanterns to release along the river is a traditional custom, but, thankfully, it's widely acknowledged that this isn't a good practice for the environment. There are so many other ways to appreciate the beauty of lanterns – keep your eyes peeled for some great events around town! We're all about creativity here at HoneyKids, so why not break out the craft kit with the kids and make your own lanterns to decorate your home? Insta-photo opps galore!
How to celebrate Mid-Autumn Festival in Singapore with kids
1. Head to Chinatown to see the lights
Until 25 September 
It's the first physical Chinatown Mid-Autumn Festival celebration in more than two years!  This year's theme is 'Blossoming Flowers under the Full Moon', referencing the sense of perfect bliss derived from reunions with family and loved ones. The festival will feature a spectacular display of lighted sculptures and lanterns, so take the kids on a wander after dark to see the lights in all their glory.
2. Explore Chinese arts, culture, and heritage at the Wan Qing Mid-Autumn Festival 2022
Until 25 September
If you're keen to learn more about the history and legends of the Mid-Autumn Festival, head over to the Sun Yat Sen Nanyang Memorial Hall to take part in a host of activities rich in historical and cultural significance. There are loads of exciting happenings at the festival, with a line-up of live performances, cultural workshops, heritage walking tours, storytelling sessions, and more during the weekend open house!
Psst, be sure to check out the cute outdoor installation by Taiwan's Kai 3D Art Studio! Celestial Bodies comprise five spherical lanterns that depict the artist's characters: Moon, Earth, Sun, Saturn, and Mercury. The installation pays tribute to the moon at its brightest and roundest, which is on the 15th day of the eighth lunar moon during the Mid-Autumn Festival. Celestial Bodies also symbolise the joyous union of family and friends.
3. Be wowed by the beautiful Mid-Autumn displays at Gardens by the Bay
Until 11 September
Celebrate Mid-Autumn Festival this year by admiring the beautiful lantern displays, which light up in the evenings, 6 to 10pm. You can spot the lanterns at the Supertree Grove, Golden Garden, and the North Colonnade. There are also live outdoor stage performances and a marketplace that you can check out while you're there.
4. Get lit at Singapore Discovery Centre's Mid-Autumn celebration
9 and 10 September
An exciting line-up of Mid-Autumn festivities awaits you at the Singapore Discovery Centre! The main highlight to look out for is the Singapore Chinese Orchestra, who will perform familiar favourites such as "The Moon Represents My Heart" on the night of the Mid-Autumn Festival. Visitors can also participate in art jamming with a local artist, learn the art of tea drinking, or join a moonlit trail with your own lanterns.
5. Check out Esplanade's annual traditional Chinese arts festival
9 – 11 September
The 18th edition of Moonfest – A Mid-Autumn Celebration features free performances of traditional Chinese arts and ticketed workshops that families can enjoy. Keep a lookout for puppetry performances in Henghua, Hainanese, and Teochew. There are also returning crowd favourites such as xiqu performances featuring Cantonese Opera excerpts by the Chinese Theatre Circle, and a getai concert infused with folk songs, Hokkien and Huangmei Opera.
6. Take part in the annual light-up at Jurong Lake Gardens
Until 18 September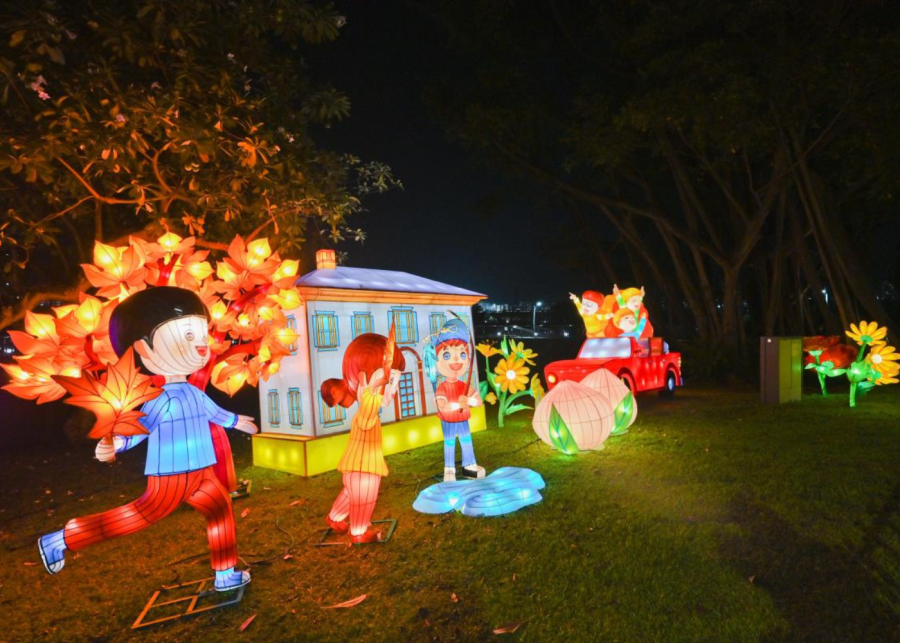 This year's Lights by the Lake at Jurong Lake Garden celebrates Singapore's strength and resilience against diversity, reunites Singaporeans, and raises awareness for the President's Challenge. Go around the display lanterns that were handcrafted in China and enjoy concerts by local artists on Fridays and Saturdays. There's a series of specially curated programmes and activities that you can partake in too.
7. Order your mooncakes
Snow skin or baked? There's a whole range of stunningly beautiful (and delicious) mooncakes on offer from hotels and restaurants this Mid-Autumn, and we've rounded up a whole list of our favourite mooncakes for you to try. Traditionally made with wheat flour and stuffed with delectable fillings including sugar and lotus bean powder, these tasty little Chinese pastries symbolise family reunions. Many now feature different textures and exotic flavours. Think Champagne truffle, chocolate and even Singapore's all-time fave fruit, durian! Get ordering now in time for reunions.
Enjoy, everyone!