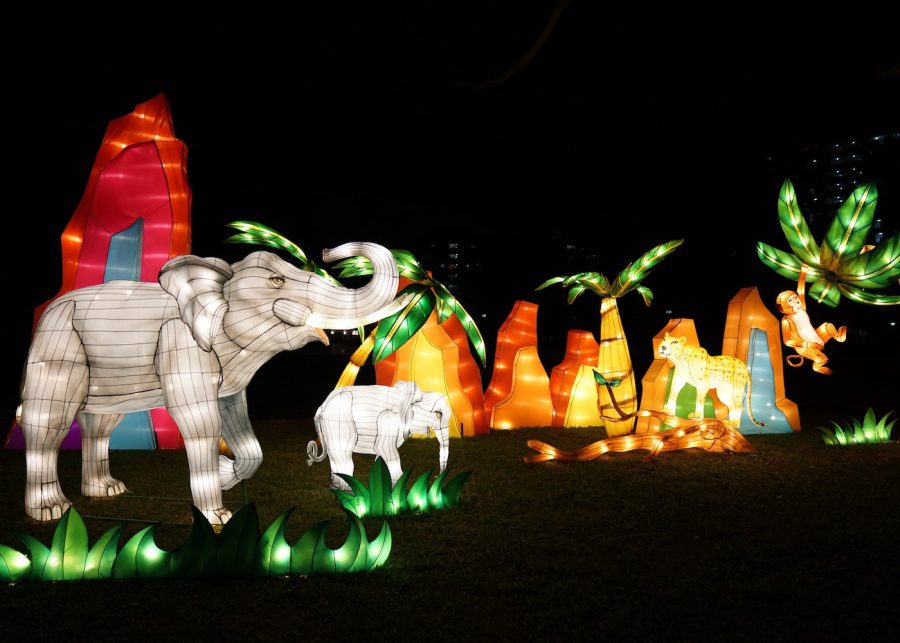 Photography: NParks
Time to light the lanterns and feast on mooncakes – Mid-Autumn Festival is here! Learn more about this traditional festival that's all about family, togetherness and dazzling displays of light.
In case you haven't noticed all the beautiful lanterns and the abundance of mooncakes around town, it's Mid-Autumn Festival time in Singapore (FYI – this year, it lands on Friday, 29 September)! There are so many perks to living in a multicultural city – we love celebrating all the cultural events that make the local calendar so lively. Sure, we're fairly clued up on all things Chinese New Year, dazzling Deepavali, and the big Hari Raya Aidilfitri festivities. But how about the story behind the Mid-Autumn Festival? Read on to find out about this colourful cultural experience…
All you need to know about the Mid-Autumn Festival
What's the Mid-Autumn Festival all about?
Marking the end of the Autumn harvest, the Mid-Autumn Festival is a time to show gratitude to godly entities. The most popular tale is of Hou Yi and his wife Chang'e. Long ago, the sky was filled with 10 suns, which burnt and devoured the greenery on Earth and caused people to perish. So, a young archer, Hou Yi, came to the rescue. He used his bow and arrows to shoot down nine of the suns, saving the human race. Hurrah! As a reward for his heroism, The Queen Mother of the West presented him with a bottle of magic elixir, a potion that would guarantee his immortality.
… but wait!
However, the archer didn't want the gift, as he loved his wife more than the prospect of eternal life without her (aww!). Instead of downing the elixir and sealing his immortal fate, Hou Li chose to hide it. Enter a dastardly student, Pang Meng, who tried to steal the elixir for himself. What Pang Meng didn't bargain for was running into Chang'e, who thwarted the plot by drinking the elixir herself! As a result, Chang'e not only became immortal, but the potion caused her to fly higher and higher until she reached the moon. She was destined to spend eternity in her new role as the Moon Goddess.
Heartbreak hotel
Hou Yi was heartbroken. So he took action by moving a table laden with food and offerings directly under the moon in the hope that it would somehow entice his beloved back to earth. Ever since then, during the Mid-Autumn Festival, the traditions of offering worship to the moon and the Goddess have continued.
Mark your diary for 29 September 2023!
The festival is honoured on the 15th day of the eighth month in the Chinese Han calendar and Vietnamese calendar (within 15 days of the autumnal equinox), on the night of the full moon (get all that?). This year, it falls on 29 September 2023. Celebrations usually involve gathering friends and family for a reunion to give thanks for the year's harvest.
It is also a time to pray for what you really wish for. That might be a new baby, a spouse, good health, longevity or a happy future. And, of course, gatherings will include mooncakes (washed down with Chinese tea) and the chance to get crafty making colourful lanterns.
Lovely lanterns
Making lanterns to release along the river is a traditional custom, but thankfully, it's widely acknowledged that this isn't a good practice for the environment. There are so many other ways to appreciate the beauty of lanterns – keep your eyes peeled for some great events around town! We're all about creativity here at HoneyKids, so why not break out the craft kit with the kids and make your own lanterns to decorate your home? Insta-photo ops galore!
How to celebrate Mid-Autumn Festival in Singapore with kids
Please note we are continuing to update this space!
1. Soak up the festive air at Chinatown
Until 29 September 2023
The Mid-Autumn festivities kick off on 15 September in Chinatown this year, starting with the official light-up and opening ceremony at Kreta Ayer Square. The amazing street light features parts of the Mid-Autumn legend and more. The street light-up will take place along New Bridge Road, Eu Tong Sen, South Bridge Road and Upper Cross Street.
Celebrations will include weekly festival fairs with all kinds of local cuisine that you and the kiddos can enjoy in the open space in front of the People's Park Complex and traditional and musical performances at the Kreta Ayer Square. Be sure to follow the official Instagram page for useful information on the events and some cultural anecdotes.
Where: Chinatown, Kreta Ayer Square, 21 Banda Street, Singapore 050005
2. Explore Chinese arts, culture, and heritage at the Wan Qing Mid-Autumn Festival 2023
29 August – 8 October 2023
The Sun Yat Sen Nanyang Memorial Hall is amping up the fun this Mid-Autumn with several parent-child-centric activities! Looking for a way to bond with the kiddos? Take part in their parent-child workshops, where you can learn to make your own panda lantern or whip up a traditional Hakka dish made of 'abacus seeds' – dimpled, disc-shaped dumplings made with taro and tapioca flour.  You and your child will work together to knead, pinch and roll these delicious yam seeds and learn some tricks and tips for preparing this dish from the Nanyang Hakka Federation. Plus, you and the family can look forward to live performances on the lawn and various drop-in activities happening over the festive period, from craft activities, family game challenges, dialect performances and more.
Don't miss the return of SYSNMH's annual outdoor lantern installation. This year's special installation, A Mid-Autumn Paw-trait, features two adorable giant panda lanterns – a fun collaboration between the museum and the toymaker 53 Toys Panda Roll series. Catch them in typical giant panda fashion – one sitting in a relaxed position and the other in what looks like a yoga stance at SYSNMH's lawn from 29 August to 1 October. Head over during nightfall for the cutest family photo ops!
Where: Sun Yat Sen Nanyang Memorial Hall, 12 Tai Gin Road, Singapore 327874
3. Be wowed by the beautiful Mid-Autumn displays at Gardens by the Bay
15 September – 1 October 2023
We love Gardens by the Bay, and this Mid-Autumn Festival, you can be sure there's no other place to be for a fun-filled time with the whole family. First, make sure to capture beautiful memories with your family and friends as you wander picturesque paths lined with colourful lanterns inspired by Chinese mythology, legends and cultures depicting reunion, fate and affinity.
Don't miss out on the ongoing fun during the festive season. Join the lantern walk on 15 September, and you get a free lantern! From 15 September to 1 October, treat your tastebuds at Food Street, featuring a range of local delights, Taiwanese street food and more! Plus, take part in their carnival games and rides.
Where: Mid-Autumn Festival at Gardens by the Bay, 18 Marina Gardens Dr, Singapore 018953
4. Lights by the Lake at Jurong Lake Gardens
16 September – 1 October
Look forward to beautiful lantern displays, performances, a festive food market and fun activities at Lights by the Lake at Jurong Lake Gardens this September! The whole park lights up every night from 7pm with magical lantern sculptures. There's even a weekly Lantern Riddles segment where you can put your riddle-solving skills to the test and win prizes!
Where: Lights by the Lake at Jurong Lake Gardens, Lakeside Garden, Yuan Ching Rd, Singapore
5. Get crafty with the kiddos!
Usher in the Mid-Autumn Festival with some art and craft projects with the kiddos! Make your own mooncake boxes, create your own paper lanterns and more!
6. Join in Mid-Autumn-themed storytelling sessions
30 September 2023
Who doesn't love listening to stories rife with legend and folklore? The Gateway Kids Club – a weekly kids programme that includes storytelling and arts & crafts sessions – will be hosting storytelling sessions featuring moon-themed tales this September! Storytellers Nat, William, Chandran, Rino, and the Young Storytellers from The Storytelling Centre bring you and the kiddos on a magical journey to discover the marvels of the night, moon, and darkness. This event is recommended for kids aged 3 to 7. If your kiddo is a bookworm, here's a Mid-Autumn-themed round-up of books you don't want to miss out on!
Where: Gateway Theatre, 3615 Jalan Bukit Merah, Singapore 159461
7. Order your mooncakes
Snow skin or baked? There's a whole range of stunningly beautiful (and delicious) mooncakes from hotels and restaurants this Mid-Autumn, and we've rounded up a list of our favourite mooncakes for you to try. Traditionally made with wheat flour and stuffed with delectable fillings, including sugar and lotus bean powder, these tasty little Chinese pastries symbolise family reunions. Many now feature different textures and exotic flavours. Think Champagne truffle, chocolate and even Singapore's all-time fave fruit, durian! Get ordering now in time for reunions, celebrations and more. Also, be sure to note that mooncakes should be consumed with tea, so make sure to stock up on some brews.
Stay tuned for more Mid-Autumn events!
Enjoy, everyone! 
Top image: NParks