From Holi to Christmas and Hungry Ghost Festival to Ramadan, we've been looking at all the festivals that happen in multicultural Singapore…
With Chinese New Year upon us, it's got us thinking about how lucky we are to be living in a country with so many nationalities, religions and cultures to celebrate. There's always a festival or cultural event to get excited about, and tons of fun-filled indoor and outdoor activities for the kids to partake in. So, we've put together a handy guide to what's happening and when here in Singapore – all the cultural events and religious festivals to mark in your diaries. Get ready to party, people!
Cultural events and festivals in Singapore
JANUARY TO MARCH 2023
Pongal (14–17 January 2023)
This four-day festival hailing from South India celebrates the blessing of plentiful harvests. Hindus typically spring clean to welcome new beginnings, prepare 'pongal' (boiled sticky rice with milk and sugar), and make house visits to friends and family.
Chinese New Year (22 January 2023)
Arguably the biggest event in the Chinese community is Chinese New Year. Also known as Lunar New Year or Spring Festival, it begins on the first day of the first month in the lunar calendar (it's also big with Koreans, too!). It's a 15-day extravaganza where new clothes are worn, auspicious red packets (ang bao) are doled out, and families reunite over hearty reunion dinners.
Chingay (3 & 4 February 2023)
Chingay is held during the second weekend of Chinese New Year in Singapore, and there's only one word to describe it: wow! Expect dazzling floats, fire-eaters, magicians and more in this annual street parade, the largest float parade in Asia. The word Chingay (妆艺) means 'the art of costume and masquerade' in the Hokkien dialect. It originally began after firecrackers were banned here in Singapore as a new way to drive away evil spirits.
Thaipusam (5 February 2023)
Hindu devotees embark on this annual procession to declare their faith and offer thanks, in honour of Lord Subrahmanya, who represents virtue, youth and power. This is not a sight for the faint-hearted – devotees carry a 'kavadi', which often has spikes that pierce into the body. The pieces of wood or steel are usually adorned with flowers, palm leaves and peacock feathers and can weigh up to 40kg. The festival is a trial of mind over matter.
Holi (8 March 2023)
As with many of the best legends, the story of Holi begins with a demon king. This particular demon king, Hiranyakashyap, conquered the earth but alas had a few parenting issues to deal with. His son, Prahlad, refused to worship him and so persuaded his daughter, Holika, to trick her brother into entering a blazing fire (knowing that she herself was immune to the flames). It turned out though that the immunity only applied if she entered a fire on her own. So, Holika paid the price of her sinister plot by perishing in the flames, while her brother escaped unscathed thanks to his devotion to Lord Naarayana. The name Holi is derived from Holika, and the festival is a celebration of good triumphing over evil. Bonfires are traditionally lit to represent Holika's downfall and sticky end, while coloured powder is thrown to represent freedom and the colours of life.
APRIL TO JUNE 2023
Ramadan and Hari Raya Aidilfitri (23 March – 21 April, 22 April 2023)
Muslims believe the sacred month of Ramadan to be the holiest month of the year. It is also one of the biggest cultural events and festivals celebrated here in Singapore. Little known fact: fasting is much more than just abstaining from food or drink during daylight hours. Fasting is seen as a commitment to the purification of the soul. This means refraining from bad habits and thoughts. Once you've pulled through the whole of Ramadan, it's time to celebrate. Hari Raya Aidilfitri (also called Hari Raya Puasa) is a month-long festival that encourages forgiveness and thanksgiving. Don't mistake it for the Muslim new year though, because it is not!
Good Friday and Easter (7-9 April 2023)
Whether you believe in Jesus Christ as the son of God or not, history suggests that this rather cool dude did exist and was indeed crucified on a cross by the dastardly Romans. No one really knows when that happened, but Good Friday became the day that Christians commemorate Jesus' earthly demise. Good Friday is also known as Holy Friday, Great Friday and Black Friday, and coincides with the Jewish Passover. Fast forward two days to Easter Sunday, and Jesus busts out of his tomb to the surprise and joy of all who followed him. His resurrection became the most important date in the Christian calendar and remains so to this day. The relatively modern term 'Easter' was first coined by Bede, a monk from the 8th Century.
Vesak Day (2 June 2023)
Vesak Day is an important celebration for Buddhists as it commemorates the birth, enlightenment and death of the Buddha. Visit the Buddha Tooth Relic Temple and Museum and watch devotees bring offerings to the feet of their spiritual teachers. Take the time to do a good deed too, since Buddhists believe that doing so today will spread good karma.
Dragon Boat Festival (22 June 2023)
Chinese celebrate this festival in honour of Qu Yuan, a poet who drowned himself as an act of protest against corruption. People used to throw rice dumplings into the river to stop fish from feeding on his body. These days, dragon boat races are held to symbolise the "search" for Qu Yuan's body. Young and old alike now enjoy rice dumplings as a sweet glutinous snack while cheering on dragon racing teams.
Hari Raya Haji (29 June 2023)
Hari Raya Haji (which means "great day of the haj" in Malay), also known as Eid al-Adha, is an important Muslim festival where followers reflect on the story of God commanding Ibrahim to sacrifice his son, Ismail. Thankfully, no small children came to harm as God intervened by allowing Ibrahim to sacrifice a sheep instead. Today, the sacrificial ritual, known as 'Korban', is an important part of the festival and represents Prophet Ibrahim's faith and trust in God. Mosques around Singapore take part in the ritual where sheep or goats will be sacrificed during the Korban.
JULY TO SEPTEMBER 2023
National Day (9 August 2023)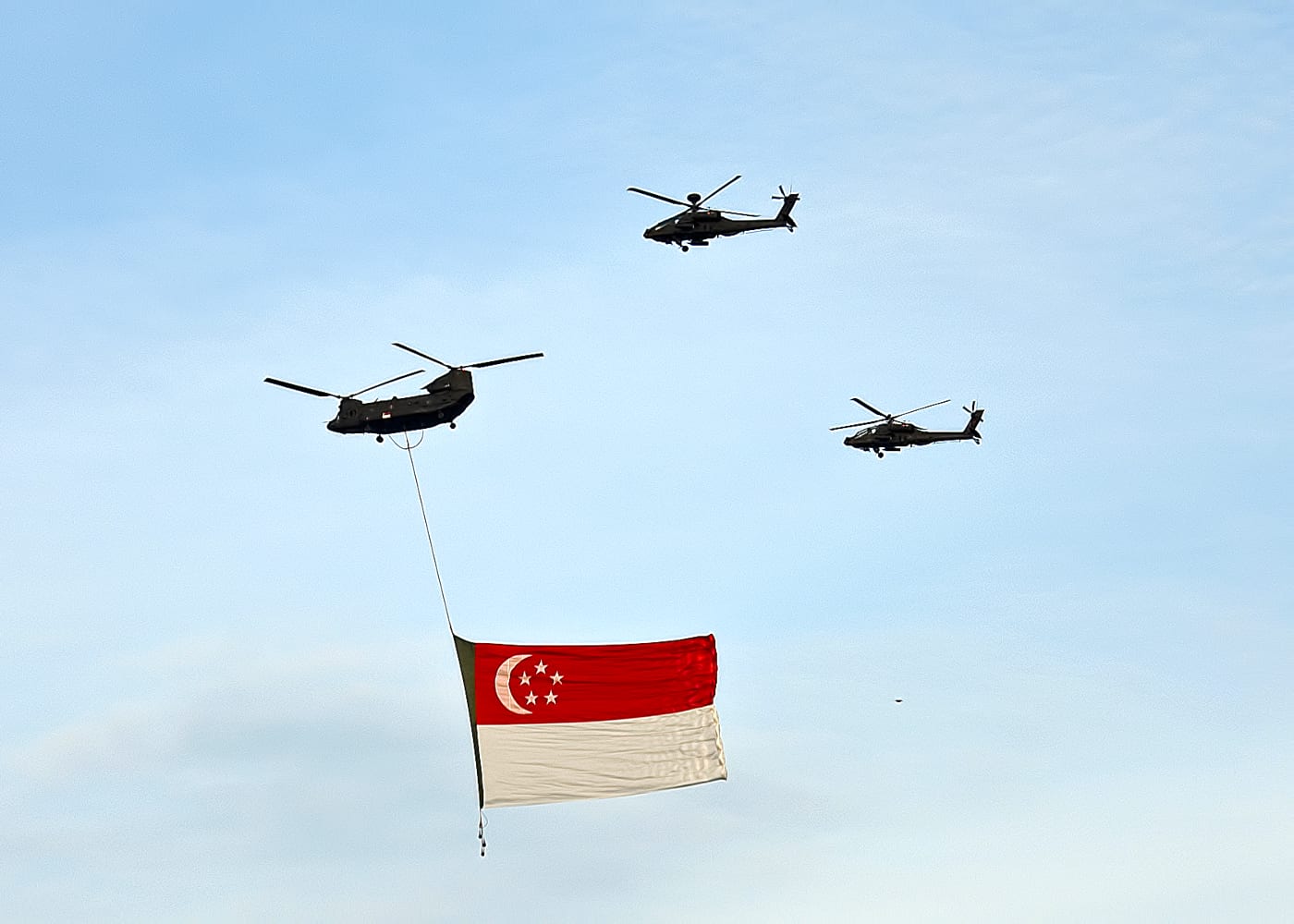 Red and white take centre stage on Singapore's National Day, so show your patriotism by donning the colours of our flag. Enjoy riveting performances and spectacular fireworks at the National Day Parade, and get ready for open days at museums, local eats and more!
Hungry Ghost Festival (30 August 2023)
Taoists believe that in August, the "Gates of Hell" are opened and the souls of the dead are free to roam the earth. It's a little like Halloween, except all the 'candy' are for the ghosts. Incense sticks and joss paper are also burnt as a form of prayer, while live performances on big stages (known as 'getai') entertain crowds with puppetry, opera and song-and-dance numbers. Head to Chinatown, Redhill and Geylang to take a peek at the festivities and be mindful of all the ways to keep the ghosts at bay.
Mid-Autumn Festival (29 September 2023)
This is one day all kids (and the inner kid in you) will love. Known as the Lantern or Mooncake Festival, children tote paper lanterns in cute shapes and sizes once the sun goes down, and feast on a whole heap of mooncakes. Whether you're a mooncake purist preferring traditional lotus paste pastries, or a more partial to an ice-cream mooncake with exotic flavours like durian, this is definitely the time of the year to ditch the diets!
OCTOBER TO DECEMBER 2023
Deepavali (12 November 2023)
Also known as Diwali, the Festival of Lights is celebrated by Hindus all around the world as well as in Singapore. Get henna art painted on your hands and soak up the festive atmosphere in Little India, which is bustling with bazaars full of beautiful saris and delicate costume jewellery. Don't miss out on the street parade and countdown concert.
Christmas (25 December 2023)
In a nutshell, Christmas is celebrated by Christians around the globe to honour the birth of Jesus Christ, who is believed by many to be the son of God. As you know, maternity packages and whatnot were not quite up to the same standard as those we are blessed with today. Poor Jesus' mum, Mary, was blue lighted not in an ambulance to a birthing centre, but on a donkey to Bethlehem where she gave birth in a stable. Still, it was made lovely and festive with the help of a very bright star, a whole choral of angels and some pretty snazzy gifts from strangers arriving from the East on camels.
And that's it! Your year of cultural events and festivals in Singapore awaits…