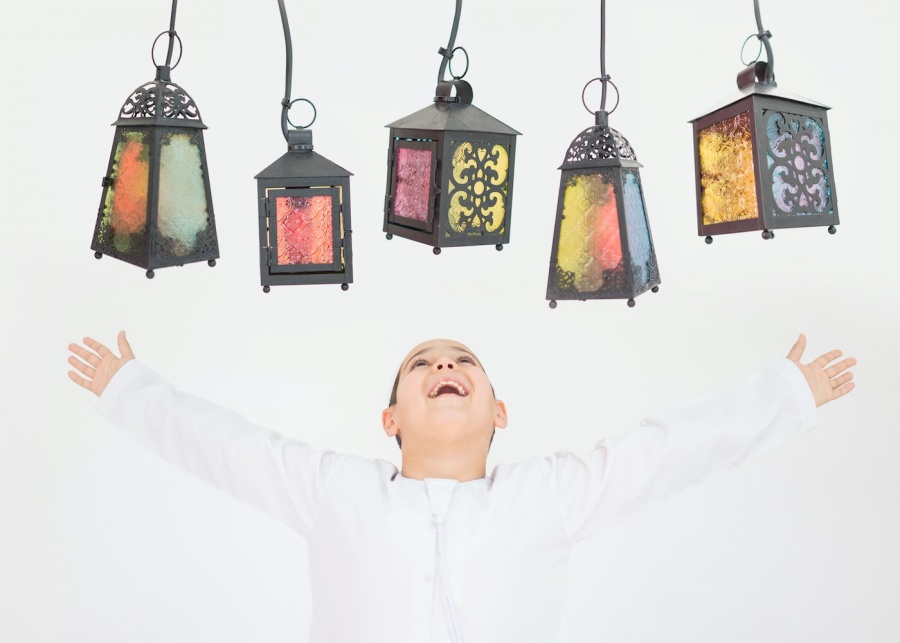 Photography: Abdullah Arif via Unsplash
Here's everything you need to know about the holy month of Ramadan…
One thing we love about living in Singapore is its multicultural environment: this is one of the world's great cities for teaching children about diversity and immersing them in an array of vibrant, cultural experiences. We also love that Singapore is the place where Ramadan (and Hari Raya), Vesak Day, Chinese New Year, Deepavali and Christmas are celebrated and respected in equal measure.
As the month of Ramadan commences for Singapore's Muslim community (which all leads to the Hari Raya long weekend – hurrah!), here's your guide to this major festival in Singapore. Whether your kids are fasting for the first time this year or you simply want to know more about its cultural significance, here's everything you need to know about Ramadan in Singapore.
All you need to know about Ramadan in Singapore
What is Ramadan?
The ninth month of the Islamic calendar, Ramadan is the holiest month of the year. Ramadan is when the Qur'an (Islam's holy book) was first revealed to Prophet Muhammad. The night that the Qur'an was revealed is known as Lailut ul-Qadr ('The Night of Power'), which takes place within the last 10 days of Ramadan.
The start of Ramadan differs each year, depending on the moon's cycle. Ramadan starts when the new moon first appears in the night sky. A full moon marks the middle of Ramadan. As the moon wanes to the other side, Ramadan finishes.
This year's observance commences from the evening of 2 April to 2 May 2022 in Singapore. During the month of Ramadan, Muslims don't eat or drink during daylight hours. This is known as fasting.
Why do Muslims fast?
Fasting is much more than just abstaining from food or drink, though – it is also a commitment to the purification of the soul. This means they refrain from bad habits, thoughts and actions. Not only is this a form of detoxification for the body, but fasting also teaches Muslims endurance, patience, builds empathy for those who suffer in life, and fosters community spirit as the act of breaking the fast brings friends and family together.
However, not everyone has to observe Ramadan. Children, women who are pregnant or menstruating, elderly people and those who are ill or travelling don't have to fast. If one missed their fast, they are obligated to make up for them another day.
How is Ramadan observed?
For one month, from dawn until dusk, Muslims start their fast with a pre-dawn meal (suhoor) and (what seems like) gallons of water for hydration. The most anticipated time of the day – the act of breaking fast – occurs at sunset, when the meal (iftar) usually starts with dates and a short prayer before tucking in.
Many Muslims will attempt to read the whole of the Qur'an at least once during Ramadan. They will also attend special services in the mosques during which the Qur'an is read.
Ramadan for kids
Do children need to fast for Ramadan?
Children are not expected to fast until they reach puberty. Traditionally, Muslim parents slowly ease their kids into fasting. For most, this usually begins from Primary One (seven years old). Typically, the first year kicks off with a half-day fast till 12pm to prepare the child for fasting until they are ready for the real deal (the usual dawn to dusk fast).
Fasting can be difficult for newbies or even the average Muslim so coming up with ways to make Ramadan more enjoyable helps ease your kids into it. We suggest:
Ramadan goals: ideas for kids
Have your children set goals for the month of Ramadan. For the younger ones, it could be as simple as "fast for two hours a day" or "help mummy with cleaning away my toys." For the older ones, encourage them to write in a journal to express their feelings throughout Ramadan so they can reflect on their day-to-day blessings.
Get them making decorations for Ramadan
As Hari Raya Aidilfitri inches closer, hanging up festive decor is the perfect way to kick off the celebratory spirit. To prepare for Aidilfitri, the family home gets a thorough spring clean (we suggest roping in your bigger kids for chores). String fairy lights or plastic ketupat (rice cakes cooked in coconut leaf casings) around the house and blast Hari Raya music as you clean.
Teach the kids to be generous
As charity is a big aspect of Ramadan, teach your kids the value of giving through fun ways. Get crafty and decorate a big box and then every day, get them to donate a desired fraction of their allowance (since it's not spent on food). At the end of the month, discuss as a family where you'd like to make a donation.
Where to celebrate Ramadan in Singapore
1. Hari Raya Light-up 2022
Each year, the iconic neighbourhood of Geylang Serai plays host to a dazzling light display. This year's theme, "Gotong Royong – Unity and Resilience", celebrates the spirit of neighbourliness, kindness and helping one another in the community. From now till 8 May, 7pm to midnight, you can marvel at the light display which covers Changi Road, Geylang Road, and Sims Avenue. The hours are extended until 6am on the eve of Hari Raya Aidilfitri (2 May).
2. Geylang Serai Bazaar
It's been two years since we've had a physical bazaar in Singapore. With the easing of Covid-19 restrictions, the iconic Geylang Serai Bazaar has finally made its return! This year's bazaar is held from 2 April to 2 May across two zones near Wisma Geylang Serai, with each zone comprising twenty stalls. You can expect everything from traditional Ramadan and Hari Raya food, clothes and accessories, to 'essential items' such as carpets. Psst, we hear the bazaar might expand to include more vendors!
3. Laloolalang's Ramadan Bazaar
What's better than one bazaar this Ramadan? Two bazaars! This second bazaar, themed 'Walk Thru Souq 2022' and curated by Laloolalang, is held at Kandahar Street from 1 April to 1 May, 3 to 11pm. There are 22 F&B vendors where you can get your Ramadan and Hari Raya goodies as well as special performances by local talents. We look forward to attending this one!
4. Joy Box 2022 Hari Raya Edition
As you know, Ramadan is the time when you're encouraged to give and pay it forward. So how about spreading joy to families in need this month? Put together a package of Hari Raya goodies, and your donation will be matched to a family. You're welcome to donate more than one box too! You can also include a message to the recipient family in the box you've put together. Register your interest here by 10 April.
5. MTFA Iftar Disbursement 2022
Here's another good deed that you can get involved with this Ramadan. Sign up as a volunteer and help to deliver food to 160 beneficiaries across several housing estates in Singapore. Food distribution will be done over the weekends, beginning 9 April. Volunteers are encouraged to have their own mode of transport. Limited slots left, so register your interest now.
6. More bazaars and pop-up markets for you to visit
It's not just Geylang Serai and Kampong Glam that are teeming with Ramadan bazaars. In fact, there are several locations across the island that are having their own night markets too! Head down to ArtBox Singapore's month-long weekend Ramadan bazaar for food, shopping, and fun activities. If you happen to be at the OG Geylang bazaar, pop by Kinex for its Mega Raya Showcase, where you can peruse through Raya fashion and goodies. Check out Ramadhan Festival, taking place across three weekends this month at Lavender and Joo Chiat. Pop by The Straits Teppanyaki at Bussorah Street for its rooftop bazaar when you're done at Kandahar Street. Prefer smaller, more intimate markets? You can go to the Maqayla Mini Bazaar Ramadhan or the Ramadhan Pop-Up Market at The Oval. Too many to choose from!
7. Craft a Hari Raya card at home
Planning to stay home during the day? Get some craft supplies and gather the kiddos together for some arts and crafts courtesy of Ducks & Crafts. The company will be conducting an online workshop on Saturday 23 April, where participants can create a Hari Raya ketupat card. Sign up by creating an account on its website; a Zoom link will be emailed to you closer to the date.
8. Go green with IKEA's craft workshops
Our favourite Swedish furniture giant invites kids to go green with easy craft workshops. On 15 April, 23-24 April, and. 1 May, children between five and 12 years old can flex their creativity by decorating photo frames and creating star mosaics. Only limited slots are available for each session; registration is on a first come first serve basis.
9. Help out the less fortunate via Giving.sg
More good deeds to get involved in this Ramadan! Donate to these campaigns where you'll help raise funds for food hampers and grocery vouchers, Gracious Goodie Bags, and Blessings in a Bag. Even if you can't donate, do help to spread the word and spread some cheer this festive season.
Where to break fast in Singapore
The greatest part of the day during Ramadan is iftar, a great time to catch up with each other and bond over food. Here are the best Ramadan dining deals (some from the coolest kid-friendly restaurants, of course!) to look out for:
1. Kintamani Indonesian Restaurant at Furama RiverFront
Craving an Indonesian feast? Furama Riverfront has got you covered! Its halal-certified restaurant serves up unlimited portions such as Rendang Daging Sapi (beef simmered with thick coconut milk), Ayam Geprek (crispy battered fried chicken with homemade sambal), and Ikan Colo-Colo (deep-fried dory fish with black spicy sauce). Each table will also receive a complimentary serving of Ketam Sambal (spicy chilli crab). Mmm, our mouths are watering just thinking about them! These delicacies are also offered as sharing sets if you prefer a homely celebration.
Kintamani Indonesian Restaurant, Furama RiverFront, 405 Havelock Road, Singapore 169633
2. Tiffany Cafe & Restaurant at Furama City Centre
Over at the other Furama hotel, Tiffany Cafe & Restaurant offers its popular international halal buffet for your iftar. There are three different menus to choose from, featuring salad, carving, and live noodle stations. Each table will also receive a free serving of the 'fisherman's harvest' seafood platter. Psst, folks above 60 years old can enjoy 30% off, while kids between six and 12 years old get 40% off. Get the Asian-style family bundles if you want to beat the crowd and dine at home.
Tiffany Cafe & Restaurant, Furama City Centre, 60 Eu Tong Sen Street, Singapore 059804
3. StraitsKitchen at Grand Hyatt Singapore
We love a buffet that celebrates local favourites and international fare alike, and the Grand Hyatt never disappoints. StraitsKitchen serves up amazing laksa, satay, chicken rice, udang lemak nanas (Peranakan curry prawns) and much, much more: think Lebanese shawarma, and baklawa! The hotel will also offer prayer rooms for diners to perform the Maghrib prayers, and its kitchen is strictly halal.
StraitsKitchen, Grand Hyatt Singapore, 10 Scotts Road Lobby Level, Singapore 228211
4. Atrium Restaurant at Holiday Inn Singapore Atrium
If you can never decide what to eat, Atrium Singapore has a little bit of everything that you can enjoy. Apart from its Ramadan specials and local delights, the restaurant is also introducing a Korean corner to its buffet spread. There are also desserts like mango bingsu and Injeolmi rice cake. Or, if you want something simple, get the ice cream with bread or waffle. Sounds yummy!
Atrium Restaurant, Holiday Inn Singapore Atrium, 317 Outram Road, Singapore 169075
5. Permata at Gedung Kuning
Permata, which means jewel in Malay, is a halal restaurant located within the former historic mansion Gedung Kuning at Kampong Glam. It serves up classic Nusantara dishes in a modern way. The curated Iftar menu features dishes exclusively created for Ramadan, including Nasi Opor Cakerawala, Kuluban, Taman Sari, and more. Its signature dishes, such as Bubur Som Som and Kolak Pisang, are also available.
Permata, Gedung Kuning, 73 Sultan Gate, Singapore 198497
6. Ginger at PARKROYAL on Beach Road
Enjoy a feast of local delights at Ginger this Ramadan! Start off munching on crisps and crackers with a side of sambal before savouring the many favourites this restaurant has whipped up. You can go for the classics like Mee Rebus, mutton soup, and chilli crab with mantou, or try out unique creations such as the Ginger "Ramly" Burger and Crab Lemak Nenas. Truly an iftar feast that you'll enjoy with your family and friends.
Ginger, PARKROYAL on Beach Road, 7500 Beach Road, Singapore 199591
7. Window on the Park at Holiday Inn Singapore Orchard City Centre
Planning a cosy iftar feast at home this year, despite the easing of restrictions? Window on the Park can help you out in that department. Its chef team has curated the perfect Ramadan meal that can be shared between four and six people. The takeaway set consists of dishes like spiced wagyu beef rendang, fried fish with sambal, and more. Orders are to be made at least a day in advance.
Window on the Park, Holiday Inn Singapore Orchard City Centre, 11 Cavenagh Road, Singapore 229616
8. Peppermint at PARKRoyal Collection Marina Bay
Here's another all-you-can-eat halal buffet where you can break your fast this Ramadan. Peppermint has prepared a sumptuous festive spread that you can indulge in, featuring signature recipes like Grilled Octopus with Urban Farm Calamansi, Indonesian Lobster Kalio, and more. You can even enjoy pisang goreng (with Nutella and roasted almonds), which come directly from the farm!
Peppermint, PARKRoyal Collection Marina Bay, Marina Square, 6 Raffles Boulevard, Singapore 039594
9. Asian Market Cafe at Fairmont Singapore
Now that 10 pax can have a social outing, why not make it a delectable gathering by heading down to this halal-certified restaurant at Fairmont Singapore? The well-known restaurant opens its doors again with a Ramadan iftar buffet that takes diners on a culinary journey through Southeast Asia. Live stations and delicious dessert displays await! Look out for highlights such as braised beef rendang, chicken tikka, and gado gado.
Asian Market Cafe, Fairmont Singapore, 80 Bras Basah Road, Level 2, Singapore 189560
10. Tok Tok Indonesian Restaurant
Time to gather your loved ones for a celebratory feast of Tok Tok's Lontong Istimewa Ramadan Special. The lontong, AKA rice cakes, are topped with steamed bamboo lobster, slow-cooked beef and curry chicken stew, and fried hard-boiled eggs. If you prefer to dine at home, get the Ramadan hamper. Psst, best to order the hamper way in advance – we hear there are limited sets available.
Tok Tok Indonesian Restaurant, 467 Joo Chiat Road, Singapore 427678
11. PastaMania
Looking for something casual for your iftar? Say, a homegrown brand offering Italian cuisine? Enter PastaMania: this local dining chain honours the holy month with two new main courses, Sambal Prawn Pasta and Curry Seafood Baked Rice. If you're planning to eat at any of its outlets, you can enjoy the Ramadan Combo. Else, the Ramadan Family Feast is good to serve five pax at home. You can also donate while you dine, as PastaMania has partnered with non-profit organisation Badan Agama dan Pelajaran Radin Mas this month.
PastaMania, various locations in Singapore
Ramadan Murabak, folks!