Photography: Mufid Majnun via Unsplash
Ramadan is over in Singapore, and it's time to celebrate! We've compiled a guide on all things Hari Raya Aidilfitri – what it's all about, and what you can do throughout the month.
So you've pulled through the whole month of Ramadan – well done! Now's the time to celebrate Eid ul-Fitr, AKA Hari Raya Aidilfitri or Hari Raya Puasa in Singapore. This month-long festival marks the end of fasting and encourages forgiveness and thanksgiving. Don't mistake it for the Muslim new year, though, because it's not. Here's everything you need to know about the Hari Raya celebration in Singapore.
All you need to know about Hari Raya Aidilfitri in Singapore
What is Hari Raya Aidilfitri?
Hari Raya Aidilfitri, or Hari Raya Puasa, is a significant occasion for Muslims, as it marks the end of the fasting month. It's a time for forgiveness, as folks offer their apologies for wrongdoings committed in the past year. Family and friends also get together to strengthen their bonds and remember those who have passed on. The celebration is more commonly known as Hari Raya or just Raya in Singapore. The term "hari raya" means "day of celebration".
Contrary to popular belief, Hari Raya isn't a celebration of the Muslim New Year! In fact, Hari Raya Puasa falls on the first day of Syawal, the tenth month in the Islamic calendar. This year's celebration will take place on Saturday 22 April.
What are the standard Hari Raya greetings?
The most common (and traditional) greeting that Muslims in Singapore use is "Selamat Hari Raya", which means "Happy Hari Raya". This is sometimes followed by "maaf zahir and batin", which loosely translates to "I seek forgiveness from you". Some folks also use "Eid Mubarak" to greet each other.
What happens on Hari Raya?
On the morning of Hari Raya Aidilfitri, family members seek forgiveness from their elders after prayers at the mosque. A tradition observed by most families is dressing in the same colours to symbolise unity, which we find absolutely adorable! Oh, and little ones often receive green packets of money.
What other things can you see during Hari Raya?
Muslims are big on decorations, so you'll see plenty of Hari Raya adornments in their homes. These include "Selamat Hari Raya" cutouts, colourful fairy string lights, ribbon ketupats, crescent moon and star garlands. Of course, what's Hari Raya without the delicious spread? You can easily spot hearty dishes such as beef rendang and sayur lodeh alongside goodies like pineapple tarts, kueh bangkit, and kueh makmur.
What to do during Hari Raya Puasa in Singapore
1. Savour Hari Raya dishes at various restaurants
Missed your chance to nom on the various iftar promotions? Fret not, folks – some promotions are still running well into the first week of Hari Raya! Check out our Ramadan guide to see which restaurants you can hit up for your Aidilfitri-inspired meals.
2. Catch Hari Raya specials on the telly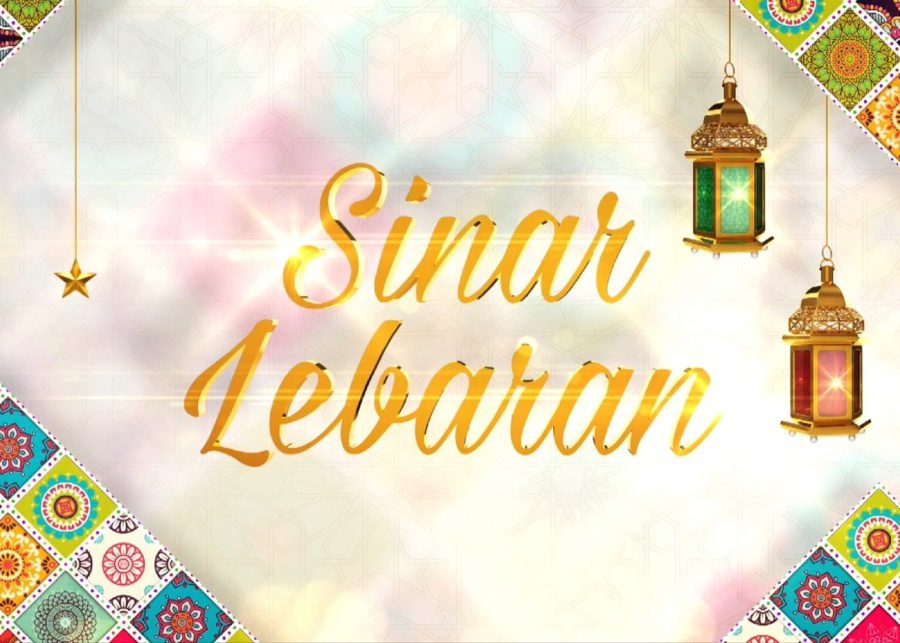 Get into the festive mood with television shows, movies, and specials on Suria and meWATCH. Join the rest of Singapore in ushering in the festivities with Salam Lebaran 2023, the annual variety show airing on the eve of Hari Raya. The show will feature musical performances and skits by local artists. Kids can enjoy Ra Ra Raya!, an hour-long children's drama, on the big day. And that's not all – there are many other Raya specials you can catch throughout the month.
3. Last chance to check out the dazzling lights at Geylang Serai
Now is your last chance to check out the iconic lights at Geylang Serai! This year's theme, "Masyarakat Gemilang – Community of Success", symbolises the Malay/Muslim community's resilience throughout the Covid-19 pandemic. You can sneak a final glimpse until 22 April, 7pm to midnight.
4. All aboard the Hari Raya-themed public transport
See if you can spot (and board) the Hari Raya-themed buses and trains while you're out and about this festive season. There are five decorated trains across all six rail lines, as well as five buses on services 7, 12, 28, 70 and 960. You have until the 21 May to track them down! And there's more – you can also enjoy a Hari Raya themed display at Punggol station and Paya Lebar station, close to the Geylang Serai bazaar. Let us know if you spot them!
5. Aidil Fitri at The Museum by June Ho [SOLD OUT]
Check out this joint event by the Children's Museum Singapore and the Malay Language Council Singapore and join storyteller June Ho in an English-Malay bilingual session. The session includes a craft-making activity of a ketupat (rice cake wrapped in woven coconut leaves) and is a great chance for the whole fam to discover more about Aidil Fitri and why it's such an important celebration.
Details: 22 April, 3pm – 4pm  and 23 April, 10am – 11am. Free for children, $10 per adult. Book online. 
6. Check out the celebrations at National Stadium
As part of Hari Raya celebrations, the National Stadium's roof will have a special display on the 22 April, from 7.30pm to 10pm, with lights depicting the change of time from Kampung to City, ending off with portraits of the Muslim communities.
Details: 22 April, from 7.30pm to 10pm, National Stadium, more info
7. Celebrate Hari Raya @ Stadium Roar
There's loads happening over at Singapore Sports Hub to celebrate Hari Raya. From captivating cultural performances to fun and interactive family games. Plus, a special competition for the best-dressed family on 1 May. There are also live bands and culinary delights on offer to make this the perfect way to celebrate with the family!
Details: 29 April – 1 May, 11am – 9pm, Singapore Sports Hub
8. Celebrate Hari Raya at the National Museum of Singapore
National Museum of Singapore has a great lineup this Hari Raya. Check out the drop-in craft activity where the kids can make a brooch or kerongsang (which are commonly worn by both men and women during Hari Raya). There are also music performances by capella group Juz-B, an interactive storytelling session, and even a gallery quest (with treats!) for the older kids.
Details: 29 April, various timings – check the website for details, National Museum of Singapore.
Selamat Hari Raya Aidilfitri!