Photography: POKOKS via Facebook
Celebrating Hari Raya with the fam? Here's where you can pick up modest fashion for kids…
One thing we absolutely love about Singapore is its multiculturalism. That means we get to enjoy good food, exciting events, colourful decorations and home visits most of the year. And while our Hari Raya Aidilfitri celebrations are a little different in the time of Covid-19, it doesn't mean you can't still dress in the right threads for the occasion. A great tip to remember? Keep bottoms covered with the hemline below the knee and avoid revealing necklines. Lucky for you, we've found some of the cutest Hari Raya fashion for kids for all your fashion inspo needs. Best get those online orders stat so that you can have them delivered before Hari Raya!
Where to buy Hari Raya fashion for the fam this Ramadan 2022!
1. Adrianna Yariqa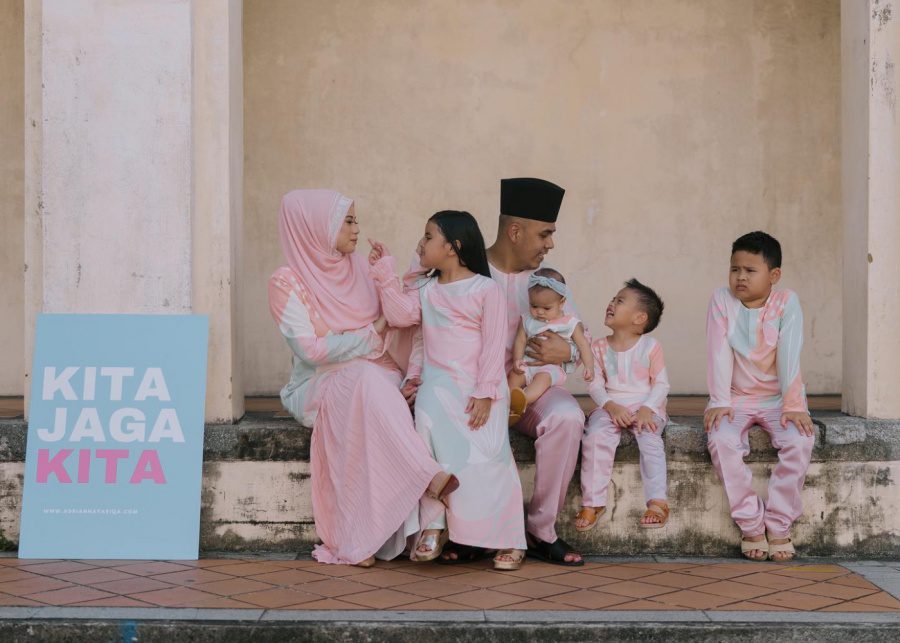 Get your Raya outfits for the whole family with threads from eponymous local brand Adrianna Yariqa. Her stylish pieces have been the go-to for many who seek modest and contemporary fashion. You'll definitely want to wear these pieces all year long, not just for Raya…
Adrianna Yariqa, available online and at 8 Jalan Pisang, Singapore 199075
2. Batique
If you love all things batik, then Batique is the shop for you. The collections here are chic, fashionable and affordable, so you can dress the whole fambam without breaking the bank. Whether they've opted for a cute dress, a kebaya set or adorb batik kurung, the kiddos are sure to look batik-ularly amazing. The best kind of Raya fashion for kids – stylish and comfy!
Batique, available online and at Tanjong Katong Complex, 845 Geylang Road, #03-47, Singapore 400845
3. Simply Rays
It's probably just us, but we love how Simply Ray's colourful collection reminds us of the festive cakes and kuehs! If you're wanting a matchy-matchy look for the entire family, then this local label is one that should take a look at. The perfect Hari Raya fashion to celebrate this year.
Simply Rays, available online and at Golden Landmark, 390 Victoria Street, #03-53, Singapore 188061
4. Thea Kids
We're loving this brand solely for the fact that it is eco-conscious. Thumbs up, Thea Kids! Its Raya collection is created from carefully sourced cotton and linen fabrics so the kiddos can remain comfortable even in the hottest times of the day. Simple and chic Hari Raya fashion – we like.
Thea Kids, available online only
5. Katt & Co
Mummies, prefer something with a modern silhouette to strut your stuff in? Look no further than Katt & Co for your Hari Raya fashion needs. This year's collection follows a theme of flowers and plants, with beautiful cuts that embrace your body's shape. House visiting this year will be exciting when you walk in wearing one of Katt & Co's designs.
Katt & Co, available online only
6. Maison Q
This Singapore-based brand is the brainchild of one mum who loves to play dress-up with her little ones and knows the #struggleisreal for long-lasting children's wear. With apparel made in a family-owned workshop by experienced artisans, Maison Q's clothes are really one-of-a-kind. We're loving these stylish baju kurungs – even parents can get a matching set too! But while you're there, why not pick up one of its speciality reversible dresses, shirts or onesies?
Maison Q, available online and stocked in various locations across Singapore
7. Ilhan Creations
Can't be bothered to pick individual outfits for everyone? Deck the whole family out in matching prints this season with sets from local modest fashion retailer, Ilhan Creations. It's been highly requested during Eid, and there's no surprise why: it's simply adorable!
Ilhan Creations, available online only
8. POKOKS
This Malaysia-based store has just the thing to lift your spirits. Shop from the Dulu Kita collection for bright colours and mesmerising patterns over trousers and baju kurungs. Or, for a more subtle look, pop on a plain blouse and a patterned belted skirt. Sizes come in ages one to 12, and you can mix and match for the perfect pop of colour to suit the kiddos.
POKOKS, available online with shipping to Singapore
9. ANAABU
Here's another independent label from our neighbouring country if you're looking for more Hari Raya fashion options. Its Eid 2022 collection has finally dropped and we're loving every single item. As per the brand's aesthetics, everything is in neutral, pale, and pastel colours. Even babies get to partake in the festivities by dressing up in cute rompers and adorable dresses! Kids will love the pleated tops and harem pants.
ANAABU, available online with shipping to Singapore
10. Lúbna
If you've been shopping on Zalora long enough, you ought to be familiar with this brand. Besides being modest but with a modern twist, what we also like about Lubna is how size-inclusive it is. There's definitely something for everyone – from traditional baju melayus to modern interpretations with prints and details. Adults and kids are spoiled for choice with its Hari Raya collection.
Lubna, Lubna Kids, and Lubna Home, available online only
11. PopLook
Not only does PopLook have Raya fashion for kids, but it has matching sets for us mums, too. Plus, these quality pieces are also affordable, chic and breathable for this humid Singapore weather. It's a win for us!
PopLook, available online with shipping to Singapore
12. Qutn Cotton
Looking for adorable threads with plenty of options available to you? Check out Qutn Cotton – its collections come in a variety of sizes for the little ones from age two to 14, and in different colours for you to pick out, too. Plus, you know it's going to be comfy when it's made from Japanese cotton.
Qutn Cotton, available online and ships to Singapore
13. ZALORA
Speaking of Zalora, if you don't have time to shop for your bajus, just hit up this online retailer. There are plenty of brands and styles for you to peruse over – you just need to set some time aside to do so. Make your purchase and it'll be delivered to you within three days. Easy-peasy!
ZALORA, online only
Psst, looking for even more options? Trawl the Ramadan bazaar in Geylang Serai and see if anything strikes your fancy. While you're at Geylang, you can also pop over Tanjong Katong Complex and Joo Chiat Complex – options galore!
Salam Lebaran and selamat shopping!