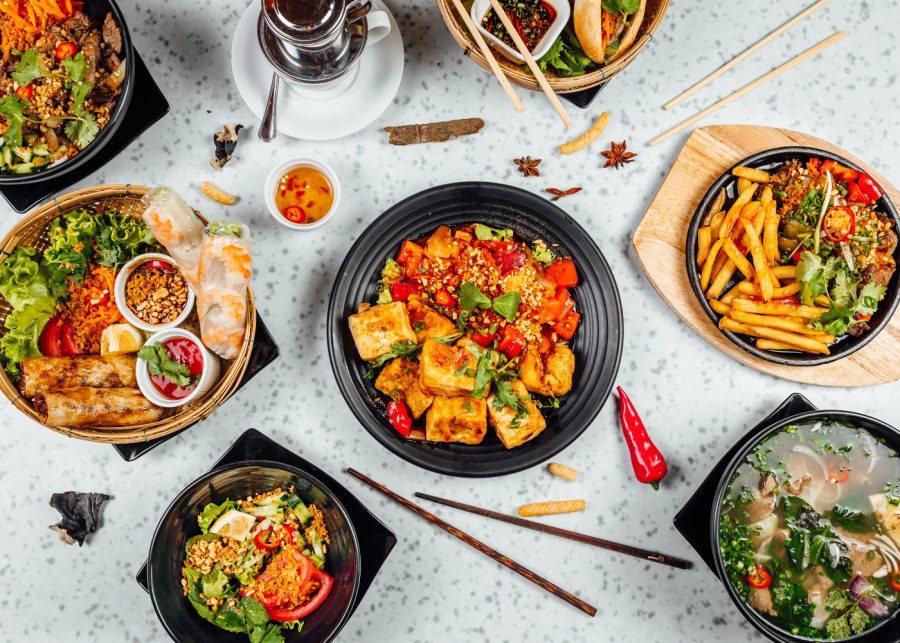 Photography: wirestock via Freepik
Halal? Is it meat you're looking for? Then you've come to the right place. Here's our list of Singapore's best halal (and Muslim-owned) restaurants, cafes, bakeries, and more…
Being a multicultural country, you can easily find all kinds of cuisine in Singapore. That includes halal food. Need help finding them? Not to worry – we've done the work and compiled the best halal (and Muslim-owned) restaurants and cafes on this sunny island for the whole family to enjoy. But first, a little clarification…
What does halal mean?
According to the Islamic Religious Council of Singapore, halal means lawful or permissible in Arabic. This means Muslims can consume any food and drink in this category.
Now, there's a slight distinction between halal and halal-certified. For the latter, it means the business has undergone the rigorous (and costly) process of ensuring that it offers halal food to consumers.
What if a business is not halal-certified?
Some businesses, such as Muslim-owned food establishments, serve halal food but are not halal-certified. This is fine, although the council advises patrons to look for the certification for assurance.
Now that you're up to speed, here's our list of the best halal and Muslim-owned eateries in Singapore!
The best halal restaurants and cafes in Singapore for all the family
Halal eateries in Central Singapore
1. Zamas River Valley
There's no lack of 24-hour eateries in Singapore, and if you've got a craving for good Indian Muslim cuisine, Zamas River Valley is the place to go. It's constantly packed, which means the food's good (according to the locals). Not sure what to get from its extensive menu? The biryani comes highly recommended. Pair that with a cup of teh tarik, and your meal is all set.
Zamas River Valley, 429 River Valley Road, Singapore 248328
2. Jtown Cafe
Are you a fan of Indonesian street food? Then you have to pay Jtown Cafe a visit. This cafe in Somerset is famed for its Bakmie Ayam, which comes in various spice levels. If you're not fond of noodles, there are rice offerings to choose from. End your meal with its martabak manis, the Indonesian version of pancakes. Enak banget!
Jtown Cafe, #B1-04/05, Midpoint Orchard, 220 Orchard Road, Singapore 238852
3. Afterwit Bar de Burrito
Mexican, but make it halal – that's Afterwit for you. A stone's throw away from Sultan Mosque; this cafe offers Mexican fusion eats that include banh mi tacos, scorpion wings, and empanadas. While you wait for your food, go on and take a family selfie at the bright neon sign located all the way in the eatery.
Afterwit Bar de Burrito, 778 North Bridge Road, Singapore 198746
4. Fluff Bakery
When we think of cupcakes, Fluff Bakery is the first thing that comes to mind. This halal artisanal bakery has been delivering fluffy (hence the name), delicious cupcakes since its establishment in 2013. Its confections are known to be very popular – everything sells out as soon as they hit the shelves! Check out unique flavours like pandan kaya cheese and triple milo or pick signature ones like the Nutella red velvet and salted caramel that the kids are sure to gobble up before you can even get a look in.
Fluff Bakery, 795 North Bridge Road, Singapore 198763
5. Overrice
If you've been searching for a good halal place that serves Mediterranean rice bowls, look no further. Overrice offers all-in-one bowls that are tailored to suit Singaporean tastebuds. One thing that you should look forward to is the two sauces – the addictive white sauce and the punchy chilli sauce. We don't know what goes into them, but we sure can't stop dipping everything in the two sauces!
Overrice, 41 Sultan Gate, Singapore 198489
6. Grill Ninety Nine
Halal-certified Western restaurants are a dime a dozen in Singapore, but that doesn't mean you shouldn't check out Grill Ninety Nine. The menu is constantly changing, so diners shouldn't expect the same thing the next time they patronise the place. Bonus points for providing meatless options too!
Grill Ninety Nine, 142 Arab Street, Singapore 199828
7. Pancake Place
Round up the kids and head to this halal cafe in Kampong Glam that serves up premium pancakes. There's a good selection of sweet and savoury to be found, as well as a dedicated kids menu. You can also add extra toppings to zhush up your dish. More sauce? Sure. A scoop of gelato? Go ahead. An extra pancake piece? Oh yes, please! And while you're at it, get a milkshake to go with your meal.
Pancake Place, 56 Kandahar Street, Singapore 198904
8. Cahaya Singapura
If you end up in the Bendemeer area and looking for a halal spot to have your meal, head over to Cahaya Singapura at CT Hub. This homely eatery offers traditional Nasi Padang dishes as well as other known Indonesian cuisines. Need to burn off your meal? There's a rock climbing gym just a few steps away.
Cahaya Singapura, #01-10/11 CT Hub, 2 Kallang Avenue, Singapore 339407
9. Beigelhaus
Is bagel the only bae in your life right now? Then you should pay Beigelhaus a visit! This Muslim-owned cafe right smack in the heart of the CBD offers lip-smacking "beigels" with innovative names. Care to have a taste of Egg Sheeran? Or perhaps Wagyu Smith is more right up your alley… If you love the spreads used, you can buy them in jars to enjoy at home with the kids and even gift them to loved ones (or for Mother's Day – hint, hint).
Beigelhaus, #01-02, 144 Robinson Road, Singapore 068908
10. Good Bites
Having the late-night munchies after the kiddos have gone to bed? Leave them in the hands of a babysitter (or your hubs!) and head down to Good Bites. Located within Bishan Sports Centre, this cafe offers a wide selection of Western fusion dishes at friendly prices. Enjoy al-fresco dining when the sun comes down – it's a lovely experience.
Good Bites, #03-01, Bishan Sports Hall, 5 Bishan Street 14, Singapore 579783
Halal food places in East Singapore
11. Kraft Kitchen
According to many local foodies, this halal-certified hidden gem in Tampines is said to serve the best mac and cheese in Singapore. We daresay, that's a bold statement to make! If mac and cheese don't interest you, we suggest going for the pot pie. It may not seem much at first blush, but it'll fill you up pretty well.
Kraft Kitchen, #01-526, 820 Tampines Street 81, Singapore 520820
12. Porta Porta Italian Restaurant
Speaking of halal hidden gems, here's another halal restaurant you should be patronising. Porta Porta Italian Restaurant has been serving authentic Southern Italian cuisine in Singapore for over 25 years, and the business is still going strong. Date night option, sorted.
Porta Porta Italian Restaurant, No. 32 Jalan Pari Burong, Singapore 488698
13. Jinshang Yipin
Are you a fan of hotpot? Here's a halal option for you. Tucked away on the first floor of Eastpoint, this steamboat buffet includes five soup bases and unlimited meats, vegetables, and rice. Each diner gets their own personal pot, and at a minimum top-up, a barbeque grill can be added. There are over 10 options to choose from at the sauce station, and you'll get free-flow drinks and desserts. It's definitely value for money dining here!
Jinshang Yipin, #01-20, Eastpoint Mall, 3 Simei Street 6, Singapore 528833
14. La Fez
Be transported to Marrakesh the moment you step into this Muslim-owned wellness cafe and bakery in Siglap. This cheery pink restaurant serves yummy Mediterranean cuisine, from all-day brunches and gorgeous desserts to Moroccan teas and refreshing mocktails. Don't miss the chance to take lots of IG-worthy photos with the kids while you're here.
La Fez, 907 East Coast Road, Singapore 459107
15. 800 Degrees Woodfired Pizza
Pizza lovers (aka the kids), we've not forgotten you. 800 Degrees Woodfired Pizza comes up with irresistibly delish pans that are made with fresh produce, scratch dough, and artisan-quality meats and cheeses. It's not just pizza that's available here – you can also order rotisserie chicken, pasta, and appetisers.
800 Degrees Woodfired Pizza, #01-52/53, Kinex, 11 Tanjong Katong Road, Singapore 437157
Halal food options in North Singapore
16. Brostern
Technically not a restaurant or cafe, but we couldn't leave this Muslim-owned stall off our list. Founded by four friends, this stall at Ci Yuan Hawker Centre in Hougang offers Western fusion food that's wallet-friendly. Brostern's best dish, according to the founders, is the Volcano Burg, which is drenched with cheese. Big eaters – and those that can't decide what to eat – should go for the Ambeng Deluxe Platter, which features a little bit of everything on the menu.
Brostern, #01-39 & #01-41, Ci Yuan Hawker Centre, 51 Hougang Ave 9, Singapore 538776
17. Coba Coba
If you ever find yourself in Yishun, you've got to make your way to Coba Coba. This vintage-looking halal cafe serves traditional Indonesian food to pay homage to the founders' background. Coba Coba specialises in Nasi Ambeng and Nasi Padang, with over 30 dishes to choose from. Its signature items include the tahu telur, lemak siput sedut, and sotong sumbat.
Coba Coba, #01-106, 156 Yishun Street 11, Singapore 760156
18. Citrus By The Pool
Is the Singapore heat getting to you? Then take respite by nipping into Citrus By The Pool, a cosy halal hideout that opens till 5am. Its menu boasts both Western and Asian fusion cuisine that'll leave you spoiled for choice. The kiddos will have a field day lapping up all the sweet stuff, which includes mighty milkshakes, croissants with ice creams, and croffles.
Citrus By The Pool, #03-3A, Woodlands Swimming Complex, 3 Woodlands Street 13, Singapore 738600
19. Rasa Istimewa Waterfront Restaurant
Dining with a view – that's what you get when you're at Rasa Istimewa in Woodlands. This waterfront restaurant is uniquely located on a jetty above Johor Strats. Tuck into halal Chinese cuisine and seafood dishes and enjoy unobstructed views of the sea, Johor Bahru, and Singapore's skylines. Stroll over to the nearby Admiralty Park, where the littles get to go down the many slides there.
Rasa Istimewa Waterfront Restaurant, Woodlands Waterfront Park, 6A Admiralty Road West, Singapore 757445
Halal eating places in West Singapore
20. Spize
The Bedok branch is well-known among late-night supper fans, but for this list, we're shining the spotlight on its outlet at Temasek Club. Spize's beloved dishes are still offered here, but with a modern twist. What we love the most are the ambience and the gorgeous views of the outside greenery. Psst, this would make a great place to break fast with your family or friends this Ramadan!
Spize @ Temasek Club, #03-04, 131 Rifle Range Road, Singapore 588406
21. Brio
Here's a halal-certified cafe in Singapore that serves affordable European street food. The menu ranges from risotto and pasta to chef's recommendations such as beef ragu pappardelle and salted egg truffle fish and chips. Plus points for the chic decor, which playfully pairs black and white tiles with mismatched chairs.
Brio, #02-24/K5, Jurong Point, 1 Jurong West Central 2, Singapore 648886
22. Ela
It's not easy to find affordable (and halal) Greek food in Singapore. But if you're craving it, we know just the place – Ela. Residing at HomeTeamNS Bukit Batok, this concept restaurant features a smorgasbord of classically Greek dishes. Picky eaters, don't fret – Ela also serves up burgers, pasta, and pizzas with a Greek twist.
Ela, #01-07, HomeTeamNS Bukit Batok, 2 Bukit Batok West Avenue 7, Singapore 659003
23. Prata Alley
Prata is like that one friend that unites everybody together. It's universally loved and can be enjoyed at all times of the day. Who doesn't know prata? If you feel like having one right now, we recommend dropping by Prata Alley. This contemporary Indian restaurant puts a new spin on the local food staple. Pizza prata, anyone?
Prata Alley, #01-12, 321 Clementi Ave 3, Singapore 129905
Various locations in Singapore
24. Hjh Maimunah
This name may seem familiar to you (if not, you need to get out more!). Hjh Maimunah has been around since the 1990s, catering to customers with a wide range of dishes for their plate of Nasi Padang. If you're overwhelmed by what's in front of you when you're there, go for the Sundanese grilled chicken and lemak siput. Those are the restaurant's signature dishes. Else, be sure to sample the sambal goreng!
Hjh Maimunah, outlets at Jalan Pisang and Joo Chiat
25. Tipo
You've not truly lived until you've eaten at Tipo. This halal-friendly restaurant specialises – and excels (not being hyperbolic here) – in fresh, artisanal, handmade pasta. It can be hard to make reservations, so if you're planning to dine here, be sure to book ahead of time. We don't want you to change your plans just because you couldn't get a spot here.
Tipo, various locations across Singapore
26. Monster Planet
If you enjoy Monster Curry, then you'll love this one. A halal spin-off of the revered Japanese curry brand, Monster Planet serves hearty demi-glace curry that's made with 14 different vegetables and spices. Fun fact: the curry rice comes in 35cm and 41cm sized plates. Now, that's what we call a monster curry!
Monster Planet, multiple locations including Paya Lebar Square and Jem
27. Captain Kim Korean BBQ and Hotpot
Korean barbeque and army stew hotpot… is your mouth watering yet? This halal-certified eatery is where you can enjoy the two aforementioned meals at the same time. There are over 60 top-quality buffet ingredients to choose from, as well as meats that have been marinated to perfection. Psst, keep a lookout for sweet deals Captain Kim has every month.
Captain Kim Korean BBQ and Hotpot, locations in Tampines, Bukit Panjang, and Clementi
28. Nuodle
Chances are you've passed by one of Nuodle's outlets when you're at the shopping mall lately. This halal-certified casual eatery is all about hand-pulled Lanzhou noodles with beef and clear brewed broth. But if you ask us, we prefer the dumplings.
Nuodle, many locations in Singapore
29. Mrs. Hen
Who's Mrs Hen? She's your typical Asian mother who loves to cook and feed others. Mrs Hen's speciality is ayam geprek, a crispy battered fried chicken crushed and mixed with hot and spicy sambal. Can't stomach spicy food? You can dial down the spice level to zero, or go for the ayam geprek salted egg.
Mrs. Hen, several locations across Singapore
30. The Dim Sum Place
This halal-certified eatery is super affordable and, we daresay, as good as its original Cantonese counterpart. We love its Peking duck wrap and crystal shrimp dumpling, which satiated our dim sum cravings. Get a few steamed milk buns for the kids to munch on before and after your meal. Makan here soon!
The Dim Sum Place, branches at North Bridge Road, Changi City Point, and The Centrepoint
You're spoiled for choice with all these halal food options for all the family in Singapore!