Photography: Mike Esparza via Pexels
What's something that can be eaten anytime? Pancakes! So we've stacked up a list of the best pancakes in Singapore for you to flip over.
When you think of breakfast, what's one thing that comes to mind? Pancakes. More than just a breakfast staple, we firmly believe that pancakes can be eaten at any time. Not all pancakes are stacked equally, though – that includes the hotcakes from McDonald's. Sorry kiddos, we don't make the rules! So we went flipping mad and set out to look for the best pancakes in Singapore to go with that frothy babyccino. HoneyKids junior reporter Siya Rathi also shared her insights on the pancakes that she's tried and loved!
The best pancakes in Singapore to flip over
1. Brawn and Brains
Who would've thought kaya could go well with pancakes? The big-brain folks at Brawn and Brains, clearly! Over here, the good ol' classic pancakes are paired with house-made kaya spread and mixed berries jam alongside a butter square and maple syrup. This creation reminds us of an elevated kaya toast. Thumbs up! Psst, pancakes are only available at its East Coast outlet.
Our junior reporter says… "Hands down the best pancake in Singapore for me. The simplicity of its textures and flavours appeals to me the most. One bite of the fluffy pancake spread with butter and maple syrup has me in pancake heaven, for sure!"
Brawn and Brains, locations at East Coast Road, Hamilton Road, and Guillemard Road
2. Group Therapy Cafe
Satisfy your craving with Group Therapy's selection of stacks. A standout is the pumpkin pancakes, which come with poached eggs, smoked salmon, Hollandaise sauce, and tobiko roe. The cafe also has vegetarian and flexitarian alternatives, which are MSG-free and made using plant-based products. Siya, our junior reporter, suggests getting bagels and hash browns alongside your pancakes.
Our junior reporter says… "If you're looking for comfort, these traditional American-style pancakes hit the spot. The icing on the (pan)cake is that they are served with homemade ice cream!"
Group Therapy Cafe, #01-05 & #K1-04, 181 South Bridge Road, Singapore 058743 and #01-11, 30 East Coast Road, Singapore 428751
3. Common Man Coffee Roasters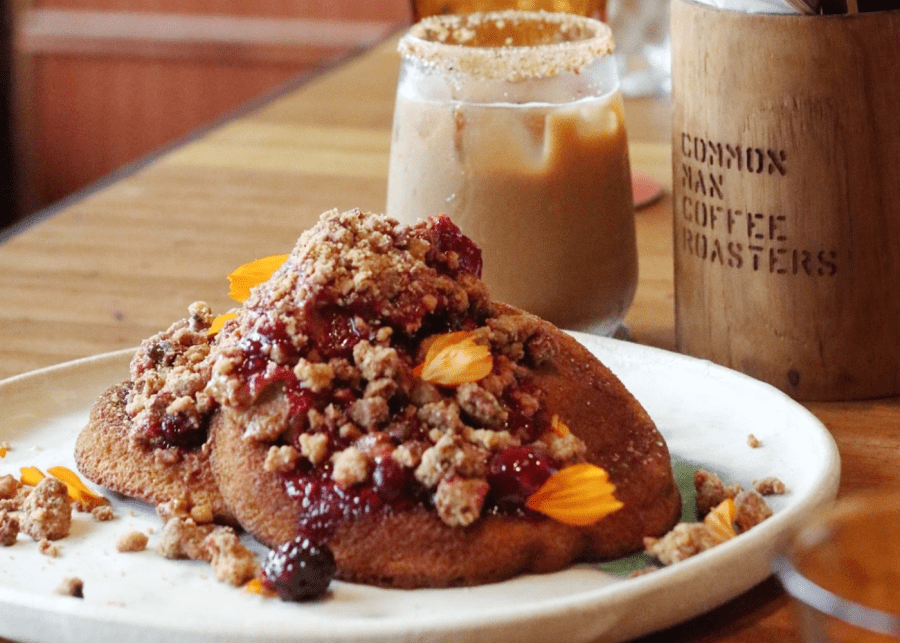 Imagine this – caramelised bananas and walnuts, salted caramel sauce, nutty crumble, and berry coulis, all on fluffy flapjacks. That's what you'll get at Common Man Coffee Roasters! If you're a fan of the sweet and savoury combo, order the Savoury Stack. It comes with crispy bacon and fried egg.
Our junior reporter says… "The pancakes are a dessert, with its cake-like texture and crumbly bits of sweet goodness. They had me salivating from the word go!"
Common Man Coffee Roasters, various outlets across Singapore
4. Five Oars Coffee Roasters
This establishment serves up different pancakes at its two outlets. The Tanjong Pagar outlet has sticky date pancakes, which come with mascarpone, salted caramel sauce, banana, cookie crumbs, and ice cream. Meanwhile, over at its Upper East Coast branch, you can get the famed citrus ricotta pancakes featuring citrus compote and yuzu curd. Both sound delish, TBH!
Our junior reporter says… "The pancakes' oh-so-elaborate appearance made me feel royal! "
Five Oars Coffee Roasters, 6 Upper East Coast Road, Singapore 455200 and 43 Tanjong Pagar Road, Singapore 088464
5. Little Farms
If you're on a health kick but still want your slappy jacks, pop over to Little Farms. Its buttermilk pancakes come with berry compote, a dusting of powdered sugar, and pure maple syrup. Who says you can't have a bit of fun with healthier options? We totes approve.
Our junior reporter says… "I personally found there were one too many berries for my liking – but hey, this is heaven for you if you are a berry-lover (like my brothers!)."
Little Farms Bistro, #01-04, Katong Point, 451 Joo Chiat Road, Singapore 427664
6. Munchi Pancakes
How about the local version of pancakes? This humble Singaporean eatery serves up three types of pancakes for you to savour – the fluffy, traditional min jiang kueh; the Munchi Pancakes, which come in 10 assorted flavours; and Mini Munchis, which are six bite-sized pancakes that you (and the littles) can have on the go. This place gets the stamp of approval from us!
Munchi Pancakes, several locations across Singapore
7. Wild Honey
If you're bringing the young 'uns on a shopping trip, appease them with this surefire winner. Among all its newfangled creations, Wild Honey's classic stack of buttermilk pancakes certainly stands out – literally! Enjoy fluffy pancakes piled high with hibiscus-berry compote, candied-back bacon, and real Canadian maple syrup. This place definitely knows how to make pancakes.
Wild Honey, locations in Mandarin Gallery, Scotts Square, and South Beach
8. Two Bakers
Dorayaki pancakes? Don't mind if we do! This is paired with matcha custard, Japanese Azuki beans, and strawberries, reminding us of Doraemon, the classic Japanese cartoon. Try out the earl grey infused pancakes too, which are fragrant and overwhelmingly decadent. Add a scoop of gelato from its sister brand Sugartree Gelato for an additional sweet treat.
Two Bakers, 88 Horne Road, Singapore 209083 and 9 Teck Chye Terrace, Singapore 545720
9. Privé
For those who like their pancakes with a view, Privé at Keppel Bay is where it's at. Its pancakes are fluffy stacks of goodness served with fresh strawberries, bananas, whipped cream, maple syrup, and honeycomb. There are gluten-free options if you want a healthier choice.
Privé, 2 Keppel Bay Vista, Singapore 098382
10. Belle-Ville Pancake Cafe
The Japanese sure know how to come up with sweet things. We would be silly not to include this very obvious choice on our list! This cafe serves up soft and fluffy meringue millefeuille pancakes made from fresh milk, separated egg yolks, and high-grade wheat flour. We were flipping over the grilled apple pancakes, which are drizzled with homemade caramel sauce. Yummers!
Belle-Ville Pancake Cafe, locations in Bugis, Tanjong Pagar, Novena, and Bukit Panjang
11. Earlybird
Fried chicken and buttermilk pancakes – yes, you read that right. And we dare say, this is quite the explosive pairing. Who knew we needed this sweet and savoury combo? The portion is huge, perfect for sharing between you and the kiddos. If you don't have an adventurous palette, the cafe also serves up the standard hotcakes, which come with lemon curd, fairy floss, and vanilla ice cream. Yummy in our tummy!
Earlybird, 17 Jalan Pinang, Singapore 199149
12. Slappy Cakes
How about a pancake joint that lets you create your own flappy jacks? Slappy Cakes introduces a fun and interactive concept where diners get to craft their own pancakes using fresh batters that come in myriad flavours. There's also a pandan-flavoured batter if you want something local! Choose from a wide selection of sweet and savoury "fixins" to accompany your creations. Hungry for more? Peruse its artisan menu for all-day breakfast choices, refreshing salads, and American favourites.
Slappy Cakes, #01-11, Northshore Plaza II, 418 Northshore Drive, Singapore 820418
13. The Fabulous Baker Boy
Drop by this cafe after walking around Kampong Glam for fab pancakes. If you're sharing with the kids, you can't go wrong with the homestyle pancakes drizzled with maple syrup and served with a thick pat of butter. Or indulge in the chef's fave, cinnamon and brown sugar pancakes with maple cream cheese sauce topped with pecans. So much "Yes, please!".
The Fabulous Baker Boy, #01-01, Aliwal Arts Centre, 28 Aliwal Street, Singapore 199918
14. Gram Cafe & Pancakes
Another pancake joint that hails from Japan, its opening in Singapore was met with immediate fanfare and frenzies. The premium pancake is in such high demand that the item is only sold at three timeslots each day. Parents, you might be keen to try the tiramisu pancake. Each morsel is simply divine! Those looking for something different can try out its chilli beans pancakes. Interesting, no?
Gram Cafe & Pancakes, #02-110/111, VivoCity, 1 Harbourfront Walk, Singapore 098585
15. Hoshino Coffee
Want a different kind of pancake? Visit Hoshino Coffee and tuck into some seriously fluffy soufflé pancakes. Drizzled with maple syrup or honey syrup and served with whipped butter, these freshly baked pancakes are definitely the star of any afternoon tea. On top of the plain and matcha flavoured pancakes, Hoshino Coffee also offers a changing range of pancakes topped with seasonal fruit.
Hoshino Coffee, various locations in Singapore
16. Fluff Stack
Run by pancakes enthusiasts for pancake connoisseurs, this cafe crafts its pancakes with exact science and passion. A bite out of its classic soufflé pancakes is like tasting the clouds… that, we agree. If you're looking to feed the 'gram, go with the oolong boba soufflé pancakes. Looks good in photos, tastes even better in the mouth.
Fluff Stack, locations in Suntec City, Northpoint City, Westgate, and Tampines 1
17. Flipper's
Arguably Japan's most well-known souffle pancake chains, Flipper's flapjacks are created with artisan precision – we heard each ingredient is carefully weighed and measured. Each fluffy stack is pillowy-soft and melts in your mouth. If you prefer your pancakes with a little savouriness, go for the Egg Benedict or honey chicken variation. Whichever souffle pancakes you decided to get, remember that they're best enjoyed "with forks only".
Flipper's, outlets in Takashimaya Shopping Centre and Bugis Junction
18. Granny's Pancakes
Granny Pancakes is an iconic homegrown brand that can be found in many hawker centres across Singapore. It sells min jiang kueh, AKA a beloved childhood snack that's moist yet also fluffy. The original comes with a generous portion of crushed peanuts filling, but if you're allergic to those, there are other flavours you can get. Plus, each pancake costs less than $2. Tasty and affordable, we totally stan!
Granny's Pancakes, multiple locations across Singapore
19. Curious Palette
We've talked about its doughnuts before, but this cafe serves up a mean plate of pancakes too. Its berry ricotta hotcakes are baked for 30 minutes before being served with vanilla ice cream, berries compote, seasonal fruits, and mixed seeds. The dish is dense without being cloyingly sweet, and once we're with it, we're itching for another plate. Help!
Curious Palette, 64 Prinsep Street, Singapore 188667
20. Kyushu Pancake
If your agenda for the day is to eat pancakes only, then this is the place to eat them. We were so spoiled for choice that it took us some time before we finally ordered! The kiddos will be contented with the Kyushu Happy Meal, while parents, we dare you to try the croque madame set. Of course, there's the good ol' classic if you just want simple flavours. Psst, we're told that only the finest ingredients are used to make its pancakes, so you can be certain that you're getting the good stuff.
Kyushu Pancake, 25 Lorong Liput, Singapore 277735
21. Food For Thought
Besides having the best all-day brunches, Food For Thought also serves up some of the best pancakes in Singapore. Tuck into flapjacks drizzled with gula Melaka syrup and topped off with vanilla or coconut ice cream. When you're done going around the National Museum, pop over to this cafe for a brunch of chocolate banana and blueberry smoothie pancakes. The kiddos will thank you.
Food For Thought, #01-04/05, National Museum of Singapore, 93 Stamford Road, Singapore 178897
22. Kafe Utu
Bask in the ambience of Africa without leaving the little red dot! The hotcakes at Kafe Utu are made using Hokkaido milk and feature ricotta cheese, fresh mixed berries, and cardamom maple syrup made in-house. It is topped with icing sugar and vanilla ice cream. Sure, it may not be the most African dish here, but is it the most IG-worthy? Oh, deff0!
Kafe Utu, 12 Jiak Chuan Road, Singapore 089265
23. Punch
We're just gonna go ahead and say it – the pancakes here pack a Punch (sorry, not sorry!). Its earl grey pancakes are triple stacks that have been heavily infused with the British tea blend, giving it a dense and earthy flavour profile. Light brown sugar syrup, poached pear, and chocolate macadamia crumble complement the stacks with their sweetness. This should be the only thing that you eat every time you're here.
Punch, 32 North Canal Road, Singapore 059288
24. Oriole Coffee + Bar
This place serves up an amazing cuppa, but its brunch deserves a shout too. We particularly have a soft spot for its vanilla hotcakes, which come with maple syrup and homemade espresso orange butter. Don't worry parents, the pancakes are deemed kid-friendly so they can have a bite too. Plus, stay here long enough and you can get a tipple too (deffo not kid-friendly!).
Oriole Coffee + Bar, #01-01, Pan Pacific Serviced Suites Orchard, 96 Somerset Road, Singapore 238163
25. Stackz
So you're finally done with your heritage trail trek around Balestier and looking for a place to refuel. May we suggest this cosy (and air-conditioned) hidden gem in Zhongshan Mall? Stackz's American European menu features flapjacks that are made freshly flipped upon order. And, true to its name, each stack(z) is light, fluffy, and a treat both to the mouth and tummy. There are many variations to choose from – you're spoiled for choice.
Stackz, #01-15, Zhongshan Mall, 20 Ah Hood Road, Singapore 329984
26. Nirvana Dessert Cafe
If you happen to be in Haji Lane and feeling famished for flapjacks, make a stopover at this Muslim-friendly hidden gem for affordable souffle pancakes. Enjoy a simple plate topped with fresh cream, fresh berries, and your choice of syrup. Top up for a scoop of ice cream to accompany your fluffy stacks. Psst, be sure to take home some mochi when you're done eating here!
Nirvana Dessert Cafe, Level 1, 37 Haji Lane, Singapore 189230
27. Jtown
This quaint eating place in Orchard Road has a soft spot in this writer's heart. Besides its hearty mains, Jtown also serves up delicious desserts in the form of martabak. Not to be confused with murtabak, martabak is a stuffed pancake (similar to min jiang kueh) that's very popular in Indonesia. There are six variations to choose from include: butter sugar (AKA the original), chocolate, peanut, cheese, all mix, and Ovopop. These are so good, you can have them on their own. Sedap!
Jtown, #B1-04/05, Midpoint Orchard, 220 Orchard Road, Singapore 238852
28. Pancake Place
Here's another cafe in Kampong Glam that serves up premium pancakes. There's a good selection of sweet (cempedak creme brulee is calling out to you) and savoury (lemak duck, anyone?) to be found here, as well as a dedicated kids menu. You can also add extra toppings to zhush up your dish. More sauce? Sure. A scoop of gelato? Go ahead. An extra pancake piece? Oh yes, please! And while you're at it, get a milkshake to go with your meal. Pancake Place is a Muslim-owned restaurant.
Pancake Place, 56 Kandahar Street, Singapore 198904
29. Spruce
Perched at the top of Phoenix Park in Tanglin, Spruce is an extremely popular spot for a brunch – and for good reason. Its banana hotcakes with honeycomb butter and blueberry syrup are definitely worth waking up early for. A definite slice of heaven!
Spruce, Phoenix Park, 320 Tanglin Road, Singapore 247980
Batter try these pancakes in Singapore, folks – they're flipping delicious!