Retail therapy is just a street away! Photography: Shutterstock
Looking for places to refuel at while shopping with the kids in tow? We've rustled up the best eats around Orchard Road for when you need a bite to eat...
From top-notch burger joints to family-friendly pizza dates with the kids, easy-on-the-wallet local food to weekend brunches, we've been out and about around Orchard Road on a mission to find the kid-approved dining options…
Where to eat with kids on Orchard Road
Hai Di Lao Hotpot
The greatest selling point about Hai Di Lao isn't even its fabulous food of beef slices, mutton, duck and chewy, addictive sticky rice balls. Neither is its renowned complimentary massage and manicure services. But it's the fact that if you can't get bubba to sleep and you rock up at night (it's open until 6am!), it will dish up a bassinet for your little one to snooze in while you finally get to eat a hot meal! Hallelujah to that.
Where: Hai Di Lao Hotpot, 313 Orchard Rd, #04-23/24, Singapore 238895 and Plaza Singapura, 68 Orchard Rd, #04-01 20, Singapore 238839
Pizza Express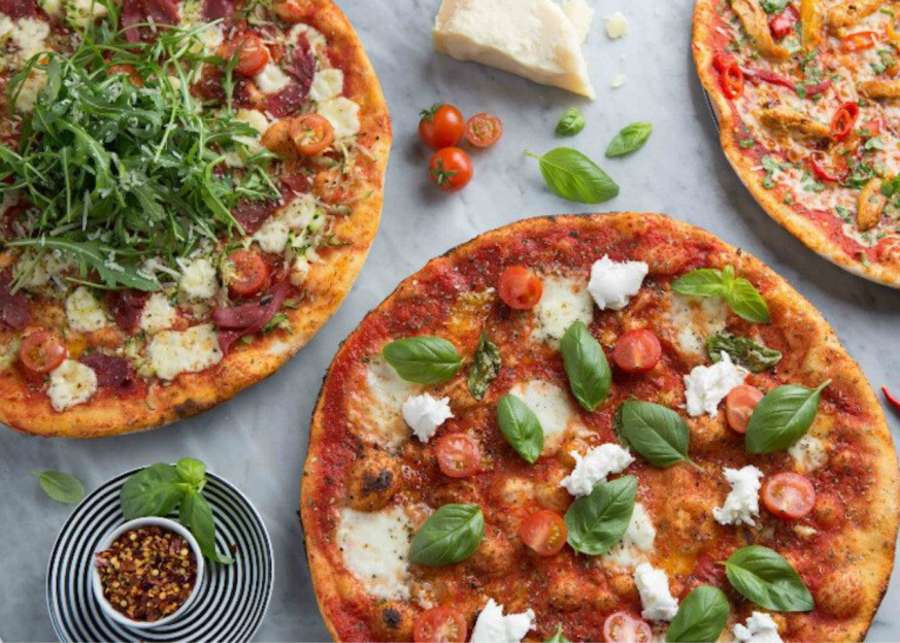 It's no secret the HoneyKids team are big fans of this Brit-imported pizza joint, and we've already got our little ones hooked too! It has a kids' pack and a dedicated menu for younger diners (these guys totally get that pasta covered in sauce is the devil incarnate to fussy kids). Imaginative pizza offerings including chilli crab, laksa and carbonara (for those who just can't decide between pizza and pasta)! Pizza Express tis one place that always proves a surefire hit for the whole family when it comes to dining in the Orchard area. The heavenly dough balls with garlic butter seal the deal for us!
Where: PizzaExpress, Scotts Square, #B1 08/09, 6 Scotts Road, Singapore 228209 
Hard Rock Cafe
Sometimes you just have to have a burger, and Hard Rock Cafe definitely delivers the goods. Its classic American menu mixed with local faves is sure to appeal to even the pickiest of eaters, and the portion sizes are perfect for hungry teens who are all out of fuel after conquering the shopping malls lining Orchard Road. Check out the cool rock memorabilia on display before ordering a huge ice-cream sundae to share. Psst: come on a weekend for fun activities and free kids' meals!
Hard Rock Cafe, 50 Cuscaden Road, Hpl House #02-01, Singapore 249724 
Marche Movenpick
Switzerland comes to Singapore at family-friendly restaurant Marche where you'll find top-notch European food set in a Swiss Alpine village! Try the delicious rostis with a side-order of mushroom ragout, or go simple but scrumptious with a wood-fired pizza or grilled steak. Pack the kids off to the small play area while you dine in peace, and then bring them back for their own menu deals. They'll feel all grown up choosing for themselves from the self-service bars. It's also the place to head for really good freshly baked bread.
Where: Marche Movenpick, 313 Orchard Rd, Level 1, Discovery Walk, [email protected], Singapore 238895 
Din Tai Fung
Is there a kid in Singapore who doesn't love Din Tai Fung? Quick, easy and always delish, this is our go-to when we have dim sum and wanton craving. Did someone say hot and sour soup?
Where: Din Tai Fung, Wisma Atria, 435 Orchard Rd, #04-25, Singapore 238877; Paragon 290 Orchard Rd, #B1-03, Singapore 238859; 176 Orchard Rd, #02-55 The Centrepoint, Singapore 238843 
Modestos
Got an early riser on your hands? Modestos' lunch and dinner menus serve up delicious wood-fired pizzas and authentic homemade Italian pastas in an alfresco setting. Perfect for people watching on Orchard Road. There's a full wine and beer menu for grown-ups, while small diners will love trying the extensive mocktail list to wash down that delicious Italian fare.
Where: Modesto's @ Orchard, 1 Tanglin Rd, #01-09/10 Rendezvous Hotel, Singapore 247905 
With 23 different food stands catering to all tastes – fussiest of family members included – this is our quick 'n' easy choice when everyone in the family wants a different kinda food. From chicken rice to pad Thai, sweet 'n' sour fish to noodle soup, this place has something for everyone: plus it's affordable, too!
Where: Food Republic @ Wisma Atria, Level 4, Wisma Atria, 435 Orchard Road, Singapore 238877 
Picnic
We're all about taking the kids into the great outdoors and enjoying an alfresco picnic whenever we can, but if the weather has other ideas (and you have some shopping to do on Orchard) then Picnic at Wisma Atria is definitely the next best thing. Pitched as a multi-cuisine dining restaurant that combines a food truck park with an immersive outdoor park experience, this one should be on your radar for fun-factor alone! Psst: this is also home to one of the best burgers in Singapore (in our opinion), Omakase Burger!
Where: Picnic, Wisma Atria, #03-15, 435 Orchard Road, Singapore 238877 
Top image: Shutterstock