Retail therapy is just a street away! Photography: Shutterstock
Looking for places to refuel at while shopping with the kids in tow? We've rustled up the best eats around Orchard Road for when you need a bite to eat...
From top-notch burger joints to family-friendly pizza dates with the kids, easy-on-the-wallet local food to weekend brunches, we've been out and about around Orchard Road on a mission to find the kid-approved dining options…
Where to eat with kids on Orchard Road
1. Eggslut
Best way to pack in all that protein with the fam? Simply head on over to Eggslut. As you might have guessed, Eggslut is an egg-lovers paradise. This place takes eggs to a different level by making the brekky staple appetising all day, every day. And its egg-centric dishes are bound to have you egg-static, foodies and novices alike! We are talking about multi-variations of egg sandwiches that are bound to have little heads turning – stuffed with sausages, hardwood smoked bacon, caramelised onions, gooey cheese and a host of other ingredients. Pair it with an Eggslut salad and you are good to go.
Where: Eggslut, 6 Scotts Road, #01-12, Scotts Square, Singapore 228209
2. PS.Cafe Palais Renaissance, Orchard Road
If you are looking to kickstart your day at an urban escape before hitting the high street we know just the place. PS.Cafe Palais Renaissance serves up that all-essential coffee and scrumptious brekky ops in the most stunning classic setting, bang in the heart of Orchard. With all your brekky needs sorted at this one-of-a-kind gem, we know you've begun the day on the right note!
Where: PS.Cafe Palais Renaissance, 390 Orchard Rd, #02 – 09A, Singapore 238871
3. The Assembly Ground
The Assembly Ground dishes some mouth-watering bites that are bound to have the brood jumping for joy. Best part? For $13++, young diners (12 years and below) can enjoy nommy mains like cheesy mushroom pasta, mini fish and chips, and delicious drinks like iced honey cabana and hot chocolate. The kids can end their meal on a sweet note with that all-important dessert. A scoop of vanilla ice cream, anyone?
Where: The Assembly Ground, The Cathay (Dhoby Ghaut), 2 Handy Road, #01-21, Singapore 229233
4. Tiong Bahru Bakery
Tiong Bahru Bakery is a fave with good reason, and we can't get enough of it! This homegrown brand churns out a line-up of nom-worthy French-inspired bakes like croissants, pain au chocolat, brioche, and so much more. Grab yourself a cosy cuppa and spoil yourself (and the fam) silly with all that finger-licking goodness before hitting the Orchard high streets! Psst, don't miss out on TBB's merch, including a host of French perishables like jams, pate, confit etc.
Where: Tiong Bahru Bakery, 310 Orchard Road, #01-16B TANGS Orchard, Singapore 238864
5. BT21 + Line Friends: My Little Buddy Cafe
Here is a menu brimming with cuteness! Kumoya is back with a new pop-up theme, BT21 + Line Friends: My Little Buddy Cafe. Yay! Don't miss out on its limited-time menu with super exciting offerings, like Chimmy and Mang Seafood Curry Rice, Brown and Cony cheeseburger with spicy kimchi mayo, Sally and Choco Korean chicken stew, etc. The kiddos can also enjoy fluffy frappes decked out in colourful candy pearls that will make them go absolutely bonkers!
Where: Kumoya Orchard Central, Book now; 181 Orchard Rd, #04-08, Orchard Central, Singapore 238896
6. Pizza Express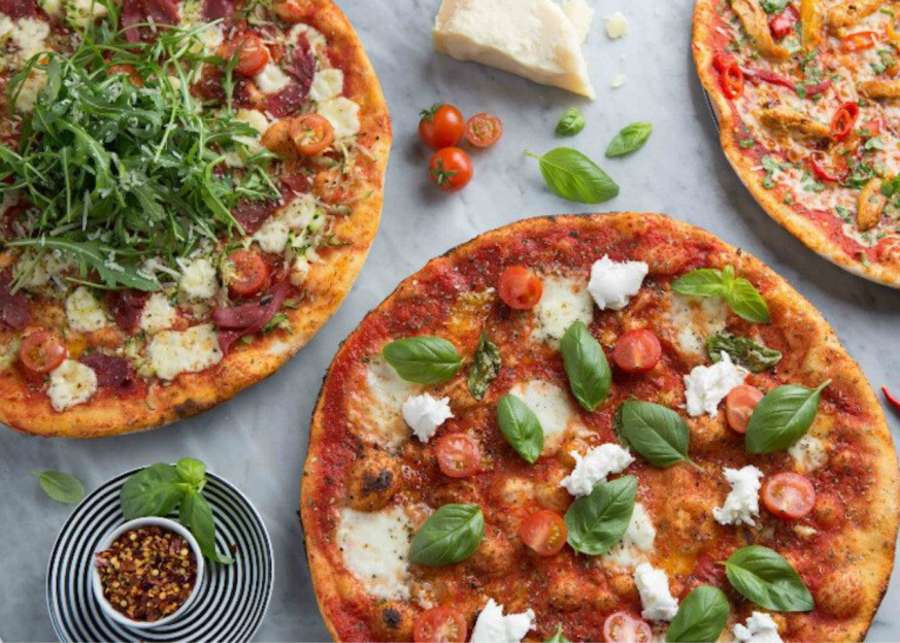 It's no secret the HoneyKids team are big fans of this Brit-imported pizza joint, and we've already got our little ones hooked too! It has a kids' pack and a dedicated menu for younger diners (these guys totally get that pasta covered in sauce is the devil incarnate to fussy kids). Imaginative pizza offerings including chilli crab, laksa and carbonara (for those who just can't decide between pizza and pasta)! Pizza Express tis one place that always proves a surefire hit for the whole family when it comes to dining in the Orchard area. The heavenly dough balls with garlic butter seal the deal for us!
Where: Pizza Express, Scotts Square, #B1 08/09, 6 Scotts Road, Singapore 228209
7. EAT PLAY LAUGH Resto Bar at X-SCAP8
Looking to refuel after an action-packed game at X-SCAP8? EAT PLAY LAUGH RestoBar serves up quite a feast for you and your littlies to reboot for your second round at the indoor fun ground. Enjoy a mouth-watering lineup of Italian goodies like all-cheesy pizzas, pasta, crunchy and fresh off-the-heat fish and chips, juicy burgers and the like. We highly recommend the burger with the generous serving of chips and a side salad, and the view from the alfresco dining area is beautiful. Fun for the whole fam!
Where: X-SCAP8, Orchard Central, Level 7, 181 Orchard Road, 238896, Open Monday – Sunday, 11am – 10pm, Free entry, with chargeable activities
8. Pano Kato
When it comes to Greek Mediterranean cuisine, Pano Kato's one of our go-to restos. And it's not just for its food or the bright tropical decor (a selection from House of AnLi just right upstairs!), but for its ultra kid-friendly service too! For starters, we love the extensive kid's menu, which includes freshly baked wood oven pizzas, pasta, and souvlaki. The restaurant also offers children a complimentary playing set. That way, the kiddos can keep themselves occupied with the puzzle placemat, or start colouring with their new colouring pencils. Of course, you can bring these home too (major yasss!). But the best of all? Kids' meals will always be served first at Pano Kato. No hangry kid = a happy, enjoyable family meal. Score!
Where: Pano Kato, 163 Tanglin Rd, #02-142/144 Tanglin Mall, Singapore 247933
8. Nassim Hill Bakery Bistro Bar
We love Nassim Hill Bakery Bistro bar as its carefully curated menu has something special for everyone. Tuck into simple and comforting dishes as the bistro bar transforms itself from a friendly brunch cafe by day to a warm dining place by night. From flipping over a Buttermilk Pancake Stack for brunch to getting that big bite off of a juicy Nassim Hill Classic Burger by night, the menu adapts perfectly to the time of day. We think the fam will be spoilt for choice no matter what time of day you plan to hit up the resto.
Where: Nassim Hill Bakery Bistro Bar, #01-03, Tanglin Post Office, 56 Tanglin Road, Singapore 247964
9. Hard Rock Cafe
Sometimes you just have to have a burger, and Hard Rock Cafe definitely delivers the goods. Its classic American menu mixed with local faves is sure to appeal to even the pickiest of eaters, and the portion sizes are perfect for hungry teens who are all out of fuel after conquering the shopping malls lining Orchard Road. Check out the cool rock memorabilia on display before ordering a huge ice-cream sundae to share. Psst…come on a weekend for fun activities and free kids' meals!
Where: Hard Rock Cafe, 50 Cuscaden Road, HPL House #02-01, Singapore 249724
10. Marche Movenpick
Switzerland comes to Singapore at family-friendly restaurant Marche where you'll find top-notch European food set in a Swiss Alpine village! Try the delicious rostis with a side-order of mushroom ragout, or go simple but scrumptious with a wood-fired pizza or grilled steak. Pack the kids off to the small play area while you dine in peace, and then bring them back for their own menu deals. They'll feel all grown up choosing for themselves from the self-service bars. It's also the place to head for really good freshly baked bread.
Where: Marche Movenpick, 313 Orchard Rd, Level 1, Discovery Walk, 313@Somerset, Singapore 238895
11. Wild Honey Mandarin Gallery
Catch the best city vibes of Orchard Road from this Brooklyn loft-inspired eatery and its ever-evolving menu. Tuck into a wide range of nom-worthy vegetarian, gluten-free, dairy-free, and vegan dishes that will have fussy eaters asking for more. And with floor-to-ceiling windows, the littlies are bound to be entertained by the dramatic and exciting city scenes. Time to soak in the city folks!
Where: Wild Honey Mandarin Gallery, 333A Orchard Rd, #03 – 01 / 02, Singapore 238897
12. Din Tai Fung
Is there a kid in Singapore who doesn't love Din Tai Fung? Quick, easy and always delish, this is our go-to when we have dim sum and wanton craving. Did someone say hot and sour soup?
Where: Din Tai Fung, Plaza Singapura, 68 Orchard Road, #02-32, Singapore 238839; Wisma Atria, 435 Orchard Rd, Level 4, Singapore 238877; Paragon 290 Orchard Rd, #B1-03, Singapore 238859; and The Centrepoint, 176 Orchard Rd, #02-55, Singapore 238843
13. Food Republic@Wisma Atria or 313 Somerset
With 23 different food stands catering to all tastes – fussiest of family members included – this is our quick 'n' easy choice when everyone in the family wants a different kinda food. From chicken rice to pad Thai, sweet 'n' sour fish to noodle soup, this place has something for everyone: plus it's affordable, too! Psst, the Food Republic at 313 Somerset even has a handy playground directly outside – winning!
Where: Food Republic @ Wisma Atria, Level 4, Wisma Atria, 435 Orchard Road, Singapore 238877 and 313 Somerset, 313 Somerset Rd, Singapore 238895
14. Hai Di Lao Hotpot
The greatest selling point about Hai Di Lao isn't even its fabulous food of beef slices, mutton, duck and chewy, addictive sticky rice balls. Neither is its renowned complimentary massage and manicure services. But it's the fact that if you can't get bubba to sleep and you rock up at night (it's open until 6am!), it will dish up a bassinet for your little one to snooze in while you finally get to eat a hot meal! Hallelujah to that.
Where: Hai Di Lao Hotpot, 313 Orchard Rd, #04-23/24, Singapore 238895; Wisma Atria, 435 Orchard Road, #03-15, Singapore 238877; and Plaza Singapura, 68 Orchard Rd, #04-01, Singapore 238839
And there you have it! A delicious list of 14 family-friendly restaurants and cafes to have on your radar with the brood. Now that you have the food department sorted, how about some fun things to do at Orchard road? Check out our ultimate guide for this shopping hood!