Photography: Alex Green on Pexel
We've been rounding up what we consider to be the very best sandwiches in Singapore
Here's the thing about making sandwiches at home: even if you have all the best cheese, meats, breads and spreads, chances are, the sandwiches won't turn out to be what you've envisioned. Lucky for you, Singapore is a pretty great place to get your hands on some of the best sandwiches and bagelwiches to satisfy your carby cravings. Read on for our thoroughly vetted list (AKA, tried and tasted!)…
6 best sandwiches in Singapore we love!
1. Bacon and Egg at Sarnies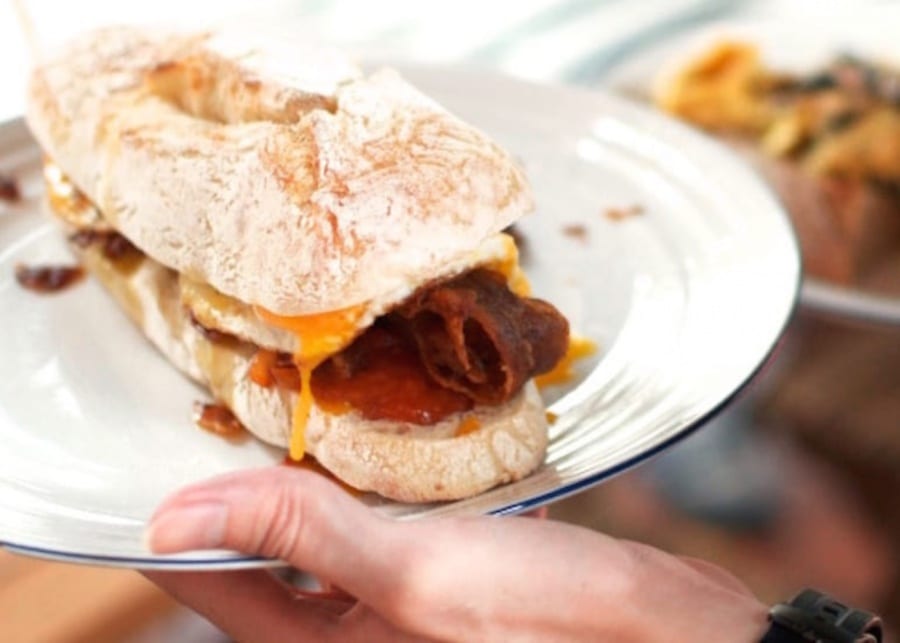 If you're an early riser and scouring for a brekkie spot in Telok Ayer, drop into Sarnies for a mouth watering bacon and egg sarnie, coupled with their signature bulletproof coffee or any caffeinated drink to get you fuelled up. There's a reason why, in a busy neighbourhood full of cafes, this place is always so packed…
2. Hot Honey Chicken Sandwich at Park Bench Deli
Residents and the work crowd of Telok Ayer are spoilt for choice when it comes to choosing a sandwich joint in Singapore. Get the home cooked feels over at Park Bench Deli with this tried-and-tested comfort food fave: A Hot Honey Chicken sandwich, with brown butter honey, baby romaine, pickles, comeback sauce, loaded up on a sesame potato bun. We can guarantee that honey and chicken are the perfect pair…
3. Burnt End Sanger at Burnt Ends
This one-Michelin star restaurant is definitely not your usual local sandwich shop. Famously known for their smoked meat dishes (and up to 3 hour queues for a weekday dinner), it's no suprise how juicy their Burnt Ends Sanger is. It's a heavenly combination of tenderly slow-cooked pork shoulder, cheddar cheese, and pillowy brioche bun. This is hands down the juiciest pork sandwich we've had in Singapore, and one blissful bite will wash away the painful memory of you spending $21.40 on a sandwich (yep, it's worth it).
4. Pulled pork sandwich at Meat Smith
We have to say, every dish at Meat Smith is incredible. However, the pulled pork sandwich is probably one of THE main reasons we keep coming back to Telok Ayer for lunch. Because trying is believing…
5. B.E.C at Two Men Bagel House
The guys behind Two Men Bagel House really know sandwiches. If you find yourself in Tanjong Pagar, ideally early during the day (they're always sold out by 3pm), grab yourself the classic bacon, egg, and cheese bagelwich. This slice of heaven is only available at the Tanjong Pagar flagship (sorry Holland Village residents!). We think it's the homemade garlic kewpie mayo that makes this traditional brekkie item so supreme. Honestly, we would be lying if we said this isn't our favourite.
6. Caramelized Pork Belly Banh Mi at NamNam Noodle Bar
If you've been to Vietnam, you'll know that the second most famous Viet dish, second to Pho, is Banh Mi. It's basically a crispy baguette stuffed with marinaded meat and pickled vegetables. Out of all the meat choices, however, we think there is just something so satisfying about the fatty pork belly (the fattier, the better, right?!). NamNam gets ridiculously busy around lunch time, so if you find yourself craving a Caramelized Pork Belly Banh Mi, we'd suggest you either go early, or prepare to wait.
Love the look of these sandwiches in Singapore? Check out these doughnuts!