Tiger Gateau from Goodwood Park Hotel. Photography: Goodwood Park Hotel
Pineapple tarts, traditional love letters, little squares of meaty delights and the cookies that melt in the mouth: we've been snacking our way around Singapore for Chinese New Year 2022...
You've got your cheongsams and Mandarin collar outfits sorted for the kids, you've done the red packet gift money, and booked a Chinese New Year reunion dinner, or ordered takeaways from your favourite restaurants. But you know what else you're going to need? Snacks! Because even with all the other stuff ticked off, if you haven't got the cupboards packed to breaking point with pineapple tarts and bak kwa, well, it's not really Chinese New Year at all. So here's where to get those last-minute Chinese New Year snacks and goodies right here in Singapore…
WHERE TO BUY CHINESE NEW YEAR SNACKS IN SINGAPORE
1. Goodwood Park Hotel
In conjunction with the Year of the Tiger, The Deli at Goodwood Park Hotel is serving two whimsical tiger-inspired creations – a Mao Shan Wang Tiger Swiss Roll and a Tiger Gateau adorned with cute ears and even a tail. If you're looking for variety, do check out its Sweet Abundance tier set, which includes eight pairs of pastries shaped as auspicious icons (think pineapple inglot tarts and mandarin orange pound cakes); as well as The Deli's Fu Lu Shou buns tier set, featuring three traditional and modern flavoured steamed buns.
Where: Online and at The Deli at Goodwood Park Hotel, 22 Scotts Rd, Singapore 228221
2. Janice Wong
From edible chocolate crayons to Chinese New Year confections, we can never resist goodies from homegrown pastry chef Janice Wong. Order familial favourite kueh bangkit, chocolate coated pineapple tarts, or go for the assorted cookie tin if you simply can't decide. The distinguished chef also has beautiful, hand-painted chocolate koi that are too cute to eat, but we're sure the kids will gobble them up!
Where: Online and in stores islandwide
3. Old Seng Choong
For traditional bakes and cakes, pop into Old Seng Choong to purchase your festive Chinese New Year snacks. If you're looking for something sweet, opt for the red dates cake or yuzu pineapple tart, a zesty blend on the original (and beloved) Lunar New Year treat. All about savoury? There are options aplenty, including the indulgent black truffle bak kwa and traditional carrot cake!
Where: Online, and in-store at 171 Kampong Ampat, KA Foodlink #05-04, Singapore 368330; The Shoppes at Marina Bay, 2 Bayfront Avenue #01-72, Singapore 018972; or The Central @ Clarke Quay, 6 Eu Tong Sen St #01-48, Singapore 059817.
4. SunnyHills
If you haven't already tried these delectable little pineapple cakes from Taiwanese brand SunnyHills, you're missing out. These crumbly pineapple sweet treats are so tasty, you might just find yourself reaching for more. For a taste of something a little bit more local, try the D24 durian roll. Durian: definitely a love it or hate it situation.
Where: Online, and in-store at 391 Orchard Rd, Ngee Ann City Tower B, B2-27A, Singapore 238872; or 3 Seah St, Raffles Hotel, Singapore 188379.
5. Bee Cheng Hiang
Home-grown favourite Bee Cheng Hiang is definitely one of the most popular choices for sweet little squares of meaty deliciousness, and is practically a household name when it comes to bak kwa. No queues at stores this year with online ordering, yay!
Where: Online and in stores islandwide
6. The Fullerton Hotel Singapore
On top of the delicious Chinese New Year staples like kueh bangkit, love letters, and bak kwa, The Fullerton Hotel Singapore is dishing out sweet treats like their adorable baked peach cookies, the eye-catching red Mandarin Chinese New Year cake, and colourful Sweet Fortune cupcakes. There's also an elegantly prepared three-tiered Spring Treasures afternoon tea set, which comes with sweets and savouries infused with traditional Lunar New Year flavours.
Where: Online, or in-store at Fullerton Hotel, 1 Fullerton Square, Singapore 049178
7. The Marmalade Pantry
This Chinese New Year, fans of The Marmalade Pantry can celebrate at home with their curated gift sets with decadent treats. Opt for the Traditional Classics set complete with all-time favourite goodies: golden pineapple tarts, honey mustard roast crackers, and almond cookies. Or, go all out with The Grand Treasures collection including the above, as well as traditional petite chicken bak kwa, an Ang Ku Kueh cake, as well as a bottle of Domaine St Roch Prince d'Orange wine too!
Where: Online and at restaurants islandwide
8. BreadTalk
For a bun-tiful selection of seriously cute cookies, cakes and snacks, BreadTalk has you covered for Chinese New Year snacks. Along with its rendition of the traditional mini pineapple pastry, BreadTalk also has roar-some tiger-inspired buns like the Tiger Dance and Prosperity Tiger sweet buns. There's also the savoury Crouching Tiger, Hidden Bacon specially for cheese lovers. Our kids are always huge fans!
Where: Online and in stores islandwide
9. Bengawan Solo
Bengawan Solo is known for its variety of traditional snacks, not only offered during Chinese New Year, but all year round. Festive treats include classic pineapple tarts, through to durian love letters. Vegetarian options are available for selected cookies as well!
Where: Online and in stores islandwide
10. Pan Pacific Singapore
As well as some truly delicious reunion feasts, Pan Pacific Singapore also has it covered when it comes to much-needed CNY snacks. Stock up on various kueh lapis, a variety of pineapple pastries, and almond cookies! We say the zodiac-themed macarons and Chinese New Year-themed pralines are a must-have too! We could go on…
Where: Online or in-store at 7 Raffles Blvd, Singapore 039595
11. Shangri-La Singapore
You'll never look at nian gao the same way again when you've tried the handmade ones from Shangri-La Singapore. The hotel serves the traditional new year cake in five different flavours, featuring the luxurious radish and pumpkin cake with abalone and preserved meat, and their popular three layers nian gao made from purple sweet potato, Japanese pumpkin, and coconut milk. Shangri-La Singapore has also put a twist on the ever popular Chinese New Year pineapple pastry, creating their very own charcoal yuzu-flavoured pineapple tart.
Where: Online and in-store at 22 Orange Grove Rd, Singapore 258350
12. Singapore Marriott Tang Plaza Hotel
Spoil friends and family with Singapore Marriott Tang Plaza Hotel's signature Golden Nian Gao Tarts, with popular flavours such as yam, sweet potato, as well as new flavours including chocolate and pineapple! The hotel's koi fish-shaped nian gao, mango pudding, and osmanthus water chestnut cake will also be making a return.
Where: Online and in-store at 320 Orchard Rd, Singapore 238865
13. Four Seasons Hotel Singapore
Looking for something fancy? Check out Four Seasons Hotel Singapore's range of Lunar New Year takeaway goodies! We love the glorious-looking Golden Kumquat Tart and the all-time favourite pineapple tarts, the kids are also in love with the beautifully handcrafted Mandarin Cremeux Delights, which are filled with milk chocolate and Pu Er cremeux with a crunchy hazelnut royaltine.
Where: Online and in-store at 190 Orchard Blvd, Singapore 248646
14. Da Paolo Gastronomia
Welcome the Year of the Tiger with Da Paolo Gastronomia's new Tiger Bread, a subtly sweet breakfast bread made with bold dark chocolate and mandarin orange flavours, with a hint of saffron. There are also three festive cookies to choose from: almond biscotti, cranberry oatmeal, and cornflake raisin.
Where: Online and in stores islandwide
15. Mandarin Oriental Singapore
We can't get over how cute Mandarin Oriental Singapore's Chinese New Year sweets are! There's the mandarin orange-shaped Prosperity, made with clementine marmalade, yuzu mousse, and vanilla almond sponge; a red berries creation named Treasures; and Fortune, a crunchy choux with pineapple compote.
Where: Online and in-store at 5 Raffles Avenue, Marina Square, Singapore 039797
16. The Tartlery
More of a tart fan? Head over to The Tartlery and try out their Chinese New Year snacks. There's Koi, a chocolate mousse and Osmanthus gel tart topped with grapefruit and pomelo; and Pineapple Tarte, a cheesecake tart infused with lemon myrtle, topped with pineapple jam, pina colada cream, and galangal-laced biscuit.
Where: Online
17. Creamery Boutique Ice Creams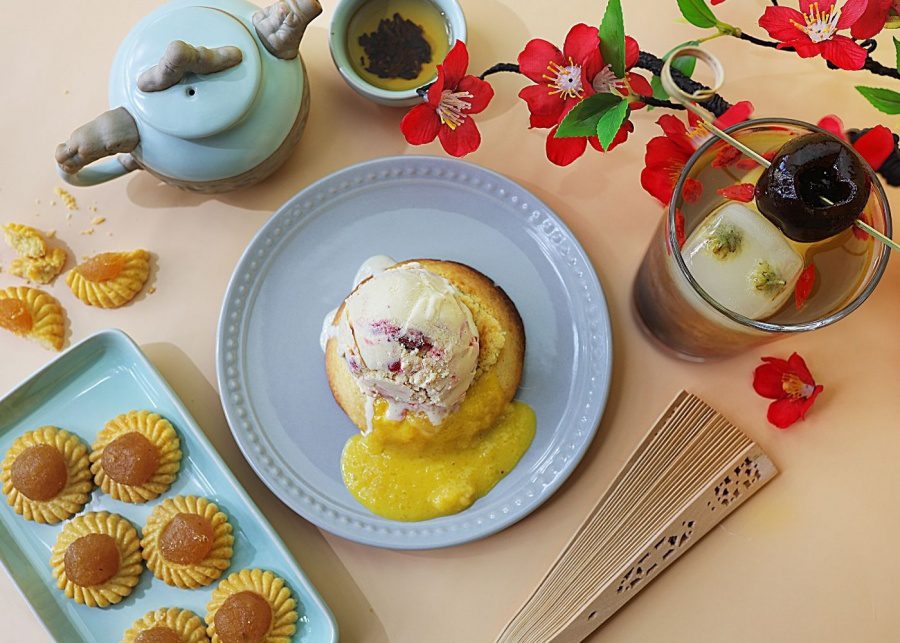 The Chinese New Year season in Singapore is usually accompanied by sunny weather. Beat the heat this year with Creamery's prosperous sweet treats: pair your favourite ice cream with their new Pineapple Lava Cookie, which comes with a generous amount of zesty pineapple curd. Wash it all down with a cup of freshly brewed Honey Kumquat Chrysanthemum Tea. Refreshing!
Where: 139 Tyrwhitt Rd, #01-03, Singapore 207557
Happy CNY snacking, folks!