Photography: Angela Roma via Pexels
Because it's not Chinese New Year without a few little treats, here's our gift guide to help you buy CNY presents for the whole family…
Chinese New Year is around the corner, and we're all on board for the CNY fun events for kids, we've looked at options for our reunion dinner or takeaway, and the outfits are almost ordered (check out our picks of the coolest CNY outfits for kids). For the uninitiated, Chinese New Year celebrations involve quite a bit of prep, and that means sprucing up the home and wardrobes. We're taking this as our cue to indulge in a bit of festive shopping, including some Chinese New Year gifts for the fam. Of course, we're all about red packets as an essential on the gift front – but if you're looking for other ideas for the perfect CNY gift, then look no further…
Chinese New Year gift guide for the whole family
1. Four season lime tree
There's nothing like jumpstarting the year of the rabbit with a bit of luck, and a lucky Chinese New Year plant makes for a bounty of good wishes for your loved ones. There are plenty of opps in-store, like bamboo, pussy willow, plum blossoms, and so much more, available at various florists and nurseries dotted across the island. Our pick for the festivities has to be the four-season lime tree. A couple of places you can find that perfect pot of luck is Little Flower Hut and Toh Garden, to name a few.
2. Clarins New Year starter kit
We all love to look our best, especially come CNY festivities. A bounty of beauty essentials ought to make a perfect gift for that finishing touch. The Clarins New Year starter kit includes eight of Clarins's bestsellers. Who wouldn't want that Total Eye Lift serum after all the CNY preps and shopping overhaul?
3. Chinese Zodiac chopsticks by Art Tee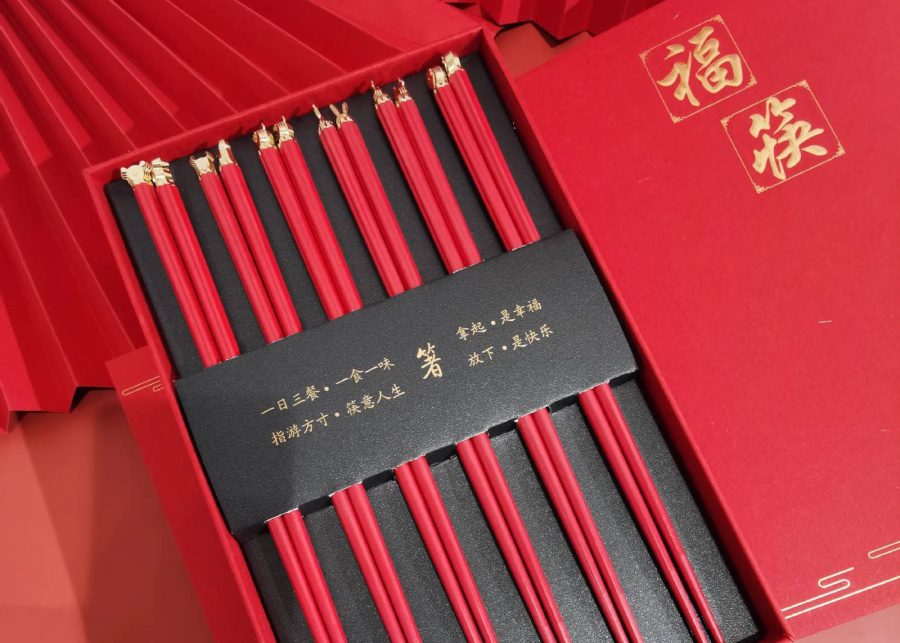 This Chinese New year pressie is worth sticking by because it's your only way to dig into all those yummy festive delicacies. We are talking about a set of twelve Chinese Zodiac chopsticks by Art Tree, one zodiac represented on each pair of chopsticks. And what's not to love about that bold red colour too? On point for this Chinese New Year celebration, we say!
4. CNY gift box from GiftGood
Here's a versatile option for those looking to handpick what goes into that gift box for your loved one. GiftGood gives you the option to build your own CNY gift box from a wide selection of goodies like plantable angbaos, vegan snacks, artisanal chocolates, and more. Psst, you can even choose the design of your box. Sounds great! If you have a lazy gene like some of us do, GiftGood also gives the option of readily curated gift boxes. Best part? The choice of goodies is unique, ethical and eco-friendly. In case you have woken up a little late on the gifting scene, GiftGood gives you the option of same-day delivery and next-day delivery. Looks like your gifting needs are sorted for the year!
5. Fullerton Grand Tea by Fullerton Hotel
Singapore weather is the perfect formula for a refreshing cup of tea, hot or cold, any time of day. This year, ring in the festive spirit of Chinese New Year with a clink of tea cups and the most flavorful tea! Our pick? The Fullerton Grand Tea by Fullerton Hotel and TWG is a gift your loved ones will love. The gift box features noble Yin Zhen white tea leaves, otherwise known as silver needles, handpicked on only two days of the year. Exotic indeed! And what's not to love about that secret blend of highly aromatic wildflowers?
6. Crockery set from Table Matters
We are big fans of Table Matters and can't get enough of those gorgeous prints on tableware. Think Peranakan, Portuguese, Royal inspirations, and so much more. We say any crockery set from Table Matters, like tea sets to pot coasters, will make for an attractive Chinese New Year present for your loved ones and will win you loads of pineapple points. Don't be surprised to find yourself loading your shopping cart with more than you anticipated. We wouldn't be surprised if all your CNY gifts came from here too! Psst, there are loads of attractive discounts on at the mo!
7. Exotic silk flowers from Silk Flowers Singapore
A bouquet of exotic silk flowers? Yes, please! These gorgeous blooms from silk flowers Singapore are a catch from the fields, and we love everything about them. They make for a beautiful gift and have an element of sustainability woven into each petal. What's not to love? There are plenty of options on offer, from single-stem flowers, bouquets, foliage, orchids and even bespoke arrangements to choose from! So have fun this Chinese New Year and go wild flower-pickin' for your loved ones this festive season!
8. Strait Scenes bracelets by Strait Lights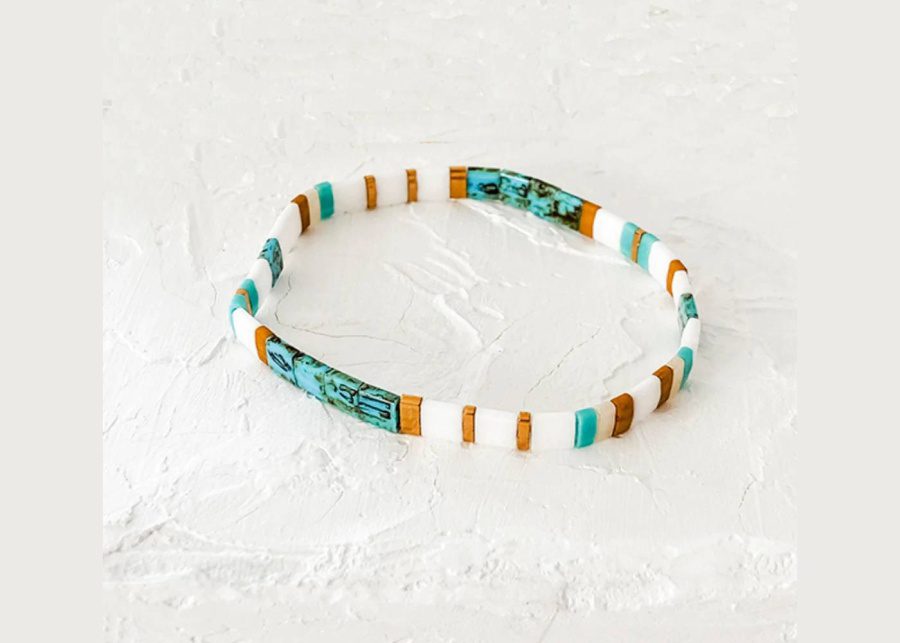 These Strait Scenes bracelets by Strait Lights are pretty, unisex in style and have a subtle Singaporean flavour attached to them, which we love. The bracelets are made of Japanese glass and 24k gold beads and feature picturesque scenes of Singapore, from cityscapes to shophouses. Very cool! Wouldn't that make for a stylish and contemporary Chinese New Year pressie for your loved one?
9. Singapore-inspired art prints from Emperor's Attic
We love these gorgeous art prints on offer at Emperor's Attic and think they would add a festive touch to any space. Perfect to add to your Chinese New Year decor (and after too)? Plus, they showcase Singapore-inspired scenes in unique and abstract compositions. What's not to love? Prints are available at $185 and upwards.
10. Lanterns and tea lights by The Cinnamon Room
Light up your loved ones' Chinese New Year celebration with these beautiful handmade lanterns and tea lights by The Cinnamon Room. There are a few designs on offer. Our pick? The laser circle hurricane lantern set, made of powder-coated iron and faux leather handles. Chic indeed! You can also find these lanterns stocked at Emperor's Attic and Grandome.
11. Textiles from Onlewo
Local label Onlewo is winning us over with its beautiful textiles, wallpaper and homewares featuring prints inspired by Singapore scenes. We love the cushions, with gorgeous kueh designs, ticking all the boxes for modern CNY style. What's more, it's perfect all year round. With prices starting from $48 per cushion, we may just snap up a few as a Chinese New Year gift for our home!
12. Lunar New Year macarons from Bonheur Patisserie
The clever people that brought us delicate Hello Kitty, Frozen and Mr Men macarons have now created these adorable CNY editions. Warning: You'll be fighting the kids for these. Bonheur Patisserie is only producing 300 sets of these gourmet delights, so get in quick! Missed the boat? Don't worry, we've got loads more CNY snack ideas to keep you full!
13. Jewellery by Wabi Sabi And Me
We are big fans of these Peranakan-inspired tile studs from local jewellery designer Wabi Sabi And Me and think they are the perfect CNY gift or self-gift (which we all deserve once in a while!). We also love that the brand is all over sustainability, refashioning existing forms into wearable art, and therefore lessening the impact on the environment. Beautiful and sustainable!
14. CNY hampers and goodies from Shangri-La Singapore
If you want to treat family or friends, then look no further than these gourmet hampers from Shangri-La Singapore. Jam-packed with all the CNY essentials from Applewood Minced Pork Honey Bak Kwa and Original Pineapple Tarts to Wildflower Honey and Shang Palace Tea for the grown-ups! We'd be pretty happy if one of these landed on our doorstep (hint, hint).
15. CNY home furnishings from Singapore Trading Post
Forget the paper pineapples: this is the CNY fruit that keeps on giving. Singapore Trading Post's aluminium and nickel large pineapple box ($105) is really livening up our festive decor, and also makes a fun Chinese New Year gift!
16. Bracelets by Matrix Fengshui Blessings
While we've not quite gotten around to creating Fengshui perfection in our homes yet, we're currently coveting the beautiful Silver Mystical Cuff Bracelets (in his and hers versions at $398 each) by Matrix Fengshui Blessings, available through Gifts Less Ordinary.
17. CNY Nail art from Nodspark
We're keen to try these Chinese New Year inspired nail art stickers from Nodspark. Although a few of the most popular ones are already sold out, there are plenty of others to pick from. We're sure if you've got littlies at home, they might quite fancy having a go at these too! Don't miss out on the newly launched festive series, including Oriental deco and Spring Forward. And what's not to love about those unique Spring Forward Papercranes Design red packets (8 per pack) to make your gift festive-ready? Aren't those bunnies hopping about absolutely adorbs too?
18. LEGO gift sets inspired by Chinese New Year
One of our favourite Chinese New Year gifts for the kids (and the young at heart). If you want to keep them happy (and very busy) over the festive period, then check out these CNY LEGO kits. Celebrating Chinese culture and legends, pick from Story of Nian, Spring Lantern Festival, and for the younger kids; the Happy Childhood Moments set. We predict hours of fun! Our pick? The newly launched Lunar New Year parade will not disappoint, with plenty of bunnies hopping around. It will also make for a festive centrepiece featuring three connectible parade floats. Very cool!
19. Tonic gifts from Eu Yan Sang
Usher in the new year with good health via gift sets from Eu Yan Sang's Chinese New Year catalogue. Gift the Golden Blessings Bottled Bird's Nest to those who will appreciate an extra big boost of wellness, especially after a busy and stressful period. We're really loving the limited edition 12 Bunnies Premium Abalone gift set – very fitting in commemorating the Year of the Rabbit!
20. Baked goodies from Ding Bakery
Here's a hearty pressie to gift your loved ones this Chinese New Year 2023. A bottle of handmade melt-in-your-mouth pineapple tarts by Ding Bakery. Delish! These fresh-from-the-bakery bites of heaven have a short shelf life and do not contain any preservatives or additives. In our books, that's a sure win! And for 26 plump and luscious tarts, we say it's a steal for this year's festivities. Do we need to think twice about ordering two lots?
21. A cheongsam from Blum & Co's latest collection
Here's an amazing fact about cheongsams – they'll never go out of style! What's more, Blum & Co has incorporated icons that are uniquely Singaporean into its latest collection. Think batik patterns, orchid flower, and even the Merlion! Being an office fashion icon, Blum has designed its cheongsams with modern materials that appeal to the urban women. Light and airy high quality fabrics were sourced from all around the world to make this traditional wardrobe staple a comfortable wear all year round. Plus, they're also perfect for formal dinners!
Gong Xi Fa Cai, everyone!