If you don't fancy heading out to a restaurant for your reunion dinner this Chinese New Year, try one of these CNY takeaway options and feast with the family at home!
Chinese New Year is almost here, and we all know what that means… feasting, feasting and more feasting! And while we all love heading out with the fam to a restaurant for a CNY feast, it's also just as lovely to stay at home and indulge in an awesome reunion dinner with a Chinese New Year takeaway instead. To make your life easier when it comes to picking the best one, we've rounded up our favourite fuss-free takeaway options in Singapore for you to choose from. Psst, make sure to order these scrumptious dishes in advance!
Chinese New Year 2023 takeaways in Singapore
1. Dian Xiao Er
Fans of Dian Xiao Er's herbal roast duck will be more than happy to know that you can order a portion for Chinese New Year! You can order the herbal roast duck itself ($68 for orders before 7 Jan, or $73 after this date), or you can opt to order it with the Prosperity Smoked Salmon Yu Sheng (from $38). If you want the full range, then choose the four-in-one package, which includes both dishes alongside pork trotters and braised sea cucumber & mushrooms with abalone. You won't go hungry!
Where: Dian Xiao Er, various locations. Call individual locations ahead to check availability.
2. Yan
Yan is making your reunion dinner at home a breeze this year by offering up a fabulous Lunar New Year family feast with all the festive must-haves. There's classic salmon yu sheng, followed by signature roasted suckling pig. Still after more? Yan is also offering the Yàn Harvest Pen Cai for takeaway. Featuring prized delicacies such as king grouper, whole conpoy and live prawns, who said you need to go out to get a first-class reunion dinner?!
Where: Yan, 1 Saint Andrew's Road, #05-02, National Gallery Singapore, 178957; Available from 1 January – 5 February 2023. Preorder before 9 Jan and save 15% with checkout code: LUCKY15
3. Pizza Express
Want to please the whole fam this Chinese New Year (including the fussy eaters)? Then check out the CNY options at Pizza Express! For CNY with a twist, get ordering the yu sheng pizza. You read that right! Think thin and crispy pizza crust with housemade passata and Spanish red onions alongside classic yu sheng staples including smoked salmon, julienned baby romaine, and crispy golden pillow crackers, with a tangy calamansi plum sauce, and generous servings of mozzarella to finish – yum! And is it even a Pizza Express meal without the legendary dough balls? Well, good news – dough balls have got a CNY upgrade, and you'll be able to tuck into eight delish dough balls coated in peanut powder, sugar, and white and black sesame seeds, with a lucky red condensed milk dip served on the side. Fam-friendly CNY dining, indeed!
Where: Pizza Express – Available from 5 January to 5 February 2023 for dine-in and takeaway at all PizzaExpress outlets in Holland Village, Duo Galleria, Scotts Square. Also available for islandwide delivery.
4. Grain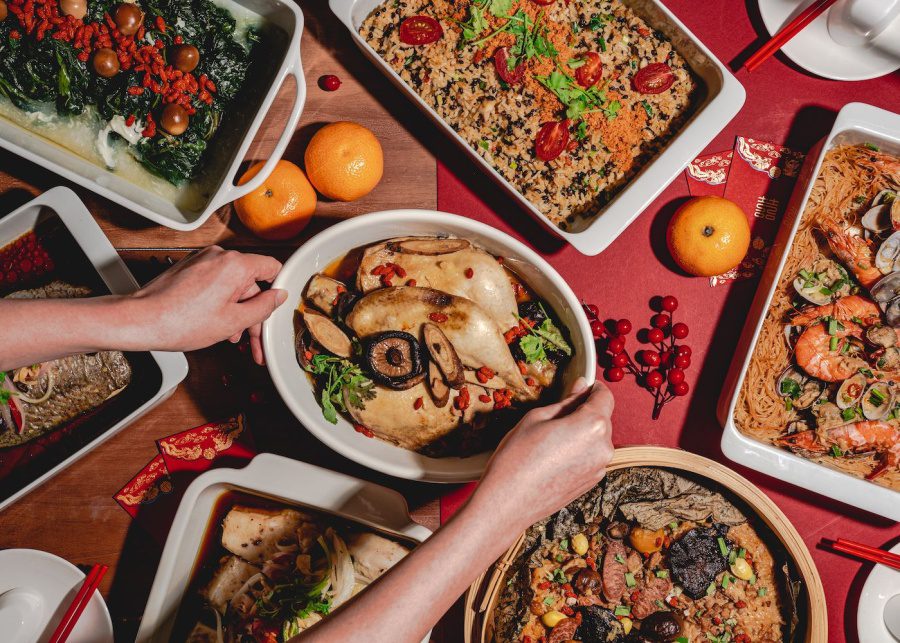 Grain is known for its yummy and nutritious delivery meals and meal plans. You can expect the same from its Chinese New Year buffet as well! Make this year's gathering with fam and friends a huat-derful one with Grain's CNY catering, featuring a selection of wholesome contemporary and classic dishes. Some of these include a 12-hour Braised Herbal Chicken, golden Chilli Crab Mantou, Cereal Tiger Prawn with rolled oats, Osmanthus Mango Pudding, as well as Wok Hei Pumpkin Floss Fried Rice with black barley and confit garlic! Grain's Mini Buffet is perfect for a party of ten or more, whereas its buffet with setup is great for a larger gathering of at least 30. Plus, the setup comes complete with a stunning handmade centrepiece and a complimentary surprise station for an even more memorable reunion dinner!
Where: Online, place your order by 19 January 2023 to enjoy Early Bird discounts and a free yu sheng.
5. Red House Seafood
If you're after Singapore Nanyang-style seafood dishes for your Chinese New Year feast, then look no further than Red House Seafood. Pick from a selection of takeaway goodies, including Red House's Prosperity Salmon & Ice Plant Yu Sheng (from $58+) and Fortune Abalone & Ice Plant Yu Sheng (from $98+). There's also Lotus Leaf Rice and the uber-opulent Seafood Pot, which is making a comeback for 2023. Oh, plus lots of yummy snacks to keep the kids full!
Where: 392 Havelock Road Level 2 Grand Copthorne Waterfront Singapore 169663 and 8 Raffles Avenue #01-14/16 Esplanade Singapore 039802. Available 9 Jan – 5 Feb 2023. 
6. Stamford Catering
If you're after a heap load of choice, then head on over to Stamford Catering's site for the ultimate in CNY dining for an at-home family feast. There's something for every family – large or small, with party bundles, larger buffet sets, as well as mini feasts. There are even bento boxes! Now you just need to decide which one to pick!
Where: Online only. CNY 2023 menus are available to order now for functions between 3 January 2023 – 12 February 2023.
7. Boon Tong Kee
Chicken rice fans, rejoice! Fan-favourite chicken rice stall Boon Tong Kee has loads of CNY options, including its delish glutinous rice! And did we mention the glutinous rice cakes…
Where: Boon Tong Kee, various locations; Order before 15 January 2023. Payment made for order on or before 31 December will enjoy 10% discount. 
8. Din Tai Fung
Good news – Din Tai Fung is offering its super-yummy yusheng for takeaway as well as dine-in to save you the stress this year. Choose from the classic Prosperity Smoked Salmon Yusheng, which includes smoked salmon slices sprinkled with toasted white sesame seeds, roasted peanuts, crispy yam strips, and more! It also comes with DTF's in-house signature auspicious plum dressing! Yum! Looking for a veggie option? Din Tai Fung has that all wrapped up, too, with the Prosperity Vegetarian Yu Sheng, so the veggie eaters in the family don't need to miss out!
Din Tai Fung, various locations
9. Xi Yan
This modern dining restaurant adds its unique twist to traditional Chinese dishes, and it's certainly worth a try. This Chinese New Year, check out Xi Yan's extensive takeaway menu for a variety of options like its Happy Hour Spicy Tomato Broth Fried Seabass or the Triple Loaded Ginger Chicken. If you're finding it too troublesome to place orders a la carte, choose from one of its four set menus instead. Easy peasy!
Where: Xi Yan, various locations. Check individual branches for timings. 10% off early bird for takeaway and self-collection by 8 Jan 2023.
10. Tablescape
We can always rely on Tablescape to deliver the goods for a gourmet feast, and this year, we've got heart eyes for its Black Truffle Duck ($128nett), inspired by Peking Duck – which comes with traditional accompaniments such as crepes, cucumber and a "duck sauce". Yum!
Where: Tablescape, 10 Coleman St, Level 3, Singapore 179809.
11. Wan Hao Chinese Restaurant
Wan Hao Chinese Restaurant has CNY covered with a well-stocked collection of all the auspicious dishes you need for the ultimate reunion dinner at home. Our pick? The koi fish dessert! The kids are going to go wild for these – almost too good to eat!
Where: Singapore Marriott Tang Plaza Hotel, 320 Orchard Road, Singapore 238865; Available 26 December – 4 February 2023.
12. Min Jiang
Although Min Jiang and Min Jiang Dempsey are both lovely places to head for a reunion dinner, we were very pleased to hear that you can also enjoy their Chinese New Year delights from the comfort of your own home! Their feasting specials are available for takeaway. These include the MJ five fortune takeaway appetiser platter and braised whole spring chicken, pork belly and sea treasures in a pot at Min Jiang, as well as the double-boiled soup with chicken mid-wings stuffed with minced prawns and pork and abalones in claypot from Min Jiang. Psst, also check out these super cute bountiful bunnies with sesame seed paste (above).
Where: Min Jiang Dempsey, 7A & 7B Dempsey Rd, 249684 and Min Jiang, 22 Scotts Rd, Goodwood Park Hotel, Singapore 228221;
13. Famous Kitchen and Famous Treasure
Craving for authentic Nanyang cuisine? Pick either Famous Kitchen or Famous Treasure for your Chinese New Year at-home dinner. Both restaurants' culinary teams have crafted celebratory dishes for you. Our choice picks: Famous Kitchen's Steamed Marble Goby Hong Kong style and Famous Treasure's Roast Duck – both are almost too good to share!
Where: Famous Kitchen, Hong Heng Mansions, 54 Sembawang Road, #01-01, Singapore 779085; Famous Treasure, Capitol Piazza Singapore, 13 Stamford Road, #02-28, Singapore 178905. Available 5 January – 5 February 2023.
14. Mandarin Oriental
For an all-out luxe Chinese New Year takeaway, hop on over to the online store from the Mandarin Oriental. There's everything from a delectable Cherry Garden Superior Pot (pictured above), "Bi Feng Tang" style crispy roasted chicken, Cantonese style roasted pork belly, and that's before we've even talked snacks! It's fair to say it's pretty easy to fill your cart here!
Where: Mandarin Oriental online shop. Lobby collection from Mandarin Oriental, Singapore, Lobby 5 Raffles Avenue, Marina Square, Singapore, 039797, as well as island-wide delivery options.
15. Shangri-La Singapore
Shangri-La has loads of dine-in options for your family CNY celebrations, but if you're after a chilled affair at home, how about ordering in a delish yusheng instead? With four options to select from and two size choices, there's something for everyone (even the fussiest of fussy eaters!)
Where: Shangri-La Singapore, 22 Orange Grove Road, Singapore 258350
16. UNI Gallery
Amp up your yusheng game this CNY with an opulent version from UNI Gallery by Oosterbay. The restaurant has brought back its Uni & Caviar Sashimi Yusheng Platter, which contains rich and creamy Canadian uni, Hokkaido ikura pearls, and umami bliss in the form of Polanco Caviar orbs. This platter is a feast for both the eyes and palate, if we do say so ourselves!
Where: UNI Gallery by Oosterbay, The Plaza, 7500A Beach Road, #B1-310, Singapore 199591; Available from 10 January 2022.
17. Fat Cow
If you're not fond of the fish in yusheng, Fat Cow has brought back its meaty alternative this lunar season. The Gyu Sheng set comes with fresh slices of premium Japanese wagyu that take centre stage in this dish, alongside uni, caviar, ikura, chuga kurage, and goma ponzu sauce. Get this as part of your Chinese New Year takeaway, stat!
Where: Fat Cow, Camden Medical Centre, 1 Orchard Boulevard, #01-01/02, Singapore 248649; Available 16 Jan – 5 Feb 2023.
18. Swensen's
Swensen's isn't only offering up delish snacks and ice cream cakes this New Year (hello, Gold Bar Ice Cream Cake!), the Prosperity Yusheng is also a must-have on your dinner menu. With over 18 ingredients, such as smoked salmon, fresh greens, shimeji mushrooms, and more, it's sure to go down a storm with the family!
Where: Swensen's, 5 Raffles Avenue, Marina Square, Singapore 039797
19. Resorts World Sentosa
There are dining options galore over at Resorts World Sentosa this Chinese New Year, but if you don't fancy heading out – how about enjoying Feng Shui Inn's take-home dishes instead? Go all out and impress guests with Feng Shui Inn's Wealth Treasure Pen Cai ($1088 for 10 persons), with South African 6-head abalone, sea cucumber, German pork knuckle, and more! Or, what about the Ocean of Wealth Yu Sheng ($168), featuring lobster, smoked salmon, crystalline ice plant, and a special strawberry dressing, among other delights. Whatever you decide, make sure you have the Quadruple Happiness Nian Gao (S$68) in your cart, which offers up a combination of gourmet water chestnut cake, Gula Melaka Nian Gao, bean cake and radish cake with Sakura prawns. Dessert, sorted!
Where: Resorts World Sentosa, 8 Sentosa Gateway, Singapore 098269
Psst, if you'd rather head out, check out these Chinese New Year reunion dinners too!