Looking ahead to CNY 2023? Lucky for you we've been finding all the best things to do in Singapore to celebrate Chinese New Year with kids...
Chinese New Year might seem a while away – but let's be honest, it'll be here before we know it! If you've started dreaming of the perfect family reunion dinner or an all-out CNY takeaway at home, then you're not the only ones. But festive snacks aside, you're going to need to keep the famalam entertained if you decide to venture out come Chinese New Year. Luckily, we've already started looking out for CNY fam fun, so you can start planning ahead. Here's our list of all the best ways to celebrate Chinese New Year with kids in Singapore and enjoy the best things to do with the family over the holiday. Gong Xi Fa Cai!
Things to do with kids for Chinese New Year 2023 in Singapore
1. Street Light-Up in Chinatown
We're waiting to hear what's in store for CNY 2023 Chinatown street light-up, but one thing we can guarantee – it will be incredible! The light display usually stretches down Eu Tong Sen Street, New Bridge Road, South Bridge Road and Garden Bridge, and the whole area is sure to be pretty darn spectacular! We're keeping our fingers crossed that the adopt a lantern opportunity continues so we can adorn our home or office after the festivities – how cool?! Chinatown Festivals' adoption campaign will be heading into its ninth year, and we love the sustainable effort of it all.  Stay tuned for more info on how to apply!
When: TBC
Where: Street light-up at Eu Tong Sen Street, New Bridge Road, South Bridge Road and Garden Bridge
2. Get clued up on Chinese New Year with Singapore Chinese Cultural Centre!
Looking for online CNY fun? How about checking out the one-stop online guide on all things Chinese New Year?! From a yusheng guide to zodiac predictions, Festive Fever from Singapore Chinese Cultural Centre has it all. Plus, there are loads of interactive quizzes for the kids (and grown-ups!) to test their knowledge!
3. Chingay Parade
The good news for Chinese New Year 2023? The Chingay Parade is back at the F1 Pit – yay! Check out the colourful and vibrant parade in front of a street-style container art backdrop. This is the final installation in the trilogy and is all about calling on Singaporeans to treasure the present and embrace tomorrow together as a community with hope, dream, and confidence as we commit to a brighter Singapore. We can really get on board with that theme! Looking to attend? Get in quick as the tickets are already on sale. Super excited and want to get into the CNY mood now? Listen to the theme song "Embrace Tomorrow" on Spotify!
Details: Friday 3 & Saturday 4 February 2023, 8PM, F1 Pit. Tickets priced at $60 / $50 / $40 / $28.50 / $20 (excludes booking fee). PAssion Card Members get to enjoy 20% discount.
Inspo from last year! Things to do with kids for Chinese New Year 2022 in Singapore
4. Spring in the S.E.A. Aquarium
Our kids LOVE the aquarium at the best of times, and especially the humungous Open Ocean Habitat. And, this Chinese New Year, things are getting even more awesome. First up, check out the Trail of Fortune and welcome in the Year of the Tiger by spotting the five auspicious animals in the deep blue: the sand tiger shark, red lionfish, weedy seadragon, tiger crowie and alligator gar. Once you've ticked these off your list, be sure to head over and get a pic with the Manta mascots in their festive best!
When: Until 15 February 2022
Where: S.E.A. Aquarium, 8 Sentosa Gateway, Resorts World Sentosa
Cost: Normal admission fees apply
5. Chinese New Year festivities at Sun Yat Sen Nanyang Memorial Hall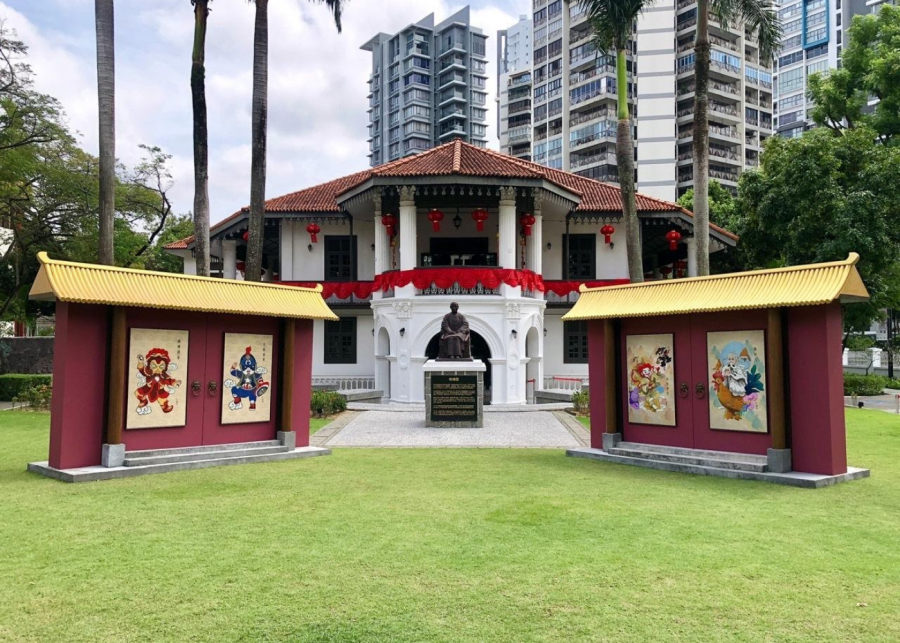 There are lots of festive happenings at Sun Yat Sen Nanyang Memorial Hall over Chinese New Year (see below!), and one of our faves is visiting the latest lawn installation, 'Blessings Come A-Knocking'. This installation represents the memorial hall's wish for protection against the trials and tribulations brought about by the pandemic, something we are definitely on board with.
6. Sun Yat Sen Nanyang Memorial Hall Lion Dance and family workshops (Lion Dance, festive drums, and crafts!)
It's not just the displays that are worth checking out at Sun Yat Sen Nanyang Memorial Hall; visit on the 1 February between 10 – 11am, and you'll be treated to a lion dance performance to see in the first day of the Lunar New Year! Do the kids fancy trying the Lion Dance for themselves? They can with the Lion Dance workshop taking place on the 13 February. Or, if your kids like to make a noise, then head straight for the Festive Chinese Drum Workshop. Finally, for the crafters out there, how about a lantern-making workshop? Learn all the basics and design, paint and print patterns to create your own family masterpiece!
When: Lion Dance performance: 1 February 2022, 10 – 11am. Lion Dance workshop: 13 February, 12.30pm – 1.30pm, 4pm – 5pm. $8 per child (recommended for five years and above). Festive Chinese Drum Workshop, 12 February, 12.30pm – 1.30pm, 4pm – 5pm. 2pm – 3pm. $8 per child. Lantern Making workshop, 13 February 2022, 10 – 12noon, $10 per pair. Book online in advance.
Where: Sun Yat Sen Nanyang Memorial Hall, 12 Tai Gin Road, Singapore 327874
7. Good times a-go-go at Universal Studios Singapore
You should definitely swing by Universal Studios Singapore to ring in the Year of the Tiger. Catch all your fave characters in their traditional Chinese get-up and grab all the selfies you can muster when the Majestic Dragon comes out for a lively performance! Don't miss the zodiac banners to see what good fortune awaits you. Plus, this year, there's a special guest exclusive with Po, the Dragon Warrior and Master Tigress from DreamWorks Animation's Kung Fu Panda, making her first appearance at Universal Studios Singapore! You can also check out the festive meet and greets with the likes of Shrek and Princess Fiona and Poppy and Branch from Trolls, to name a few, who are all in town for the big festivities. Best get booking!
When: Until 13 February 2022
Where: Universal Studios Singapore, Sentosa
Cost: Entry fee applies
8. Artsy Bugsy CNY craft workshops!
Another one for the crafters! How about making a Lion Dance clay masterpiece this Chinese New Year? Suitable for 5 years and above, Artsy Bugsy are offering canvas painting and loads of clay-based fun! Running during the week, as well as over weekends in the run up to CNY, this is a great one for the kids to create something special to add to your CNY displays at home!
When: Check the IG account here for all the details
Where: Available at both Bishan and Funan workshops
Cost: $65 per child (5% off for siblings)
9. Check out the National Heritage Board's Lunar New Year Hongbao Campaign!
The National Heritage Board are back with their Lunar New Year Hongbao Campaign! There's never been a better time to pop to your fave museum or gallery or discover a new one! Visit one of the 35 participating museums and galleries and pick up limited edition red packets, each featuring unique designs. Psst, keep your eyes peeled for giveaways throughout the campaign to nab yourself a limited-edition collector's album or a full set of the 2022 Museum Roundtable Lunar New Year red packets!
When: Until 4 February 2022.
Where: At participating museums and galleries across Singapore
10. Master the Art of Making Tang Yuan at Universal Studios Singapore!
How about a cooking session this CNY? StarBot Café in Universal Studios Singapore is offering up the chance to make the festive delicacy, Tang Yuan, from scratch! Learn the ropes from expert and instructor Samantha Mantou, and then create your own designs!
When: 1 to 6 February & 10 to 13 February 2022
Where: StarBot Café in Universal Studios Singapore
11. Dahlia Dreams at Gardens by the Bay
We always love the seasonal celebrations at Gardens by the Bay, and this time of year promises some spectacular treats for the senses. Take the fam along to explore the beautiful floral displays at the Flower Dome in the form of Dahlia Dreams. Stroll through a field of dahlias alongside a host of lunar floral favourites! Psst, this year, there's the added bonus of nighttime lanterns to check out too!
When: Until 20 February 2022
Where: Flower Dome
12. Check out River Hongbao 2022!
If you've missed out on tickets for the in-person events at this year's River Hongbao 2022, don't fret, there are loads of online goodies to keep you entertained at home too. First up, try your luck at the River Hongbao 2022 Fortune Dance Challenge! Have a go at your best version of the 'fortune dance' and stand a chance to walk away with shopping vouchers worth $188! Simply follow @riverhongbao on TikTok to participate. There are also live shows, an e-exhibition, and more online to enjoy with the fam this Chinese New Year!
When: Until 6 February 2022
Where: online
13. Take a trip to Light to Night 2022
Light to Night has been extended this year to coincide with CNY – yay! Keep the kids up late and head on down to the Civic District to see your favourite buildings illuminated with bedazzling light displays!
When: Until 3 February 2022
Where: Light to Night 2022
14. Hit the malls and save at the malls of Frasers Property
If you're planning to hit the shops during CNY preparations, then you might want to take advantage of some of the events and promos taking place. The malls of Frasers Property are running a 'Big Fortune, Bigger Rewards' campaign. Offers include a $5 Digital Gift Card with minimum spends of $88, $128 or $168. You can also make a difference this CNY by donating non-perishable food items at dedicated Food Bank Singapore boxes located across 11 participating Fraser malls!
15. Check out your zodiac predictions and pick up red packets with plantable seed papers at City Square Mall!
Check out the festive decs and zodiac predictions around City Square Mall this CNY. Don't miss picking up your exclusive City Square Mall red packets either; we love that these red packets are made of plantable seed papers that are embedded with a colourful variety of wildflower seeds, ready for you to plant and grow!
16. Funan's Creative Intersections: In the Year of the Tiger
There's loads of tiger-themed fun over at Funan this Chinese New Year. In collaboration with Singapore Art Week, you can take your time spotting the super-cool installations throughout the mall, plus brand collaborations in the areas of fashion, food, lifestyle, as well as workshops, to try your hand at.
17. Take part in the Tiger Year Doodle Date!
For the perfect combo of CNY and art, how about checking out the Tiger Year Doodle Date with Little Dim Sum Warriors? Learn how to draw funny food characters mixed with Chinese New Year stuff — pineapple tart lions anyone?! Draw along with the cartoonist at Little Dim Sum Warriors, and learn what these mixed-up combinations are called in Chinese along the way! Make sure you register by 27 Jan for this event!
18. Try yoga in the sky this CNY!
If you've gone a bit heavy on the snacks, how about a bit of exercise this CNY? And it's not any old exercise –head to Virgin Active's Skypark Yoga at MBS for yoga with views! It doesn't matter whether you're a seasoned yoga enthusiast or beginner, the session suits all! It's an early start, so you might want to leave the kids at home for this one…!
Gong Xi Fa Cai!