Your guide to shopping for beautiful little cheongsams (AKA qipaos!) and Mandarin collar shirts for kids in Singapore.
Whether you're a Chinese New Year newbie or a seasoned pro, kids of all backgrounds love dressing up for the CNY celebrations. Little girls look pretty darn cute while wearing a cheongsam, and small dudes can definitely rock a Mandarin collar shirt, no matter how big they are! You'll find traditional Chinese-style clothes for the young and old alike all across Singapore (Chinatown is a guarantee), but local labels are really taking it up a notch with cool Chinese-inspired threads for kids. Well, we've done all of the window shopping for you, so scroll away… here's where to buy Chinese New Year outfits for kids in Singapore!
Where to buy Chinese New Year outfits for kids in Singapore
1. Le Petit Society
We're not gonna lie: we're frequent visitors to Le Petit Society's Downtown Gallery store (and it's fair to say we also indulge in the odd online delivery straight to HoneyKids HQ). So we're super excited about the new matchy-matchy CNY collection. Chinese motifs, florals, oranges, and lion dance prints are all available for pre-order right now.
2. Maison Q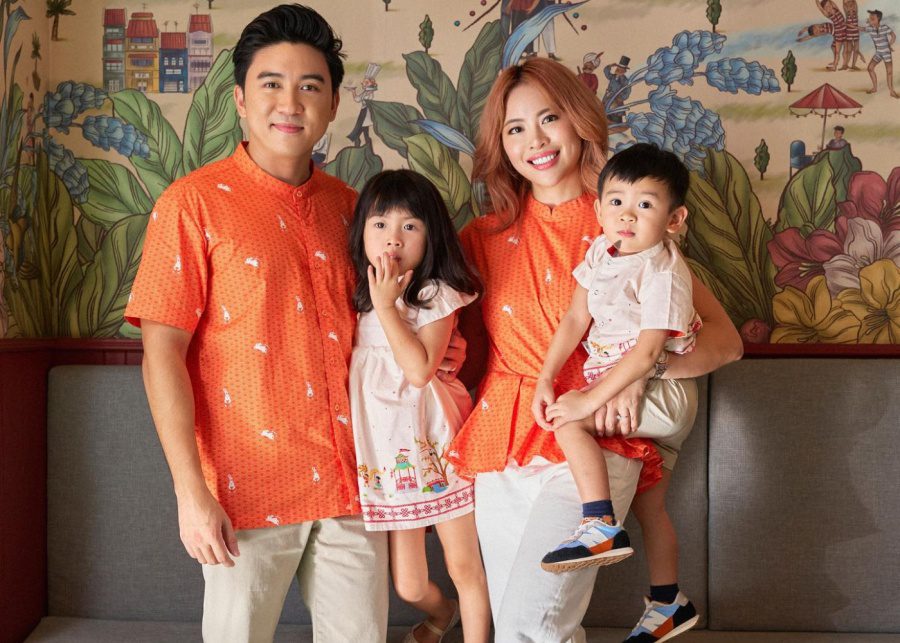 We're impressed by local label Maison Q's collection of reversible clothes for kids in fun fabrics – two outfits in one item of clothing! Look out for dashing Mandarin collar shirts for boys, cheongsam dresses for girls, and rompers for bubbas. Love!
3. Dressedingabe
We've loved this brand's National Day collection, so naturally, we're looking at its Chinese New Year collection this time of the year too! The Always Together collection by dressedingabe features cosies festive wear for the entire fam. We're talking midi and tiered dresses as well as kimono-inspired clothes on top of the usual cheongsams and Mandarin collars. The bright and cheery colours and prints are sure to bring a smile to everyone's faces when you go visiting.
4. Pokoks
This brand from our neighbouring country always delivers when it comes to Hari Raya clothes. So, we're very pleased to see that it has come out with an equally wonderful collection for Chinese New Year. The girls can have their pick from the printed cheongsams, while the understated Mandarin collar shirts will be a hit with the boys. Complete the look with a printed fabric mask.
5. Pocketpig Diary
Looking for more options to dress up the kiddos? Pop on over to Pocketpig Diary's website and browse through its 2023 collection. Cheongsams and Mandarin collars come in a variety of prints and colours as well as styles. Prefer to keep it simple? Go for the kungfu top and bottom ensemble. There are adult sizes, so fathers can twin with the little ones too!
6. Sea Apple
We absolutely adore local label Sea Apple for the lovely illustrations that feature on its tees and onesies for little peeps, and dresses that we always wish came in our size (some do!). Tasty and tropical, these are some of the sharpest Mandarin collar shirts we've seen for little guys. Plus, check out the tiny rompers, pretty cheongsams and flutter sleeves.
7. YeoMama Batik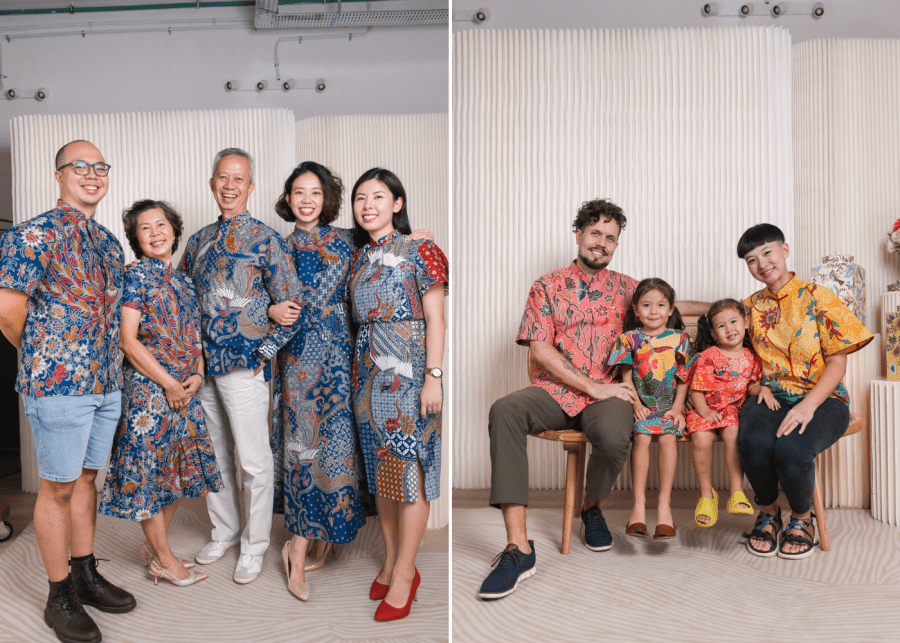 If you love batik (as much as we do) and price is not a factor for you, then you'd want to take a look at YeoMama Batik. The Singaporean fashion brand has released three unique batik collections to bring luck and prosperity to the Year of the Rabbit. With different batik prints, new styles and colour combinations, YeoMama's Chinese New Year collections are bound to have pieces to suit the entire family and bring some fun into your getups.
8. OETEO
Oeteo's latest collection brings together red peonies in full bloom and fun-loving merry bunnies. Peonies are often associated with prosperity, luck, and honour, which is why it's the perfect motif for Chinese New Year. No cheongsams or Mandarin collars in sight here, but we still adore this festive collection. Plus, you can wear them even after the lunar season. Perfect!
9. Love, Bonito
Who doesn't Love, Bonito? And we love the homegrown brand even more with its latest CNY collection for the whole family! It's all things floral this year (but don't worry, it's perfect for the boys of the house, too!) that come in lovely hues and effortless silhouettes. Family twinning, sorted! Psst, be sure to check out LB's curated seasonal goodies, which include limited edition mahjong sets and ang bao packets in shades of red, pink, and blue.
10. Uniqlo
Our favourite casual wear brand from Japan has unleashed new year friendly items through its LifeWear range. Go ahead and refresh your wardrobe this year with clothes that are designed for comfort that you can also wear beyond the festive season. Also, browse through UT's Looney Tunes collection. What better way to usher in the Year of the Rabbit than in apparel with Bugs Bunny on it?
11. Elly
Toys, art and baby gifts aren't the only things Elly has in stock. We also love the popular Chinese New Year kids outfit collection and its cool collab with Disney. This year's collection celebrates the brand's tenth year with a selection of old favourites that have been refreshed for the new year. Don't forget to snag some shoes before they're all sold out!
12. Chateau de Sable
Hop into the new year with Chateau de Sable's exclusive collection that's also perfect for all occasions. Choose from hand-smocked cheongsam dresses and Mandarin collars in vibrant red hues, or go bold with its printed designs. Getting the family to match is easy peasy.
13. Ans.ein
Chinese New Year outfits, but make them artsy. Ans.ein has three CNY collections that incorporate brushstrokes and designs from various passionate artists. The result? Beautiful one-of-a-kind offerings that include cheongsams and Mandarin collars in vivid colours and patterns. This is the perfect set for your fam – unique, but also goes well together.
14. Bochechas
Homegrown brand Bochechas ushers in the Year of the Rabbit with a festive collection that heavily features the bunny. Whether you like loud prints, pastels, or the colour blue, this brand has got you covered. Psst, all garments can be personalised too! We're so in love with puffy sleeve cheongsams, which are perfect for Singapore's weather.
15. Childrensalon
No mandarin collars and cheongsams here, but Childrensalon's curated collection of kids' designer clothes still lets you welcome the rabbit year with a bit of luck and fortune. Outfits come in traditional reds, accented with gold motifs, Chinese zodiac signs, and more. Girls will love the dresses offered here – they're to die for!
16. PAZZION
Planning on twinning with your little girl? PAZZION has got you sorted with its 2023 Chinese New Year collection, including a matching pair of Alice the Bunny Ballerina Flats for both mum and daughter. Designed with furry material and a round-toe profile, these flats guarantee comfort and style for you and your little girl as you go for your CNY house-hopping. Looking for heels? PAZZION has got 'em too! There are the Nicole Tangram Embellished Heels and Kelly Braided Two Tone Open Toe Heels. Something more casual? You can't go wrong with its Lily Knotted Sandals.
17. The Reloved Collection
If you're budget-conscious, then shopping for CNY outfits at The Reloved Collection is your best bet. Everything is reasonably priced, and you can get your hands on a few red pieces that you can wear over and over again. No one has to know that they're secondhand, and you're doing your part towards sustainable living too. Score!
Shops with Chinese New Year outfits all year round
18. Little Qipao
This online boutique stocks cheongsams all year round. Using beautiful patterns and colours, you'll be able to find something pretty spesh for girls up to age 14. And, if you have a little one, rompers and toddler dresses bring major cuteness. Also, check out the 'Kung Fu' tops in fun fabrics and cute Mandarin collar shirts for young boys aged two to 10. Psst, there are collections for the grown-ups, too!
19. Chubby Chubby
This homegrown label is the brainchild of graphic designer Nix Deng, and her artistic eye certainly shows through in her fun prints. Everything in her boutique is lovingly made in Singapore, from the kids' fashion to the toys and accessories. Make a beeline for the festive collection (pictured up top) and snap up a cheerful cheongsam for your little girl. Or, pick out a smart cotton/linen Mandarin collar shirt for your young boys to sport. There are also matching Mandarin collar shirts for dads and cheongsams for mum – but get in quick, they sell like hotcakes!
20. Luna & Moon
Singapore clothing label Luna & Moon is the brainchild of mums Caroline and Melissa. They've created comfortable and classic kids wear with a modern twist that looks and feels great even in Singapore's blazing heat. We're loving all the bright colours and floral prints to suit your bubbly child from as young as six months up to 10 years old. Plus, there are sibling twinning sets available, and we do love it when everyone matches!
21. The Missing Piece
Once you set your eyes on The Missing Piece, you'd definitely want to get a few pieces for your closet! All the clothes are made of soft and breathable fabrics, which ensures that you won't be sweating buckets while paying folks across Singapore a visit. Plus, the designs are tres chic, and some even come in a family set. You'd be the talk of the town when you wear these pieces out, for sure.
22. Little Kooma
Not planning to splurge on new clothes? We recommend shopping at Little Kooma. There's a good selection of kids' apparel inspired by traditional Chinese culture in a variety of colours and designs. The boys can dress up in the totally adorable cheongsam set, while the girls will look beautiful in the cheongsam dress.
23. Moley Apparels
Stand out from the visiting pack with clothes featuring the lotus motif courtesy of Moley Apparels. You'll also be in full bloom when you don the pieces for this year's lunar new year celebrations. Have a bub in the family? There are rompers with the lotus print so that the tiny one can match with everyone else too.
24. Viva Vida Kids
Previously during the Year of the Tiger, Viva Vida Kids's Chinese New Year collection heavily featured the majestic cat on its cheongsams and Mandarin collars. If you're not into animal prints, we suggest going for the ones with oranges on them. Viva la vida indeed!
Ready to get your kids kitted out in Cheongsams and Mandarin collars? Happy Chinese New Year, folks!