Sink your teeth into a slice (or two… or three – we won't judge) of the best chocolate cakes in town.
Is there anything a slice of rich, fudgy chocolate cake can't fix? Screw worrying about tantrums or raising two kids under two – all can be forgotten with sweet, chocolatey goodness. While chocolate chip cookies hit the spot while we're on the go, nothing beats settling down with a cuppa and eating something with an actual fork. But what makes something as simple as chocolate cake stand out from the rest? Perhaps it's exactly that – just a fluffy chocolate sponge sandwiched by rich, flavourful frosting and nothing else. Without further ado, here's our list of the best places in town to get your chocolate cake fix sorted:
Where to buy the most decadent chocolate cakes in Singapore
1. Whyzee
When it comes to chocolate cakes, you can't go wrong with Whyzee. This award-winning cake delivery service has more than 40 choices for you to choose from, all of them rich and extremely indulgent (and highly addictive, we're told). One of the crowd favourites is its Chocolate Praline Cake (pictured above), a combination of chocolate sponge and creamy chocolate mousse, with crunchy hazelnut wafer surprise in between, and topped with a luxurious layer of chocolate glaze. Whyzee also offers vegan and eggless cakes to cater to a wider range of customers, as well as specially designed cakes for the kiddos' birthdays! We also love that it offers a one-hour express delivery service, a major win for us busy parents – just in case we forgot to order ahead!
Whyzee, available online
2. Awfully Chocolate
You know a cake is good if someone decides to build a business around it. And there's no doubt about it, Awfully Chocolate's All Chocolate Cake is a crowd favourite. It's simple – moist, dark chocolate sponge sandwiched between layers of dark chocolate fudge – not just mouthfuls of mousse or cream. But best of all, we love the fact that we can get our Awfully Chocolate chocolate cake fix whenever we want!
Awfully Chocolate, multiple locations across Singapore
3. Lana Cakes
There's a reason why Lana Cakes has been in business for over 50 years – it makes a damn good chocolate cake. There are no fancy chocolates or carefully piped icing. It's a simple classic chocolate fudge cake, layered with chocolate fudge frosting. Their signature chocolate cake is their most famous cake, perfect for a birthday, celebration or just because. Don't forget to place your order at least a week in advance!
Lana Cakes, 36 Greenwood Avenue, Singapore 289239
4. PS.Cafe
If there's anything we love more than the truffle fries over at PS.Cafe, it's the Double Chocolate Blackout Cake. It's a generous portion (enough to share between three people) consisting of a tower of two moist, chocolatey cakes layered and smothered with rich dark chocolate ganache. Yup, it's as evil as it sounds.
PS.Cafe, multiple locations around Singapore
5. Vicky's
Dessert-loving kids in Singapore grew up being either on Team Lana or Vicky's for the best chocolate cake in town. Although we personally can't decide which team we're on, our friends at the Honeycombers think that Vicky's Chocolate Fudge Cake is moister and chocolatey than Lana's. Oooh, controversial!
Vicky's, Bukit Timah Plaza, 1 Jalan Anak Bukit, #02-K47, Singapore 588996
6. Jane's Cake Station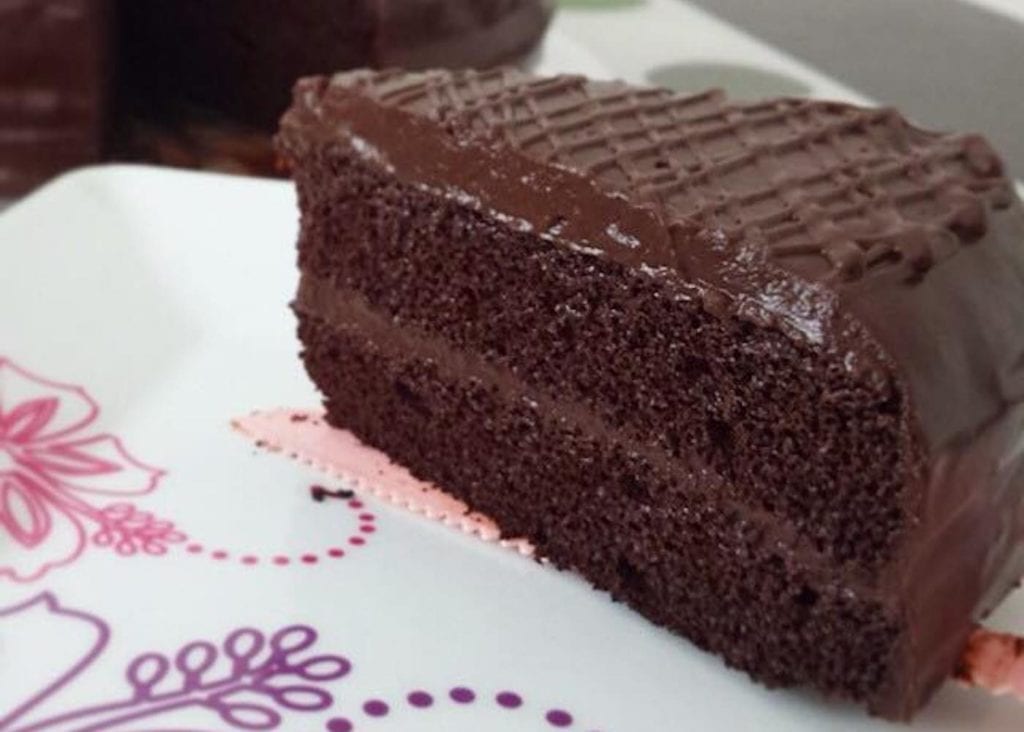 Biting into the chocolate cake at Jane's Cake Station takes us wayyyy back to the times when chocolate cake was just chocolate devil's cake sponge and good old chocolate fudge. If that's what you're craving for, we say take the trip to Jalan Kayu in the northeast of Singapore and have yourself a bite of nostalgia at Jane's Cake Station. Oh, and the only other option on the menu is Durian Cake.
Jane's Cake Station, 265 Jalan Kayu, Singapore 799493
7. The Marmalade Pantry
Make sure you bring your appetite and sugar cravings to The Marmalade Pantry if you decide to pop by for a visit and try out its chocolate cake. As big as a door stopper, this super fudgy cake packs a sweet, chocolatey punch that might be a bit too rich for most people. We like it though, and prefer it when it's heated up and served with a scoop of ice cream!
The Marmalade Pantry, various locations around Singapore
8. The Fabulous Baker Boy
Although everyone loves the AB FAB Red Velvet Cake at the Fabulous Baker Boy, we need to give its Valhrona Chocolate Cake a shoutout. Don't be fooled by the light sponge: all you chocolate-lovers will love the super-rich flavours, especially its smooth buttercream frosting. Yum. Oh, and don't forget to check out the nearby Kampong Glam after.
The Fabulous Baker Boy, Aliwal Arts Centre, 28 Aliwal Street #01-01, Singapore 199918
9. Chalk Farm
We usually love olive oil in everything savoury, but we didn't know that it could take a chocolate cake to the next level. And that's exactly what the Dark Chocolate Olive Oil is like from Chalk Farm – feathery, dark, moist and mouth-fillingly rich. Topped with luscious chocolate ganache, you'll want to eat this bad boy up with a good cup of coffee or a glass of fresh milk.
Chalk Farm, outlets at Paragon and Parkway Parade
10. Chocolate Origin
If you prefer your chocolate cake with lots of ganache, you'll love Chocolate Origin's Original Chocolate Cake. Expect rich chocolatey flavours and soft textures with each bite and lots of "ooh-ing and ahh-ing". Might as well indulge and get both the original and the extra bitter dark version.
Chocolate Origin, multiple locations around Singapore
11. The Dark Gallery
It's super obvious that The Dark Gallery specialises in all things chocolate, given its name. And it shows! The fan-fave Signature Dark Chocolate Cake is a heavenly delight in every bite. Layers of rich chocolate sponge, velvety 66% dark chocolate mousse coating, cacao nibs and crunchy dark chocolate pearls toppings… It's too good to only get a slice, we say.
The Dark Gallery, various locations around Singapore
12. Sunday Folks
Spending the day in Holland Village? Be sure to stop by this revered cafe for some treats. And by treat, we absolutely mean treating yourself to a slice of its Rich Cognac Chocolate Ganache. An indulgent combo, dark chocolate and cognac make. It's simply too irresistible to not finish. Psst, this cake's not meant to be shared with anyone – not with the kids because of the alcohol, moreso the alcohol-lovin' adults!
Sunday Folks, Chip Bee Gardens, 44 Jalan Merah Saga, #01-52, Singapore 278116
13. Laurent Bernard Chocolatier
Declaring itself "the best chocolatier in Singapore" is a very bold move… but we don't disagree with that statement. Its 3 Chocolate Cake consists of white cream, dark and milk chocolate mousse, and dark chocolate sponge. We love how the cake is both sweet and bitter. The French really know how to make such a chocolatey, decadent dessert. Go for a lovely walk along the river after your well-deserved nom.
Laurent Bernard Chocolatier, several locations including Robertson Quay and Collyer Quay
14. Patisserie Clé
Here's another place that specialises in French desserts. It offers many sweet treats, but for this piece, we zone in on The Gentlemen and Noisette, two chocolate cakes. The former is a masterful combination of whiskey and dark chocolate, with some crunch courtesy of the cashew nut brittle. Biting into the cake gave us such a heady thrill, and we couldn't stop scooping it up. If you prefer a classic chocolatey taste, the Noisette is a sure bet. Delicious – that's all we have to say.
Patisserie Clé, Paya Lebar Office Centre, 29 Paya Lebar Road #01-01, Singapore 409005 and Lucky Court, 79 Lucky Heights, Singapore 467627
15. Ugly Cake Shop
Don't let its name fool you – the cakes in the shop are anything but ugly. Rather, its name signifies using only natural ingredients for its bakes. No artificial flavours to be found here, folks! Its signature Big Daddy cake is made using Valrhona chocolate and nuts, which gives it that super chocolatey and moist texture. Serious chocolate lovers, we recommend the Nicholas. Made with high-quality cacao barry chocolate, its bittersweet flavour will leave you wanting more.
Ugly Cake Shop, GB Point, 535 Kallang Bahru, #01-06, Singapore 339351
16. The Durian Bakery
Chocolate and durian fans, The Durian Bakery has one cake that you should sample. Enter the Dark Chocolate Fudge Drip Cake with Mao Shan Wang Core! This chocolatey goodness is filled with silky durian puree, which the bakery claims is the creamiest, most delicious filling you'll ever get to taste. Each order is made fresh daily, with zero preservatives and artificial colouring. One mouthful and you'll be converted!
The Durian Bakery, The Commerze @ Irving, #02-26, Singapore 369546
17. LAVO Singapore
Stunning views to go along with your cake? Make a trip to Lavo at Marina Bay Sands and order the 20-layer chocolate cake. Devil's food cake and peanut butter mascarpone are sandwiched together to make this sinful masterpiece. Have the kids count the layers – that'll keep them occupied for a hot minute! – before sinking your forks into the cake.
LAVO Singapore, Marina Bay Sands, Hotel Tower 1, 10 Bayfront Avenue, Level 57, Singapore 018956
18. LUNA Singapore
Is it only us, or are pretty cakes just too good to be eaten? (No?) This creation by Luna deserves rousing applause, glowing reviews on IG stories, and a happy dance. Hazelnut sponge is coated with dark chocolate glaze and Valrhona Guanaja 70% chocolate mousse. Cut into the cake and you'll discover a crunchy core of crushed hazelnuts, salted caramel, hazelnut dacquoise and dark chocolate-coated feuilletine. Our mouths are watering just writing this…
LUNA Singapore, 53 Amoy Street, Singapore 069879
19. All Things Delicious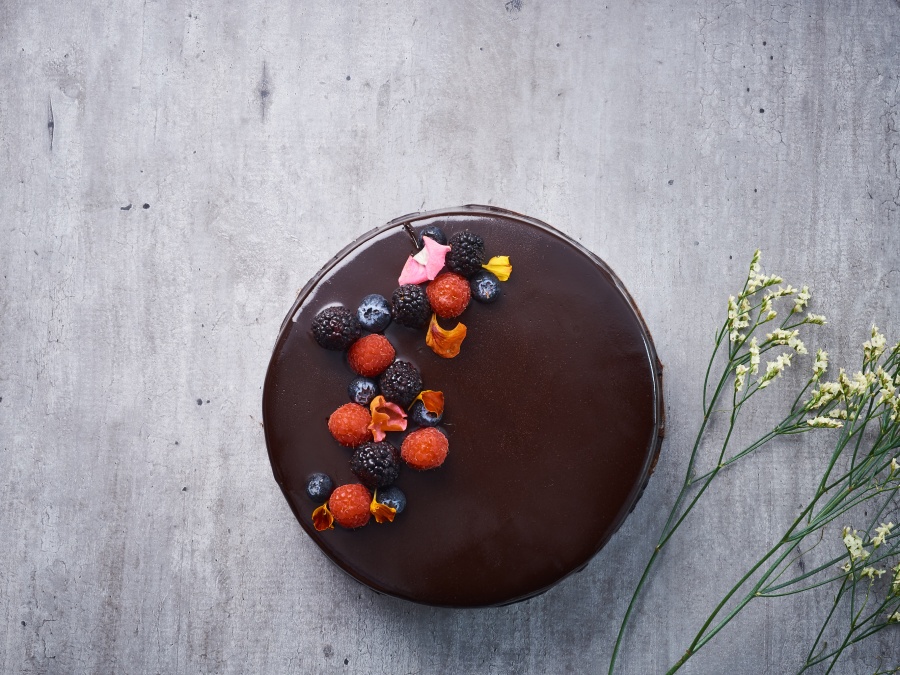 This halal-certified bakery-cafe on Arab Street is known for its iconic baked goods, one of which is the dark chocolate torte. Affectionately dubbed as a "chocolate pudding in disguise", with a texture that's softer and denser than the average cake. Bonus: it's made without any flour, which is perfect for those who are gluten-free.
All Things Delicious, 34 Arab Street, #01-01, Singapore 199733
Go on, indulge in some chocolatey goodness – you deserve it!