Photography: Serghei Savchiuc via Unsplash
Raise those pinkies, people – we've found the best places in Singapore to feast on afternoon tea... kid-friendly spreads included!
Afternoon tea: there's nothing quite like it for making us feel like we've got our fancypants on. Because everything tastes better in miniature, are we right? Luckily for us, this very British tradition does a roaring trade here in Singapore. So whether you're looking to order high tea treats in for a special treat or head out for a special family occasion, we've compiled our picks of the best places for afternoon tea in Singapore. And lots are kid-friendly too!
From babyccinos and fussy-eater-friendly buffets to chocolate fountains and handy highchairs, we've done all the hard work, so you don't have to. Three…two… scone… it's tea time! And psst – for when you want to graze child-free, we've also found some relatively affordable high teas for a catch up with friends, and even the best places to take the grandparents. Yup, we've rounded up our pick of the best afternoon teas and high tea sets in Singapore, so raise those pinkies!
The best afternoon teas in Singapore for all occasions
1. Best for understated elegance and iconic drawer display
Known for serving afternoon tea in an iconic chest of drawers, visit Anti:dote at the Fairmont Hotel Singapore and indulge in monthly-themed sweet treats and bite sized sandwiches from 12pm to 5pm daily. Amuse Bouche and free-flow Fitz Brut Sparkling and Rose are available to complement the delicious bites. Keep an eye on the themes, that vary from whimsical Trolls and super cute Hello Kitty, to elegant traditional!
When: Daily 12–2pm (1st seating) and 3–5pm (2nd seating); Fridays to Sundays 9–11am (single seating)
Where: Anti:dote, Level 1, Fairmont Singapore, 80 Bras Basah Road, Singapore 189560
Cost: $72–$88++ per guest
2. Best for a entertaining at home
Create a gorgeous mid-day treat for two with The Art of Afternoon Tea, exclusively available for takeaway and delivery from JW Marriott's Beach Road Kitchen between 12.00pm to 6.00pm daily.
Take pleasure in life's little luxuries with three tiers of bijouterie-like patisseries, showcasing a selection of freshly baked scones, savoury canapes and honeyed sweets – yummo!
When: Friday to Sunday, 3:30pm to 5:30pm, until 26 June
Where: JW Marriott South Beach, Beach Road Kitchen, 30 Beach Road, access via Nicoll Hwy, 189763
Cost: $84++ per set for two persons
3. Best for kid-friendly fanciness: Tea Lounge at Conrad Singapore
We can personally vouch for the variety of yumminess on offer at Conrad Singapore's (formerly The Regent's) Tea Lounge, making it a great option for afternoon tea with kids in Singapore. On weekdays, the tea is a three-tiered set. Kid-friendly pieces include finger sandwiches and cranberry scones served with clotted cream (drool), strawberry jam and zingy lemon curd.
Come the weekend; it's time for full-on high tea buffet mode. Children will make a beeline for the cooked ham and cheeses, congee, mini pot pie with beef ragout and rosemary mashed potatoes, plus Scotch quail's eggs.
Psst… chicken nuggets and fries aren't officially on the menu, but a little birdie tells us they're usually brought out by the chefs for the young guests. If you need further persuasion, then the live crêpes station with fresh berries and gelato will give you the answer: a resounding YES, PLEASE!
When: Mondays to Fridays 2–5pm (single seating); Weekends (Saturdays & Sundays) 12–2.30pm (1st seating) and 3–5.30pm (2nd seating)
Where: Tea Lounge, Conrad Singapore Lobby Level, 1 Cuscaden Road, 249715
Cost: $47 per guest on weekdays. $68 per guest on weekends. $23.50 per child, kids under five eat for free.
4. Best quintessential 'high tea': Raffles Singapore
Is Raffles Hotel THE place to come for the best afternoon tea in Singapore? It's certainly a showstopper setting, so you should definitely give it a try for the experience alone (although this one is best sans-kids!). Savour finger sandwiches, homemade scones and pastries, and seasonal delicacies, all washed down with fine teas and even finer Champagnes. The opulent setting really is the icing on the cake! When you're done with the tea, you have to pop into the Long Bar for a swift one. As the home of the Singapore Sling, it's a bit of a rite of passage for anyone visiting or living in Singapore! Psst… we also love a shop at Raffles Boutique. There are some gorgeous goodies to be had!
When: Mondays to Thursdays 1–5pm (single seating); Fridays to Sundays 12–6pm (single seating)
Where: Raffles Singapore, 1 Beach Road, Singapore 189673
Cost: $68 per guest
5. Best for an afternoon tea buffet: L'Espresso at Goodwood Park Hotel
We're big fans of L'Espresso for its afternoon tea offering. Having been to sample the wares ourselves, we can gladly report the spread is topnotch. Instead of your more traditional 'tiered cake stand' afternoon tea, L'Espresso puts on a full-on buffet spread. That scores big if, like us, you're a chronic grazer and love sampling everything (dust off your elasticated waistband pants!). And it goes without saying that all that choice is a huge plus when you're enjoying afternoon tea with kids! There are loads of yummy morsels to choose from, including dainty sandwiches, pastries, scones, salads, plus savoury hot options, too. Young 'uns will also go wild for the pièce de résistance: the chocolate fountain. Need a highchair? Just ask, and your child-friendly seating wish will be granted.
When: Mondays to Fridays 12–2.30pm (1st seating) and 3–5.30pm (2nd seating); Saturdays to  Sundays 11am–1pm (1st seating), 1.30–3.30pm (2nd seating) and 4–6pm (3rd seating)
Where: L'Espresso, Goodwood Park Hotel, 22 Scotts Road, Singapore 228221
Cost: Monday to Thursday $65 per adult; $39 per child from age 6 to 11 years old; Friday to Sunday, eve of and on Public Holiday $68 per adult, $40.80 per child from age 6 to 11 years old. Children aged five and under dine for free. Price includes two servings of coffee or tea.
6. Best for traditional high tea: The Rose Veranda at Shangri-La Singapore
Head over to the mezzanine floor above the lobby at Shangri-La Singapore and indulge in a high tea tradition that's been going strong for 30 years. Choose from more than 30 varieties of tea while tucking into the signature sandwiches. Save space for mains, and select between a range of tasty options, including parmesan-crusted chicken and braised short ribs – yum! There's more yumminess to follow in the form of a three-tiered dessert stand, complete with strawberry tart, raspberry cheesecake, rose macarons…and we could go on! Let's not forget the favourite either; vanilla and rose scones! Psst: don't miss kids' play haven buds by Shangri-La if you really want to keep the good times coming for the littlies.
When: Fridays 1pm–5pm; Saturdays, Sundays and Public Holidays 12–2pm (1st seating) and 3–5pm (2nd seating)
Where: The Rose Veranda, Shangri-La Singapore, Tower Wing, Mezzanine Level, 22 Orange Grove Road, 258350, Singapore
Cost: $108++ for two diners
7. Best for sharing: The Marmalade Pantry
Oooh, this one sounds like a goodie! The Marmalade Pantry's High Tea Set feeds two and features a selection of sarnies, mini cakes and cupcakes, plus buttermilk scones with clotted cream, strawberry jam and orange marmalade. Kids not down with afternoon tea time? No worries. There's also a dedicated kids' menu for the under-12 set, with offerings including mini chicken and beef burgers, as well as a couple of yummy-sounding pasta dishes. You can also order High Tea at home, delivered in a cute and clever box that transforms into a stand for your treats!
When: Mondays to Thursdays from 2–6pm
Where: The Marmalade Pantry, multiple locations including Ion Orchard and Novena
Cost: $Price varies depending on seasonal sets (serves two)
8. Best for a pet-friendly, laidback afternoon: Cafe Melba
You know it, you love it. OK, this option doesn't come on your typical tiered stand, but if you're willing to DIY, then this is a great, easy-breezy casual choice for a laidback afternoon tea with kids. There are some great sandwiches on the menu to tickle your fancy, as well as a fab selection of sweet treats to enjoy with tea, coffee and babyccinos. We love the location at the Goodman Arts Centre for the nearby child-friendly Artground, but all its venues are fab (hello, bouncy castles!).
Where: Cafe Melba, multiple locations including Goodman Arts Centre and Mediapolis
9. Best for older families: Chef's Table at Capella Singapore
Treating your fam to a day out on Sentosa, or even a Singapore staycation? If you fancy incorporating an afternoon tea into your plans, consider making a beeline for Capella Singapore. We reckon older sproglets, tweens, and teens will really love the atmosphere and tasty high tea offerings here. It's perfect for a special mother-daughter day out! Kid-friendly options on the menu include buttermilk scones, madagascar vanilla cheesecake, mushroom croque monsieurs and chicken sandwiches.
When: Tuesday – Saturday, 3–5pm, excluding Public Holidays
Where: Chef's Table, Capella Singapore, 1 The Knolls, Sentosa Island, Singapore 098297
Cost: $58 per person, see the menu
10. Best for both worlds: Atrium and Pacific Marketplace at Pan Pacific Singapore
Over at Pan Pacific Singapore's Atrium, the private pods floating over a reflecting pool are a huge hit with the knee-high and tween clientele, so be sure to book one for your own famalam when coming for the Panache of Singapore Afternoon Tea with the kids. The set is also served up at Pacific Marketplace. Don't forget to stock up on yummy sausages from the shop while you're there! Let's talk food: the tiered stands (which, in a cool twist, mimic the pods themselves) are bursting with scones, finger sandwiches, quiche, plus more Asian-themed morsels too. Only came for the cake? The hotel's pastry team has you covered. Great grub + cosy chills = happy parents. For a kid-friendly afternoon tea twist, juices and babyccinos are available.
When: Available Daily, 12pm – 6pm
Where: Pan Pacific Singapore, 7 Raffles Boulevard, Singapore 039595
Cost: $52–$72 per guest
11. Best for wow factor: Atlas Bar
A fact of life: if you haven't been to Atlas yet, you must (without the kids!). You'll feel like you're in The Batman movie… this place is Gotham City personified! Set inside the art deco-inspired Parkview Square building in Bugis, everything about this place oozes sophistication and attention to detail. As each component of the Atlas Afternoon Tea is hand-made to order, reservations are required with at least 24 hours' notice. The food won't disappoint (lobster crostini or raspberry financier, anyone?), and the tea selection boasts customised blends full of all kinds of botanicals and yumminess. Dress to impress and stay for the bubbles.
When: Tuesday – Saturday, 3pm and 4pm.
Where: Atlas, Parkview Square, 600 North Bridge Road, Singapore 188778
Cost: $64++ per guest
12. Best value afternoon tea: Arteastiq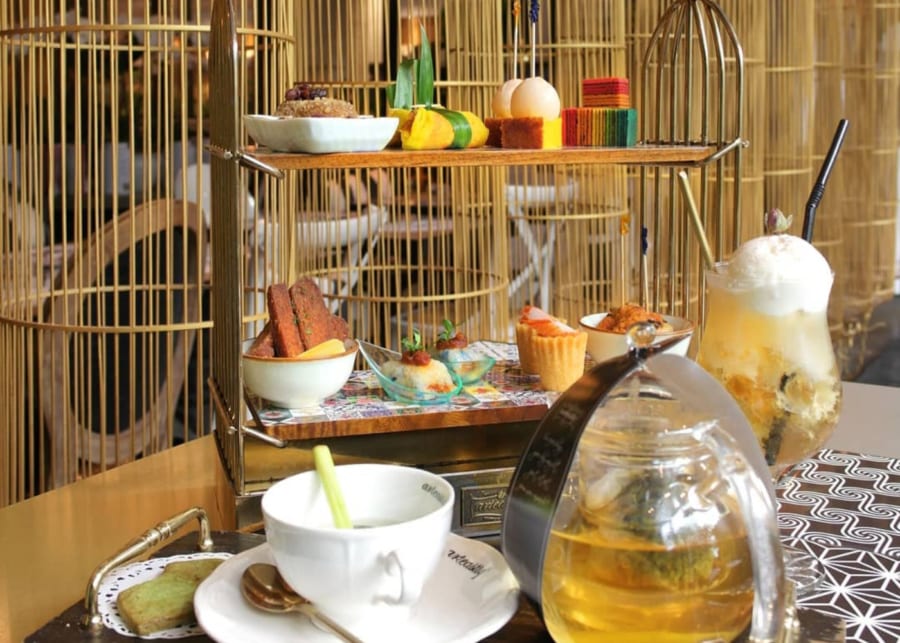 Served off gorgeous birdcage-esque platters, don't let the affordability of this afternoon make you think it's not special. Because it really is! This boutique teahouse, at three locations islandwide, has a selection of high tea options – we think the National Treasure set looks awesome! Its savouries include kueh pie tee, otah fries with green chilli sauce and glutinous rice wrapped in spicy shrimp. Only came for the cake? There's rainbow kueh lapis with kaya, kueh and soft gula melaka custard with red bean. Nom!
When: Available daily, 1–5pm
Where: Arteastiq, multiple locations including Mandarin Gallery and Jewel Changi Airport
Cost: From $32 per guest
13. Best for affordable Devonshire cream tea: Fosters Steakhouse
If you're in the Dempsey neighbourhood or Holland Village area and feel the need for some freshly baked scones and a good cuppa, then swing by Fosters Steakhouse. Yep, you read that correctly: this is a steakhouse that serves up a traditional Devonshire cream tea set. Get your gnashers round finger sandwiches, cake and scones served with butter, homemade strawberry preserve and fresh cream, plus a cup of joe or a pot of tea. This place prides itself on its chill-out alfresco dining area and cosy interior (there's even a mock fireplace and snuggly wing chairs for that extra authentic vibe!). There's also a kids' menu if the children fancy something more substantial. The verdict: cheap, cheerful and chock full of yumminess.
Where: Fosters Steakhouse, 277 Holland Ave, Holland Village, Singapore 278994
Cost: $13.50++ per set
14. Best for Alice in Wonderland vibes: Wonderland Savour
Fall down the rabbit hole and enjoy afternoon tea with your kids in this Alice in Wonderland-themed cafe at Wisma Atria. If the cute decor isn't enough to entice you, then the rainbow-hued macarons on display certainly will. Enjoy teeny toasts, dinky sandwiches and assorted patisseries, washed down with tea or coffee. All the noms.
When: Available 11am–6pm daily
Where: Wonderland Savour, 435 Orchard Rd, #02-08 Wisma Atria, Singapore 238877
Cost: Pricing available on booking.
So, which is your fave afternoon tea or high tea in Singapore? Let us know by tagging us on Instagram!