When you want to hang with the parents, you'll want to know the best places to take the grandparents in Singapore - with or without the kids!
27 November 2022 marks National Grandparents Day. But if you ask us? We should be celebrating the grandies each and every day, because they really are pretty spesh (even though they drive us nuts sometimes). So that got us thinking… where are the best places to take your folks – AKA the kids' grandparents – in Singapore? It's all fun and games when gramps arrives, but then that dreaded question crops up and sends shivers down your spine: "So, what's the plan for today?"
Luckily, we know exactly where you can take (or send, if they're your in-laws, ha!) your more 'mature' loved ones to showcase just how fabulous Singapore is. Now, we don't want them wilting at outdoor activities in the intense tropical heat, so ladies and gents, we give you our guide to the best places to take grandparents in Singapore. You're welcome!
Things to do with grandparents in Singapore
1. Stroll around Gardens by the Bay
Hands down, this should be top of your grandparents' hitlist. Whether they go solo or with you and the rest of the family in tow, the spectacular botanical feat that is Gardens by the Bay is a sure-fire winner for places to take grandparents in Singapore. Make a beeline for the Flower Dome (exhibits change often, so if they stop off for a repeat visit in the future it will likely be a different display!) and the Cloud Forest (taking in the breathtaking Super Trees on route).
Not only are both conservatories jam-packed with immaculately maintained flora from around the globe, their ingenious design means that they are blissfully cool. If the 'rents don't mind the heat (or getting wet), hotfoot it over to the free FEO Children's Garden water play area. It's one of our favourite free water play areas in Singapore!
2. Spot sea-life at S.E.A. Aquarium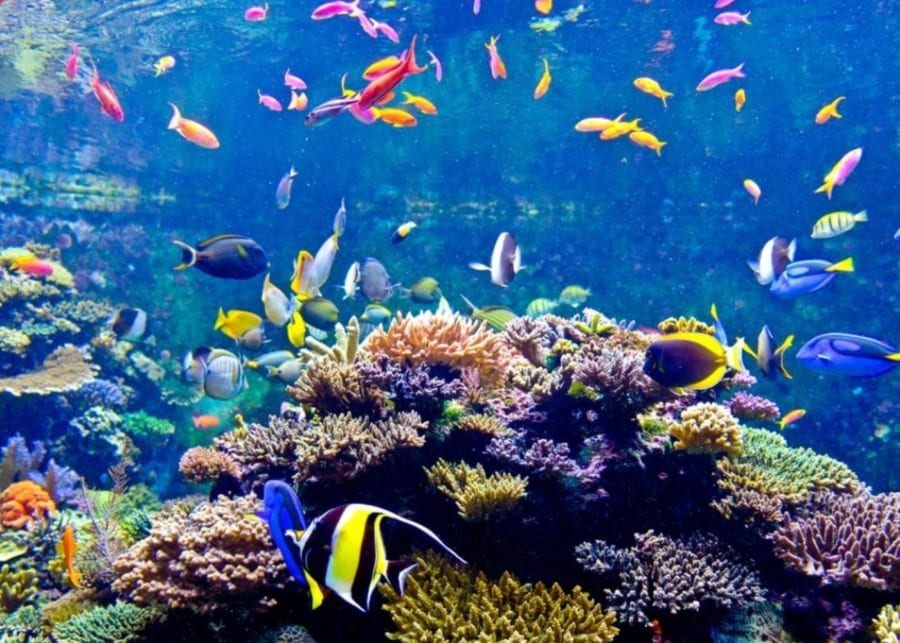 Whether the sun is beating down and you need some respite, the rain is pouring and you need a rainy day activity, or you just fancy some under-the-sea action, you'll love the S.E.A. Aquarium. This state-of-the-art facility is home to more than 100,000 aquatic creatures… and it's in air-conditioned comfort, making it an ideal thing to do with grandparents! Gaze at schools of tropical fish or dancing jellyfish, catch the playful dolphins or get up close to sharp-toothed sharks and giant manta rays.
3. Get cultured at Katong Antique Centre
For an authentic glimpse into a traditional turn-of-the-century Peranakan family home, head to Katong Antique House on East Coast Road. Nestled in the heritage neighbourhood of Joo Chiat (it's full of iconic candy-coloured shophouses), Katong Antique House is a beautifully preserved house packed to the rafters with everyday artefacts including vintage enamelware, wooden kueh moulds and kebayas. The grandparents will rave about this intimate private house-turned-gallery bursting with Chinese Peranakan culture. Book a tour with the wonderfully insightful Jennifer Lim (6345 8544).
4. Explore Fort Canning
For history buffs with a keen interest in WWII, Fort Canning is a great day out. While the kids are enjoying Jubilee Park and all its fun, we suggest the grandparents check out the Battlebox hiding under Fort Canning Hill. Nestled nine metres underground lies an authentic World War II secret underground command centre built in the late 1930s. Entry is by guided tour only. Once you're done, head over to Clarke Quay for a family-friendly bevvy or bite to eat.
5. Meet wildlife at Singapore Zoo
We love, love, love Singapore Zoo! A few tips: it's a long day and it can get hot and sweaty. BUT, the kids' zone is fantastic and has a brilliant water play area to cool off at. And there's that gorgeous carousel to enjoy an old-school ride on! We also recommend the River Wonders as it's a largely sheltered park, so offers plenty of shade and is often a bit quieter. Another wonderful way to beat the heat but still enjoy all the wildlife wonders is to opt for the nocturnal Night Safari. Buy tickets online to net yourselves a discount off the regular ticket price.
6. National Orchid Garden at Singapore Botanic Gardens
It can get pretty hot and sweaty over at the Singapore Botanic Gardens, but try not to let that deter the grandparents as it makes for a fab day out. Pack a drink bottle and a hat, slap on some sunscreen and head directly to the National Orchid Garden (past the iconic swan lake and gazebo on the hill, of course). Enjoy the national emblem in all its bloom, and the delightful cool mist and air in the Winter Zone.
7. Head to Sentosa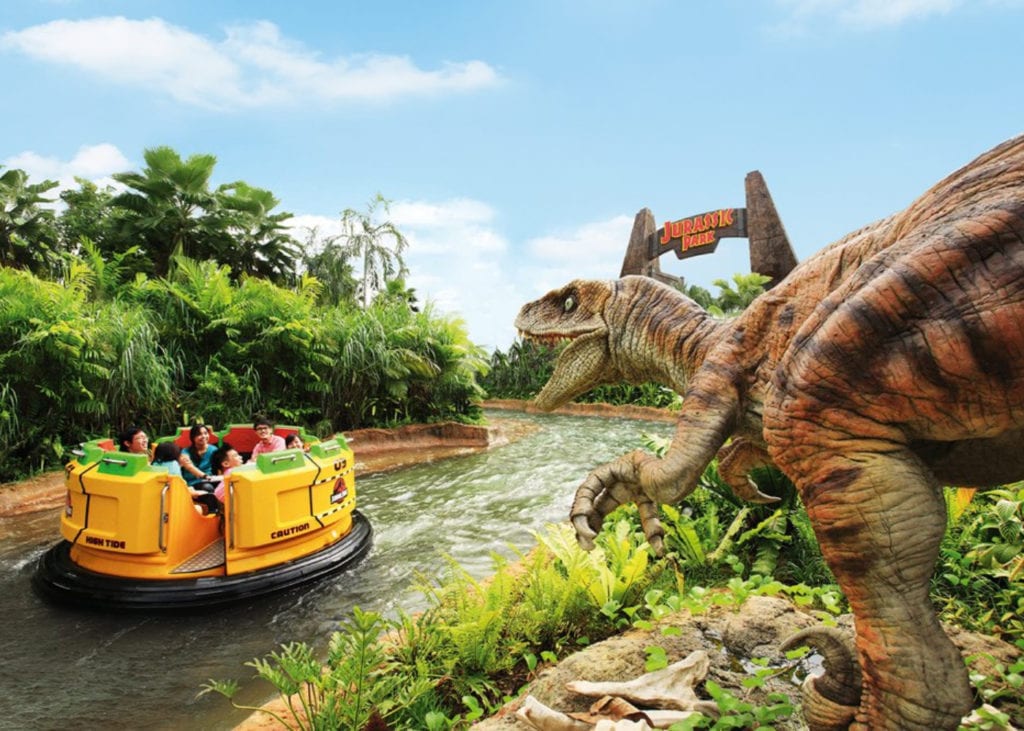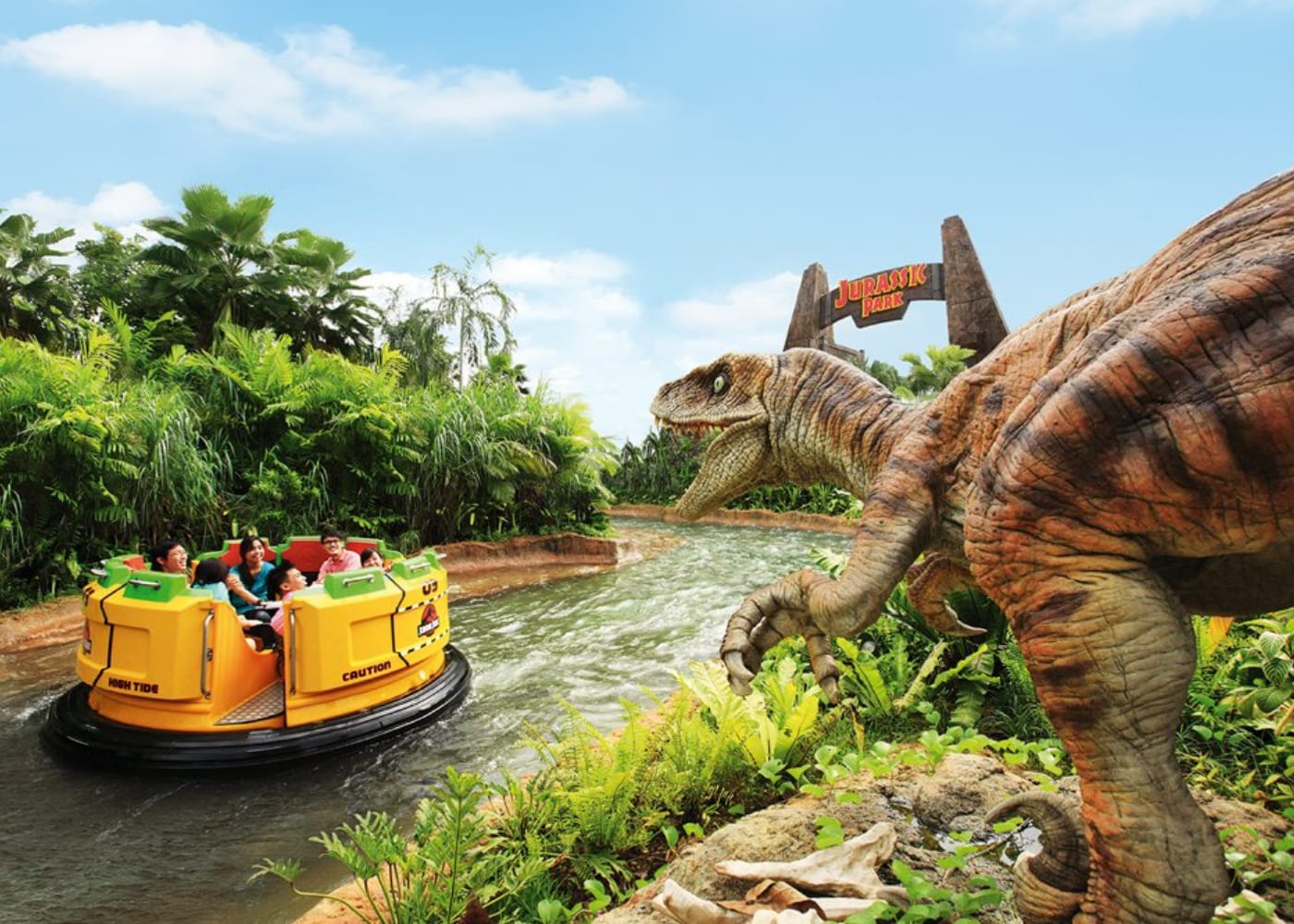 An island full of fun? Total bliss when you're in need of ideas to entertain the grandparents in Singapore! To make your life easy, we've compiled the ultimate guide to Sentosa so you'll have everything you need at your fingertips. You're welcome.
8. Saunter around Tiong Bahru
Head en masse to Tiong Bahru, one of our fave hoods. Immerse your respected elders in the fresh sights, sounds and scents of the buzzing local market, before stopping in at Tiong Bahru Bakery for an artisan coffee and buttery pastry. Of course, there's also the famous playground to take the kids to if it's a shady day. It's a giant train for them to clamber over and under!
9. Go on a Singapore River Cruise
For a tranquil time, send them off to enjoy a Singapore River Cruise for a traditional bumboat guided tour. They'll be swept past the bustling restaurant district of Clarke Quay, the Singaporean shophouses of Boat Quay, the Merlion and the must-snap-photo-opp of Marina Bay Sands. The whole family will have a ball, especially if you go early evening when the temperatures are cooler and the night comes alive.
10. Enjoy a trishaw ride around heritage spots
Bring your grandies on a trip down memory lane with a traditional trishaw ride around heritage spots such as Bugis, Chinatown, and Little India. Sit back and listen as the trishaw uncle and your old folk trade stories about the past and point out locales with colourful stories. A verbal history lesson for the little kids, we say.
11. Go on an electric scooter or Segway ride
For the young-at-heart grandparents with good balance, a tour on an electric scooter or Segway around Singapore could be just the ticket! Participants will be given a brief training session on operating their motorised, eco-friendly device before they zip off on their own or on a guided tour for 2-2.5 hours (around Sentosa). Your best bet is to arrange a babysitter/helper for the kids at home and enjoy a cruise sans kids.
12. Museums, museums, museums
Singapore is blessed with loads of awesome museums that the whole family will get a kick out of. If you're looking for things to do with grandparents in Singapore, pick one of the Little Red Dot's educational offerings and enjoy! The ArtScience Museum is a good pick for the whole family. We've lost track of the number of times we've raved about the permanent FutureWorld exhibit. National Gallery Singapore is one of our favourite places to take the kids any time of year, especially the excellent Keppel Centre for Art Education. It boasts the title of the world's first museum dedicated to Southeast Asian modern art, so will hold plenty of appeal to the grandparents. There are also daily tours to sign up for if they're interested in first-hand info!
For artefacts instead, there's the HUGE Asian Civilisations Museum. This cultural hub has a number of gallery workshops and trails to break down the learning process. Here, grandparents can take in the fascinating history of vibrant, multicultural Singapore, all without raising a sweat. Got a history buff in the family? The National Museum of Singapore is a great day out to give the grandparents a comprehensive rundown of Singapore (whether they're just visiting, or locals themselves!). And, if they're taking the kids off your hands for the day, let the olds know there are plenty of family activities and exhibits happening – check the website for the latest info. Every month, there are also senior-friendly guided tours to take advantage of.
Otherwise, take your pick from our rundown of the best family-friendly museums and exhibits to plan your next adventure.
13. Hit an indoor play centre
At the end of the day, we all know the grandparents visit us with the primary purpose of seeing the kids and spoiling them rotten. A surefire way to get into a child's good books is to treat them to a session at an indoor play centre – preferably with a cafe on-site! There are lots of (literally) cool play centres littered about Singapore where the adults can relax for a bit with a cup of tea while the kids burn off energy. You'll want to read our survival guide to give them some tips on how to nail soft play while they're at it!
14. Set up a picnic date at the beach
If the weather's good enough for the beach, pack a nice little picnic surprise and take the grandparents out to the coast for a little meal on the sand! The scenic East Coast Park and any of the three beaches at Sentosa are our top picks for an arvo with the oldies. Don't forget the sunscreen!
15. Hit the shops
Singapore is chock full of awesome shopping malls, and in the run-up to Christmas, there's lots going on – not to mention all those pretty lights! There are also some fantastic play areas at loads of shopping centres. Take your pick from our guide so the whole family can enjoy their time out. When you're all shopped out, enjoy a bite to eat, laugh together at an arcade or catch a family movie you can all watch.
16. Book a staycation
For the grandparents, there's no place like home. But perhaps you can change their minds by taking them on a staycation at one of the many luxe hotels around Singapore. A couple of days' stay and they will be reluctant to leave for home!
17. Or, go on a cruise to nowhere
Sure, overseas travel has opened up again. However, if the grandies are erring on the side of caution (which we totes understand), going on a cruise to nowhere is the next best thing. You'll be out of the country, enjoy the many amenities on the cruise ship, and spend plenty of time with the good old folks.
18. Take them for afternoon or high tea
Who doesn't love a cuppa and yummy morsels of goodness? Book the grandparents in for a decadent afternoon tea session at one of the international hotels. You'll earn serious brownie points you can exchange for babysitting duties! Check our guide to the best afternoon teas in Singapore and they'll be putty in your hands.
19. Or, head out for cocktails
Yes, the outlaws can do your nut in at times. So the best way to get through it? Take them to a nice hotel bar and down some cocktails. Our top tip: choose somewhere quiet where they can have a nice drink and mull over their day. Try the Long Bar at Raffles if they're newbies to Singapore, or CÉ LA VI over at Marina Bay Sands once the sun goes down. Not only do the staff there serve top tipples, but there's an uber-impressive 360-degree view of the Singapore skyline to soak up too. It's a great vantage point, but make sure you feed them before you go – dinner here might make quite the dent on your wallet!
20. Visit a hawker centre
At the other end of the scale to a five-star brunch or afternoon tea is a local feast at a hawker centre. Think Singaporean signatures such as chicken rice, oyster omelette and chilli stingray. Cross a few essential local eats off your must-try list with our guide to Singapore best dishes! It's the perfect way to end an outing with grandparents in Singapore.
And to help remind you that hanging with the grandies is totally worth it, here's why we love our Grandparents!