Because ALL kids love to play, we've tracked down inclusive playgrounds in Singapore where all kids can swing, slide and whizz on a merry-go-round.
Our childhood memories wouldn't be complete without swings, see-saws and merry-go-rounds. That feeling of freedom as you soared super high on a swing and that wonderful, giddy sensation of jumping off a roundabout and dizzily stumbling around with friends. But those experiences were things that for a long time, only belonged to able-bodied kids, 'regular' kids. The great news? The world is changing and Singapore is no exception. In recent years, more and more inclusive play equipment has been incorporated into parks and playgrounds.
Equipment from accessibility ramps, wheelchair swings, accessible swings and merry-go-rounds, to more thoughtful equipment (like wheelchair-height sand tables) and sensory features like bells and drums for children with visual impairment. So, we've tracked down playgrounds across our fair island that come with inclusive features. They might not be perfect (yet), but we're sure proud to live in a country where all kids of all abilities are being considered.
Inclusive playgrounds in Singapore for kids of all abilities
1. Bishan-Ang Mo Kio Park
The spacious grounds of Bishan-Ang Mo Kio Park are amazing in themselves, but the fact that it's got an impressive inclusive playground makes us love it even more. The inclusive playground includes a wheelchair-accessible swing (with all the safety features you'd expect), two additional accessible swings, a wheelchair-accessible merry-go-round and wheelchair-height sand play.
Bishan-Ang Mo Kio Park (River Plains), along Bishan Road and Ang Mo Kio Avenue 1, Singapore 56998
2. Pasir Ris Park
The playground at Pasir Ris Park ensures that no kid misses out on the fun. Whilst there are loads on offer for able-bodied kiddos to enjoy (like climbing pyramids and speedy slides), there is also a wheelchair-accessible swing, lots of wheelchair-height interactive elements and an accessible merry-go-round too.
Pasir Ris Park, 98 Pasir Ris Central, Singapore 519639
3. Our Tampines Hub
With brightly coloured soft flooring and plenty of activities set low to the ground, this play space in Tampines is inclusive for all. You'll also find an accessible swing, spinners and tunnels. It's great for children of various abilities and also perfect for kids who love sensory play.
Our Tampines Hub, Level 2 Sky Terrace, 1 Tampines Walk, Singapore 528523
4. Ghim Moh Inclusive Playground
Located between HDBs in Ghim Moh, this playground has lots of lovely inclusive elements. Our favourite is the Aero Glider – it's like a giant see-saw for lots of kids. Best of all, it has a gently sloping access ramp, so it's perfect for wheelchairs too. A lot of the interactive play equipment has been built at wheelchair height and there's also a wheelchair-accessible merry-go-round.
Ghim Moh Playground, 7A Ghim Moh Road, Singapore 271007
5. West Coast Park
Another firm family favourite is West Coast Park. There are the well-known pyramid-climbing structure, ropes obstacle course, and Viking ship on top of the usual slides, swings, and see-saws. The inclusive playground is built on soft padded flooring, with wheelchair-accessible ramps, inclusive swings, and merry-go-round.
West Coast Park, 71 West Coast Highway, Singapore 126844
6. Admiralty Park
The largest park in Singapore's north, Admiralty Park features an inclusive playground that caters to children with various special needs. There's a wheelchair-accessible swing and merry-go-round, as well as lots of low-lying interactive play elements for kiddies to explore. Some of the slides are also quite low and wide, including a family slide!
Admiralty Park, 31 Riverside Road, Singapore 730000
7. Canberra Park
Canberra Park in Sembawang was Singapore's first inclusive playground when it opened in 2015. And at 600 sqm, it certainly has something for everyone. Canberra Park has been thoughtfully designed with loads of inclusive features, like a ramp and handrails, panels with bells and drums for visually impaired kids, accessible swings, wheelchair-accessible swings and even sensory motion features on the regular slides.
Canberra Park, Sembawang Crescent, Singapore 750325
8. Marine Cove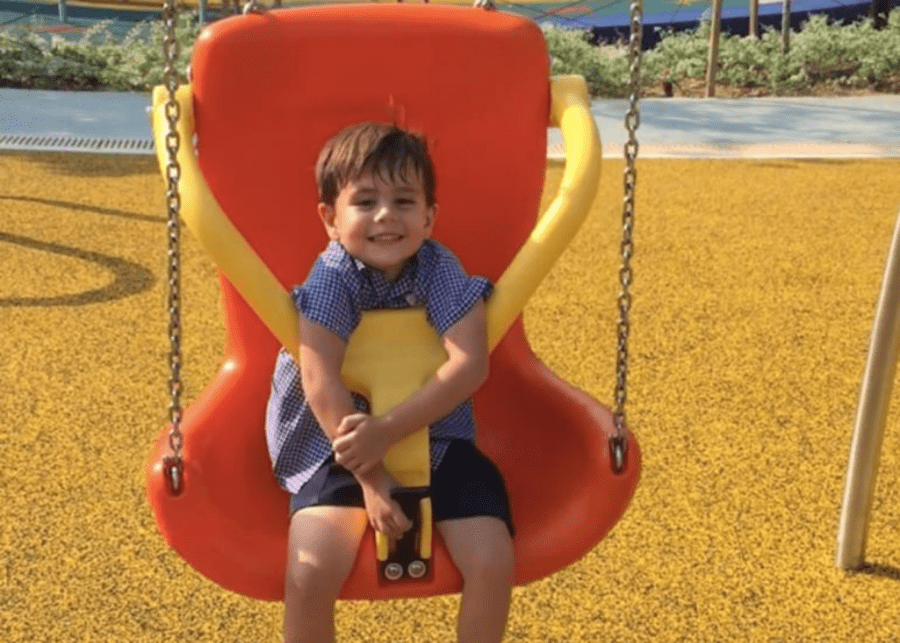 If you've not been to Marine Cove playground, it's absolutely worth a visit. There are so many fun features and the variety means there's something for every kid, including those with additional mobility requirements and special needs. Much of the interactive equipment has been positioned at wheelchair-appropriate height, including the digital 'Neos' gaming towers and talkie tunnels. You'll also find inclusive swings and wheelchair-accessible ramps.
Marine Cove, East Coast Park Area C, 1000 East Coast Parkway, Singapore 449876
9. Tiong Bahru Plaza (currently closed)
There was clearly a lot of thought put into the design of this playground at Tiong Bahru Plaza. It's very spacious with lots of room for wheelchairs to navigate around equipment and a wheelchair-accessible merry-go-round, too. The slide is perfect for little ones, or for mobility-impaired kids, as it's quite low to the ground and very wide. We also love the basket-like saucer swing, the soft flooring, and the shade cloths to protect kiddos in the heat of the day.
Tiong Bahru Plaza, 302 Tiong Bahru Road, Singapore 168732
10. City Square Mall (currently closed)
Here's another mall that features an inclusive playground that comes with a pair of swings and a wheelchair-accessible merry-go-round. The small eco-friendly playground (it's made using materials from sustainable sources!) also contains a wobbly bridge, slides, a climbing net, and even a fireman's pole.
City Square Mall, 180 Kitchener Road, Singapore 208539
11. The Grandstand
This small playground outside The Grandstand includes an accessible swing. There's also an accessible merry-go-round, which is integrated into the floor of the astro-turf playground, making it useable for wheelchairs (although there is no safety gate). The merry-go-round also includes a seat with a railing for children with additional needs.
The Grandstand, 200 Turf Club Road, Singapore 287994
12. Enabling Village
The Enabling Village is Singapore's first community space dedicated to integrating people with disabilities into society. And part of this awesome space is, of course, an inclusive playground. It has well-considered wheelchair access, stimulating play equipment at a lower height and a sensory garden. We love it!
Enabling Village, 20 Lengkok Bahru, Singapore 159053
13. Jacob Ballas Children's Garden
This is one of our fave areas to go to whenever we pop by the Singapore Botanic Gardens. There are so many zones where the kiddos can spend hours of outdoor fun. With a wheelchair trampoline and cajons for autistic children, this garden has shown to be an inclusive play area for all.
Jacob Ballas Children's Garden, 481 Bukit Timah Road, Singapore Botanic Gardens, Singapore 259769
Love this list of inclusive playgrounds in Singapore? Check out this roundup of parks and green spaces too!