Image: Expedia
Are your kids crazy about dinosaurs? Ours too! There is something universally fascinating about these Jurassic reptiles. And the good news is there are loads of dino themed events, exhibitions and playgrounds waiting to be explored in Singapore!
If you're looking for places to go and rawr-tastic events to see dinosaurs in Singapore, then look no further. Here's the ultimate list of dino-themed fun happening right now! From big scale dinosaur events and pop up adventure parks, to museum exhibitions with real life fossils and playgrounds with dino slides, we have uncovered every dino we can find across the island! Dino-t miss it!
Where to find dinosaurs in Singapore: 14 places to have on your dino list…
1. Dino Land: The largest indoor live forest with dinosaurs!
Dino mad kiddos will absolutely love this adventure! Set inside a living forest, join the rangers on an immersive trek into the dinosaurs habitat, a live indoor forest where dinosaurs roam. Dig for fossils, get up close to a huge variety of life size dinosaurs, and learn all about the different species. Sounds amazing to us!
Dino Land at SAFRA Yishun, 1.5 hour guided trail, open weekends from 10am – 8pm, tickets from $28/pax
2. Jurassic Nest at Gardens by the Bay has Michelin-starred food and 18 huge dinosaurs!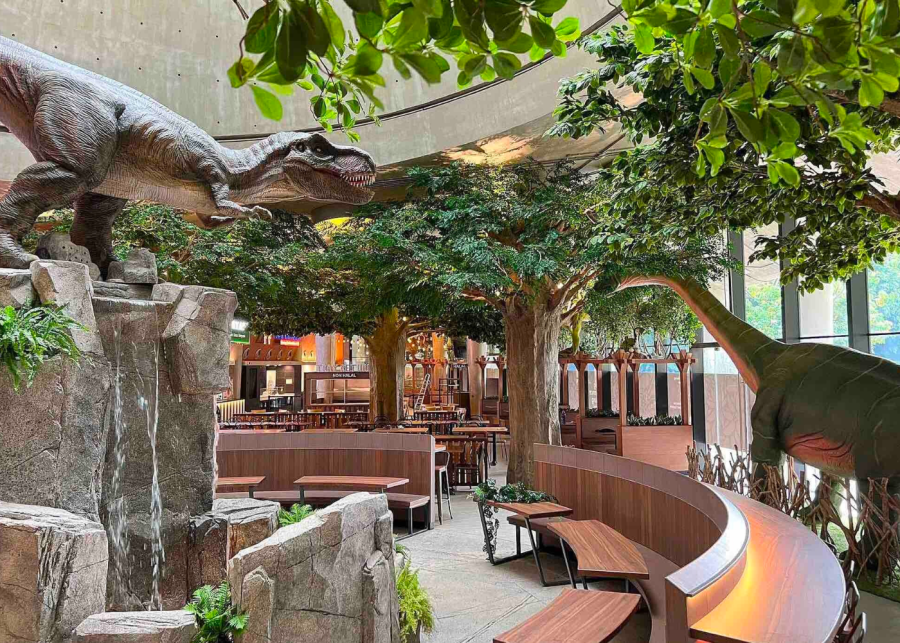 Fancy dining among the dinos? Check out Jurassic Nest Food Hall, the newest restaurant at Gardens by the Bay, which includes super cool and realistic dinosaur statues! This is more than a restaurant hall, it's a whole edutainment destination in itself with daily shows and an educational trail that guides you to explore the surrounding gardens to discover fascinating facts about some of the earliest species of flora and fauna that existed since prehistoric times (wow!)
3. See real dinosaur skeletons at the Lee Kong Chian Natural History Museum
If you want to see the real deal, head to the Dinosaur Zone to view these ginormous dinosaur fossils at the Lee Kong Chian Natural History Museum. Step inside and be amazed by the museum's three diplodocid sauropod fossils, which were among the largest and heaviest animals to ever walk on land! They are 80% complete (which is pretty incredible as far as fossils go), and include the skulls, which is also a rare sight!
Lee Kong Chian Natural History Museum, Dino Zone, National University of Singapore 2 Conservatory Drive, Singapore 117377
4. Fun dino-themed wet playground opens at Causeway Point!
Causeway Point, Level 7 Adventure Volcano and Crater Zone has a dino-themed wet playground that will delight dino fans! Whizz down slides and leap on giant rocks that lead up to a mist-spraying volcano with cascading water down its entrance. Run through a 2.2-metre hollow dinosaur rib cage at the Fossil Spray and Toddler Dino Zone. Kids will love splashing around the park's various water features for lots of giggles!
When the sun sets, the fun continues when the neon lights come on! Head to Causeway Point this holiday to visit this Dinosaur filled water playground for a day guaranteed to be dino-mite fun! Check out this video for more!
Causeway Point Dino-Themed Water Playground, Level 7, 1 Woodlands Square, Singapore 738099
5. Visit Universal Studios Singapore – The Lost World
We are huge fans of Universal Studios Singapore, and if your little ones love dinosaurs, then you must visit the Lost World Jurassic Park! Dinosaurin' is one of everyone's favourite rides, as you take to the skies in a colourful pterodactyl, and you control the height with the press of a button. There is also the canopy flyer and rapid rides (look out for the T-Rex!) that are great for older kids. Keep an eye out for the fun shows like 'Hatched! With Dr Rodney' where you get to see a baby velociraptor hatching from a dino egg, and the Raptor Encounter where you get to meet one fully grown!
Universal Studios Singapore – The Lost World, Resorts World Sentosa, 8 Sentosa Gateway, Singapore 098269. Book now
6. Spot the woolly mammoth at Amazonia, Great World City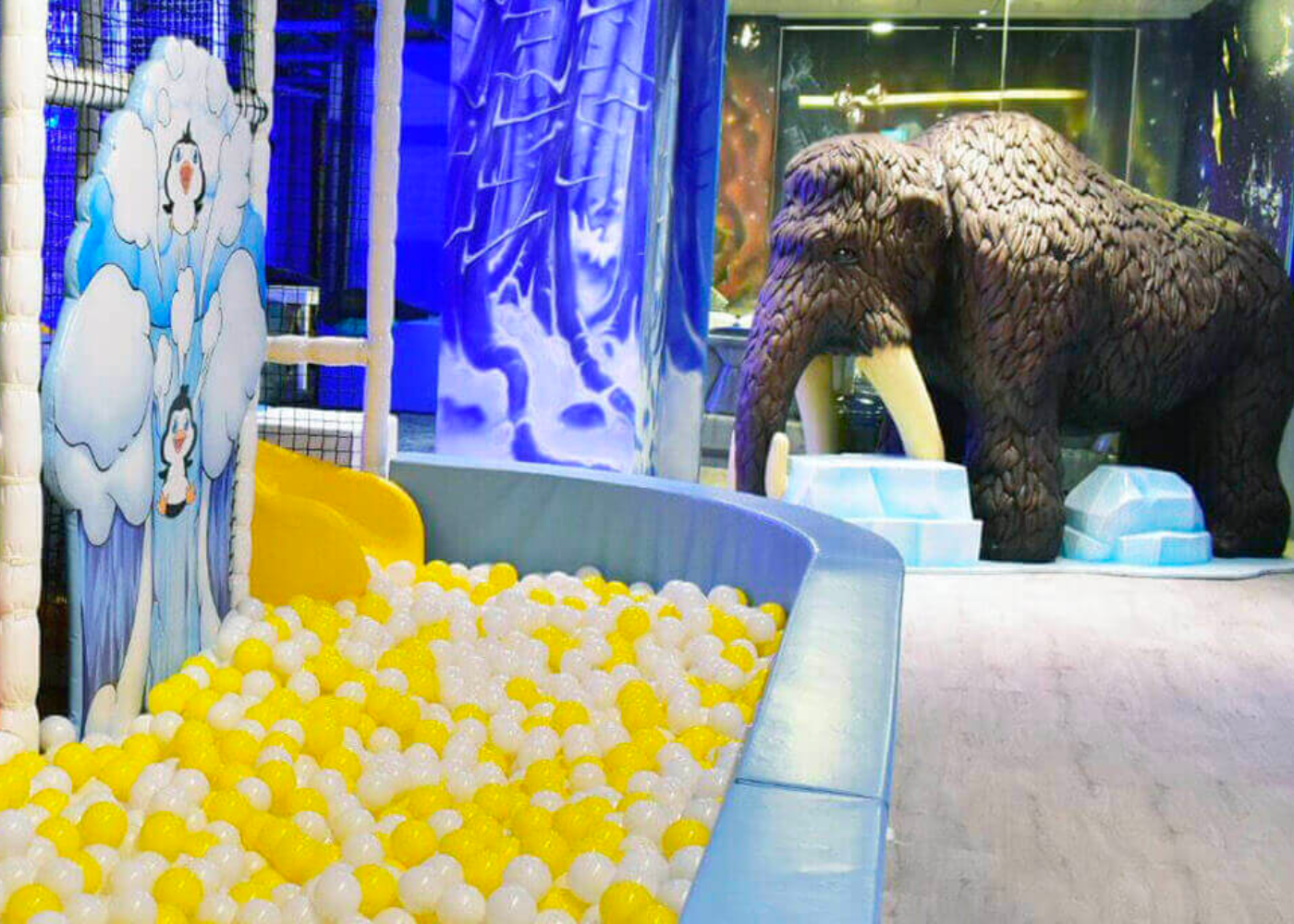 It's an ice-themed indoor playground in the centre of one of the most convenient malls in Singapore, Great World City, and we love it! The scene of many a fantastical birthday party, a visit to Amazonia can't be had without a picture with the woolly mammoth that guards the hallway!
7. Jewel-rassic Quest: An augmented reality experience with dinosaurs
Embark on a thrilling adventure by teleporting 89 million years back to the Cretaceous period. Armed with a TimeLens, cadet rangers meet larger-than-life dinosaurs augmented against the lush greenery of the Shiseido Forest Valley and Canopy Park. Complete the mission and participate in activities and games while learning! Sounds super fun!
Recommended age: 6 years old & above
Jewel-rassic Quest, Level 1 Concierge, Jewel Changi Airport, 78 Airport Boulevard, Singapore 819666. Book now
8. Follow the Jurassic Mile: a path filled with dinosaurs
When you've finished with the Jewel-rassic Quest, make sure you check out Jurassic Mile and the Changi Park Connector – Singapore's largest permanent outdoor display of life-sized dinosaurs. Walk or cycle along the 1km path as you approach more than 20 different pre-historical creatures from nine different species. From the carnivorous and herbivorous to a massive five-metre tall dino, expect to see every sort of dinosaur you can think of. While you're there, keep an eye out for the gigantic dino eggs. And watch the kids go bananas over these enormous creatures!
9. KidsSTOP 'Dino Pit' at Science Centre Singapore
Dig for fossils in this super Dino Pit! Kiddos will enjoy all sorts of sensory experiences as they use tools to uncover the dinosaur fossils in the sand. Children can work together as a team to find and identify the different parts of the fossil, and budding scientists will learn important skills and see first-hand the process of scientific inquiry. The interactive game board is a great learning tool for all things dino related and shows how animals have evolved over time.
KidsSTOP, Science Centre Singapore
10. Spot a T-Rex and a Gallimimus bullatus at Science Centre Singapore
We're always on the hunt for dinosaurs around Singapore and the newest addition is a friend for Stan, the Science Centre's Tyrannosaurus Rex! The brand new Gallimimus is now proudly on display in the Science Centre's Annexe Foyer. The Gallimimus bullatus is thought to be one of the fastest ever land animals, reaching speeds of more than 100 kilometres per hour, similar to a cheetah!
11. Check out this fun (and FREE!) Dinosaur Playground at Fu Shan Garden
This one has been around a long time and is one of our kids' favourites for all this dino play! There are slides and dinos to climb and pat, which is refreshing compared to other dinosaur-themed installations with a no-touching rule, as usually all the kids want to do is touch them! Some of the dino statues here can even act as hiding places with spaces in their bellies to crouch in (also a great photo-op!) There's also a replica Stonehenge!
Fu Shan Garden Dinosaur Playground, 81 Woodlands Street, Singapore 730827
12. Visit the oldest dinosaurs in Singapore at Toa Payoh Dinosaur Playground (FREE!)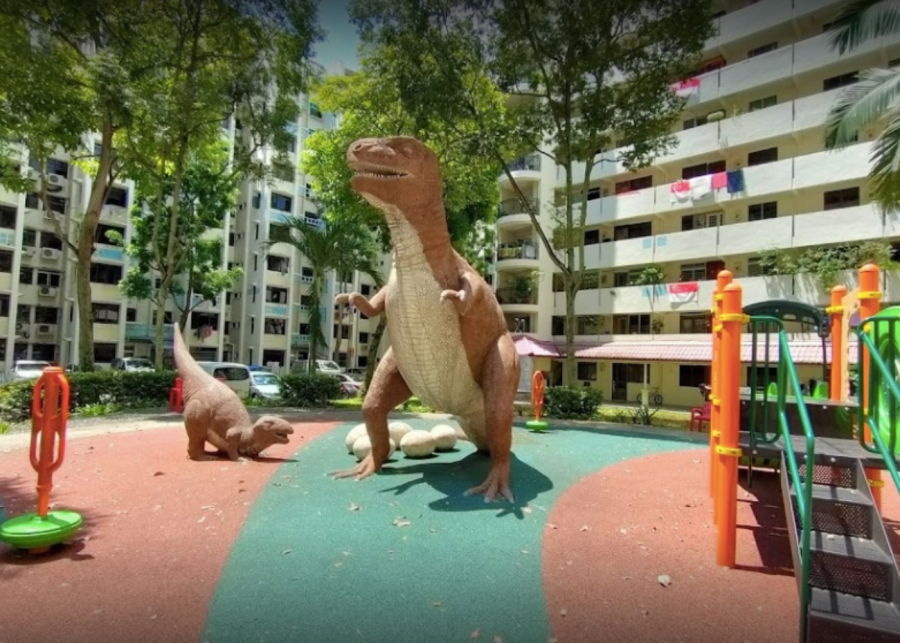 These dinosaurs in Singapore are the oldest we could find – literally! With the giant mama T-Rex and her baby rising up from the middle of the playground, it's like a scene from a Hollywood movie (and great for Insta snaps!). This dino playground is also a winner because it's free (woo hoo!) and there is some cute toddler-appropriate play equipment. Beware there isn't much shade here, so be sure to pack sunscreen and waterbottles, and visit at cooler times of day. You could really go crazy and pack a whole picnic!
Toa Payoh Dinosaur Playground, Block 27, Toa Payoh East, Singapore 310027
13. Head to Toys R Us at Paragon and Great World City to see some roaring models (and pick up a dino-themed toy or two!)
Who doesn't love a visit to a toy shop? Toys R Us at Paragon and Great World City has the added bonus of huge roaring dinosaurs towering over the dino toys inside! Check its latest catalogue for all the dino toys, figurines, pool floats, Lego, and more!
14. Sort of dinosaur-y… Be swept into the world of Pandora at Avatar: The Experience
Gardens by the Bay Cloud Forest is transformed into the world of Avatar in this brand new immersive event, Avatar: The Experience. With five different zones, check out interactive experiences such as a baby Banshee and 'handler', a life-size animatronic banshee that roars, and take snaps with an artistic sculpture representation of the new marine creature, the Ilu, from the upcoming film Avatar: The Way of Water!
Open until 1 January 2024, tickets from $35, available from Klook
Have a raaaawr-ing good time!