Got dino-mad kids? If your little ones are potty for all things prehistoric, then here's your ultimate guide for dinosaur gifts and things to do!
They may be extinct, but dinosaurs will never go out of fashion when it comes to our kids. If you've got some die-hard dino fans and jurassic-loving juniors at home, then you'll seriously dig our round-up of the best dino things to do in Singapore, and this list of toys, books, clothes and films to get them roaring with glee. Read on for our dino-mite guide to the best dinosaur gifts and more!
1. Our favourite dino books
Er, did we ever tell you how much we love books here at HoneyKids? Books are a great way to inspire our little learners and get them interested in dinosaurs. Check out our four fave finds – they make a dino-mite dinosaur gift!
Ten Little Dinosaurs by Mike Brownlow
If you haven't come across this hilarious book, then be sure to add to cart, pronto! The HoneyKids team's kids all adore this counting rhyme about 10 darling dinos that seemingly meet their doom (spoiler alert: it's a happy ending!). Loads of opportunity for awesome dinosaur sound effects, too = winning.
Harry and His Bucket Full of Dinosaurs by Ian Whybrow
This oh-so-cute series of books about Harry and his (bucket full of) dinosaur pals is so adorable – we love the life lessons it shares with our littlies. The books have also been turned into a hugely popular TV series to further amp up the enjoyment factor!
Dinosaurs Love Underpants by Claire Freedman
Remember your school days and all that talk of a humungous asteroid that wiped out the dinosaurs? Well, turns out the real reason for them going the way of the dodo was an Underpants War! Cue all the LOLs as you and your sprogs read this much-loved tale.
Dinosaur Roar! By Paul and Henrietta Stickland
A modern classic that our petite preschoolers call for time and time again! The illustrations in this one are so gorgeous, and we love the simple rhymes. There's even an app for iOS devices to bring the picture book to life!
2. The cutest dinosaur gifts
There are soooo many cool-themed toys and dinosaur gifts out there that we could go on all day! But to start off your collection, try a snuggly-saurus with one of our fave brands, Jellycat. Or how about a cool torch that doubles up as a projector? Come bedtime, you can project colour images of your fave dinosaurs onto walls and ceilings to transport your kid's bedroom back in time! We also always favour some quiet colouring time (and the 'no mess' part scores big with us!) and imaginative play courtesy of some plastic models. The opportunities are endless! Just don't expect it gift rapt-or… (groan!)
3. The roar-somest dinosaur clothes (and more toys!)
Dinosaur prints in childrenswear never go out of style, so you'll never have to look far to find cute threads for your dino-loving tots. Head to your nearest shopping mall and visit Motherswork, Mothercare, or H&M for sure-fire dino options, or browse online – we can usually find dino clothes at Next! Psst.. These retailers also have a great selection of dino-themed toys too!
4. The best dinosaurs films to watch with the kiddos

Who doesn't love a good dino movie? While there have definitely been some great family-friendly movies over the years, there's also been some (wait for it) ptero-ble ones. OK, we'll get on with our top suggestions now and tricera-stop the puns…
Jurassic Park series
Transport your kids to Isla Nublar and settle them in for Steven Spielberg's roarsome dino flick – the first film in the franchise (or check out the latest one from this year!). Don't even waste your time with the third instalment, though – that's 90 minutes of your life you won't ever get back. It's still scary decades on (1993. 1993!!!), so save this one for the not-so-teeny-weenies!
The Croods
More about cavemen than all about dinosaurs, but still a great fun romp through prehistoric times! We love Emma Stone as the voice of Eep, and like all great animated movies, this one made us feel all the feels.
The Land Before Time
We remember howling into our hankies at this one when we were knee-high ourselves… but we still loved it! This animated offering follows an orphaned brontosaurus who teams up with other young dinosaurs in order to reunite with their families in a far-off valley.
Ice Age: Dawn of the Dinosaurs
The third instalment of the much-loved Ice Age films continues to deliver the big belly laughs, so be sure to put this family-friendly animated flick on your list of dinosaur films to watch. Watch as mammoths Ellie and Manny expect their first kid while Sid the sloth gets broody and decides to adopt three apparently abandoned eggs. Hilariously, they hatch into a trio of tiny T-rexes… eeek!
5. Where to find dinosaurs in Singapore
Still looking for dino fun? We also have a rolling list of where to find dinosaurs in Singapore – featuring all the latest dino-themed events and things to do! Here are a few of our faves…
Jurassic Nest at Gardens by the Bay has Michelin-starred food and 18 huge dinosaurs!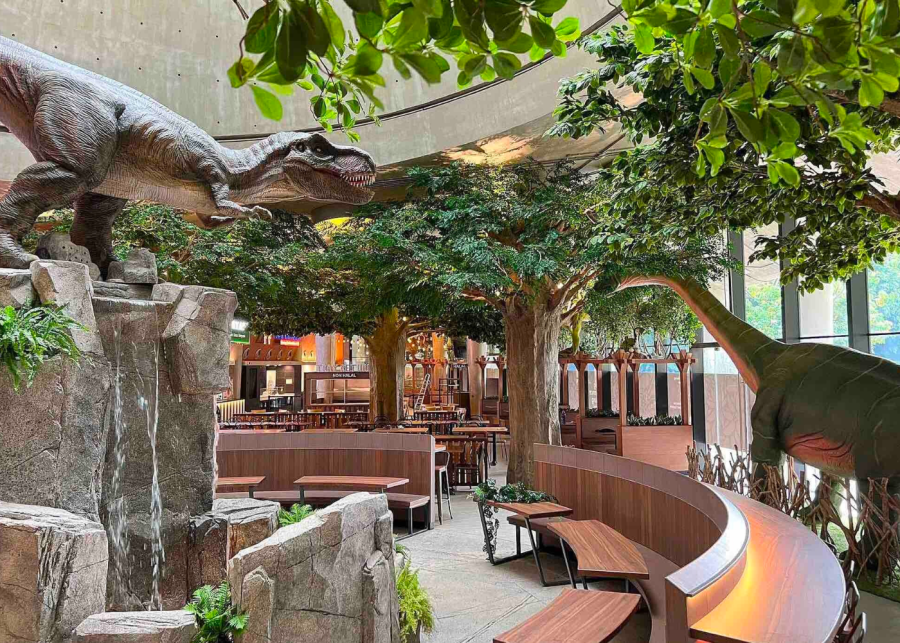 Fancy dining among the dinos? Check out Jurassic Nest Food Hall, the newest restaurant at Gardens by the Bay, that includes super cool and realistic dinosaur statues! This is more than a restaurant hall, it's a whole edu-tainment destination in itself with daily shows and an educational trail that guides you to explore the surrounding gardens to discover fascinating facts about some of the earliest species of flora and fauna that existed since prehistoric times (wow!)
Fun dino-themed wet playground at Causeway Point!
Whizz down slides and leap on giant rocks at Causeway Point, Level 7 Adventure Volcano and Crater Zone. Run through a 2.2-metre hollow dinosaur rib cage at the Fossil Spray and Toddler Dino Zone. Kids will love splashing around the park's various water features for lots of giggles! When the sun sets, the fun continues when the neon lights come on! Check out this video for more!
See real dinosaur skeletons at the Lee Kong Chian Natural History Museum
If you want to see the real deal, head to the Dinosaur Zone to view these ginormous dinosaur fossils at the Lee Kong Chian Natural History Museum. Step inside and be amazed by the museum's three diplodocid sauropod fossils, which were among the largest and heaviest animals to ever walk on land! They are 80% complete (which is pretty incredible as far as fossils go), and include the skulls, which is also a rare sight!
Check out the full list for all the deets! Have a roarsome time with your little dino!