Illustration: Julia Azron
Grab your hats, sunscreen and mozzie spray... and get outdoors! We've got all the inspo for things to do with the kids when the sun's out in Singapore..
One of our fave parts about raising a family in Singapore? The year-round summer! All that sunshine makes it easy peasy to make the most of the great outdoors. From bike rides and scooting to playgrounds and picnics, the Lion City is every kid's paradise. So, if you're wondering what to do today and want some inspo for the best outdoor activities with kids, you've come to the right place! These fun things to do outdoors in Singapore guarantee good times ahead for the whole family. (Psst: don't forget to check out our list of 100 indoor activities too for when the storms roll in and the sun goes back behind the clouds!)
Note: While every effort has been made to ensure accuracy, operating times and openings may change without prior notice. Do check directly to avoid disappointment!
Check out our Growing Pains mini-episode on the best attractions for families in Singapore here:
100 THINGS TO DO OUTDOORS WITH KIDS IN SINGAPORE
In this guide:
Outdoor playgrounds, parks and green spaces
Best beaches (and islands) for outdoor fun with kids
Cultural spots and outdoor exploring in Singapore
Outdoor attractions in Singapore
Urban farms to check out in Singapore
Hiking, scooting and cycling in Singapore
Water play spots to cool off at in Singapore
Outdoor sports for kids in Singapore

Outdoor playgrounds, parks and green spaces
When it comes to outdoor things to do in Singapore, playgrounds are a great idea. All those slides, swings and climbing frames make for very happy kids – and they're all free!
1. Admiralty Park
Out of all the playgrounds in Singapore, Admiralty Park definitely tops the list. There are a whopping 26 slides (!!) for the kids to whizz down, plus several play areas, sandpits, rock walls, flying foxes, climbing frames, tunnels and swings (including a wheelchair-accessible one). You might even like to take your bikes and continue the fun along the park connector to Woodlands Waterfront Park.
Admiralty Park, 31 Riverside Road, Singapore 730000
2. East Coast Park
Is this the mother of all parks in Singapore? East Coast Park is a great outdoor spot to hang out for the day. We can't get enough of bike rides along this stretch of coastline and the perfect picnic spots. Of course, there's the enormous adventure playgrounds – Marine Cove, a fave of ours, and the latest addition Coastal PlayGrove! It does get pretty hot and sunny, so do make sure you've slathered on the sunscreen. Bonus: there are lots of places to refuel right next door, so you can easily keep the hanger at bay! Check out our handy guide to East Coast Park for all the hidden gems and must-sees to make the most of your time there.
East Coast Park, along East Coast Parkway and East Coast Park Service Road
3. Fort Canning Park
Fort Canning's slopes and sprawling lawns are perfect for picnicking and outdoor frolics. Plus, it's got a playground with super cool slides and bucket swings! Read more in our in-depth guide to Fort Canning so you can plan the perfect day out. Our top tip? Don't enter from Fort Canning MRT unless you fancy the steep climb.
Fort Canning Park, River Valley Road, Singapore 179037
4. Labrador Nature Reserve
South-westerners, rejoice! Labrador Nature Reserve serves up sea breezes and views to boot, plus a park that's teeming with wildlife and heritage trails. The scenic promenade also makes this a great spot for scooters and bikes! The genuine World War II relics (including a fort and secret tunnels) don't hurt either. Top tip: if you've got older kids (or a tot in a pram), why not tack this on to the Southern Ridges walk?
Labrador Nature Reserve, Labrador Villa Road, Singapore 119187
5. Dragon playground
How's this for an iconic outdoor activity: the iconic dragon playground in Toa Payoh! No doubt you'll have seen this bad boy emblazoned on many a Singapore souvenir; now the kids can play on the real deal.
Blk 28 Toa Payoh Lorong 6, Singapore 310028
6. Sembawang Park Battleship Playground
Another park playground makes it onto our list of fun outdoor activities with kids in Singapore! Over in Sembawang Park (with the attached Sembawang Beach), is a massive 'battleship' playground in a large sandpit that will captivate your little munchkins – and make a great photo op, too! There's lots of fun play structures for climbing, sliding and swinging. Bring your swim essentials too in case the kids would like some splashing at the nearby beach!
Sembawang Road, Singapore
7. Bukit Timah Nature Reserve
If you're looking for outdoor activities with kids, you can't beat a trip to a nature reserve! Bukit Timah Hill is the tallest peak in Singapore and is said to be home to over 40 per cent of Singapore's wildlife. Definitely great to visit once the kids are old enough to walk more than 50m without moaning!
Bukit Timah Nature Reserve, Hindhede Drive, Singapore 589318
8. MacRitchie Reservoir
Ditch the city for some greenery – you won't regret it. We LOVE a saunter around MacRitchie Reservoir. Our favourite part? Tackling the treetop walk and soaking up those rainforest vistas. Into water sports? You can also rent canoes or kayaks.
MacRitchie Reservoir Park, Singapore 298717
9. Tiong Bahru Park
Swings, a ton of sand and THAT tilted train: it doesn't get much better than Tiong Bahru Park. Bring some buckets and spades to enjoy while you chill in the shade under the climbing structure. Then be sure to head to Tiong Bahru Bakery to stock up on coffee and croissants when you're done! Read up on our Tiong Bahru guide if you plan to explore this quaint neighbourhood.
Tiong Bahru Park, 1 Henderson Road, Singapore 159561
10. Arboretum nature playground in Yishun
Head to Yishun Park for a whole host of swinging bridges, rope obstacles, slides, a seesaw and climbing opportunities galore. We love that this playground is not only gorgeously shady, but that there is play equipment to suit all ages and tons of glorious sand.
11. Bishan-Ang Mo Kio Park
Us HoneyKids mums love nothing better than a trip to Bishan-Ang Mo Kio Park. Equipped with scenic waterways, lush banks of wildflowers and a dog run, there are plenty of grassy banks to explore and go bird-watching. There's also a plethora of eateries around the area. Check out our full guide to Ang Mo Kio for more ideas on where to take the kids around this 'hood.
Bishan-Ang Mo Kio Park, 1384 Ang Mo Kio Avenue 1, Singapore 569931
12. Pasir Ris Town Park
Come the weekend, Pasir Ris Town Park gets uber busy. And it's not hard to see why. A huge adventure playground, a mangrove forest, a maze and bikes and rollerblades to rent. Outdoor activities with kids done right. Read on our Pasir Ris guide to find what we got up when we were there!
Pasir Ris Town Park, along Pasir Ris Central (opposite Pasir Ris MRT station), Singapore 510534
13. Singapore Botanic Gardens
Hooray for the Botanic Gardens! Definitely one for your outdoor things to do bucket list, we reckon. Make a beeline for the Jacob Ballas Children's Gardens, break out a sweat at the new COMO Adventure Grove playground, go see the turtles at the lake, run amok in the wide, open spaces, then grab a juice and a bite to eat. Our top tip? Head there super early before it gets scorchio.
Singapore Botanic Gardens, 1 Cluny Road, Singapore 259569
14. HortPark
If you've got green-fingered littlies, this is the place to go! Dubbed the 'Gardening Hub' of Singapore, HortPark is the number one spot for themed gardens and greenhouses galore. We also love the nature playground – ideal for toddlers and inquisitive infants. If the family is up for some walking, we thoroughly recommend the easy one-kilometre stroll from Kent Ridge Park via the Canopy Walk – trust us, it's worth it!
HortPark, 33 Hyderabad Road, Singapore 119578
15. Clementi Woods Park
Get a dose of lush greenery by enjoying a day out in Clementi Woods Park. Here, the whole family will enjoy walking the winding paths, a nice cycle or enjoying a picnic in one of the sheltered rest areas. Climb the tower to get a bird's eye view of the entire park.
Clementi Woods Park, located along West Coast Road (next to West Coast Plaza), Singapore 127379
16. Canberra Park
Singapore's first inclusive playground is set up for ALL kiddos. On top of the regular swings and climbing nets, there are wheelchair-friendly features including ramps, handrails, and swing sets, plus play structures wide enough for wheelchair users. There's even a bell and drum area for small people who may be visually challenged.
Canberra Park, Sembawang Crescent, Singapore 757632
17. West Coast Park
This place is every kids' dream! There are so many playgrounds that it really does keep them nice and happy. Our complete West Coast guide will help you plan your trip for maximum enjoyment.
West Coast Park, West Coast Ferry Road, Singapore 126978
18. Watten Heights playground
Another HoneyKids fave is the Watten Heights Playground within the fam-friendly Watten Estate, complete with climbing frame, swings, a flying fox and plenty of space to run, bike and scoot around. Keep your eyes peeled and you might even spot hornbills perched high in the rain trees.
Watten Heights Estate, 166 Watten Estate Road, Singapore 287613
19. Sungei Buloh Wetland Reserve
Want to spot wid animals during your outdoor activity with the kids? At Sungei Buloh Wetland Reserve, you'll encounter all sorts of cool wildlife and get a good ol' dose of Mother Nature! We love the boardwalks and bridges here which are all largely stroller-friendly.
Sungei Buloh Wetland Reserve, 60 Kranji Way, #01-00 Visitor Centre, Singapore 739453
20. Punggol Waterway Park
Did you know Singapore has a number of scenic river walks? Punggol has some river and coastal walks at Punggol Waterway Park, which is perfect for strolling, cycling, scootering or rollerblading with the kids. Along Punggol Waterway Park you'll also find Punggol East Container Park, which is home to a stretch of restaurants and Rink @ Punggol East, Singapore's largest roller sports rink!
Punggol Waterway Park, along Sentul Crescent Road
21. Marina Barrage
Let's go fly a kite! If you want to get that kite up in the air, best to head to the Green Roof at the Marina Barrage. This tranquil place has a welcome patch of green at the top of its winding ramp. Escape the heat with a little trip through the Singapore Sustainable Gallery and learn about caring for the environment. You're right by Gardens by the Bay too – double win!
Marina Barrage, 8 Marina Gardens Drive, Singapore 018951
22. Dairy Farm Nature Park
Oooh, this is one of our fave outdoor activities with kids! It's such a tranquil spot and our kids love the family-friendly hiking trails and large green spaces.
Dairy Farm Nature Park, 100 Dairy Farm Road, Singapore 679057
23. Bukit Batok Neighbourhood Park
Westies, here's another play space for you to enjoy! A stone's throw away from Bukit Batok MRT station, you'll have plenty of fun conquering the mini climbing wall, crawling across the netplay, and going down the tube slides that are three storeys in height! There's another smaller playground nearby if you're looking for somewhere safer for the kiddos. Plus, an elevated boardwalk where you can stretch your legs and take in the scenery after all that excitement!
Bukit Batok Neighbourhood Park, beside Blk 225 Bukit Batok Central, Singapore 650225

Best beaches (and islands) for outdoor fun with kids
Nothing quite says 'outdoor fun' in tropical Singapore than some beach time! And, since international travel has ground to a halt right now, we're all for exploring Singapore's own islands. Those boat rides, where needed, are half the fun!
24. Coney Island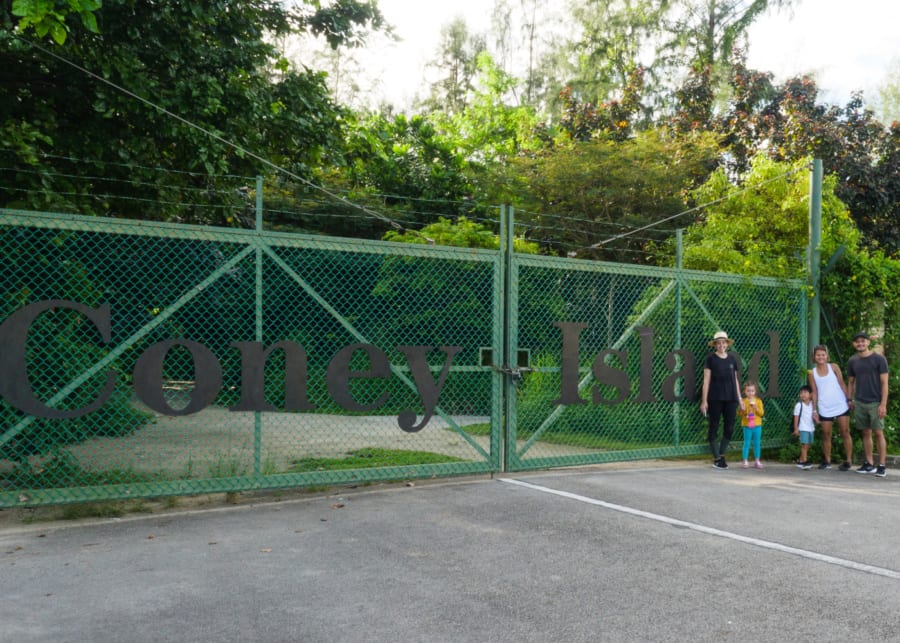 Those gates! If you haven't been to Coney Island yet, we definitely recommend it as a fun thing to do outdoors with kids in Singapore. In fact, why not check out our full guide to Coney Island and its Punggol surrounds (there's even a cool vid to watch!) to see if we can persuade you?
Coney Island, accessed from Punggol Settlement, 3 Punggol Point Road, Singapore 828694
25. Siloso Beach
Grab your buckets and spades, take the cable car to Sentosa, then park yourselves on Siloso Beach for the day. We love refuelling at Trapizza afterwards for some perfectly cooked pizzas. Yum.
26. Tanjong Beach
Another awesome Sentosa beach, making seaside fun easily accessible. You could even take in Tanjong Beach Club for poolside hangs!
27. Palawan Beach
Enjoy stunning sunset views at the Southernmost Point of Asia, a pretty islet that you can reach by crossing the rope-swing bridge and climbing the wooden beam towers. Water-enthusiasts will have a ball of a time at Hydrodash, Sentosa's floating aqua park.
28. Pulau Ubin
We can't get enough of this rustic little gem! A day trip to Pulau Ubin comes with a fun bumboat ride, bike rides through the jungle and gorgeous scenery and wildlife. Must see: the Chek Jawa Wetlands. Get the full scoop with our guide to Pulau Ubin, then read these mum tips for how to do it with kids.
29. St John's Island
Just over six kilometres south of Singapore lies St John's Island. And it's full of history! Did you know this island paradise once housed a quarantine station for cholera and leprosy cases? Despite its somewhat gruesome tales, the modern-day island is full of happy endings. Catch a ferry from Marina South Pier and have fun!
30. Lazarus Island
Another island wonder awaits. Lazurus Island is actually just a five-minute walk across the causeway from St. John's Island. There's not much to see or do here other than soak up the cool blue waters and sandy beaches. Bring sunscreen as there's no shade.
31. Sisters' Island
Located to the south of Singapore's main island, Sisters' Island consists of two small islands, Pulau Subar Laut (Big Sister's Island) and Pulau Subar Darat (Small Sister's Island). Check out the Sisters' Island Marine Park, home to over 250 species of hard corals, tons of reef fish and at least 12 types of seagrass.
32. Kusu Island
Named after its hard-shelled residents, Kusu (meaning 'turtle') Island is a sanctuary for many turtles and tortoises. There are also famous temples and shrines to take in – and, of course, some stunning sandy scenery and tropical greenery.
33. Changi Beach Park
You won't have to leave the island to stroll down this beach. The 2.2km Changi Boardwalk is the best place to go to enjoy peaceful sea views and the kampung atmosphere along the outskirts of Changi Village. Head out before the sun rises or during the sunset for the best weather and Insta-worthy shots.
Changi Beach Park, Nicoll Drive, Singapore 498991

Cultural spots and outdoor exploring in Singapore
There's more to Singapore than just its greenery and playgrounds! We've got a range of cultural outdoorsy ideas to get you out and about with the kiddos.
34. Little India
Little India, on the other hand, is definitely a treat for the senses. Get up nice and early to head to Tekka Market, and spend the day browsing the shops at Little India Arcade and Mustafa Centre.
35. Check out Dempsey
Another great area to head to, we say! We've got all the Dempsey deets right here. Tiong Bahru Bakery Safari is great for some refuelling.
36. Go on a heritage trail
If you love discovering new places, why not do so with a little history involved? You'll get a little sweaty, but it's well worth it for a peek into Singapore's history. Not sure where to start? Check out five of our favourite heritage trails including Balestier, Tampines and Orchard.
37. Visit the temples
There are so many stunning temples to see in Singapore, that spotting them all makes for a great day outdoors. Check out our pick of the best!
38. Chinatown
For an adventure within the city, head to heritage-filled Chinatown for museums, bookshops, temples and plenty of good food (under a shelter!).
39. Singapore River Cruise
Make like a tourist and hop aboard a Singaporean bumboat. For 40 minutes, you'll get to enjoy river breezes and the sights of Clarke Quay and Boat Quay, before gliding past the Merlion and on to Marina Bay Sands.
Singapore River Cruise, jetties from Robertson Quay to Marina Barrage
40. Singapore DUCKtours
Upgrade from just one terrain and take in two! That's right, you can combine the river and land tour into one on a Singapore DUCKtour. Extra points for the amazed look on your kids' faces as you plunge into the river. Fun! It's strictly limited capacity, so do book ahead.
Singapore DUCKtours, Suntec City, 3 Temasek Boulevard #01-330, Singapore 038983
41. Drop by a night market
It's not always only about daytime fun! We say pop along to a pasar malam, or night market to enjoy bargain shopping, delish street food and carnival games and rides. Our faves? Chinatown, Little India Arcade and Geylang Serai Bazaar during Ramadan.
42. Haji Lane
The trendy and vibrant Haji Lane is worth exploring for graffiti walls, vintage boutiques and hipster cafes. For more outdoor adventures within the city, just wander over to Arab Street and Kampong Glam.

Outdoor attractions in Singapore
There are some pretty fantastic outdoor attractions for you to visit with the kids. Just be sure to check the height restrictions for rides to avoid disappointment and temper tantrums.
43. Singapore Zoo
Definitely one of our top outdoor activities with kids, the Singapore Zoo is always a fun day out. Check out our full guide to Singapore Zoo to get the most out of it.
Singapore Zoo, 80 Mandai Lake Road, Singapore 729826
44. Night Safari
Love the zoo but hate the heat? Chill with the nocturnal creatures at the Night Safari.
Night Safari, 80 Mandai Lake Road, Singapore 729826
45. River Wonders
Jump aboard and cruise down the Amazon, Congo, Yangtze, Ganges, Nile, Mekong, Murray and Mississippi at River Wonders! Don't forget to visit resident pandas Kai Kai, Jia Jia and latest addition Le Le at the Giant Panda Forest.
River Wonders, 80 Mandai Lake Road, Singapore 729826
46. Bird Paradise
Flock over to Bird Paradise for a thoroughly feathery fun day out amongst over 400 species of birds. Our little chicks also give a big thumbs up to the Treetop Play area by the Food Central food court, and Egg Splash which offers wet play. Those alone are well worth a visit!
Bird Paradise, 20 Mandai Lake Rd, Singapore 729825

47. Gardens by the Bay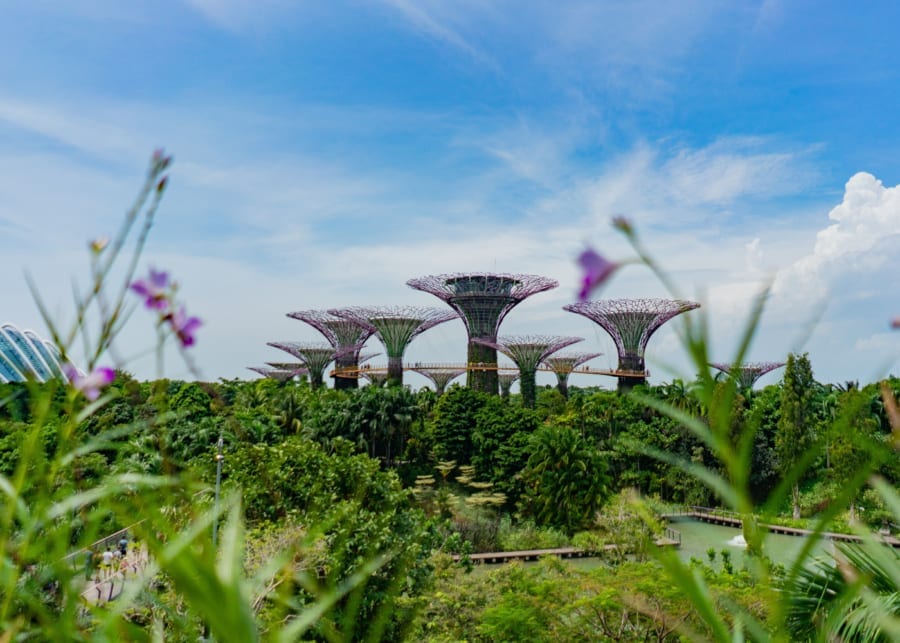 Whether you're chilling out in the Flower Dome or Cloud Forest, or wandering around the Heritage Gardens, there's plenty of botany to see at Gardens by the Bay.
Gardens by the Bay, 18 Marina Gardens Drive, Singapore 018953
48. Sentosa Island
All the fun on one island! Head across the boardwalk to enjoy theme parks, beaches, great eateries, attractions and historical sites. Not sure where to start? Take a look at our mammoth Sentosa guide.
49. Universal Studios
If you're heading to Sentosa anyway, we say make a beeline for Universal Studios Singapore for rollercoasters and thrill rides galore!

Urban farms to check out in Singapore
Experience the rustic side of Singapore with some animal farms and urban farms that offer tours and animal feeding sessions!
50. Hay Dairies Goat Farm
Want to give kids a taste of farm life? Head to Hay Dairies Goat Farm to feed some cute goats and watch how they're milked! Hay is available for purchase for feeding, plus after a day of petting the kids you can visit their counter to try all manner of goat's milk products, from flavoured milk to ice cream and even soaps to take home!
Hay Dairies, 3 Lim Chu Kang Lane 4, Singapore 718859
51. Qian Hu Fish Farm
There's a lot of fun waiting for kids at this fish farm – the tanks alone are an attraction! You can also ask about their fish tours and tank-decorating workshops, or pay for a tank and net to let the kids try longkang fishing.
Qian Hu Fish Farm, No 71 Jalan Lekar, Singapore 698950
52. Bollywood Veggies
Experience pure farm charm over at Bollywood Veggies in the heart of the Kranji countryside. Book on to a tour, buy some organic goodies and tuck into a lovely meal at the bistro as well.
Bollywood Veggies, 100 Neo Tiew Road, Singapore 719026
53. Quan Fa Organic Farm (currently closed)
Organic is where it's at! Have the kids learn about greens (and hopefully learn to love them) at the Quan Fa Organic Farm.
Quan Fa Organic Farm, 2G Neo Tiew Lane (Plot 119), Singapore 719095
54. The Live Turtle and Tortoise Museum of Singapore
Home to more than 200 turtles and tortoises, this museum is well worth a trip if the kids love their heroes in a hard shell. Turtle power!
The Live Turtle and Tortoise Museum of Singapore, 81 Lorong Chencharu, #01-16, Singapore 769198
Adventurous outdoor activities to try in Singapore
Love a good thrill? We've got some ideas for high elements, those with a need for speed and more!
55. Skyline Luge
Craving an adrenaline rush? Challenge the kids to a race down the various trails of the Skyline Luge over at Sentosa. We prefer going there at night – it's just cooler!
Skyline Luge, 45 Siloso Beach Walk, Sentosa, Singapore 099003
56. Forest Adventure
Take to the treetops with aerial assault course, Forest Adventure. There are several courses for the whole family, making this one of the best outdoor activities with kids, we think! Suitable for brave little people above 1.1 metres (around five years old) in height.
Forest Adventure, Bedok Reservoir Park, Singapore 479244
57. Changi Jurassic Mile
Ginormous fans of dinos? Changi Jurassic Mile is sure to impress then! More than 20 prehistoric creatures taking up residence along this 1-km track. Fun fact: the tallest dinosaur stands at almost five metres! Drop by Jewel Changi Airport after that for some A/C and noms.
58. Haw Par Villa
Built in 1937 by Burmese brothers Boon Haw and Boon Par, this theme park gives visitors the lowdown on Chinese folklore through some truly gruesome and colourful statues. Psst, good news! Check out our guide to make the best out of your Haw Par Villa experience.
Haw Par Villa, 262 Pasir Panjang Road Singapore, Singapore 118628

Hiking, scooting and cycling in Singapore
All our fave outdoor places for walking, scooting and biking to get some fresh air and put those little legs to good use!
59. Jurong Lake Gardens
Head west to this expanse of greenery. The terrain is tippety top for scooting, and there are loads of areas and elements to explore. In fact, read our guide to Jurong Lake Gardens and see for yourself!
Jurong Lake Gardens, 50 Yuan Ching Road, Singapore 618661
60. Robertson Quay
The eateries and cafes here make this great for Mum and Dad, but kids will love hanging out in this area with their scooters. We have another guide for the reading, all about Robertson Quay with children!
61. Bedok Reservoir Park
We spent a lovely morning at Bedok Reservoir with the kids walking 'round the waterfront. It's scootable, but only if you head a bit more inland as the path around the water is gravel so is a hard slog for the kids. Still, this is a great day out if you're looking for outdoor things to do for kids!
Bedok Reservoir Park, along Bedok Reservoir Road, Singapore 479266
62. The Southern Ridges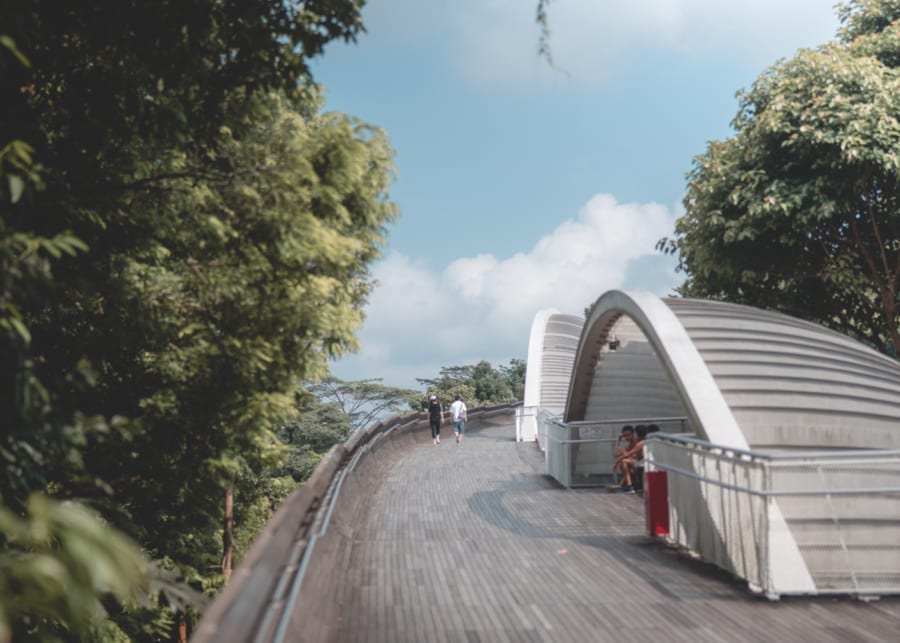 Oh how we love thee! This easy walk is a definite highlight of our outdoor activities with kids round-up. Older kids will be fine walking it and spotting all the cool wildlife while – bonus! – most of it is pram-friendly. Boom! Check out our guide to the Southern Ridges for deets.
The Southern Ridges, Singapore 099203
Fun outdoor things to do in Singapore
Now that we know exactly where to go, what is there to do outdoors with kids in Singapore?
63. Go kite-flying
If you're chilling by the sea, make use of the sea breeze to get a kite into the air (buy one from Decathlon, our fave sporting store!). Check out the safety rules stipulated by the Civil Aviation Authority of Singapore before you set off.
64. Take a drone out
Think kites are a bit old school? Then get with the 21st century and invest in a drone! The kids will love it! Just be aware of restricted zones and the regulations on UAVs and check out our sister site, Honeycombers, for your ultimate guide to drones.
65. Try a spot of gardening
Got a garden or balcony? Why not have the kids help with growing some plants or veggies? Our young 'uns are fascinated with seeds and sprouts, so we're looking at stepping things up a notch with a vertical garden. Check out HortPark for volunteer gardening, too.
66. Go on a pram-friendly walk
Here's one for the reallllly young kids! We've pulled together all the best pram-friendly walks in Singapore so you can get your outdoors fix with baby, too.
67. Rock hunting
If you've ever spotted pretty rocks hiding in the bushes, congratulations! You're already a rock hunter. Feeling FOMO? Join in the fun by signing up to a Facebook group and get painting your own rocks to hide and for others to hunt for!
68. Sketching outdoors
Capture the great outdoors on paper or canvas with some nature sketching.
69. Head to a dog park…
Exercise Fido as a family – giggles guaranteed!
70. …or even a dog pool!
If you've ever wished your pup could join you in the swimming pool, now they can! Over at Sunny Heights, owners and doggos can take a dip together. Afterwards, they can tuck into some dog-friendly pastries. Don't worry, there are people treats for you too!
Sunny Heights, 110 Turf Club Road, Singapore 288000
71. Go wildlife spotting
Macaques, otters and crocodiles can be spotted around Singapore. But keep those beady eyes peeled for mousedeer, pangolins and even porcupines hiding in some of Singapore's green spaces.
72. Enjoy a picnic
Who doesn't love a picnic? As far as outdoor activities with kids go, this one's pretty simple but still delivers. Just be sure to keep your group size as per restrictions.
73. Rent a yacht
You could take a ferry out to one of the offshore islands around Singapore, or… you could just rent a yacht and enjoy the sea breeze in comfort. Snorkelling, diving, or just sunbathing while being cooled by the sea breeze, it's all good. No passport needed on this fully tailored sea adventure.
74. Go fishing
If all these activities sound a bit too, well… active, then we've got JUST the outdoor activity in Singapore for you: fishing! Our pick? Sailing away to Lazarus Island to learn some basic theory and beginners' angling skills with My Fishing Frenzy Academy. This is something the whole family can be on board for.
75. Enjoy a family bike ride
One of our fave ways to spend the weekends and definitely at the top of our things to do with kids outdoors list: cycling! Whether you're hiring some bikes or have your own set of wheels, you'll want to read our guide to the top routes in Singapore for families. Got a young 'un on the back of your bike? You'll also want to read up about the rules and regulations of cycling with kids on board.
76. Go scooting
Little kids and kid at heart alike love to scoot, and Singapore is the perfect place to do it! Check out our guide to the best spots to scoot and then weeeeeeeeeeee, off you go! Don't forget the helmets, though.
77. Try inline skating
Have a wheely good time with the kids by learning to skate like a pro at Skate With Us. Whether you're all for inline skating or silly for skateboarding, there's classes for everyone – including adults!
78. Camping
Camp out under the night sky and give the kids a whole load of memories. Our fave picks? East Coast Park, West Coast Park and Pasir Ris Park. You will need to apply for a camping permit from NParks before you pitch that tent and start roughing it. Camping is also permitted on Jelutong and Maman Beach on Pulau Ubin and Pulau Hantu.
79. Slingshot Singapore
Wander down the river along Clarke Quay to climb aboard a ride of epic proportions. Just strap the teens in and this will whip them out of that teen inertia quick smart.
Slingshot, 3E River Valley Rd, Singapore 179024

Water play spots to cool off at in Singapore
It doesn't matter how many years you've lived in Singapore, you're always going to need ways to beat the heat. Lucky for you, there are some awesome public pools and water play areas, although restrictions are still in place currently. We can't wait for these to lift so we can cool off properly!
80. Wild Wild Wet
If it's slides you're after, then you'll want to check out Wild Wild Wet. Water slides, water playgrounds, a lazy river and a wave pool are just part of the usual fare, but there's also a vortex, free fall and 'royal flush'.
Wild Wild Wet, Downtown East, 1 Pasir Ris Close, Singapore 519599
81. Adventure Cove Waterpark
With plenty of paddle pools, slides and even a magnetic water coaster, Resorts World Sentosa's Adventure Cove Waterpark is perfect for a day of soggy antics. Get up close with tropical fish at the Rainbow Reef, float down the 620-metre Adventure River, check out the Big Bucket Treehouse with the littlies, and then soak up some sun in a privately hired cabana at BluWater Bay.
Adventure Cove Waterpark, Resorts World Sentosa, 8 Sentosa Gateway, Singapore 098269
82. Splash-N-Surf at Singapore Sports Hub
Splash or surf your way over to the water play area at Singapore Sports Hub. You're looking at a kids pool, lazy river and even a half-pipe, great for kids aged three to 12 years. Top it off with plenty of sprinklers, slides and water pistols along lwith a pint-sized merry-go-round swing ride and you've got a wet winner.
Splash-N-Surf, 1B Stadium Walk, Singapore 397690
83. Jurong East Swimming Complex
Not only is Jurong East the largest swimming complex in Singapore, but it's also got the best water park facilities. There are water slides, a massive wave pool, and water sprays from the rock caverns. plus a super-awesome lazy river. **Do note that these facilities are currently not open – it's just the lap pool at the moment**
Jurong East Swimming Complex, 21 Jurong East Street 31, Singapore 609517
84. Try one of these public pools
For a cheap as chips outdoor day out with the children, then be sure to read our rundown of Singapore's best public swimming pools and complexes. So much fun!
85. Go wakeboarding
Singapore Wake Park is the country's only cable-ski park built in a lagoon. Housed at Singapore East Coast Park, it promises fun and splashes for both beginners and experienced riders aged six upwards.
Singapore Wake Park, 1206A East Coast Parkway, Singapore 449891
86. Hire kayaks
Take to the water for a fun active day out with the family. There are several PAssion WaVes dotted around the island but for the views, we like Marina Bay. Don't forget the sunscreen!
PAssion WaVe @ Marina Bay, 11 Rhu Cross, #01-01, Singapore 437440

Outdoor sports for kids in Singapore
Skills, fun, teamwork, a sense of accomplishment… sports are awesome for so many reasons! They're the perfect outdoor activities for kids in our humble opinion.
87. Go climbing at The Rock School
Suitable for kids aged four to 14 years, The Rock School has outdoor rock walls with child-friendly handholds, bright colours and gentle wall profiles. You can escape to the indoor bouldering and rope walls if the weather turns.
The Rock School, locations at Bedok and Tampines
88. Do a few laps at The Karting Arena
Still a few years off from getting that licence? Let the kids aged nine and up tear up the tracks at The Karting Arena. This electric kart circuit Singapore boasts a 545-metre long track with numerous sweeping corners and hairpin turns. This is one sport that really calls for sunny weather so be sure to check the forecast before you book.
The Karting Arena, locations at Bukit Timah and Jurong
89. Combat Skirmish Laser Tag
Kids as young as two can suit up for a game or two of Laser Tag. It's completely safe, since the equipment is fully battery operated and involves no physical projectiles or harmful lasers. Just be sure to book plenty in advance to avoid disappointment!
Combat Skirmish Laser Tag, 28 Sin Ming Lane, #08-138, Singapore 573972
90. Dragons Rugby Club
Dragons Rugby is a not-for-profit club run with the support of volunteer coaches and parents. Newcomers will be out on the pitch in no time while experienced players will get safety tips and skills for contact rugby.
Dragons Rugby Club, 10 Grove Lane, Singapore 279016
91. Kick off at Cosmo United Football Academy (CUFA)
Football (or soccer) is for everyone at CUFA. Kids aged two-and-a-half and up can pick up the sport in a fun, professional and stress-free environment from former Singapore National players, as well as current and former S-League players. There's even a chance for kids to compete and participate in regional tournaments. Coaching is on all year round so sign up anytime for a free trial to see if your child enjoys it.
CUFA, Swiss Club, 36 Swiss Club Road, Singapore 288139
92. Try parkour
How about some free running for your next kids' outdoor activity? Over at Superfly, they'll pick up the skills of parkour: balance, landing, jumping, climbing and vaulting. Teens will also love this!
Superfly Monkey Dragons, 193 Jalan Besar, #03-01, Singapore 208883
93. Go for a horse ride
Normally, if you fancy a one-off encounter, we'd recommend Bukit Timah Saddle Club. We still recommend the place, but it's unfortunately only open to members currently and isn't taking walk-ins right now. However, Gallop Stable over in Pasir Ris looks open still, so head there for some pony time!
94. Learn to sail
Take to the waves over at The SAF Yacht Club's Get Kids Afloat Programme for small sea dogs between seven and 15 years old. We say the practical lessons are really where they'll shine with rigging, capsize drills and more.
SAF Yacht Club, 43 Admiralty Road West, Singapore 759962
95. Clay target shooting
So much harder than it appears! For a fun outdoor activity for teens, challenge the family to some clay target shooting (aka clay pigeon shooting). Our pick? Laser Clay is a safer, greener alternative and you can enjoy it indoors too if the weather goes south.
Laser Clay, Civil Service Club, 91 Bukit Batok West Ave 2, #03-02, Singapore 659206
96. Aim for bullseye at Archery Club of Singapore
Katniss Everdeen, eat your heart out! Take your sharp-eyed youngsters to The Archery Club of Singapore for a sport that improves concentration and strength: archery. There are regular training programs if they're super keen, but you can also try an hour-long fun shoot on Saturday mornings for $15 to see how they like it. Hats and sunscreen are a must.
The Archery Club of Singapore, field along Hougang Avenue 6 (next to Block 542), Singapore 530542
97. Sportball
Toddlers as young as 16 months up to the age of 12 years can try out multisport at Sportball to keep active and learn fundamental sport skills by trying out a whole range of sports including hockey, soccer and volleyball.
Sportball, Midview City, Blk 26 Sin Ming Lane, #08-113, Singapore 573971
98. Constant Wind
Make a splash over at Changi coast with your kids age nine and above and head to Constant Wind. Here, you'll find high sea adventures by windsurfing, sailing, powerboats, stand-up paddleboarding, yachting and kayaking.
Constant Wind, NSRCC Sea Sports Centre, 11 Changi Coast Walk, Singapore 499740
99. Volunteer with the Green Volunteers Network
Get your little environmentalist to be a green ambassador with the Green Volunteers Network and participate in reforestation through family tree-planting sessions, and clean-up activities at mangrove swamps. Contact directly for more details of how your child can help.
100. Tee off at Champions Golf mini golf
If you've got some older kids who are keen golfers, why not hit the green at this fab golf course? It's also our go-to for mini golf, although do note that it's currently suspended until further notice due to Covid. Usually it's one of our fave activities for kids, so fingers crossed it's back up and running soon!
Champions Golf, Bukit Timah Golf Complex, 60 Fairways Drive, Singapore 286966
Phew! What a stonking big list of things to do outdoors with kids in Singapore! How many can you tick off?