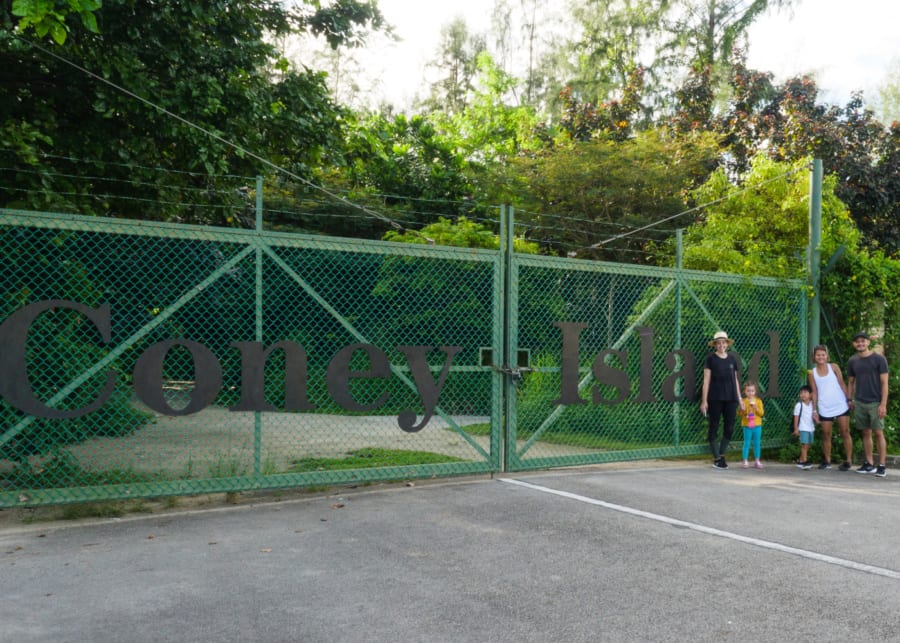 Need a little nature escape? We recently headed to Coney Island on a fun research field trip, so that you can stay in the know on all the things to do and see with the kids...
There's nothing we love more than exploring Singapore with the kids. We've got our favourite kid-friendly cafes (especially with kids eat free deals!), top museums and indoor play haunts. But what we really enjoy? Getting outdoors and hitting some beautiful green spaces, or jumping on the bikes and cycling round town. And you know what? Coney Island ticks ALL of these boxes…
Coney Island with kids: the HoneyKids guide
More of a video kinda person? Check out our vid of all the Coney Island highlights. For all the deets in all their glory, read on…
How to get to Coney Island
Start your Coney Island adventure by getting yourselves all the way to Punggol Point Park/Punggol Settlement. At the car park area, there are toilets to freshen up, and the kiddos loved watching the terrapins, too. It was hard to drag them away, to be honest! Then it's roughly a 500-metre walk along Punggol Promenade Nature Walk to the West Entrance of Coney Island. Note: it was pretty much full-sun, so you're absolutely going to need to wear hats and slather on that sunscreen.
Hiring bikes on Coney Island
If you've got tiny tots in tow and they tire easily, you may want to consider hiring a bike. Head to Jomando Adventure & Recreations (located at the end of Punggol Settlement), where bikes of all sizes are available for the whole family. Choose from mountain bikes and vintage-style ones (the ones with the adorable picnic baskets), among others. There are also toddler bike seats available.
The park's rustic terrain makes cycling here a bit bumpy, but once you get going, you'll be feeling the breeze in your face in no time! Cycle along the 2.5km main path and soak up all that good nature stuff. Everything's well sign-posted, so you'll be able to find the beach areas easy-peasy. If you've got an adventurous streak, you may very well find yourself veering into the off-the-beaten tracks.
Top tip: Bring your own helmets – or, at the very least, kids' helmets!
Things to see and do on Coney Island
1. Take a photo at the Coney Island gates
Located at the two entrances of Coney Island (you can enter via the East) are the iconic gates. When in Rome, right?! Grab your phones, line the kids up, and get them to strike a pose before setting off.
2. Hit the Casuarina Exploration playground
Constructed out of uprooted (and recycled) casuarina trees, this all-natural playground will delight the little ones with its mini obstacle course. Keep your balance across a wooden bridge, jump over stepping stones and race as you climb over log fences. Family challenge op, right there.
Top tip: Get the kids to wear closed shoes. We didn't. There were big ants and even bigger child freakouts.
3. Enjoy the seafront views
Head to the seafront path to soak up that sea breeze – so refreshing on a hot day! The kids loved walking along the steps (watch out for tumbles) and spotting Pulau Ubin in the distance. (Which, by the way, we also recommend for a day trip with kids.)
4. Spot the wildlife!
Sadly, Coney's most famous resident – the wild cow (a Brahman bull) kicked the bucket back in 2016 and is no moo-re. However, you're still in for a wildlife treat here on Coney Island. There are more than 80 species of birds here, so take your binoculars – if that's your thing, wing it over to one of the five bird hides. If you see any long-tailed macaques, definitely don't feed them. Or even eat in their presence, quite frankly. We've felt the wrath of 'Naughty Monkey' nicking our kid's banana once before, and she's still emotionally scarred!
5. Check out the beaches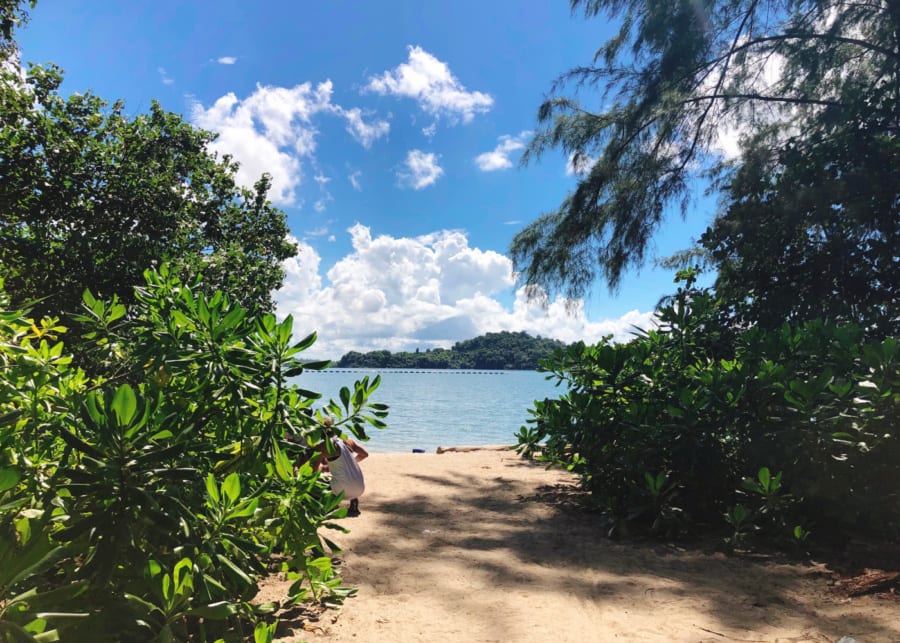 While they're not going to win any 'World's Best Beaches' prizes, the five beach areas on Coney Island are still worth a quick pitstop. Look out for the signs to direct you to each of them. It's not our top pick for a beach day, so we wouldn't advise bringing your swimmers. However, the kids did manage a quick play in the sand while us adults took a breather (and took a selfie under the wooden Coney Island sign, not gonna lie).
6. Grab some food back at Punggol Settlement
All of that nature-spotting and cycling will make you hungry! Head back to the West Entrance and head to Punggol Settlement, where you'll find some restaurants and shops (mmm, ice-cream).
But the fun doesn't have to end there…
While you're in the area…
7. Feed or ride a pony at Gallop Stables
Got a horse or pony fan on your hands? Then why not head to Gallop Stable at Pasir Ris while you're in that neck of the woods? This place is home to both ponies and horses for kids and adults to marvel at. Get up close and personal with their ponies and feed them at a mere $2 per packet. Pony rides are available from 10am to noon, and 2pm to 7pm from Tuesdays to Fridays and 8am to noon and 2pm to 7pm on Saturday and Sunday. Adults can get in on the equestrian action, too, with horse rides.
Where: Gallop Stable, 61 Pasir Ris Green, Carpark C, Singapore 518225
8. Explore Punggol Waterway Park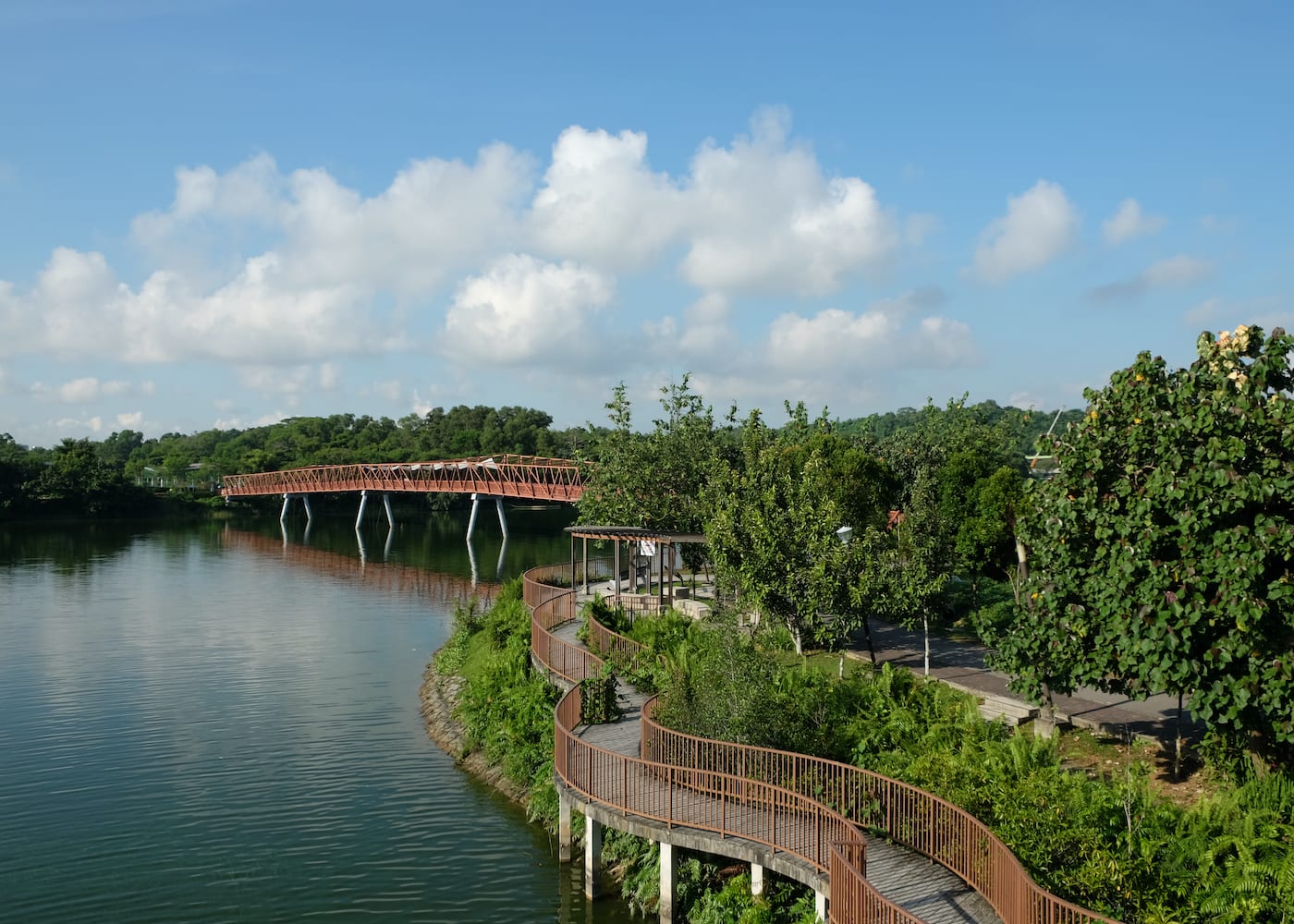 Punggol Waterway Park is a gorgeous open space with four different zones to explore with the kids. We love Nature Cove, a grassy area where families can kick a ball or settle down with some snacks. The Recreation Zone is where you can enjoy water play (currently closed) or sand play, while The Green Gallery is ideal for some trail walking. Ten points if you spot an otter!
9. Check out the Punggol 'hood
Punggol is such a family-friendly, young neighbourhood and is perfect for exploring with kids. So much so that we've even got a whole guide dedicated to the area. Have a read, then get planning!
10. Hit the park connector
We love Singapore's network of Park Connectors. And guess what? The 26km-long Punggol Park Connector is perfect for some biking adventures. It's a great way to hit up all your Punggol parks in one go, including Punggol Waterway and even Sengkang Floating Wetland. While you're at it, check out Kampong Lorong Buangkok, Singapore's last surviving traditional village.
TOP TIPS FOR A DAY OUT ON CONEY ISLAND WITH KIDS
What is the best time to visit Coney Island?
Head there in the morning, or early evening, to avoid the blistering sun. Though the park is mostly shaded by huge trees, areas outside the park and at Punggol Settlement are not. But do note the bike hire isn't open until 10am during the weekdays (something we didn't realise when we rocked up at 8am!).
What should I bring to Coney Island?
Pack sunblock and insect repellent, as the park's raw, untouched grounds are a magnet for pesky sandflies. Our tip? Dress the kids in pants to cover up those juicy ankles! Once you get on to Coney Island itself, there aren't any facilities for food, so make sure you bring your own reusable bottles of water. And, obvs: SNACKS. You might also want to bring a few little sand toys.
How long should I spend on Coney Island?
This isn't an all-day affair, as Coney Island is actually pretty small. We reckon if you've still got leftover time to explore the neighbouring areas on your bicycle, head down to Punggol Waterway Park and relax by the tracks. The jetty at Punggol Point Park also promises a lovely vista.
And that's a wrap folks! Be sure to put Coney Island on your radar, stat!