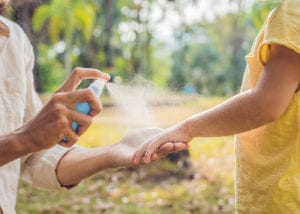 Grab the DEET and the zappers – we're waging war against mozzies with these repellents, and we're gonna win...
Mosquitoes are the literal bane of every parent and child in Singapore. It's not enough that we're constantly trying to beat the heat and endlessly looking for boredom busters, but these pesky insects are a cause of concern (especially with dengue clusters around). And no matter how many dishes of random stagnant water we tip out, the mozzies always manage to find a way to survive. They attack us anytime we step into a park or head to the beach, and we've had enough. Mosquitoes truly suck, and we're on the warpath to keep them off our backs without getting chemical poisoning. How? Well, thankfully, there are several mosquito repellents that have worked for us and hopefully for you, too!
How to stay mozzie free in Singapore
1. Cover up!
Wearing long pants and long-sleeved tops is a must if you're going on a family hike. That way, mosquitoes have less access to bare skin. However, they have been known to sneak a bite in between the threads. So, your next best bet… mosquito-repelling clothes. Insect Shield has gear for adults and kids to keep the mozzies away. It treats its clothing with permethrin, an odourless repellent, and lasts for up to 70 washes. You can also get your clothing treated by sending it to them through the mail.
2. Mosquito repellent sprays for kids and babies in Singapore
Insect sprays use DEET or picaridin as the active ingredient to keep the mosquitoes at bay. Anything with DEET is super effective, but concentrations above 30 per cent are not kid-friendly and can lead to health complications. We're fans of RID, a repellent that uses the right amount of DEET that has a good range for kids available as a spray or roll-on. It protects against mozzies for six hours, contains fewer chemicals and is alcohol-free. Alternatively, try out Sawyer – it contains picardin as an active ingredient.
TIP: When applying repellent, spray first on your hands and rub it in. Use sparingly on kids' hands as they're more likely to stick their hands in their eyes and mouths.
3. Mosquito repellent lotions for kids and babies in Singapore
Want to be more environmentally friendly? Though aerosol cans are effective, they're still something of an environmental menace. So if you're thinking of ditching the sprays, try out mozzie lotions instead
ING Organic has a range of USDA-certified organic products suitable for babies three months and up. Made from natural ingredients (no DEET!), the Baby Organic Mozzie Clear Lotion is a citronella lotion mixed with lavender and lemongrass oil. The effects last three to four hours and can be applied to every part of the body, even the face. Another great option is Baby Mozzbye Skin Protection Lotion by Mama's Choice, which is a citronella mosquito repellent that's hypoallergenic, paraben-free, and DEET-free. Yay!
4. Mosquito repellent patches for kids and babies in Singapore
Mosquito patches come in handy when the kids can't sit still long enough for us to spray and rub them down. Just stick 'em on, and they last long enough without the need to reapply. Plus, several patches don't contain DEET, which makes it safe for bubs. Perfect! There's the well-known brand Tiger Balm mosquito patches – plus various citronella-based options on Shopee to pick from.
5. DIY your own essential oil repellent for the kids
Some plant oils such as citronella, peppermint and eucalyptus are said to repel mosquitoes, so it is possible to mix up your own little home brew to keep the mozzies at bay. Just be sure to dilute the concentration heavily using a carrier oil or cream if you're applying it directly to the skin or with water if you're planning to create a spray. Remember to do a patch test to test for skin sensitivity on your baby's arm or leg.
6. Zap 'em
Bug zappers don't keep the bugs away, but they do give you a way to fight back! Zappers can cost anywhere from $15 to $50, and they work by attracting insects using a UV lamp and zapping them with an electric grid. It has the added benefit of getting rid of other flying pests, like flying ants. You can also get a handy dandy racket-shaped bug zapper for less than ten dollars at any hardware store.
Mosquitos: we've had enough! What are some mosquito repellents you use to protect yourself from the mozzies? Let us know!