The Red Dot sure is punching above its weight in terms of stuff to do in a relatively small space. What other city boasts dozens of amazing hiking trails all within a stone's throw of the city centre?
Here at HoneyKids, we're constantly searching for fun things to do with the kids that will keep them active and that don't cost a zillion dollars. Top of the list has got to be a hike in one of Singapore's many parks, nature reserves and trails, now made easily accessible with the Park Connector Network!
We love that there are hikes for all levels, from beginners right through to advanced hikers. And you get to see the island at its lush, green, wild best, complete with monkeys, the odd snake (eek!) and birds galore! Here are our top picks of hiking trails in Singapore – the ones that are great with the kids in tow too!
Where to go hiking in Singapore with kids
1. Dairy Farm Nature Reserve – great for beginners
If you're quite new to the whole hiking thing, Dairy Farm Nature Reserve is a great place to start. The main trail is paved, making it an easy walk for little feet. A couple of hundred metres up the path you'll reach the Wallace Education Centre – an open-air cow shed, housing a visitors' centre that tells the story of Dairy Farm's changing landscapes. There are clean toilet facilities here too, so you don't need to totally 'rough it'.
The one-kilometre Wallace Trail begins close to the Wallace Education Centre and is a relatively easy walk for kids. However, they may need a helping hand in places, especially where there are tree roots growing over the path or steps without railings. We love the exposure to nature here too. You'll spot all sorts of flora, like betel trees, mushrooms and torch ginger. And, you might even be lucky enough to see Macaques perched in the trees feasting on durians!
2. The Southern Ridges – pram-friendly hiking
Don't let the small people hold you back from going on a hike! The Southern Ridges comprises nearly 10 kilometres of pram-friendly trails that you can tackle all in one go, or in part. Connecting Mount Faber Park, Telok Blangah Hill Park, HortPark, Kent Ridge Park and Labrador Nature Reserve, this picturesque trail showcases Singapore's beautiful flora and fauna while still being accessible to families. It's also good for little feet who aren't yet up for the more rugged terrain of a proper hiking track. There are toilet facilities on this trail and it's easy to get to by car or public transport.
3. Sungei Buloh Wetland Reserve – an animal lovers' paradise
If you've got an animal lover on your hands, this hiking trail in Singapore is the one for you. You'll see mudskippers, crabs, shellfish, water snakes, spiders, monitor lizards, otters, herons, kingfishers, sunbirds and more! As Singapore's first ASEAN Heritage Park, Sungei Buloh Wetland Reserve is teeming with wildlife. You may even spot a croc or two! We love that there are shorter, gravel trails here, packed with loads to see. It's the perfect combo for keeping the kids motivated on a hike!
The Forest Trail leads directly from the Visitor Centre to Eagle Point and is an easy 300-metre walk for little tootsies. More energetic troops can tackle the almost two-kilometre Migratory Bird Trail. And between September to March, this trail holds even more excitement as it's migration season for shorebirds such as plovers and sandpipers. Keep your eyes peeled for those estuarine crocodiles!
Located near the Visitor Centre is the Junior Adventure Trail, perfect for kiddies who aren't quite ready yet for hiking. You could consider sending bigger kids off with one parent for a hike, while smaller kids could enjoy the play-based activities on the Junior Adventure Trail.
4. Bukit Timah Nature Reserve – visit Singapore's highest point
It's hard to believe that just 12 kilometres from the city centre you can be hiking through rainforest, spotting birds and monkeys. A visit to Bukit Timah Nature Reserve is something every Singapore-dweller must do at some point. Did you know Bukit Timah Nature Reserve is home to 40 per cent of Singapore's native flora and fauna, like the greater racket-tailed drongo and Malayan colugo?
If you've got energetic kids on your hands, they'll enjoy trekking to the top of Singapore's highest hill. Bukit Timah Hill stands at 163 metres and while it's not a particularly rugged trail to the top, you'll certainly know you're alive. We reckon kids over four years (ish) will be up for the challenge.
5. MacRitchie trails – something for everyone
The trails at MacRitchie range from an easy one-hour hike to a difficult four-hour, 11-kilometre hike. We love that many of the trails start off close to the MacRitchie Reservoir, so you can hang out in the open space before embarking on one of the trails, or split up with older kids with one parent tackling the trek while younger kids hang back. Bigger kids will love the TreeTop Walk. It's a hiking trail in Singapore that consists of a 250-metre aerial free-standing suspension bridge that spans the two highest points of MacRitchie. You're sure to spot monkeys, birds and loads more from here.
6. Pulau Ubin – off the beaten track
Got cabin fever? Want to feel like you're well and truly away from the hustle and bustle? We suggest a walk around Pulau Ubin, an island just a 15-minute boat ride from Changi Point Ferry Terminal. While many people opt to ride bikes around the island, you could walk the roughly four-kilometre trail which is a mix of paved road and stone paths.
We love the coastal vibe of this trek, with wetlands and coastal views, perfect for when you want to get away from it all and sniff some fresh air. The wildlife here is off the charts too, with woodpeckers, wild boars, monkeys, snakes and giant monitor lizards to count but a few. You could even consider camping overnight on Pulau Ubin to really top off your island adventure!
7. Tampines Eco Green – a stone's throw away from the heartlands
Families in the East, here's a hiking spot that's not too far away for you. Tampines Eco Green is a massive 36-hectare eco-friendly park comprising of open grasslands, freshwater wetlands, and a secondary rainforest. There are three trails that you and the kids can hike and experience nature in the heartlands. Plus, the clear signages makes for easy navigating if you have little ones with you. See how many different birds and butterflies you can spot within the area. Leave the two-wheelers at home, folks – no bicycles are allowed in here.
8. Rail Corridor – discover Singapore's heritage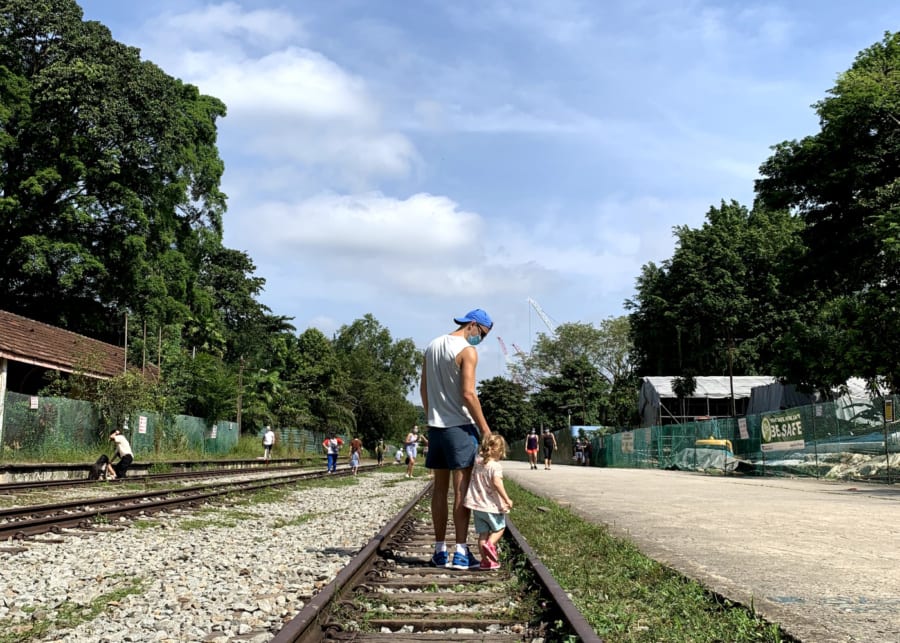 The Rail Corridor is a 24-kilometre green corridor that passes through the north and south of Singapore. It stretches from Woodlands all the way down to Tanjong Pagar (the section around King Albert Park MRT Station is our favourite!). If the trail length sounds intimidating, you can start (and stop) at any point. As you hike this trail, you'll learn more about Singapore's heritage, witness stunning scenery, and explore places like the old Bukit Timah railway line and station. The terrain can get rugged and visibility is not good at night, so stay safe if you're here past dusk.
9. Keppel Hill Reservoir – for families with older kids
If the kiddos are grown and have gotten weary of the usual hiking routes, here's a spot that you might want to bring them to. Keppel Hill Reservoir, AKA "the forgotten reservoir", is a hiking spot that's located near the slopes of Mount Faber that's unmarked on modern maps. The area is roughly one-third the size of an Olympic swimming pool and has remained unspoilt for as long as it's been around (psst, since 1905 apparently!). There are two routes that'll lead you to the area itself. Once you get into the reservoir, walk a little further and you'll come face to face with a Japanese tomb. There's also a secret bunker to be spotted within the vicinity. Read up about The Honeycombers team's hiking adventure at the abandoned reservoir.
10. Coast-to-Coast trail – challenge your stamina (and everything else!)
This 36-kilometre is not for the faint of heart or those who tire easily, unless you (and your fam) are up for a challenge! The Coast-to-Coast (C2C) Trail will have you trekking from Jurong Lake Gardens to Coney Island Park – or vice versa. There are 10 checkpoints and various wildlife viewing spots, perfect for the kids to explore. You'll also be walking through some of the parks and nature reserves like Bukit Batok Nature Park, Bishan-Ang Mo Kio Park and Singapore Botanic Gardens. Psst, you'll have to use roadside paths and park connectors on this trail. Download the C2C Mobile App to plan your route and learn about the native biodiversity (with AR) you might bump into. It's a long stretch so don't be bumped if you can't complete it in one day.
Ready to take a hike in Singapore? Strap on some sensible shoes and let's go!
Top image: Juliane Lieberman via Unsplash