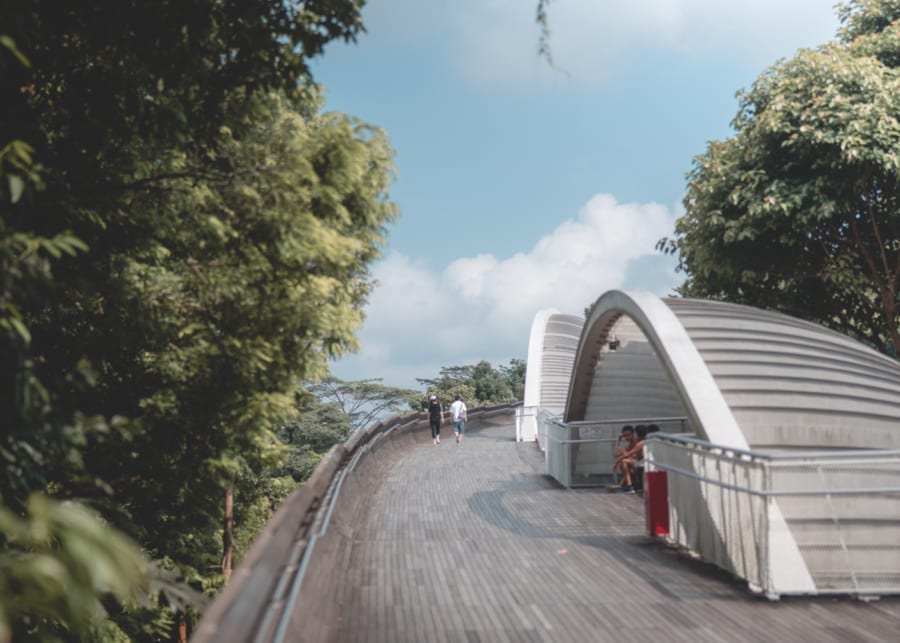 Keen to get outdoors and enjoy some fresh air? Why not head to the Southern Ridges, one of our fave walks in Singapore to enjoy with the kids.
Here at HoneyKids, us parents LOVE getting back to nature and going for a walk among the city's greenery. One of our absolute fave walks? The Southern Ridges. Spanning 10 kilometres, it takes in and connects some of the best green spaces in southwest Singapore: Mount Faber Park, Telok Blangah Hill Park, HortPark, Kent Ridge Park and Labrador Nature Reserve. And the fab news is that most of it is great for strollers, meaning it's an awesome option for a pram-friendly walk in Singapore. So don your activewear, fill up your water bottle, slather on the sunscreen, grab the kidlets… and let's do this! Here's our guide to the Southern Ridges walk.
The Southern Ridges: starting points
The complete Southern Ridges trail stretches all the way from Kent Ridge Park (the 'official' starting point) to Harbourfront, but you can totally switcheroo and do it in reverse. (It also branches out to Labrador Nature Reserve if you want to kick things off or end your walk there.) From start to finish, it took us around three hours. However, the great thing is you can pick your own starting point for a shorter adventure. Along the way, the trail is well serviced by car, bus and MRT: check Singapore's National Park website for a super-handy Southern Ridges guide to plan your route.
We hiked the Southern Ridges from Kent Ridge Park all the way to Harbourfront so we could bring you all the tips and tricks – like starting at HortPark if you're looking for a stroller-friendly hike. (Also: we took in Labrador Nature Reserve on a separate occasion.) Here are our walking notes…
Kent Ridge Park
Kent Ridge Park is listed at the 'official' starting point of the Southern Ridges (it's not actually that far from Haw Par Villa if you haven't visited yet). But here's my top tip: while great for older kids, this is NOT a pram-friendly start to the walk, so avoid if you have a stroller in tow. Reason being the route to the next park – Hort Park – entails a lot of steps. Like, a LOT. You can of course head out of the green and take a very lengthy detour via the main roads (Pepys and Pasir Panjang Roads), but we reckon that's kind of defeating the point, right? So, if you are bringing bub à la wheels, start at Hort Park fo sho.
Other than that, we still love the park. It was nice and quiet (although that could be due to social distancing – thanks coronavirus), with lots of shade. A must-see? The Canopy Walk. It's a 10-minute stretch that's like the little sister to the Forest Walk (more on that later) and is abundant with wildlife. You can also carry on to the Reflections at Bukit Chandu museum (currently closed for renovations until early 2021), which is good for older kids – the littlies will get bored.
Hort Park
Oh, how we love Hort Park! It's located near the Labrador Park and Pasir Panjang MRT stations, and is well-serviced by buses too. Meaning it's easy enough to get here to start your hike, especially if you're looking for a pram-friendly walk. Meander through gorgeous gardens and green landscapes and, if you have preschool-aged kids, head straight to the Nature Playground. It's absolute imaginative play heaven and we LOVE IT!
There are nine play features for them to enjoy – think tunnels crafted from logs, a 'kitchen', sand play and huts. It really is magical and our little ones can't get enough. Note: it's closed on Mondays for maintenance, excluding public holidays. Also here: a 'regular' playground, a bee trail and themed gardens.
Hort Park connects directly to the Alexandra Arch and then the Forest Walk via a ramp, so feel free to bring your stroller. If you just kept walking, Hort Park to Henderson Waves would probably take you about an hour. But we say stretch out the Southern Ridges fun and make a whole morning of it with all that's on offer at Hort Park!
Alexandra Arch
This cool piece of architecture links Forest Walk to Floral Walk at Hort Park. It's very quick: it'll literally take you two minutes to walk over this bridge, but it's still a great photo opp. It lights up with coloured LED lights from 7pm until midnight each evening (just in case you want to see it on a date night perhaps!).
Forest Walk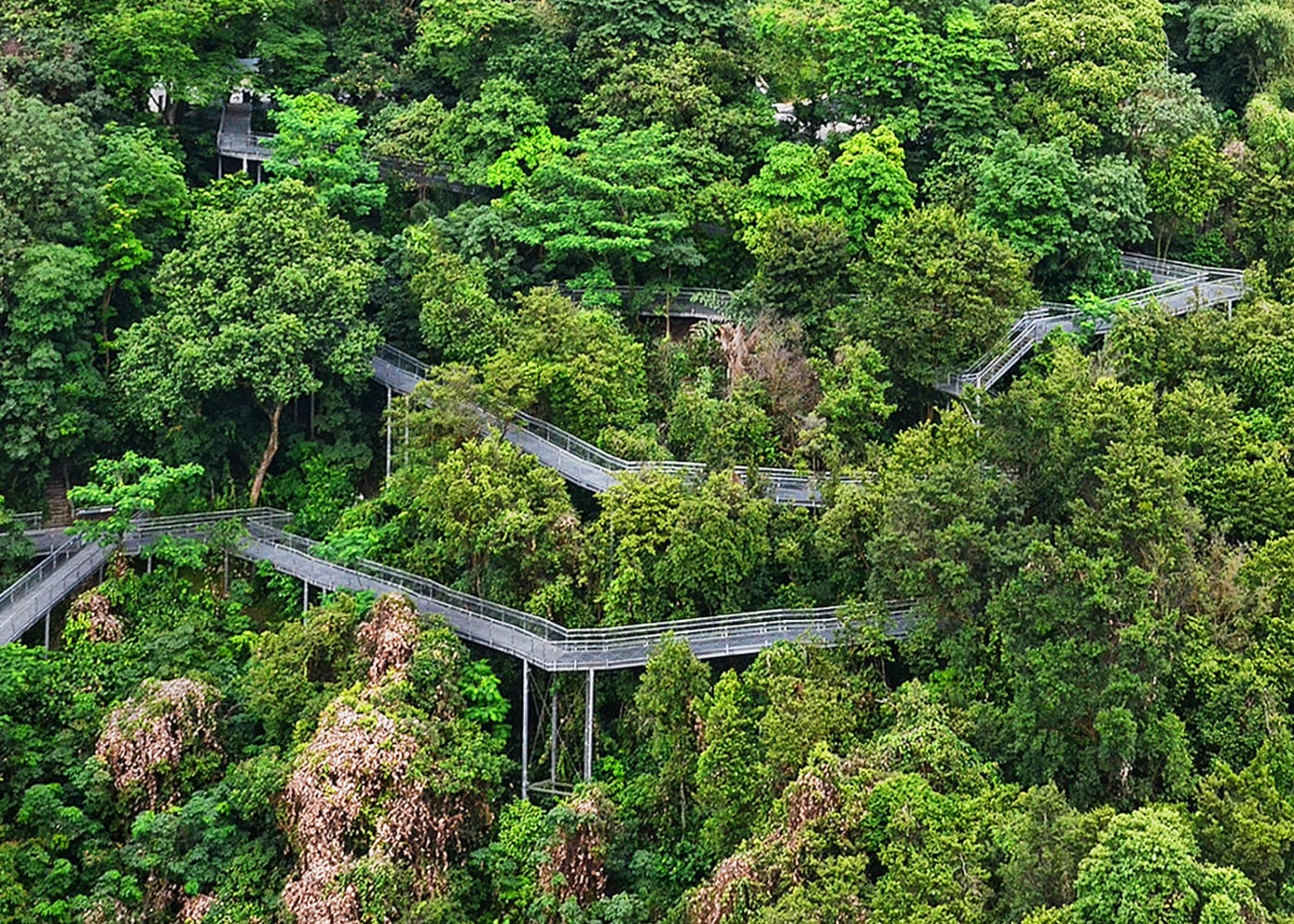 Consider this the outdoor version of Gardens by the Bay's Cloud Forest Walk… with no admission charge (or air con)! The elevated Forest Walk runs for 1.3 kilometres and is step-free, so is great for kids, strollers and, of course, kids IN strollers. High up in the trees, you'll feel like you're deep inside the wilderness – this is definitely the highlight of the Southern Ridges walk. Birdsong and wild monkeys only add to the vibes (do not feed the monkeys!). Insect repellent is a must, especially if you're out at dusk.
Telok Blangah Hill Park
The Forest Walk will lead you to Telok Blangah Hill Park, and we likey. As the name suggests, there are some slopes to contend with, but it's nothing too strenuous. It's really peaceful here, and you'll often find people doing taichi and exercising quietly. Full of towering trees and home to lots of tables, it's a great spot for a picnic, too. By this point, you may be in need of refreshment, so take the opportunity to swing by the Alkaff Mansion. It's an elegant colonial bungalow built by a family of Arab Traders, who used to host grand parties for the social elite. If it's good enough for them…
Top tip: Lovely as it is, Alkaff Mansion is NOT good if you have a pram. There is no ramp access, and instead you're looking at a steep flight of steps to carry your tot and pram up. At busier times, staff members will be more than willing to offer a hand, but when we were there early one weekday morning, it was pretty quiet. If you're on foot, be sure to stop by Wildseed Cafe (open 8am until 5pm) for a cuppa, bite to eat or one of the stunning cakes.
Henderson Waves
Keep following the signs to Henderson Waves, every 'grammer's fave part of the Southern Ridges. This wood-panelled bridge undulates across for 274 metres, and each of the 'ribs' double up as alcoves and provide shelter. As with Alexandra Arch, the bridge is transformed each evening with twinkling LED lights from 7pm until 7am. Fun fact: at the Mount Faber Plaza end of the bridge stands a nutmeg tree – a symbol of this area's past when it was a nutmeg plantation.
Mount Faber Park
Next up on the Southern Ridges walk: Mount Faber Park, one of the oldest parks in Singapore. As well as Faber Peak's restaurants for sustenance (Arbora is the family-friendly option to consider), there's also plenty to keep the little ones entertained.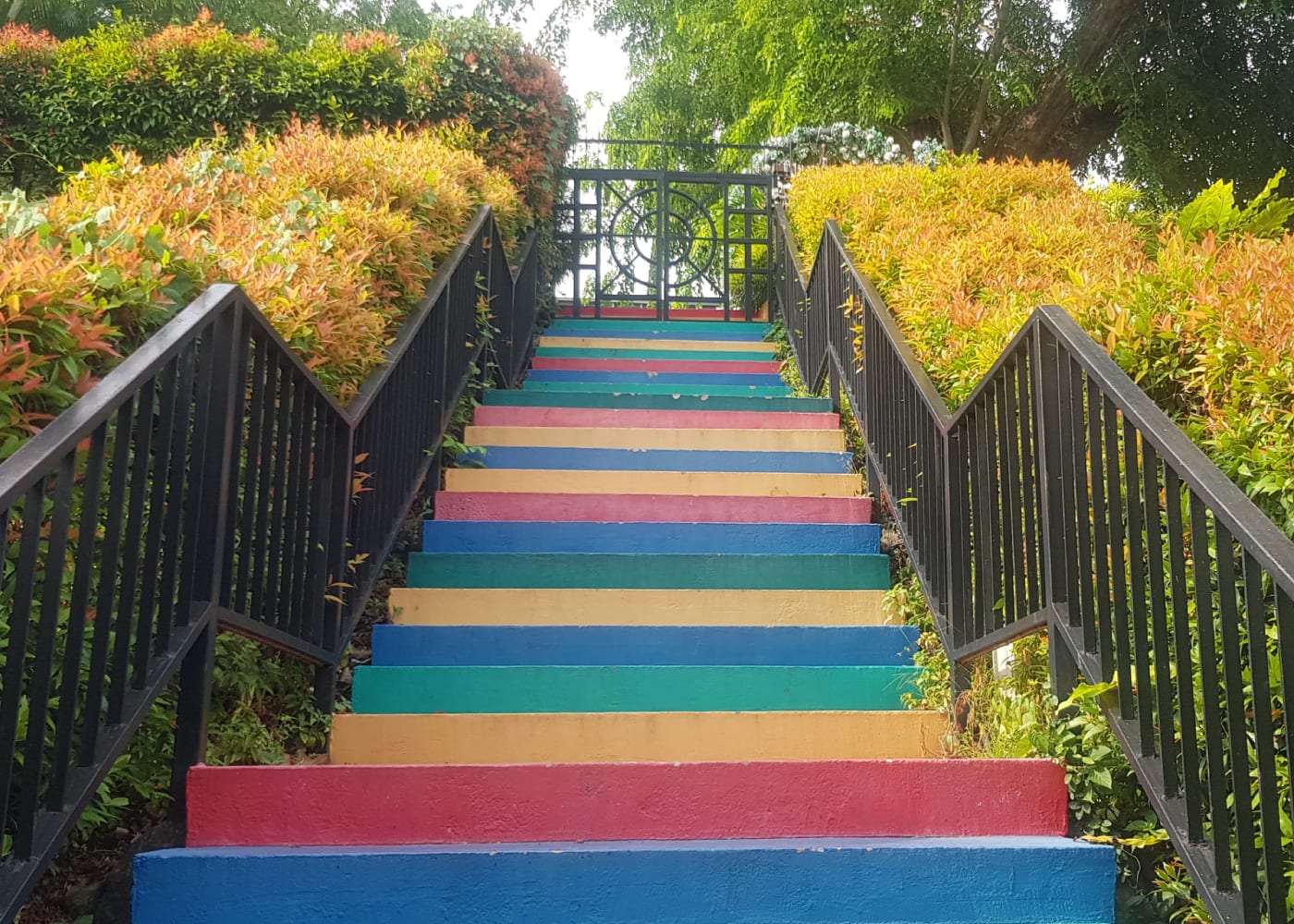 From telescopes and a mural wall depicting Singapore's history to rainbow-coloured steps and a 'bell of happiness', you'll be able to enjoy a good hour or so here before moving on to the final stretch.
Marang Trail
Huzzah, you've reached the end of your walk (and this beast of an article!)! The Marang Trail is the final stretch of the Southern Ridges, and takes you right up to Harbourfront MRT. Here's our top tip: much like with Kent Ridge Park, if you have a pram we advise you to finish off your walk at Mount Faber, as the trail is verrrrrrry step-heavy. You could even get the cable car down to Harbourfront (or on to Sentosa) if you don't fancy walking down the roadside! Otherwise, crack on: it's still a lovely part of the walk to enjoy if you have older kids with you.
And don't forget… Labrador Nature Reserve
The other option for your Southern Ridges walk is to take in Labrador Nature Reserve, which you can get to easily from Labrador Park MRT station. Kids can ride scooters near Berlayer Creek, on the Bukit Chermin Boardwalk, and along the shores of the Labrador Nature Reserve. These trails are stroller-friendly too, and you'll get to take photos of historic landmarks such as Dragon's Teeth Gate and Red Beacon. This walk also has great views of Sentosa! While the reserve does offer shade, we recommend swotting up on your sun protection rules to keep the kiddies – and you – sun safe.
And that's a wrap: you're done with the Southern Ridges walk. What a hike!
Top image: Will Truettner