Haw Par Villa is a one of a kind
Haw Par Villa: Where the weird meets the wonderful and the kids learn exactly what happens if they give us too much cheek...
If your kids are after a larger-than-life day out, and you feel like ramping up the cultural escapades, then it doesn't get much larger, or escapade-ier than Haw Par Villa. With its colourful characters, oodles of history and even a big gang of real turtles, this is one outdoor adventure the whole gang will want in on… Warning: proceed at your own risk – things are about to get a little freaky. 
The story behind Haw Par Villa
The mansion and gardens on the current site were built in 1937 by Burmese brothers Boon Haw and Boon Par (of Tiger Balm stingy, pongy ointment fame). Once construction was complete, Haw Par Villa (originally named Tiger Balm Gardens) was opened to the community as a teaching centre and theme park dedicated to Chinese mythology and legend. Oh, and to advertise Tiger Balm…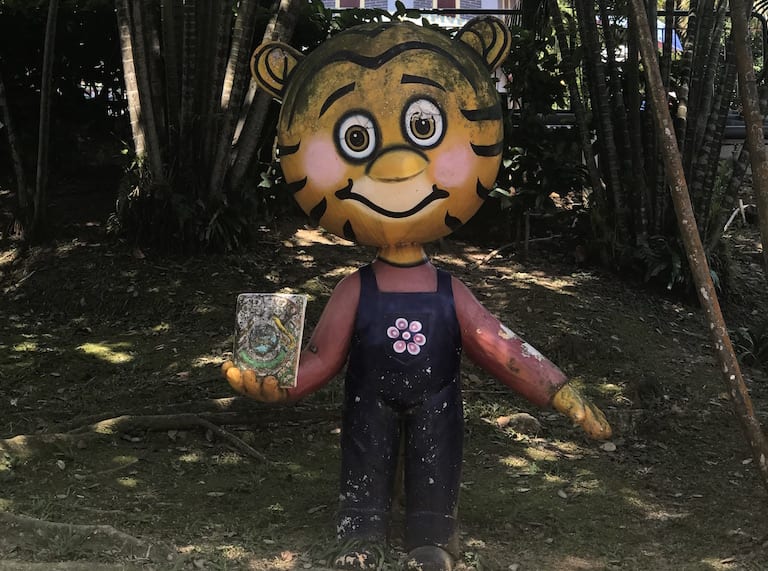 Back in the day the sprawling garden contained not just the epic, if a little (lot) freaky, statues, but also an architecturally revered villa (think gold ceilings, sweeping views and all out decadence), and a zoo, where animals were allowed to roam freely until they started causing rather too much mischief for the tourists. The animals were eventually caged and then finally moved on altogether, with statue versions built in their place.
Sadly when World War II made its ugly way to Singapore, the theme park, house and gardens were abandoned only for it to end up in the clutches of Japanese forces, who used it as a vantage point to watch ships out at sea (the views are pretty special). Boon Haw fled to Hong Kong while his little and much loved brother, Boon Par, returned to Burma. Sadder still, Boon Par died in 1944, leaving his big bro so grief-stricken that he demolished the villa (which had taken a bit of a battering, in fairness, during the war) and the whole site eventually fell into the hands of the Singapore government, who in turn put Singapore Tourist Board in charge of its fate. The park was expanded, rides were added and it became a ticketed attraction for the first time. But while the fun factor grew, the tourists waned, and it eventually, once more, fell into disrepair. 
Recently (always the comeback kid), the park has been given another big ol' makeover, and is, once again, free to the public (as Mr Haw and Mr Par always intended). The circle line has handily popped an MRT station, Haw Par Villa, right next to the attraction, and it would seem that the park is gaining in popularity for both local and international tourists. It's certainly one to put on any kind of Singapore bucket list: where else in the world would you be able to terrorise your kids into good behaviour by taking them into a display of the '10 Courts of Hell'?
What you can expect to see at Haw Par Villa
The star attraction amongst all the weird, wonderful and downright wacky has to be the infamous 10 Courts of Hell. Enter the cave-like structure if you dare and meander through a gruesome depiction of what could happen if you diss your parents (your heart will be cut out), swear like a trooper (that gets you thrown onto a hill of knives) or waste food (that just got your body sawn in two, sorry kids). The whole family will emerge with a whole new moral outlook.
The rest of the park is equal measures of fabulous and gruesome, and some of the statues and dioramas will definitely make for some interesting questions from the kids (no, we don't know why that grown lady is breastfeeding an old man). You'll find giant gorillas near enormous crabs with human heads and cute koalas nestled near cars driven by tigers. Legends including Journey to the West, Madam White Snake, and the 8 Immortals are all there (and admittedly quite baffling if you are not well versed in Chinese folklore, but still hugely fun to check out).
There are also beautiful terraces to discover, chock full of pagodas, wishing wells, ponds (with live turtles) and, yep, tons more statues (word on the street is that there are over 1,000 dotted around the park!). Renos are still ongoing, but there is still PLENTY to see and Haw Par Villa definitely makes for a quintessentially Singapore adventure if ever there was one. (And if the kids have nightmares, you can always use our guide for getting little ones to sleep through the night. Apologies: there isn't a section on 'not sleeping because we took the children to Haw Par Villa').
Get your freak on and have fun!
Lead image: Brian Jeffrey Beggerly via Flickr