Multicultural Singapore. Photography: kfcatles via Flickr
Take a multicultural tour of Singapore and learn more about Chinese, Malay, Indian, Eurasian and Peranakan cultures in Singapore.
Singapore is well-known for being a real melting pot of races, cultures and religions. As we near National Day (9 August), we're celebrating how cool it is to live on this sunny island, and what it took to get here. So, get up to speed on Singapore's multicultural background and take the kids out on a culture trip! We've rounded up some of the best places to visit to learn more about the multicultural groups in Singapore.
CELEBRATING MULTICULTURALISM IN SINGAPORE
CHINESE CULTURE IN SINGAPORE
Chinese Singaporeans comprise approximately three-quarters of the population and include both immigrants from China and Straits-born Chinese. Some of the dialect groups in Singapore include Hokkien, Teochew, and Cantonese.
1. Chinatown
If you want to celebrate multicultural Singapore, you definitely should visit Chinatown. With two convenient MRT locations, the area was allocated to Chinese settlers during Singapore's early days. Fondly known as "our Chinatown", the place is choc-a-bloc with stalls selling knick-knacks, street eats, and cheongsams. Follow our handy guide to Chinatown to have a great day out with the kids.
2. Chinese temples
Singapore has plenty of Chinese temples scattered around the island, from the hidden gems in housing estates and in the heartlands to the more famous Buddha Tooth Relic Temple. One of our personal faves is the Fuk Tak Chi Temple (now the Amoy Hotel facade), where you can find a model recreation of old Singapore shophouses.
Buddha Tooth Relic Temple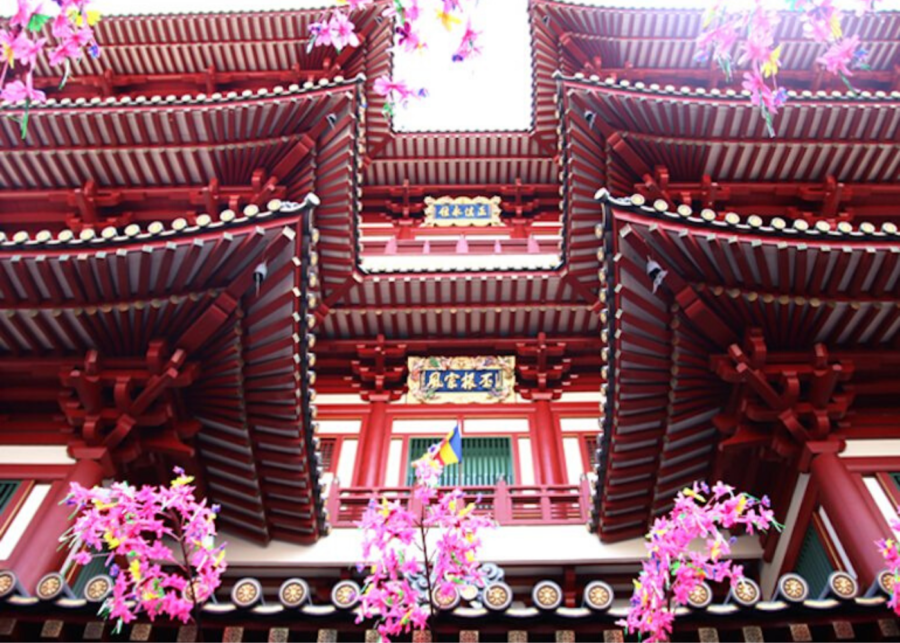 Built to house the sacred Buddha Tooth Relic, this temple is a must-visit on any visit to Chinatown for sutra readings and a wander through the museum. Head to the roof for a wander through the gardens and a few meditative turns of the prayer wheel. Remember to dress conservatively (no bare shoulders or shorts or skirts above the knee). Otherwise, you'll be asked to drape yourself in scarves and long skirts – that goes for the kids too!
Buddha Tooth Relic Temple, 288 South Bridge Road, Singapore 058840
Thian Hock Keng Temple
We might be biased because Thian Hock Keng temple is just a stone's throw away from the old Honeycombers HQ, but this temple is a definite must-visit. Constructed in 1840, the temple was a place for Chinese immigrants to worship the goddess of the seas for a safe voyage. Check Facebook for upcoming events and performances like Getai and traditional Hokkien puppet shows. Psst, did you know this temple was built entirely without nails? A fun fact to share with friends about multicultural Singapore!
Thian Hock Keng Temple, 158 Telok Ayer Street, Singapore 068613
3. Sun Yat Sen Nanyang Memorial Hall
Known for putting on seriously amazing Chinese New Year celebrations, the villa the museum is housed in was originally the Southeast Asian headquarters of Dr Sun Yat Sen's Chinese Revolutionary Alliance. Other than the permanent exhibition of Singapore's involvement and impact of the 1911 Revolution to overthrow the Qing Dynasty, the museum also holds exhibitions, talks, and events that are open to the public.
Sun Yat Sen Nanyang Memorial Hall, 12 Tai Gin Road, Singapore 327874 
4. Haw Par Villa
Originally named Tiger Balm Gardens, Haw Par Villa was built in 1937 by Burmese brothers Boon Haw and Boon Par. Intended to educate the public on Chinese mythology and beliefs, the gardens are a great place to take a stroll. Other than serene statues of the Bodhisattva, expect to see some nightmarish recreations of Chinese legends too. Bring bug spray, cameras, and don't forget to check out our guide to prepare yourself for all of the grisly details… and maybe pay a visit during the day!
Haw Par Villa, 262 Pasir Panjang Road, Singapore 118628
Where to shop
Head to People's Park Centre and People's Park Complex for a spot of bargain hunting! You can find an assortment of jade bracelets, lanterns, paintings, textiles and souvenirs. Or, head to the basement level at Chinatown Complex to check out the wet market. Be sure to wear sensible shoes – there's a reason why it's called a wet market!
People's Park Centre, 101 Upper Cross Street, Singapore 058357; People's Park Complex, 1 Park Road, Singapore 059108; Chinatown Complex, 335 Smith Street, Singapore 050335
MALAY CULTURE IN SINGAPORE
Malay are indigenous to Singapore with roots in Malaysia and Indonesia. Also, Malay Singaporeans are the second-largest ethnic group in this multicultural country.
1. Kampong Glam
Singapore's historical Malay enclave is known as Kampong Glam. The area was allocated to Malay, Arab, and Bugis communities in 1822. See if you can spot traces of Muslim immigrants and their respective kampongs when you visit the area! Be sure to hop off at Bugis and head down this street for culture, Malay food, and souvenirs – kampong style!
2. Malay Heritage Centre (currently closed for renovation)
The Istana Kampong Glam was built in 1840 and intended to be a palace for the Malay royalty. Today, you'll find this building located at Sultan Gate as the Malay Heritage Centre. It's a great place to learn more about traditional and modern Malay music and theatre. Psst, the centre is revamping, so you'll have to add this one to the bucket list for when it reopens in 2025!
Malay Heritage Centre, 85 Sultan Gate, Singapore 198501 
3. Sultan Mosque
This gleaming jewel of Kampong Glam was built in 1824 for Sultan Hussain Shah. After donning a robe and removing your footwear at the entrance, you can head inside to admire the mosque and gain an insight into the history of Islam. Be sure to check the visiting hours, or else you'll have to listen to the service from the shade of one of the nearby shops.
Sultan Mosque, 3 Muscat Street, Singapore 198833 
4. Jamae Mosque
It's not unheard of to have different places of worship built alongside the others in Singapore, like this mosque! Jamae Mosque, along with Sri Mariamman Temple, has occupied a spot in Chinatown since the 1800s. Catering to Chulia migrants and Tamil Muslims from India, this national monument holds classes in Tamil and is one of the oldest mosques in Singapore.
Jamae Mosque, 218 South Bridge Road, Singapore 058767
Where to shop
Hip cafes and eateries, check. Persian carpets, check. Unique boutiques, check. Haji Lane and Arab Street have got it all. We've dropped by ourselves countless times, so check out our guide to all things Haji Lane with kids. Or head to Geylang Serai in the Malay Heritage District. Here's what to expect: Malay vegetables, herbs and spices for making dishes like curry, halal supplies, and no pork, of course. Prepare for crowds and some pretty awesome food during Ramadan.
INDIAN CULTURE IN SINGAPORE
The Indian population is the third-largest ethnic group in multicultural Singapore. The community is historically made up of workers from India, Pakistan, Bangladesh, and Sri Lanka. The two major ethnicities are Tamils and Hindus.
1. Little India
Head towards Little India, and you'll be welcomed by flower sculptures of elephants and peacocks and seasonal dazzling light displays. Once home to a racecourse and plenty of buffalos, this colourful district is a great option to visit with the kids. You'll see old trade shops selling saris and flower garlands alongside jewellery stores and modern DVD shops when walking around. Want to explore more of the area? Check out our guide to Little India for all the pit stops you need to make.
2. Indian Heritage Centre
Opened in 2015, the Indian Heritage Centre depicts the history of early Indian pioneers all the way to how the local Indian community contributed to building Singapore as a multicultural nation. Keep an eye out for exhibits and activities happening all year round.
Indian Heritage Centre, 5 Campbell Lane, Singapore 209924
3. Sri Mariamman Temple
Around the corner from the Buddha Tooth Relic Temple is the Sri Mariamman Temple, Singapore's oldest Hindu temple. You can't miss the colourful rooftops where Hindu deities, animals and other figures dwell. Dress conservatively (no sleeveless shirts or shorts above the knee), remove your shoes, and don't forget to purchase a pass before you snap any shots!
Sri Mariamman Temple, 244 South Bridge Road, Singapore 058793
4. Sri Veeramakaliamman Temple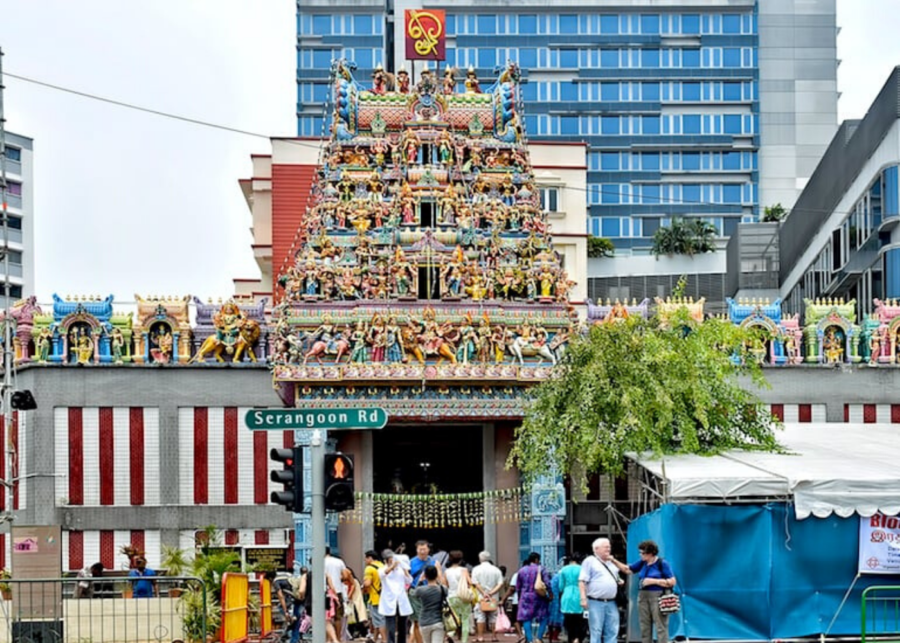 In the heart of Little India is one of Singapore's oldest Hindu temples and a place of worship for early migrant workers from India. The temple's named after Kali, the goddess also known as the Destroyer of Evil. And, the temple was appropriately used as a place of refuge during Japanese air raids in World War II. Psst, look up and admire the roofs of colourful and intricately carved sculptures!
Sri Veeramakaliamman Temple, 141 Serangoon Road, Singapore 218042
Where to shop
Do the kiddos want clothes of a multicultural variety? Drop by four-storey shopping haven Mustafa Centre for a little bit of everything. You can find jewellery, textiles, cosmetics, electronics and groceries… there's even a section just for Barbie dolls! There's probably a kitchen sink hiding somewhere too… Otherwise, head to Tekka Centre, an open-air shopping centre, and drop by the hawker centre to try some vegetarian Indian food.
Mustafa Centre, 171 Syed Alwi Road, Singapore 207713; Tekka Centre, 665 Buffalo Road, Singapore 210665
EURASIAN CULTURE IN SINGAPORE
Eurasians are descendants of affluent European settlers who married Asians. They make up less than 1% of the population.
1. St Andrew's Cathedral
Step into the grounds of Singapore's largest and oldest Anglican church if you're in the Civic District and admire the high arches and spire of this neo-gothic building. Built in the 1850s, funded by Scottish merchants and used as an emergency hospital during World War II, St. Andrews' Cathedral's main hall is decorated with gorgeous stained-glass windows and murals. Services are held in English, Mandarin, Hokkien, Filipino, Indonesian, and Burmese.
St Andrew's Cathedral, 11 St Andrews Road, Singapore 178959
2. Armenian Church Singapore
You might have passed the Armenian Church along Hill Street before but not noticed it. This stately building is the oldest Christian church in Singapore. You'll find a cluster of statues and tombstones in a corner of the Memorial Garden, including one of Agnes Joaquim. She's the horticulturist who grew Vanda 'Miss Joaquim', also known as Singapore's national flower.
Armenian Church Singapore, 60 Hill Street, Singapore 179366 
3. Eurasian Heritage Centre
Head to the Eurasian Heritage Centre to learn about the history of Eurasians in Singapore. Psst, learn the culture and lifestyles of Eurasians and how European influence has shaped its culture today.
Eurasian Heritage Centre, 139 Ceylon Road, Singapore 429744
Where to shop
Located around Farrer Park, the neighbourhood of Pek Kio used to be a Eurasian enclave known as Little England. Traces of its past still remain through the roads, which are named after British cities and counties, including Hereford, Cambridge, and Dorset. Today, Pek Kio is home to Pek Kio Food Centre, which serves up some seriously delish hawker fare. It's worth a wander to discover all the different street names and for a leisurely stroll.
Pek Kio Market and Food Centre, 41 Cambridge Road, Singapore 210041
PERANAKAN CULTURE IN SINGAPORE
Peranakan means 'locally born' in Malay and refers to the children born of foreign traders and local women in Southeast Asia. In Peranakan culture, the men are known as babas, while the women are known as nyonyas.
1. Katong Antique House
Curated by owner Peter Wee, or Baba Wee, step inside Katong Antique House to view a treasure trove of Peranakan artefacts in a traditional shophouse. Call ahead to visit or join a group booking for a tour of this vintage enamelware and kebayas gallery. After all the vintage fun, you'll be in for a tasty teatime treat of pineapple tarts. Have a craving for more Peranakan experiences? Check out Jennifer Lim's Peranakan-inspired woodblock printing workshops.
Katong Antique House, 208 East Coast Road, Singapore 428907
2. NUS Baba House
Restored by the National University of Singapore, this ancestral home is one of the few traditional Peranakan shophouses left in Singapore. Sign up in advance for a tour to explore this house rich in Peranakan furnishings and ornaments, plus take in the temporary exhibits on display.
NUS Baba House, 157 Neil Road, Singapore 088883
3. Peranakan Museum
Discover the culture of Peranakan communities in Southeast Asia at the Peranakan Museum. We are in love with the mural in the kids' corner!
Peranakan Museum, 39 Armenian Street, Singapore 179941 
4. The-Intan
Step into Alvin Yapp's beautiful home museum, The-Intan, for a private tour of Peranakan artefacts and personal insights into Peranakan culture. Surrounded by beautifully carved furniture, tiffin carriers and pottery, you'll be taken on an unforgettable journey through Peranakan history.
The-Intan, 69 Joo Chiat Terrace, Singapore 427231
Where to shop
Named after philanthropist, trader, and plantation owner Chew Joo Chiat, Joo Chiat is lined with Singapore's famous two-storey shophouses. These shophouses are often decorated in pastel shades and Peranakan patterned ceramic tiles. Heading down the walkway, you'll find plenty of places to shop, eat, and stay that are just chock full of traditional wares like furniture and traditional embroidered Peranakan kebayas.
Keen to start your journey? Hop on public buses 145 and 857 to journey through Chinatown, Little India, and Kampong Glam – all in one day.
Time to get exploring multicultural Singapore, peeps!