Dance, arts, drama, coding, soccer and more – these are the 2023 summer camps in Singapore you'll need to keep the kids busy!
Summer 2023 is definitely hopping! There's so much to do during the school holidays in Singapore. That's why we're filling up our calendar with all sorts of fun things to do, including, of course, all the cool holiday camps! Read on for the best summer camps for kids in Singapore.
SUMMER CAMPS IN SINGAPORE 2023
OUR TOP PICKS
1. Camp Asia
Now in its 11th year, Camp Asia continues to offer the widest selections of holiday camps for children this summer! Kids as young as three to senior students aged 16 are all welcome to join! Families can expect the all-time favourites – like Multi-Adventure, Super Chef, Drama Academy, etc. – as well as two new camps: Motorsports Jr and Content Creators. Motorsports Jr promises an adrenaline-fueled holiday while learning hard and soft skills like race craft techniques and teamwork. And if you've got a creative child, sign them up for the new Content Creators camp, where kids will learn how to create compelling content in various formats (writing, video, podcast, and more!) that captivate audiences. All camps are conducted by trained as well as experienced teachers and subject specialists, with pastoral care provided. Being the Gold Winner of Best Kids Holiday Camp in our recent Love Local Awards, parents can rest assured that Camp Asia provides top quality educational camps that are fun and safe.
Where: Stamford American International School and Anglo-Chinese School (Independent)
When: 29 May to 4 August 2023
Cost: $685-$775
2. ARThausSG
If you haven't already signed the kids up for a summer camp with the specialised fine art studio ARThausSG, you're seriously missing out. Even though there are still some restrictions in place, ARThaus has a personalised, daily and year-round holiday camp for the budding artist. You'll want to check in with their Facebook, and Instagram pages to keep connected and find out what they have in store for the kiddos (and adults, too) this summer!
Where: 901A Bukit Timah Road, Singapore 589619
When: Throughout the year
Cost: From $81
3. CUFA
Does your little one want to improve their skills in the beautiful game of football? Or are you looking to get them started? Check out Cosmo United Football Academy (CUFA) this summer! CUFA provides training for kids aged three to 16. Its professional and dedicated coaching team includes many active and former S-league as well as National Team players. Plus, CUFA aims to teach, educate and develop psychomotor and football skills at an early age in a professional, individualised, fun and stress-free environment. And, the littlies can build confidence and learn to develop the pride, attitude, mental and physical fitness of a sportsman, too.
When: Multiple sessions until August 11 2023, 8.30am to 12pm.
Where: Rainforest Sports Hub, 2 Turf Club Road, The Rainforest Sports Hub, Singapore 287988.
Cost: From $360
4. Canadian International School Summer Camps
Canadian International School's (CIS) Summer Camps offer an extensive range of activities over six weeks. There are four new exciting camps on top of its usual favourites like Musical Theatre and Multi-Activity camps. Love the water? One of CIS Summer Camps' new additions is Discover Scuba Diving, an introductory programme that teaches students how to dive, first aid, and about marine conservation. Kids can also let their creative juices flow at Arty Party Camp, with the chance to learn new art styles, mediums, and techniques. Aspiring scientists can jump aboard the Tardis and join Dr. Who & His Crew camp to learn all things science-related, be it chemistry, physics, and even forensics! Last but not least, the multi-faceted Ultimate CAMP Challenge will teach kids how to Change, Adapt, Master, and Plan through a variety of activities, like puzzles, archery, kite-making, and more. CIS Summer Camps are suitable for kids aged four to 14, running five days from 9am to 3pm.
Bonus: Sign up by 31 May 2023 to snag a 10% early bird discount!
Where: CIS Lakeside Campus
When: 19 June to 28 July 2023
5. Tomato Cooking School Holiday Camp
Perfect for kids aged six to 14 years-old, this cooking camp at Tomato Cooking School will not only teach them a valuable life skill, but also lets them enjoy the yummy treats they've made! The school is equipped with professional kitchenware and all the utensils and ingredients your mini Masterchef will need, including their own cooking station. Each day, the kids will get to make two to three delish meals on their own (under the guidance of professional chefs, of course) and bring them home for mum and dad to try. Whoop!
When: 29 May to 25 August 2023
Where: River Valley and Joo Chiat
Cost: $400, lunch and snacks provided, bus available by request 
6. Makers Camp
If there's one thing we've learned during this pandemic, it's how reliant on technology we are. On that front, we might as well let the kids learn more about it! Sign the kids up with one of Makers Camp's new programmes: Robotics camp and Inventors camp! Kids will learn robotics, coding, engineering, basic programming and more. The best part about these courses is that they utilise cool tech like 3D pens, Makey Makey, Squishy Circuit and Quibits. Perfect for five to 14 year-olds… and maybe the kids will teach us nifty tricks when they get home after!
When: 29 May to 25 August 2023
Where: River Valley, Bukit Timah, Novena, and Joo Chiat
Cost: $685, lunch and snacks provided
Cost: $680-$750 (before early bird discount)
7. XCL Camps
With over 20 camps spread across five themes, you can be sure to find something that matches your child's interests at XCL Camps. Under The Artist theme, kids can join camps in visual and culinary arts. The cool Techie theme has camps in coding, robotics, game design (Roblox or Minecraft – take your pick!), esports, and even digital animation! Kids can also pick up new knowledge in STEAM, Science, and languages in The Scholar camps; or level up their sports skills in The Athlete Camps. Last but not least, XCL Camps' popular Multi-Activity camps are perfect for the all-rounders, and has programmes for kids as young as three! XCL Camps follow a personalised camp model, where each five-day camp is conducted in small group sizes to ensure children get the best experience. A perfect summer camp for learning new skills, trying new things, and making new friends!
Where: XCL World Academy
When: 19 June to 28 July 2023
Cost: From $650, bus service available at additional $100 per camp per week
8. Newtonshow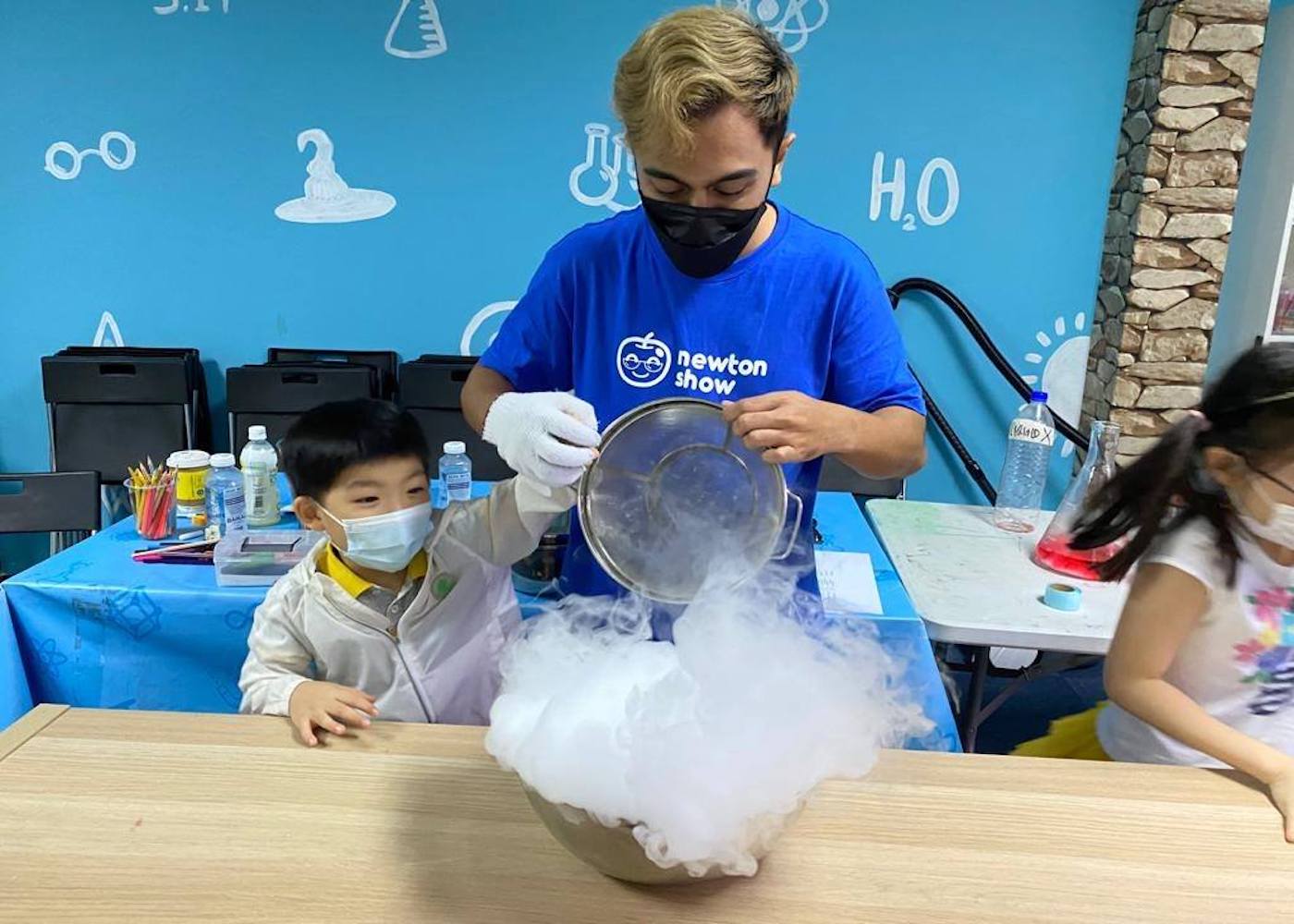 Kids aged three to 12 will love learning more about the periodic table or blasting off to space with Newton Show, Singapore's most established science camp this summer holiday! With four camp locations around Singapore, learn about the cosmic mysteries of space and unpredictable science at Space Explorer Camp, or potions and Quidditch at Harry Potter camp, or Chemistry at Unbelievable Science camp. Bonus: three meals a day are included, and for an additional charge you can opt in for a door-to-door bus service!
When: 29 May to 25 August 2023
Where: Newton Show is at 4 locations: Bukit Timah, Joo Chiat,  Novena, and River Valley
Cost: $685, lunch and snacks provided
9. Centre Stage
When it comes to teaching tots, kids and yes, even adults, about drama and theatre arts, the folks at Centre Stage are tops! Its teachers are professionally trained theatre practitioners who have retrained as teachers, so you can be assured that they know their stuff. Founded in 1999 by Peter Hodgson and Alison Tompkins, it's been the drama camp go-to for many families in Singapore. This summer, Centre Stage is holding weekly camps with themes that change each week, so kids can join multiple camps without ever getting bored. We hear that the theme for this summer is Fantastic Fairy Tales!
When: 29 May to 30 June 2023
Where: 15 Woking Road, Singapore, 138694 and 5000G Marine Parade Road, Singapore, 449290
Cost: From $360
10. HWA Summer School Program
Ever wonder what a bilingual and bicultural education is like? Your child can experience this at HWA International School's Summer School Program, which promises two full weeks of educational fun. This summer programme is designed according to the IB curriculum, where children will learn six interdisciplinary themes through a mix of academic classes, extracurricular activities like sports and arts, and even field trips. Children will enjoy learning opportunities beyond the classroom on field trips to Gardens by the Bay, Sustainable Singapore Gallery at Marina Barrage, Science Centre, and more. You can also see for yourself how HWA's unique educational model, which combines the best of both Eastern and Western values, can benefit your child.
Where: HWA International School
When: 3 July to 25 August 2023
Cost: $2,220 including transportation fee
11. All That Jazz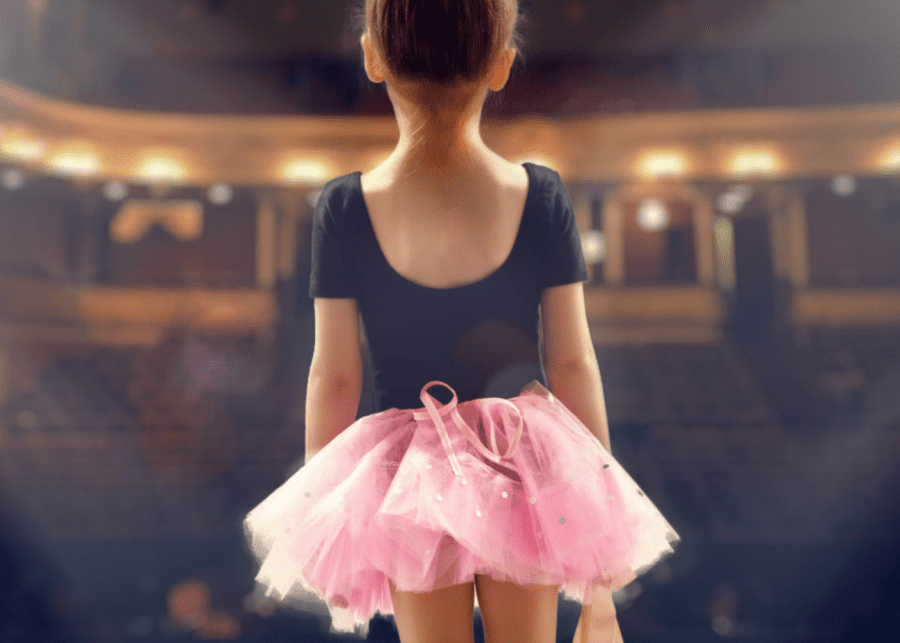 Are there some twinkle toes in your family? All That Jazz has created some special week-long dance camps for kids aged 3 to 17. There are loads of super fun activities such as learning a choreographed dance (including some singing and acting – try the The Little Mermaid and Shrek camps for that!), games, and crafts for the younger ones aged 10 and below. These camps are suitable for beginners as well as those with some dance experience. It's a great opportunity for the kids to have fun, try a new dance style, and get fit while making new friends (and stay off screens!). Bonus for us parents: we get to see our babies put on a showcase for us at the end of the week!
When: 29 May to 4 August 2023
Where: Multiple studios: Forum Shopping Mall, i12 Katong, and 10 Winstedt Road
Cost: $350
12. Centaurs multi-sport camps
A mountain biking workshop, two excursions, sports, games and an infamous fun pit? If that sounds like a load of fun, you'll want to sign the kiddos up for Centaur's summer camp! It's loved by both boys and girls (ages six to 12), and we're sure the kids will be knackered by the end of the day after a series of entertaining activities. Can we go, too?
When: 29 May to 20 July 2023
Where: The Pit, Centaurs Sports Park, 200 Turf Club Rd, Singapore 287994
Cost: From $385
13. Wonderswork
Do you have an avid gamer or computer coder? Ignite your kiddos creativity and nurture their inventive thinking with a hands-on Wonderswork workshop in a fun learning environment where kids are free to explore, create and invent their own creative wonderous works! There are Lego Robotics camps, Pokemon battles, and The Mandalorian coding camps for kids aged five to 14 to get involved in!
When: 29 May to 18 August 2023
Where: Great World City, 1 Kim Seng Promenade, #03-105, Singapore 237994
Cost: From $438
14. Boutique Education
For themed camps designed for kids aged four to 12, check out Boutique Education's Into the Wild and Superhero camps! The camps are packed with activities incorporating everything from movement, nature-based games, art and craft, as well as fun ways to level up on academic subjects! There are also healthy snacks on hand too!
When:26 June till 4 August 2023
Where: 9 Mohamed Sultan Road, Singapore 238959
Cost: From $160
Keep an eye out for these popular camps' dates!
15. Crafty Whizz Studio Sewing Camps
Do you have a little sewer on your hands? Send them to the fun peeps at Crafty Whizz Studio! Kids can choose one big project to bring to life at this fun sewing camp. Make either a stuffie or a monogram pillow for the first creation, and choose from a tote bag, pencil case, bucket hat or drawstring bag for the second item! Kids each get their own sewing machine and learn lots of the basics, lifelong skills that they can carry with them long after the Summer is over!
When: TBC
Where: 81 Joo Chiat Road, #02-05, Singapore 427725
Cost: TBC
16. Visualize School of Art and Design Art Camp
Your little Picassos and Van Goghs (aged 6 to 14 years-old) in the making will love this summer art camp by Visualize School of Art and Design, They'll learn different drawing techniques, sculpture, tessellation, posters, portraits, collage, resin work, graphite, clay modelling, plastering, colourful sand work and much more from experienced art teachers. Plus, they'll have access to the latest, top-of-the-line art materials!
When: TBC
Where: 278 River Valley Road, OMG building
Cost: TBC
17. The Improv Company
Newsflash: Singapore's biggest improv group, The Improv Company, is conducting its own summer camp for teens! It's the perfect way to learn the ropes of improv, acting and drama. Each camp spans four days and focuses on specific aspects of improv. You can expect your teens to learn important skills such as listening and creativity, learning acting techniques and creating compelling stories while having heaps of fun!
When: TBC
Where: 62B South Bridge Road, Singapore 058692
Cost: $350 (10% for group sign ups)
18. Sports Camps
Sports Camps offers multisport holiday camp sessions throughout the year right here in Singapore. And the best bit? You can easily pre-book half-day or full-day camps for the kiddos on their website.
When: TBC
Where: TBC
Cost: From $90
19. Amped
Get cAmped this school holidays with these fun multi-activity camps at Amped Trampoline Park, conveniently located in the heart of River Valley! Kids will learn the fundamentals of trampolining, as well as take part in team building activities and sports like parkour and basketball in the AIRena. There are also super fun games like dodgeball and NERF wars to wear them out!
When: TBC
Where: Amped, 46 Kim Yam Road, The Herencia, #02-11, Singapore 239351
Cost: TBC
20. Bounce
If your kids love bouncing, then this is the camp for them! Beat boredom during the school holidays at this super fun Bounce 'tramp camp' designed for all kids and teens aged 3 years old and above. Kids will be fully supervised every day, whilst they get to explore Bounce's awesome facilities. Kiddos will get to test out their aerial skills, play dodgeball, launch themselves into giant airbags, and as a bonus, they'll have the entire venue to themselves for the first hour (9am-10am), before Bounce opens to the public!
When: TBC
Where: Bounce, Cineleisure, 8 Grange Road #09-01, Singapore 239695
Cost: TBC
21. Powerkids Gym
These 3-day multi-activity camps run by the lovely counsellors from Powerkids Gym offer kids from 4 to 9 years old super fun days out in Singapore! There are itineraries that feature loads of indoor and outdoor activities, educational outings, different sports skills, teambuilding and creative craft.
Psst.. grab a buddy to sign up with you and enjoy a 5% dicount!
When: TBC
Where: Powerkids Gym, 81 Clemenceau Avenue, UE Square, #02-12 Singapore 239917 
Cost: TBC
22. The Open Centre
Change is scary, and a lot has changed in the last year. So much so, that it might've been difficult for the kiddos to go through it all. So this summer, join The Open Centre at its five-day Mindful camp to take some time out to build resilience. Campers will get to work on handicrafts, dance and move around, and even get to participate in dog training.
When: TBC
Where: Location varies according to camp
Cost: TBC
Ready to sign your kids up for summer camp in Singapore? Tag us in your summer fun on Instagram!