If your little ones know how to turn on the charm the minute a camera is pulled out, it may be time to consider child modelling, right here in Singapore...
We're all guilty of flicking through a glossy mag and proclaiming our own offspring are FAR cuter than the kids in the ads. Chances are, many of you have dabbled with the idea of getting your dimpled darlings into acting or into child modelling in Singapore. But what's it really like putting your little one into the spotlight? Ex HoneyKids mum, Tracy, is a seasoned mother of models and shares her advice on finding an agency, tips on aceing auditions and wise words on how your little one can become a child model in general. Time to strike a pose, kids!
How to become a child model in Singapore
All three of my kids have tried their hands at a spot of child modelling and acting in Singapore – we've certainly learned a few things along the way. Before we left Singapore, my youngest, Rafferty, was quite successful, with campaigns for Lego, Changi Airport and Benjamin Barker under his belt. My elder two, Jack and Angelica, also did a few bits 'n' bobs, but despite being just as good-looking (in my humble opinion) as their small sibling, they never had anywhere near as much success. Turns out that being gorgeous isn't the only thing necessary to break into the child model industry. To be really successful, you need a top-notch attitude (kids AND parents), a bucketload of resilience and a great casting agent to navigate you through the trials and tribulations of your child's modelling career. Here's what I've learned along the way…
What it takes to be a child model in Singapore
Good models, both adult and children alike, are not judged on looks alone. Temperament and personality are just as important for success. Even if your child has the face of an angel, they won't get bookings if they're uncomfortable in front of the camera, shy when speaking with strangers, and reluctant to take direction. Mini-models need to show an interest in the business, and it's crystal clear in auditions and castings when a child is there not out of their own will, but because of Mum. So, before you start signing your kids up for a child modelling career, consider whether they:
are generally outgoing
will take directions from strangers
are able to pay attention (possibly for lengthy periods of time)
actually want to be a model (as opposed to Mum wanting them to be a model)
Personality comes through on camera, and agents are looking for children who are not only photogenic but who also bring something special to a captured moment. Whether the shoot is photography or film, the job will go to the child who performs the best in the casting audition, and not necessarily to the prettiest face.
You should also consider how well your child is equipped to handle disappointment. The industry is notoriously competitive. Ultimately, your child might get a lot of knock-backs before a big fat yes makes it all worthwhile. My youngest couldn't care less if he didn't bag a job, but my older two took it more to heart. If your little one tends to get easily deflated, then auditions can be tough when they don't work out. Rafferty got picked more because his confidence made him stand out at castings.
How can my little one become Singapore's next supermodel?
If you're serious about child modelling or acting, signing them up with a casting or modelling agency is imperative. Your first contact with an agency should be by mail or email. Send two or three colour snaps of your child and include one full-body, and one headshot. They do not have to be professionally photographed. Within your cover email/letter make sure you include your child's full name (and yours), age, hair, eye colour, skin tone and clothing size. And don't forget your contact details!
A good agency will be in touch within a week or so with either an invitation to meet or a polite rejection. The 'thanks, but no thanks' are hard, but it does NOT mean that your child is not going to make it as a model. It could just be that they do not have the look that particular agency is after.
What can I do to help my child break into the modelling industry?
Commitment from parents is just as important as how your kids look and perform in front of a camera. The agency will be checking that you are happy to chauffeur your mini model around Singapore for castings and bookings. Also, that you're the kind of parent who will get the best from your kiddo once that camera is rolling. Encouraging the kids on set is part and parcel of life as a child model's mum-ager! A committed parent with a charismatic child is the perfect package in an agency's eyes.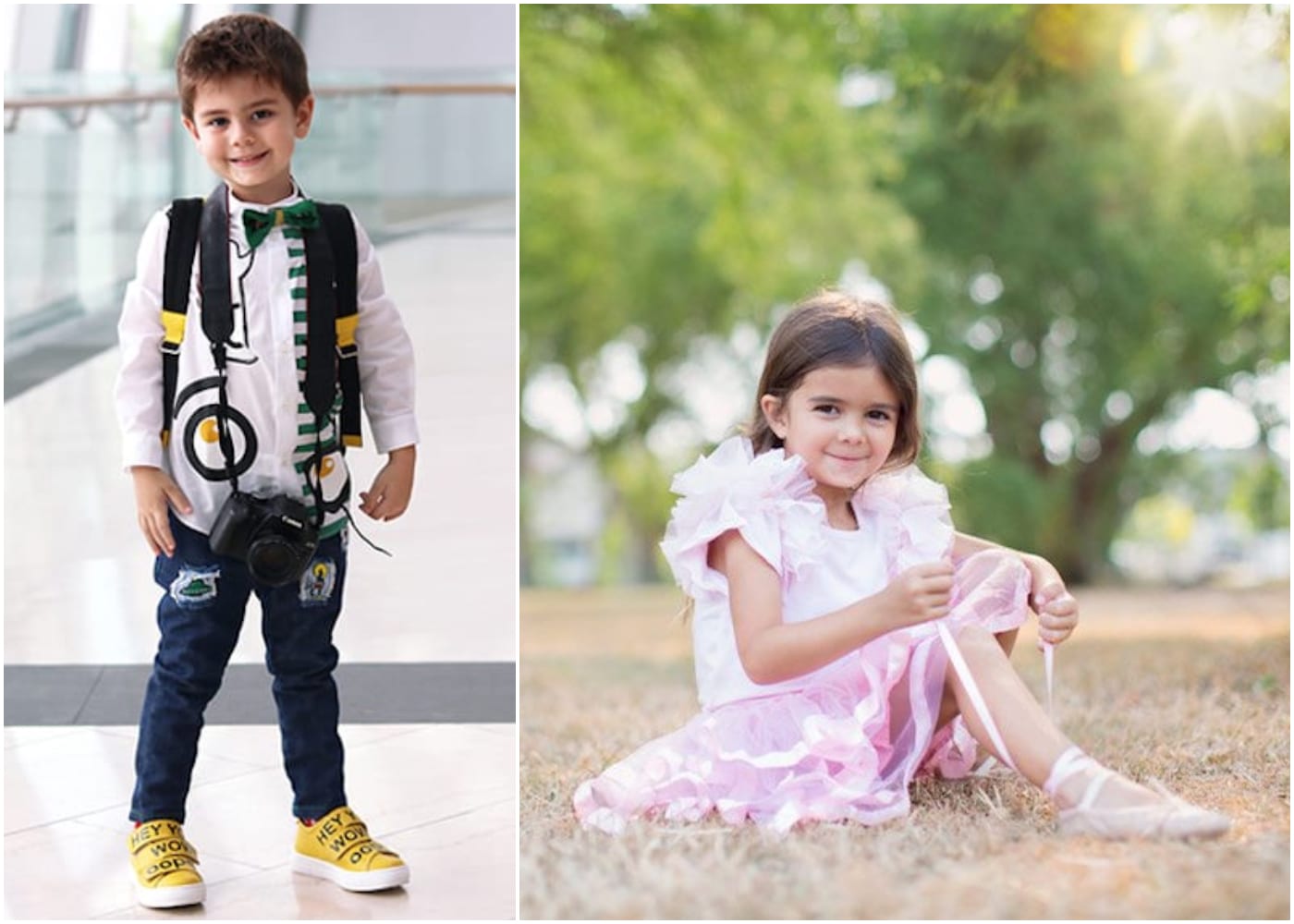 Timing is also another factor to take into consideration. Most shoots and castings will happen during the week, which inevitably means your young superstar may need to miss school, which is not always feasible. Likewise, if you are a working parent then you'll also have to negotiate time off. It can be quite a juggle! For me, it was possible by having a fantastic helper who was on board with the process and knew how to handle Rafferty on set should I not be able to be there.
What are the rewards of child modelling?
It's fair to warn you that even if your child gets bookings galore, the money is not going to see you retiring to Bali anytime soon! Unless you get booked by a big client, the pay is generally pretty small fry. In some cases, work will be in return for products (and glory). Is it worth it? For us, the journey has been an experience that gave my kids more confidence and a lot of laughs. Rafferty had a natural flair for performing, but Angelica was soon ready to hang up her catwalk shoes. Jack would rather do just about anything in the world than pose in front of a camera (much less actually smile).
Do open a bank account for your child for when their earnings roll in. The jobs may not pay a lot, but over time, and with enough of them, there will be a nice little nest egg for a special treat.
Which modelling agency should I use in Singapore?
A good starting block for finding a child modelling agency in Singapore is good ol' fashioned word of mouth. Among your friends and Facebook support groups, there are bound to be parents whose little ones are signed up.
The location of your agency is another important factor. Generally, your kids will have their first auditions for a casting at the agency. Picking one that is close to home saves a whole lot of time and drama.
Once you have a shortlist of the agencies that suit, send off your email with photos and sit back and wait for them to get in touch. Most agencies will want to take your child on exclusively if you sign a contract with them. This is why it is important to choose an agency that you are happy to work with for the foreseeable future.
Child modelling agencies in Singapore
1. Faces Junior Talent Management
Rafferty had quite a bit of casting success with Faces Junior. The friendly team were great at getting the best out of the children, both during auditions and on-set when they sealed a job.
2. Hello Group
Hello is a friendly team dedicated to finding child (and adult) models for TV, film and editorial work. The office is also a casting studio and you and your child will be asked to come along for any auditions and castings they feel your child would fit the criteria for. My own children were all signed with Hello and they loved the relaxed atmosphere when we popped by for castings.
3. Phantom
Phantom caters for children aged between one and 13. The agency provides models for the fashion industry, plus offers a full range of casting services. Kids can audition for shows, launches, exhibitions and advertorials. Phantom also likes to keep an even balance of Asian, Eurasian and Caucasian models on its books.
4. Impact Models
As one of the leaders in the child modelling field, Impact guides its models, age three months through to 12 years, through a range of opportunities. Those include television commercials, event launches, fashion spreads, fashion shows and more. The agency also offers child modelling courses to build confidence, improve posture and develop social skills, as well as portfolio sessions so kids can experience what it's like to be a model.
5. Diva Models
Established in 1995, Diva Models is a one-stop agency that caters for models of all ages. Your child could feature in anything from a fashion magazine to a TV commercial. Plus, with its strong international links, Diva has become one of the premier modelling agencies here in Singapore.
6. Mint
Mint specialises in Pan-Asian models but promotes local models of all ethnicities. Founded in 2010 by a former model, the agency aims to build a long-lasting relationship with its models and guide them into a modelling career.
7. Basic Models
Basic Models represents kids aged three years and above and specialises in projects related to fashion, commercials and events. New models will be required to go through theory and practical training and then pass a test to be fully accepted as part of the agency. Yep, we really are talking about joining a model agency here, and not taking a driving test!
Good luck, and don't forget to tag us on Instagram with pics of your mini models in action!