Singapore's best family photographers: Suasti Lye captures Innika Choo as a new mum
Want some natural and candid shots of your growing family? These photographers are the best in Singapore for capturing babies and kids - and you - at your photogenic best!
Hands up who has a proper family photograph? A beautiful picture of all of you, printed and framed? Capturing moments in time these days mostly amounts to a smart phone on the end of a selfie stick while out and about in Singapore with your kids, or when escaping town for a short family getaway. But as the wise Dolly Parton says in Steel Magnolias, "Time marches on and sooner or later you realise it's marchin' right across your face". We say, before that happens (or at least while it's happening), mark the passage of time occasionally with the reverence it deserves. Yes, we mean family portraits, people! And we've found the best photographers in Singapore for the job!
But throw away old notions of stagey, down-the-barrel, cheesy grins (did somebody saw awkward family photo?) and book one of these amazing photographers to achieve stunning frame-worthy results. There are subtle variations between the style of each photographer listed, but suffice to say there will be one that speaks to you. The one thing they all have in common is an ability to capture your best family moments naturally.

POLKADOT PHOTOGRAPHY
Best for: Making you feel like your best friend has come over to snap a few shots
Sure Hayley Durack is an Aussie professional photographer with impressive international experience and a raft of awards to her name. But this isn't why we love her. As a people person she'll chat to you and your kids (until she feels she knows you) before taking out her camera. The result? Simply stunning, natural, honest photos of your family doing things you love. And as a mum of three herself, Hayley knows the full gamut of beautiful AND crazy things that kids do. Go with Polkadot Photography and you'll be blinking back tears when you see the pics for the first time, and every time after that.
18 Balmoral Park #01-05, Singapore, 259848; www.polkadotphotography.com
SUASTI LYE PHOTOGRAPHY
Best for: editorial-style images
Your family will adore being shot by the ever-chic Suasti Lye, and you'll score some pretty spesh photos in the process. That beautiful shot of Innika Choo and her little girl up top says it all. She's got style in droves and an eye for seeking the untraditional, which is why she's a Honeycombers go-to lifestyle photographer. One to keep in mind for adult or commercial events too as she has a pretty incredible portfolio.
On location and studio options, Singapore (Orchard Area); www.suastilye.com 
TOMATO PHOTO
Best for: Seeing moments that you never knew even happened
Helmed by the award-winning natural-lifestyle photographer Hart Tan, the team at Tomato Photo are consummate professionals when it comes to maternity, newborn and family shoots. Somehow they just seem to be able to capture that magical moment. They'll also come to your home – which is darn useful when you have a two-day old babe in arms.
253B Onan Road, Singapore 424638; www.tomato.sg


BAMBINI PHOTOGRAPHY
Best For: Going above and beyond to capture that shot
Bambini Photography is the little sister of Tomato Photo, so as you'd expect, the quality is absolutely superb. You can rely on Bambini to convert a fun family photoshoot into lifelong cherished images. And if English is not your first language, they will arrange an interpreter so nothing is lost in translation.
62 Ubi Road 1 #10-24, Oxley Bizhub 2, Singapore 408734; www.bambiniphoto.sg


WHITE ROOM STUDIO
Best for: High-end glossy results
A boutique photography studio, White Room is set in a Peranakan shophouse full of nostalgic character. You're bound to feel natural and at ease here as the photographers all have a keen eye for detail that goes beyond the confines of the snapshot.
219 River Valley Road, Level 2, Singapore 238277; www.whiteroomstudio.com.sg
THE FAMILY MAN
Best for: FUN family photos
If stuffy, formal photographs aren't your style, here's the good news: The Family Man has perfected a candid style you'll love. A firm believer in spontaneous and natural shots, The Family Man doesn't believe in continuously telling kids what to do in front of the camera. Rather, he allows kids to behave naturally, allowing them to explore and make sense of their space while capturing them in their element. Instead of rigid, cookie-cutter studio shots, your family portrait will result in priceless mementoes which will also be truly unique.
58 Stirling Road, #01-308, Singapore 141058; www.thefamilyman.sg

SEALEY BRANDT PHOTOGRAPHY
Best for: A photojournalism feel. Think TIME. 
Sealey Brandt has photography in her blood, heralding from a one of Australia's iconic family of photographers. She offers a self-described private photographic experience, and specialises in child and family portraits. She also sells fine art photographs shot in interesting and breathtaking locations across the globe. The range and possibilities are endless.
Block 1 Westbourne Rd, Unit 2. Singapore 138941; www.sealeybrandt.com

SAGE CLOVER PHOTOGRAPHY
Best for: Pretty and whimsical shots where colour plays a key role
Formerly known as Blue Bambino, Sage Clover Photography is run by talented mum-of-three Kymberley Teo. She prides herself on the sole use of natural light in all her shots taken at her Bukit Timah studio (no squinting or sweating under harsh spotlights). She's also a big fan of the outdoors and sees it as an extension of her organic, dreamy aesthetic.
Bukit Timah and on location; www.clovertree.com.sg
LITTLEONES PHOTOGRAPHY
Best for: Putting your kids at ease
Sisters Kate and Emily at Littleones Photography are seasoned experts when it comes to corralling and shooting your family at their photogenic best. They'll have the whole fam feeling relaxed from the get go, which is THE secret to producing perfect stills. Head to their light and bright studio or take it to the streets or parks of Singapore. They've been named the "Best Family Photographer" by Singapore Tatler for three years running. Impressive all round.
5 Walton Road, Singapore 436824; www.littleonesphotography.com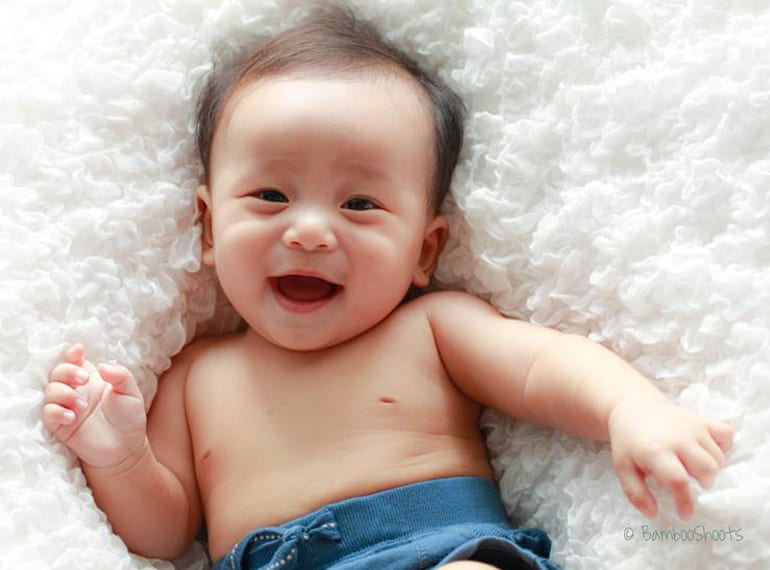 BAMBOO SHOOTS PHOTOGRAPHY
Best for: Understated, muted tones with a gentle focus
At Bamboo Shoots Photography the focus is on baby bumps and beyond. Chief photographer Cici McCalman is adept at applying a soft creamy touch to intimate family moments. She keeps up with all the latest artistic trends by attending global conferences, so you can rest assured your pics are created with the best digital technology on offer.
501 Bukit Timah Road, Singapore 259760; www.bambooshoots.com.sg

NINA TANZEN PHOTOGRAPHY
Best for: Capturing real moments with a fly on the wall approach
One look at Nina Tanzen's portfolio, and you'll be hooked. She has a fresh contemporary take on child and family photography, and the uncanny ability to catch your kids at their cheeky best. We especially adore her close up pics (freckles and all).  You'll be glad it's her preserving your precious memories.
On-location photography; www.ninatantzen.com
GRONOW PHOTOGRAPHY
Best for: Classical and contemporary portraiture
Winner of Singapore Tatler's best family and portrait photographer 2015 and Master Photographer Awards 2015, Michael Gronow is an award-worthy choice. He prefers a natural environment whether in his studio, outdoors or at your home.  Any way you like it, you're assured of some special keepsakes for the album.
43P Carlisle Road, Singapore 219621; www.gronowphotography.com
JULIA WHALE PHOTOGRAPHY
Best for: Location shoots with a natural feel
Brit-born photographer and mum of three little people, Julia Whale is all about capturing beautiful, natural moments in carefully-selected locations around Singapore. Whether you have a brand new tiny person, a collection of toddlers or a bunch of teens, Julia will deliver easy-going, unposed and pain-free results for a gallery of gorgeous shots.
[email protected]; www.juliawhalephotography.com
JANA YAR PHOTOGRAPHY
Best for: Fun family shots full of candid moments
We've already admitted to having a little bit of a crush on coolest-mum-in-Singapore, Jana Yar, and so it's little surprise that we are also massive fans of her awesome photography skills. Her results are testimony to her passion for the camera, and we especially love that her family shots are so candid and beautifully natural – this is definitely a photographer who knows exactly how to capture a perfect moment through a lens.
100 Wishart Road 03-03, Singapore 98749; www.janayar.sg
KATIE MARTIN-SPERRY PHOTOGRAPHY
Best for: A relaxed shoot and no forced smiles – babies are allowed to cry!
Katie believes that the key to a great photo shoot is making sure that everyone involved is relaxed and happy: Her style is natural, simple and organic with the aim of capturing real emotions. She's a firm believer in not heavily retouching her photos, and Katie strives to snap shots that show the real beauty in everyday moments – kids playing, families laughing, children giggling and even babies crying – treasured moments worth keeping for a lifetime. As a mum herself Katie totally gets that kids don't always play ball when it comes to a photo shoot, so we love that whether you are having your session at home, or out on location, she'll work her magic and capture some truly cracking shots no matter what mood your little one is in!
[email protected]; www.katiemsperryphotography.com
VANESSA CLEMENTSON CREATIVE
Best for: Unconventional underwater shoots
Vanessa's pushing the envelope with underwater photography. This mum of three specialised in family portraits and maternity but decided life was better down where it's wetter. As a PADI qualified underwater photographer, she's tackling the medium with a splash. Using crazy lighting and reflections, she can turn your boring old pool into the deep blue sea, and your kids into mermaids. Ever wanted to battle a shark or explore the deep? Hop in the pool and she'll capture you in the right pose to escape those razor-sharp teeth! You can't get this kind of angle on dry land.
[email protected]; www.vanessaclementsoncreative.com
SUGARLIGHT PHOTOGRAPHY
Best for: Whimsical location shoots you'll never tire of looking at
Mum of three, Gunilla Lindgren has an eye for beautiful lighting, fun props and magical settings when it comes to a location shoot by Sugarlight Photography. We had a blast with giant balloons and hula hoops during our own time with Gunilla, and still cherish each and every one of the stunning photos that popped out of the session. This is relaxed, fun photography at its best, with the results speaking for their gorgeous-selves.
[email protected]; www.sugarlightphotography.com
PALITA PHOTOGRAPHY
Best for: Authentic, timeless images that speak straight to the heart
Lovely Palita is a mum of two, wife and portrait photographer who specialises in taking simple but stunning images of people celebrating love. She adores capturing pictures of families in timeless ways, and often uses iconic areas in Singapore for location shoots. Palita is also your go-to if you fancy a mum time out and treating yourself to an amazing photo shoot to help remind you that, despite being perpetually tired, you really are still rather hot… Take a look at her Boudoir Portfolio to see what we're talking about… You're welcome!
[email protected]; www.palitaphotographer.com
Like this story? Here's more we think you'll enjoy:
Singapore scenes: Chinatown street photography
Best gifts for a Singapore baby
Cycling in Singapore with kids on board
Five stylish baby gifts you can order
Or subscribe to our weekly newsletter for the latest updates on all things family-friendly