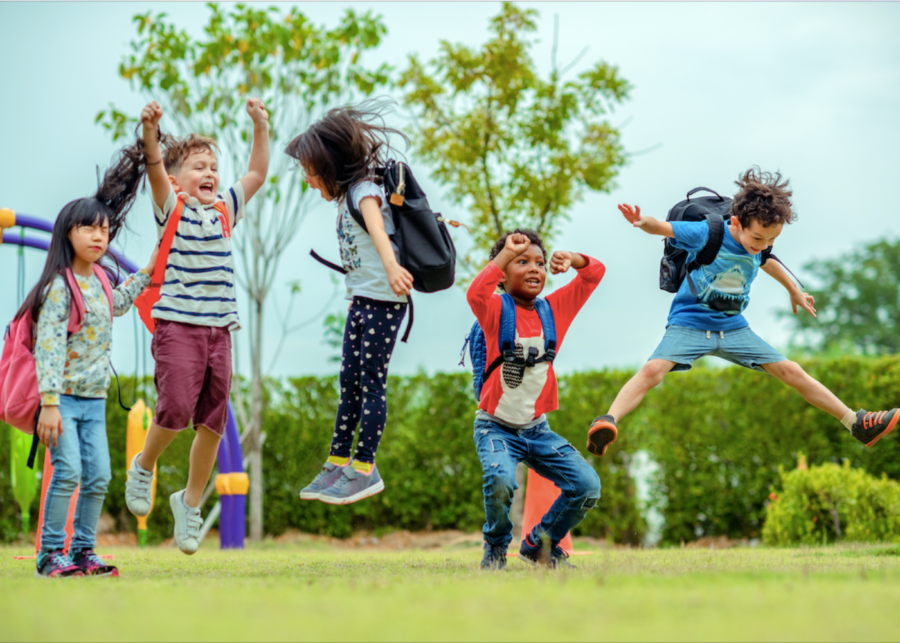 Not sure what to do for the end-of-year school holidays in Singapore? Fear not – we've got loads of fab ideas to keep the kids entertained over the break!
If you're currently looking at an empty cal for the end-of-year school holidays and worrying about how you're going to entertain the kids, then don't fret. We've got you (and the kids) covered with everything to do for the school holiday in Singapore. We've found loads of things to keep the kids busy, whether that's at home or out and about! From exhibits to our favourite park or green space! So take a look, and get filling up your Singapore school hols itinerary with these fun-filled activities for the whole family. Happy holidays!
70+ things to do with the kids for the end-of-year school holiday in Singapore
1. Go on an insect farm tour and meet the black soldier fly
Superheroes come in all shapes and sizes – but we bet you didn't expect them to exist in the form of black soldier flies! Black soldier flies are mother nature's most efficient organic waste decomposers and might just be a solution to sustainable food production. You can meet these little superheroes and learn more about them at Insectta, Singapore's first black soldier fly farm. Get ready to see the larvae in action as it chomps down household and agricultural waste, join in some insect farming activities to learn how these little bugs can solve food waste issues, and end the tour on a fun note with a chicken-feeding session. You can book a farm tour for the family now via Pelago and enjoy a 10% discount site-wide with "PELHKA10". After more hidden gems? Don't forget to check out Pelago for loads of unique family fun activities!
2. SPACES TO PLACES: An UNTAME 2022 event at Science Centre Singapore!
UNTAME's STEAM festival came and went in a flash, but that's no reason for the kiddos to fret! UNTAME is already back with its next showcase for our inquisitive explorers, called SPACES TO PLACES. The kids will have the chance to embark on a journey across four key spaces – living space (sustainability), outer space (astronomy), cyberspace (digital and artificial intelligence), and inner space (mental health and wellness) – through a series of exciting activities. Best part? The kiddos can expect a multi-dimensional experience, including STEM-themed quests, online missions, sensory shows, games, DIY kits, activity trails and an after-dark fiesta too! Shall we hop onto the exploration buggy?
When: till 11 December 2022
Where: Science Centre Singapore 
3. LITE-UP
Sustainability is the hot topic of the hour nowadays, and with good reason. If you are looking to introduce the topic to the kiddos this holiday and have no idea where to begin, we know just the place. Lite-up happening at Marina Barrage will be taking a deep dive into the topic through fun-filled learning opportunities for the fam. Discover how to turn disused items into something valuable through fringe activities like upcycling plastic bottles for self-watering planters. Check out interactive exhibitions and booths to find out more about sustainable and safe living. Visit the green bazaar where the fam can learn about sustainable options while shopping. Cool! You can also participate in the B.E.S.T (Buy, Exchange, Sell and Take) marketplace.
When: Saturday, 10 December from 1pm – 9pm, sign up here
Where: Marina Barrage
4. Smart Nation PlayScape Workshop
Want to have something to remember 2022 by? Better yet, make it yourself with your littlie! How does 3D printing your own name stamp sound? The PlayScape x Build Your Own 3D Model Workshop gives your kiddo the freedom to design their own 3D models and an introduction to the MakerBot 3D printer. There's more! Our little techies can also learn about cool concepts like UI/UX, blockchain and biometrics at the Smart Nation PlayScape exhibit. Best part? You can accompany your kiddo into the workshop with an adult-child pair entry package and have a fantastic time together! Psst, all child participants will receive a free goodie bag and a free 3D printed model to take away after the workshop! Yay!
When: 17 December 2022, 10.30 am – 12.30pm
Where: Singapore Science Centre
5. Children's Museum Singapore
A kids' museum in Singapore? Yep, you heard right! Singapore's first-ever children's museum, designed to be a "starter museum", will be opening its doors shortly, and it has heaps of surprises in store for the kiddos. We are talking about interactive installations and experiences that spark imagination and curiosity in kids of all ages. Yay! The museum will have multimedia exhibits, artefacts and more to cultivate an appreciation for museums and lifelong learning for our little guests and fam. With scores of activities for the littlies to engage with, we reckon going through the school hols will be a breeze.
When: From 10 December 2022
Where: Children's Museum Singapore (former Singapore Philatelic Museum), 23-B Coleman Street, Singapore 179807
6. Funtasia at Singapore Expo
As the name suggests, Funtasia is gearing up for lots of fun the kiddos will love! It boasts the largest inflatable theme park in Singapore, with tons of exciting challenges for the kids to enjoy. Toddlers can look forward to fun experiences at the tire track, small river jump and slides, and older kiddos can enjoy the Kids Fun Zone, including The Rabbit, Merlion Lion and Berries. For those with a competitive streak and in for a bit more challenge, the Obstacle Challenge zone is your ticket to a great time, featuring The Jupiter, The Mars and more. You can even stand a chance to win a medal! Woohoo!
When: 2 to 30 December 2022
Where: Singapore Expo 
7. Family fun at SYSNMH's Wan Qing Year-End Holiday Programme
Looking to pack in some precious bonding time with the fam this holiday? SYSNMH's Wan Qing Year-End Holiday Programme 2022 has heaps of fam-friendly fun and educational activities in store that will be a hit with the brood. Think of hands-on workshops to impart cultural skills such as tangyuan-making and Dongzhi-inspired calendar wheel-making. If story-time strikes a happy chord with the fam, immerse yourselves in an interactive storytelling sesh. You can even explore an insightful exhibition to learn about Chinese pioneers. Plenty to keep the littlies occupied, we say!
When: until 31 December 2022
Where: Sun Yat Sen Memorial Hall
8. Family Fun with Nickelodeon's Optimus Prime-Inspired Truck
Gear up for a surprise this December cause there's a truckload of fun coming your way! Nickelodeon's Optimus Prime-Inspired Truck will be hitting the streets of Singapore through December to reign in the premiere of the all-new animated series TRANSFORMERS: EARTHSPARK. The truck will make a pit stop at various locations across Singapore with immersive and interactive experiences in store for fans. Yay! The truck will also be buzzing with action on weekends with a hive of activities for kids to participate in. Think of making Transformers collectable keychains and photo ops with the larger-than-life characters. Psst, there are also exciting prizes to be won!
When: Kicking off on December 3
Where: stopping at Singapore Comic Con, PLQ Mall, One Punggol and Downtown East
9. Check out all the fun at Changi Festive Village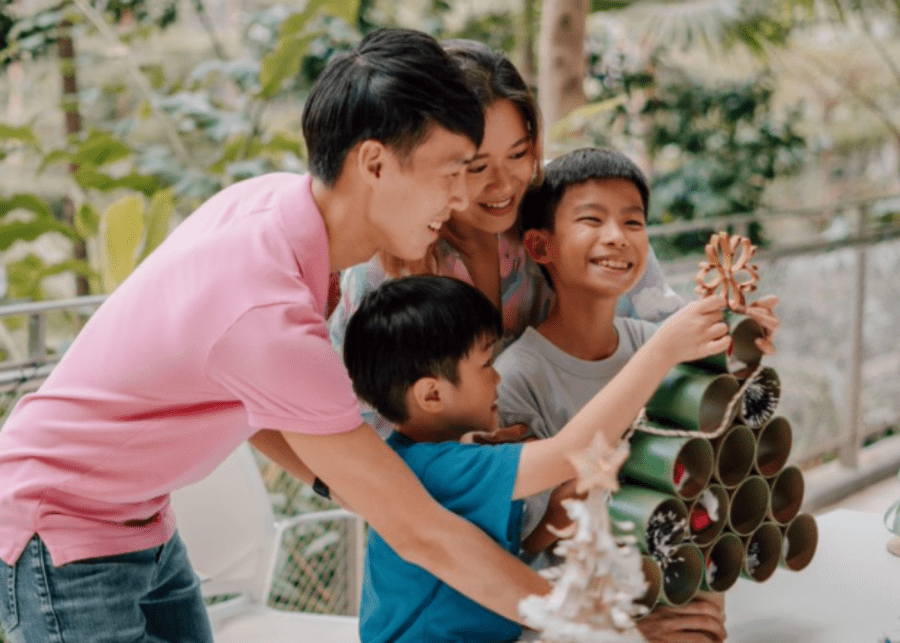 If you're after festive fun with a sprinkling of dinosaur, how about checking out the action over at Changi Festive Village? Changi Festive Village is back with more fun-filled activities for the whole family! Enjoy a magical glamping night with a majestic view of the HSBC Rain Vortex, cycle or walk down the dazzlingly lit Jurassic Mile in Changi's longest-ever light-up and have an out-of-this-world adventure with Avatar-themed activities. Be sure to check out T3's Underground Carnival for a rolling good time! Good luck getting the kids to leave!
When: 4 November 2022 – 2 January 2023
Where: Changi Airport
10. Meet, play & dance with Bluey at Singapore Comic Con
We have a new visitor on the island this December, and we are super excited about it. Bluey, the award-winning sensation, is coming to Singapore Comic Con (SGCC) for the very first time! Yay! Brace yourselves for an interactive and immersive experience as the worlds of learning and playing come together. There are tons of fun things to do, including arts and crafts activities and meet-and-greet sessions with Bluey, with a chance to dance and play along in iconic games like Keepy Uppy and Magic Xylophone. The kiddos can also look forward to the screening of Bluey's full episodes, followed by a quiz. Psst, watch the screening carefully, cause there are exciting prizes to be won!
When: 10 and 11 December 2022
Where: Singapore Comic Con
11. Otah & Friends: Go Gai Gai – Hidden Joo Chiat
Are you looking for some outdoorsy adventure with the fam? Get decked out in your Sherlock best and join our otterly fun friends Otah & Friends on a discovery adventure of Joo Chiat. Unravel riddles and clues via Whatsapp, and discover hidden gems within Joo Chiat while you learn a bit of history at the same time. The Journey is approx three-hour long, covering a distance of 2.4 km, with three breaks to rest and refresh. It is suggested, that children six years of age and above can participate because of its physical intensity. So if you're up for this fun adventure, get your tickets here.
12. Have a bouncing good time at Jumptopia Festive Village
Back and bigger than before! Join Kiztopia Friends and wrap up the year with a bang at Jumptopia: Festive Village! Spanning 45,000 sq ft of space at Marina Bay Sands Expo Hall C, there will be not one, not two, but seven curated zones for an experience like no other! From mega inflatables and play areas, to stage performances, Christmas treats, a miniature Christmas market and even an indoor "snow" play area, families will get to play, feast, catch spectacular performances and shop all in one! Tickets from $36 per person, or book a family package for $128.
When: 22 November 2022 – 3 January 2023
Where: MBS Sands Expo® & Convention Centre, Hall C (Level 1)
13. Pink Fong World Adventure: An Immersive event
Calling all you Baby Shark fans! Are you ready for a spectacular adventure this school hols? Join Pinkfong, Baby Shark and friends as they explore the marvellous universe through fin-static song and dance. Head on over to Let's Play at Marina Square with the fam to venture into different worlds, ride on the Spring Shark Rider, sledge down the grass, go on a space exploration, and so much more!
Pink Fong World Adventure is Singapore's first immersive event with over ten game stations, including motion interactive games, a soft playground and joyful song and dance.
When: till 2 January 2023
Where: Let's Play @ #03-208/209, Marina Square
14. Book tickets early for one of the biggest Christmas events of the year!
The one thing that makes Christmas in Singapore complete? Christmas Wonderland at Gardens by the Bay, of course! There are plenty of things to do here: from spotting Christmas lights (including the Garden Rhapsody Light and Sound Show) to taking photos with Santa Claus and the enormous Christmas tree. You can even have a go at the carnival games (when was the last time we played those?) and tick off the Christmas shopping at the European-style market… there's just so much fun to be had! Remember to book your slot before your visit…
When: 2 December 2022 – 1 January 2023
Where: Gardens by the Bay
15. Check out The Doraemon Exhibition at the National Museum
Remember when this beloved cat made an appearance at the National Museum in 2020? The iconic robotic feline is back with The Doraemon Exhibition, which brings together artworks that showcases the cat's cultural impact in our changing world. The works will be presented alongside original drawings by Doraemon's legendary manga artist. Get your tickets now and see the iconic blue cat up close.
When: till 5 February 2023
Where: National Museum of Singapore 
16. A Minion's Perspective
Bello peeps! The mischief-makers are popping into town with an all-new interactive pop-up attraction based on the Despicable Me and Minions movie. The 1,400 square metres international touring exhibition is not here to stay for very long. Po ka? Pssst…it's oozing with photo ops (best to keep your phones well charged up) and interactive games too! We know your minion is jumping up and down at the sound of that, so head on over to Resorts World Sentosa now! Strike a pose at eight thematic rooms inspired by the movie- like Gru's Lab, Girl's Room and Villains. There's tons of Minion merch to check out too! Get your tickets here.
When: till 2 January 2023
Where: Resorts World Sentosa
17. Discover Pandora here on Earth at Gardens by the Bay
No, we're not referring to the jewellery brand… If you enjoyed the movie Avatar, this otherworldly experience is one that you should look forward to. Avatar: The Experience sees the Cloud Forest at GBTB being transformed into the alien world of Pandora. Go on an adventurous journey through five zones, where guests can connect with bioluminescent environments, mystical creatures, flora, and more. This is THE interactive spectacle that you'd want to be a part of!
18. Focus on your mental health with activities at ArtScience Museum
Explore Mental: Colours of Wellbeing, the museum's latest exhibition. It features interactive exhibits, art projects, and installations that reflect a range of perspectives on mental health and ways of being. You'll reflect upon, question and empathise with what it means to be human after going around the exhibition.
When: till 26 February 2023
Where: Art Science Museum 
19. Sign the kids up for a holiday camp!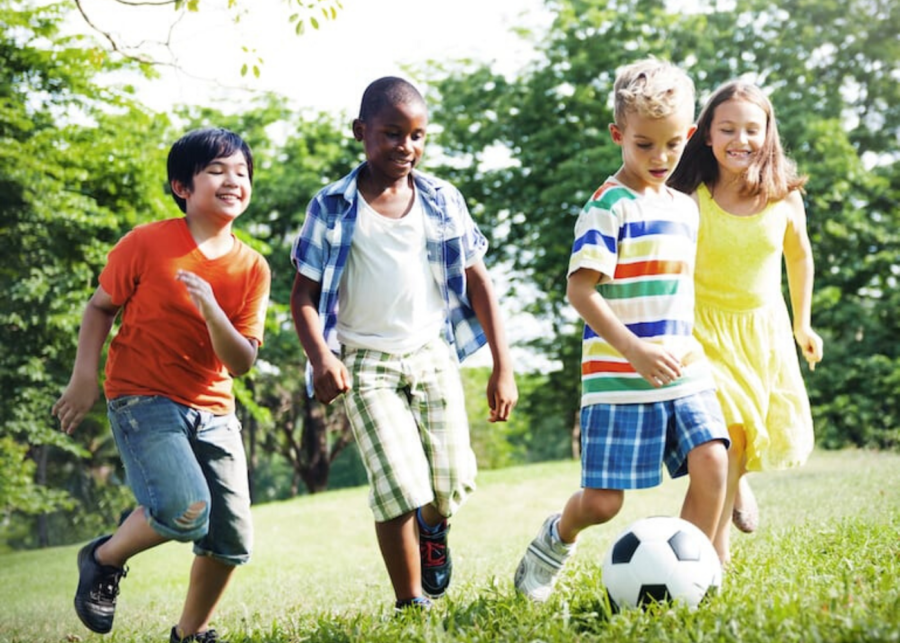 There are loads of online, as well as in-person camps taking place this school holidays. From coding to soccer, as well as arty camps. Check out our school holiday camps guide for the full lowdown on all the options out there for the kids, and book early for cheeky discounts!
20. Gardens by the Bay – check out Seasons of Bloom at the Flower Dome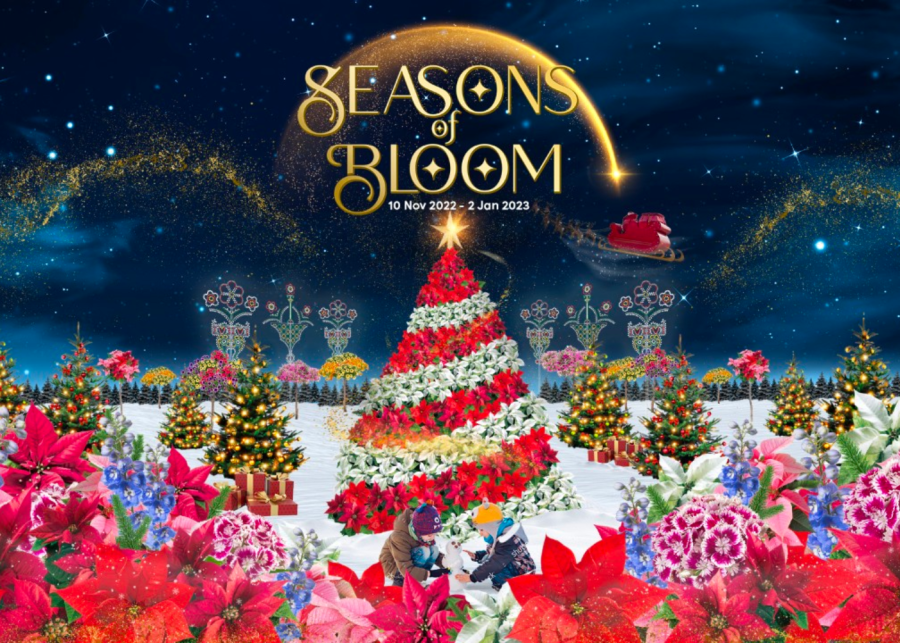 Seasons of Bloom is the final floral display marking Gardens by the Bay's tenth anniversary. This is a special one as it pays tribute to the various seasons of flowers that Flower Dome has brought to visitors over the past decade. Snapdragons for Spring, delphiniums for Summer, zinnias for Autumn and cyclamens for Winter – these are just some of the colourful blooms visitors can look forward to!
In a nod to Christmas time, all things yuletide-themed take centre stage in the middle of the flower field. Towering over a landscape of snow is a dramatic Christmas tree made out of poinsettias, and an ice cavern houses beautiful seasonal blooms poignantly "frozen" in icicles – the kiddies will love this! In a season that is about giving, 10,000 Christmas ornaments used in the floral display have been handpainted by beneficiaries from the Salvation Army and Gardens by the Bay's volunteers.
When: 10 November 2022 –  2 January 2023
Where: Gardens by the Bay
21. Have breakfast with the zoo animals again
Remember back then when you were able to have your morning meals at the Singapore Zoo? The iconic breakfast programme is back with a rebrand and an all-new experience! Indulge in a hearty meal of local and international delights while sitting through a 30-minute presentation featuring orangutans, macaws, tamandua, coatimundis, and reptiles. There's a free-and-easy interaction area where you can meet the animals and their care team as well as photo points to capture those memories as keepsakes. Breakfast in the Wild is available from 9 to 10.30am on weekends and public holidays.
22. Nutcracker Ballet performances in November and December
Got a little ballet-loving cutie in your household? This classic story of a magical evening one night before Christmas is being performed by Singapore Ballet at Esplanade Theatre this December. Don't miss your chance to see this stunning ballet, perfect for a pre-Christmas treat!
When: 7 December 2022 and 11 December 2022
Where: Esplanade Theatre
23. Pre-Christmas concert magic: Catch Disney in Concert, A Magical Celebration
This December, Disney in Concert is back for one night only with "A Magical Celebration"! Experience wonderful musical pieces featuring Disney's iconic movies as a backdrop with a 46-piece orchestra. Audiences will be transported to a whole new world as the concert brings beloved stories and characters to life through musical performances synchronised to the original movie clips.
Be transported on an enchanting journey as we awaken a little mermaid who longs to be human, a brave warrior who strives to bring honour to her family, sisters warming a frozen relationship and many more!
When: Saturday, 17 December 2022, 3:00pm
Where: Disney in Concert, A Magical Celebration, Singapore Indoor Stadium, 2 Stadium Walk, Singapore 397691
24. Nordic Day at Gardens by the Bay + Christmas Crafts
Celebrate Christmas with friends from Nordic Countries on Nordic Day! Meet the beloved Santa Claus from Rovaniemi who is visiting Singapore, in person. Tell him your wishes this Christmas at a special Santa Meet & Greet, and deliver your Christmas letter to Santa Claus. There will be special performances and jazzy Christmas music from the Norwegian Inderberg Trio and the St Lucia Choir. There are also Christmas craft activities happening across December – check the Gardens by the Bay website for timings and more details.
When: 10 December 2022 (Nordic Day), various dates and times for craft activities
Where: Gardens by the Bay
25. Try out these super-fun (and free) activities!
We know school hols can be $$$ quite quickly, but they don't have to be. The good news is there are actually loads of free and really fun activities to keep the kids busy in SG. From hitting a local library to exploring a free art gallery! Here's something special for all you sports fans – Decathlon has put together an exciting line-up of free activities where kids can explore their sports interests and learn about team dynamics and IQ through sports. Psst, there's also something in store for the whole fam! Work up that sweat with a fun fam cardio training sesh.
26. Sign up for a culinary bootcamp
Looking to introduce basic culinary skills to the kids this school holidays? Sign up for an array of parent-child cooking classes at Palette Sensations Culinary School, where they will learn to cook and bake!  Psst – these classes are for kiddos of all ages (parental supervision is needed for kids under 7 years of age) and no experience is required! Yay!
27. Visit BT21 + Line Friends: My Little Buddy Cafe at Orchard Central
Here is a menu brimming with cuteness! Kumoya Orchard Central is back with a new pop-up theme, BT21 + Line Friends: My Little Buddy Cafe. Yay! Don't miss out on its limited-time menu with super exciting offerings, like Chimmy and Mang Seafood Curry Rice, Brown and Cony cheeseburger with spicy kimchi mayo, Sally and Choco Korean chicken stew, etc. The kiddos can also enjoy fluffy frappes decked out in colourful candy pearls that will make them go absolutely bonkers!
28. Unleash your best moves at the NERF Action Xperience
If rain is scuppering your outdoor plans, get up, get moving, gather a group and head over to Marina Square for hours of NERF fun! Conquer obstacle courses, challenge yourself on accuracy, and compete against your friends. You can also fill a NERF gun with paint and spray your own t-shirt to create your own unique designs! Psst… Check out the 'all-in' ticket for maximum value, and there are special discounts on NERF guns to purchase in their store! Here's how to book tickets.
29. Visit Legoland Malaysia
31. Ride ponies at Gallop Stables
If you're looking to escape the high-rise city life of Singapore this school holiday, head out to Gallop Stables. With locations at both Turf City and Pasir Ris, you can let the kids take a pony ride, as well as opt for a feeding session with the horses!
32. Visit a fire station!
If your little ones love to dress up as firefighters, they are going to love visiting a local fire station to see a real life fire truck! Fire stations are open to the public on Saturday mornings, so little ones can meet their heroes. Visitors can go on guided tours to meet firefighters and paramedics, and learn how the Singapore Civil Defence Force (SCDF) responds to emergencies. Check the SCDF website for more details.
33. Visit the first pug cafe in Singapore
Love pugs? This ought to get your tail wagging. What The Pug, Singapore's first pug cafe, is home to 12 wrinkly-faced canines with distinct personalities and quirks. Kids can play with the young hyper pugs, while parents will appreciate cuddling and chilling out with the older dogs. Sessions start at $18 per person, lasting 45 minutes. You'll also get a canned drink and a Polaroid photo as your take-home souvenir. Psst, once you're done, you can pop by Meomi Cat Cafe to continue your furry adventures!
34. Get creative in this mixed-media space
Studio An has an extensive supply of art materials, mediums and equipment for art experimentation and freedom of expression. We love the sound of the Dirty Debbie Art Buffet where you can try a bit of everything – it's mixed medium so you can choose from painting, sketching, drawing, silk screen printing, calligraphy, wood or linocut printing. It's an awesome opportunity to bring out your inner artist and try things you've never had the chance to do before! Create alone or collaborate with others, the choice is entirely up to you. This is an open-minded community with artists of all experience levels and from all walks of life. Finally, art can be accessible and affordable for everyone.
35. Light up the nights at a dazzling light show
Treat yourself and the whole family to Wings of Time, a fun nighttime experience. Be mesmerised by a multi-sensory water display, laser show, fireworks and music as you soar through space and time in a magical adventure! You should also check out Spectra, which is happening again at Marina Bay, and don't forget our firm favourite Garden Rhapsody – the whole family will love the music and lights shining amidst the Supertrees.
36. Swing, spin, splash – get some friends together and have an arty party!
Art jamming is a trend we're loving, as not only does it get the kid's creative juices going, but they can bring home something to keep as well! The whole family can enjoy these art sessions. Choose from decorating your own tote bags or canvas prints, swing and splash sessions, or glow-in-the-dark neon paints! Check out Splat Paint House if you fancy spraying the walls with nerf guns, Arty Party for swing, spin, splash sessions, or if creating a canvas rivalling Picasso is more your style, have a look at Art Jamming classes. The HoneyKids team tried out Spin Paint House recently, and here's our review of it!
37. Check out the Changi Experience Studio!
Even if you're not travelling anytime soon, you still need to head to the airport to check out the Changi Experience Studio. Made up of ten interactive zones – you can learn all things Changi, as well as get the chance to go behind the scenes and take part in simulations of airport activities. Are you ready to take off?
38. Cool science stuff at Science Centre Singapore
Science Centre Singapore is always a great day out for the kids, and it just got better with the Smart Nation Playscape exhibition. Through eight tech zones, you'll get a glimpse into future technology and its role in developing Singapore. There's also a cool opt-in personalised experience, where you can collect digital stamps and take a snapshot of your journey and receive a 'PlayScape Passport' via email to remember your digital escapade!
39. Book a playcation at Shangri-La Singapore
This school holiday, level up your family staycation by booking a Playcation at Shangri-La Singapore! The hotel has three unique holiday experiences for families, offering a curated mix of fun and learning activities. Choose from: Fun Family Playcation, which comes with playtime at buds by Shangri-La and Splash; Picnic Family Playcation that includes a family picnic in the hotel's lush gardens; or Nature Lovers Playcation with Gardens by the Bay that has a digital scavenger hunt at the Gardens for the kiddos. You and your family will be staying at the hotel's new Garden Wing Deluxe Family Terrace room that comes with direct access to its gardens. And since bub will be spending most of their time having fun at camp, this is a great opportunity for mums and dads to get some much needed alone time too!
And here are even more ideas of things to do this school holidays!
40. Check out an exhibit or two!
As well as plenty of online options, you can also check out one of the many kid-friendly museums across Singapore in person this school hols! Head on down and be wowed by technology at ArtScience Museum or take in a whole lot of history and art at Asian Civilisations Museum! Our recommendation? Head to the Lee Kong Chian Natural History Museum and check out the dinosaurs! Psst… we spent a day at the Singapore Art Museum and had loads of fun!
41. Get outdoors and visit a farm!
Who knew that Singapore had such a big selection of farms! Yep, you don't need to head too far out of the city, and you'll be in beautiful Kranji and farm country! Choose from Jurong Frog Farm, Hay Dairies, Bee Amazed Garden, or dine on some hearty farm-to-table fare at Bollywood Veggies! Parents, you'd definitely want to check out The Sundowner, a rooftop farm experience located at Siglap…
42. Have a jump at a trampoline park!
Trampolining is a great way to tire out the kids, so if you have over-active littles that need to burn energy fast, then book one of these trampoline parks this hols to wear them out!
43. Unleash your inner speed demon!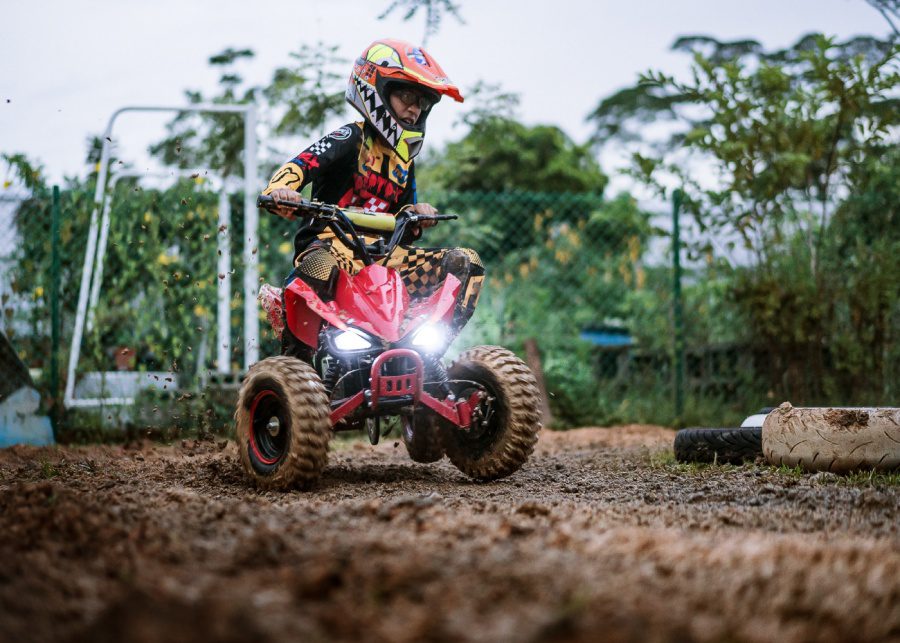 Are you an adrenaline junkie? Then get ready to unleash your speed demon at some of these fun places across the island. The Karting Arena race track at Jurong boasts a length of 700 metres, all-new petroleum-powered Birel karts, and racing speeds of up to 50km/h. FYI: Only kids aged nine and above and at least 140 centimetres tall are allowed in. Another option is KF1 Expo, created by the same team in charge of the Singapore Night Race. Else, you can take the kiddos to Mud Krank at Gallop Kranji Farm Resort, where they can drive their own All-Terrain Vehicle (ATV) around the circuit for 15 minutes.
44. Try your hand at fishing or prawning!
Have you always wanted to fish your own catch (or pet)? We've found a few places where your younglings can try their hand at longkang fishing, a hobby popular with the locals back in the 50s and 60s. Otherwise, head down to D'Best Recreation, the largest saltwater fishing pond in Singapore. While kids attempt to fish or go multiple rounds of prawning, the adults can take a breather at the bars and restaurants within the area.
45. Try sustainable fishing at Bedok Jetty
While we're on the topic of fishing, how do you know if you've caught a rare fish and, inadvertently, disrupted the country's marine biodiversity? Enter FishX, a series of youth-led workshops where new and seasoned fisherfolk can learn how to fish sustainably and responsibly while contributing to marine conservation science. All fishing equipment will be provided, so all you need to do is turn up!
46. Go on a bike ride (or try water biking!)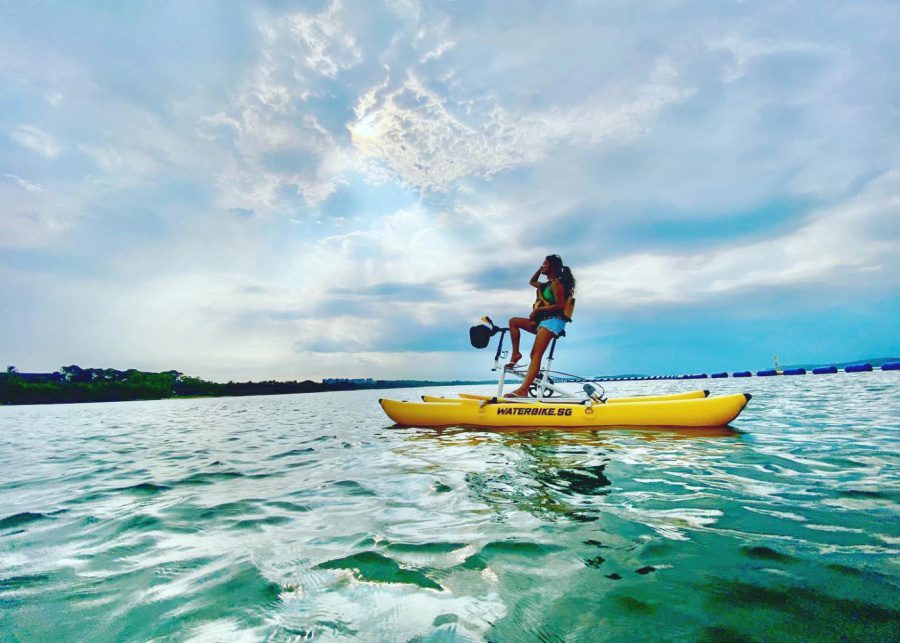 There's no doubt that Singapore is one of the best places to go biking with kids. Whether you're off to conquer a park connector or just a nearby park, it's bound to be a whole lot of fun. Looking for something completely different this holiday? How about having a go at water biking? Yes, it's really a thing! You'll get a chance to cycle on water, but instead of wheels, the water bike consists of two floats. It's a safe and easy way to explore the beaches without getting wet or having to balance!
47. Hit the park!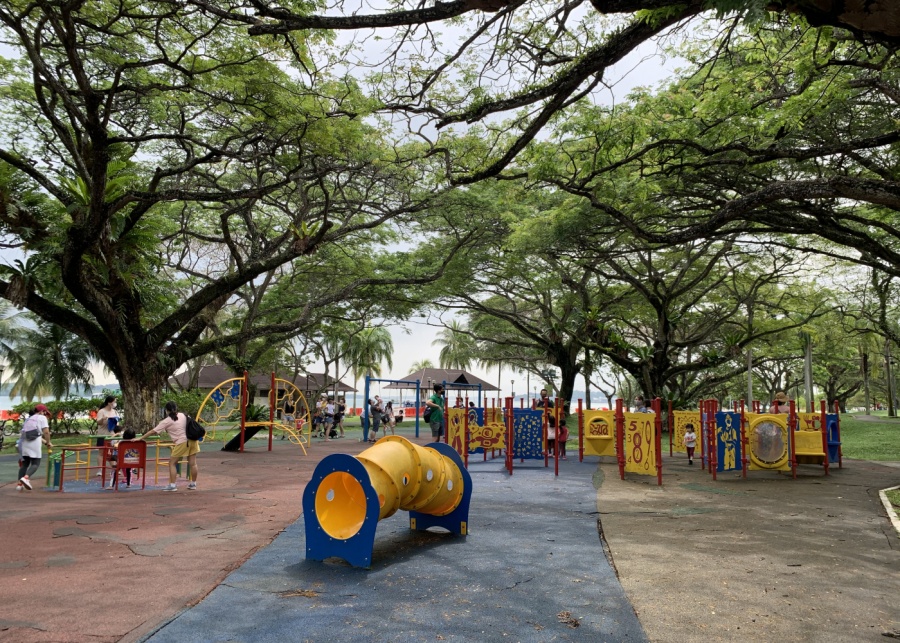 One of our favourite things to do with the kids? Hit the park! From West Coast Park to Pasir Ris Park and all the parks in between, there are so many green spaces to explore with the kids. Check out our ultimate park guide and pick your faves for guaranteed school holiday fun!
48. Beat the heat with an ice cream-making sesh!
The all-famous Singapore heat is hard to beat, but we know just the thing to get the fam cooling off in a flash. Sign up for an ice cream-making sesh at Carrara and get the full scoop on ice cream-making, from scratch! Best part? You will get to take home two flavours of ice cream you make at the workshop and a few easy recipes to try at home. Super cool! If heading out isn't your thing, how about a fam-friendly nice cream-making session at home? Get your food processors out and try out our round-up of nice cream recipes that are guilt-free and packed with all those nutrients for our growing folks. Here's to a lickin-good holiday!
49. Have a daycation over in Sentosa!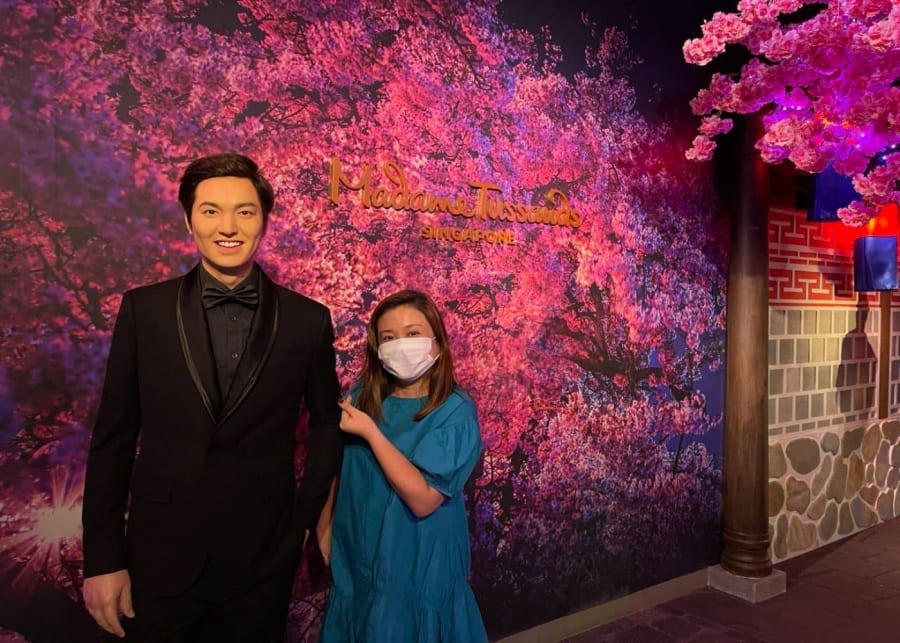 Sentosa is the place to head if you're looking to have a fun-filled fam day out. From the dizzy heights of the cable car to get there, to all-out good times at Universal Studios, and then there's the beach. On second thoughts, maybe you'll need a week to do it justice. Staycation, anyone?
50. Go island hopping!
What about exploring the islands of Singapore for a change of scenery? Step back in time over to Pulau Ubin and check out the last surviving kampong. Looking for a new beach? Have Lazarus Island on your list. Psst – you can now get a ferry from Sentosa Cove to Lazarus Island, too! Finally, for easy-peasy island exploring (with no ferry needed), walk across to Coney Island via Punggol Promenade Nature Walk!
51. Explore more of Singapore on one of these heritage trails!
We're always looking for new places in Singapore to explore, and thankfully, the good folks at the National Heritage Board have just the thing up their sleeve – heritage trails! From Chinatown to Haji Lane, learn a new thing or two about Singapore's history and heritage this weekend!
52. Get creative with these crafting tutorials!
Looking to keep the kids occupied indoors? Then check out a crafting tutorial or two! You don't need to look far; thankfully, the internet is our friend with a whole host of ideas just waiting to be tried. Head on over to DIY – its instructional videos are easy enough for the kids to follow, and they're fun, too. Another great option to check out is Creative Bug's many classes online. Want to impress the older kids? We say opt for a make your own slime or playdough session – a winner for all ages!
53. Grab a hamper and have a picnic!
All kids (and grown-ups, for that matter) love the novelty of a picnic. Grab your fave snacks, sandwiches and the essential picnic blanket and you're away! If you are heading off to your favourite park, check out our guide of fab picnic accessories to complete the spread.
54. Treat the fam to afternoon tea!
The past year has been tough, so how about a treat for all the fam this school hols? We say book an afternoon tea and indulge in scones, cream and jam. Psst – some even offer fab takeaway options if you fancy the sweet and savoury delights without heading out!
55. Book a staycay!
No travel plans? No problem – just make a holiday of it here in SG! With so many super options available right here in Singapore, you'll think you made it to Bali after all. Check out our guide to the best family staycays – good luck picking!
56. Get the holiday vibes at the beach!
What better way to fill the hols than hitting the beach? And good news, there are loads of options in sunny Singapore. From the fun-filled and white sands of Sentosa to getting away from it all in Kusu Island. Yep, you might have to omit those tankers from your line of vision, but otherwise, you can sit back and pretend you're in Thailand! Remember to pack the sunscreen!
57. Explore the Park Connector Network!
It's not just the parks that you should have on your bucket list this school holiday; you need to check out the Park Connector Network (PCN) too! Covering a distance of over 300km (wow!), the PCN connects some of the best parks in Singapore with one another, so no need to traipse along roads to get between them. They are also perfect for scooting, biking or walking territory in their own right too!
58. Get scooting at one of these spots!
Want some outdoorsy fun? Pack the scooter and head off to one of these fab scooter-approved destinations. It's perfect for getting the kids active this school hols. From Punggol Waterway Park in the east to Jurong Lakeside Garden in the west, there are fab spots to scoot all over Singapore!
59. Explore a nature reserve
As well as the beautiful parks all over Singapore, there's also some pretty special nature reserves that are worth a visit in their own right. From getting your nature fix at MacRitchie to seeing the sunset over in Labrador Park Nature Reserve, it's not called the Garden City for nothing.
60. Go on a temple trail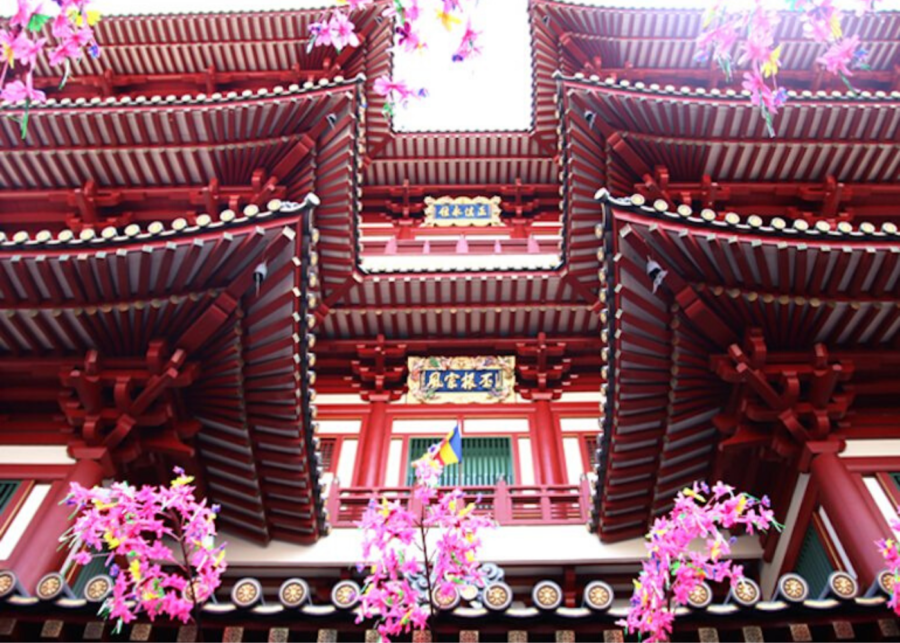 Give the fam a dose of culture and check out the stunning temples dotted across Singapore. From Buddhist and Taoist temples to amazing Hindu temples, we love how diverse Singapore is for so many reasons, and this is just one!
61. Explore a new 'hood!
From Chinatown to Joo Chiat, and don't forget fam fave Holland Village. There's a heap of neighbourhoods to explore in SG this school holiday. Add a few to your list, and you'll see a new side of SG in no time!
62. Visit a library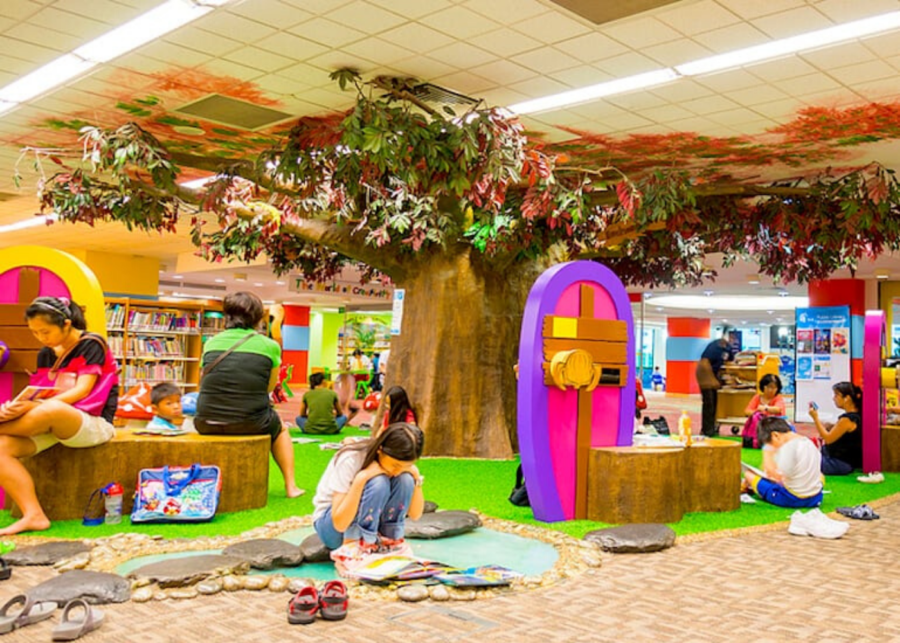 Singapore offers some pretty special libraries that are sure to impress the kids. We love the fancy facilities and great reading nooks at HarbourFront where you can definitely while away the hours and get some new reads! Or, if you want new books to permanently add to your bookshelf, then check out our fave kid-friendly bookstores.
63. Climb new heights this school holiday!
We all know that the kids need to burn energy over the hols, and we think we've found the perfect activity – rock climbing! Besides burning tonnes of energy, rock climbing is actually a workout mentally and will teach kids as young as four years to hone their motor skills, flexibility and logical thinking. Win, win!
64. Beat the heat (or rain!) at an indoor playground
If the heat is getting to you, or you're hit with an almighty Singapore downpour – then head straight to indoor play (now sorted by location!) From hanging out with Pororo and friends at Pororo Park to trying out every sport under the sun (but without the rays) at SuperPark, there's something for all ages! Psst – got littlies? Don't let the toddlers miss out, check out this list of dedicated play spots for bubs!
65. Have a Xmas movie marathon at home!
If you need to pass the time at home, then how about a movie marathon? Vote on a fave film, grab the popcorn and indulge in a film fest with the family. Here are our favourite films if you can't pick! If you are in the mood for some Christmas fuzziness, how about checking out our round-up of the best festive movies to watch with the kiddos?
66. Pick a new board game
If you've overdone the screentime, then how about taking it back to old-school fun with a board game? Yes, there will be arguments, but it's all a bit of fun, right?! From classics like Risk to new faves Like Sushi! Go! there's a board game for everyone!
67. Knock down some pins and go bowling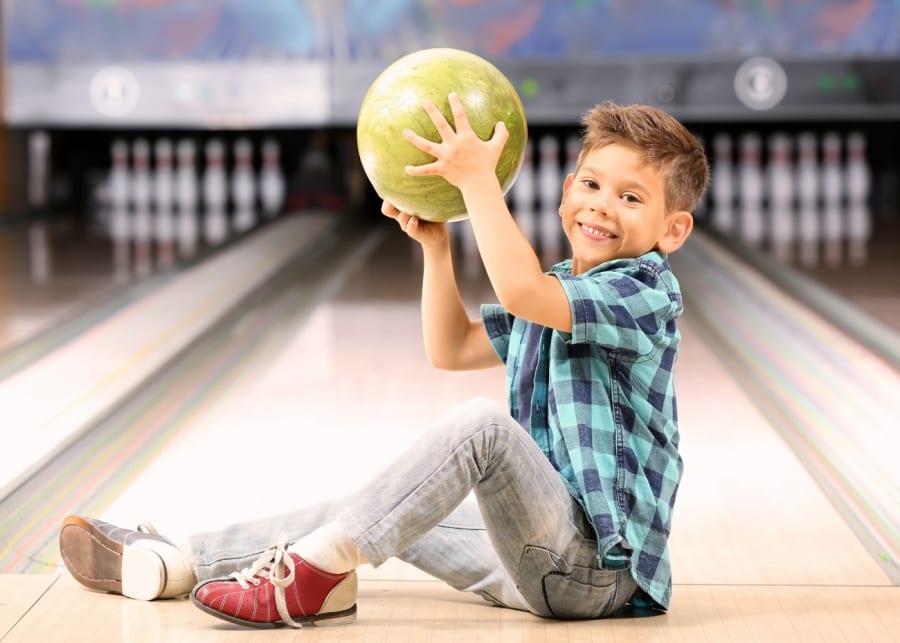 A bit of friendly competition and a snazzy pair of shoes is sure to liven up the hols, and there are some amazing kid-friendly bowling alleys in Singapore to put your bowling to the test!
68. Go on holiday!
The difficult part of planning a holiday is deciding which location to pick – with city breaks and beach options on offer! Will it be exploring the sights in Seoul, or checking out a beach in Thailand? If you are looking for a staycay-op nearby, check out our ultimate travel guide to Desaru Coast, Malaysia, with everything you need to know about how to keep the brood entertained on the island. Or what about one of these fabulous festive options? Get packing people… you've got a plane/boat to catch!
69. Be a kidult again at Timezone Jurong Point
Parents- this will sound like music to your ears! A 17,000 sq ft floor space filled with virtual reality arenas, plush toy machines and a drift bumper car track. All this fun is packed under one roof! Timezone has made its way into Jurong Point to entertain your restless kiddos this holiday, and as you can tell, there are hours of entertainment in store. So head on over to the West and take your pick from the 160 gaming options at Timezone.
70. Can't get enough dinosaurs? Here's where to hunt for dinos across Singapore
There are loads of fun dino-themed activities, exhibitions and events happening across Singapore this school holidays! Check out Dino-Quest at Suntec City to learn all about the history of Australian dinosaurs, or visit Marina Square and the ROAR adventure park! You also can't go wrong with a visit to Universal Studios Lost World for some of the best dino rides in Singapore.
71. Head to the theatre with these new shows and live performances
We're big fans of live performances over here, and we are so excited that we can once again take the kids to see musicals and theatre shows this school holidays. We'll be lining up what's on at the theatre and reviewing various live performances taking place across Singapore, so keep checking this page to see when new shows are added!
72. And don't forget this bucket list of attractions!
Still need more ideas this school holiday? We've put together the ultimate bucket list of fam-fave SG attractions that you can work your way through! After outdoor ideas in particular? We've got a separate guide for that, with a whopping 100 ideas. Indoors? That's covered too. You're welcome!
Looking for more ways to keep the kids busy this school holiday in Singapore? Check out our ideas for what to do this weekend!