The September school hols are here! Here's everything you can do with the children during this school holiday break.
High fives all around for Phase 2 – whoop whoop! Finally, the kids are able to fully explore their fave parks and green spaces, hang out with their buddies (only in groups of five, of course) and even check out a kid-friendly exhibit or two at the museums. Yep, we're definitely psyched (and still a little cautious) about being able to enjoy the September school holidays. Now, all we have to do is fill up our days with fun-filled activities for the whole fam. Ready for our lowdown on all things kid-friendly this September? Here we go!
Things to do with the kids this September school holiday
1. Check out all the pretty lights at Gardens by the Bay's Mid-Autumn Festival
After dinner, round up the kids and head over to Gardens by the Bay for a colourful feast for the eyes. From 18 September onwards (7pm-10pm), the outdoor gardens will be kitted out with 2,000 hand-painted lanterns for your viewing pleasure. Don't forget the mozzie repellent and scooters!
2. Spend QT with gran and gramps through the NAC's Silver Arts festival
Across two weeks from 1-13 September, your fave octogenarians will get to enjoy a total of 15 daily programmes across various genres such as visual arts, music, dance and film. It's a great way to get the kids to bond with the grandparental units as they guide them through the Silver Arts Facebook page. We're especially excited for the Foto-Foto Memory Lab: A Writing Workshop for Seniors by Amanda Lee Koe, happening on 2 September. Finally, the kids will get the lowdown on what REALLY happened when mum was a cheeky little girl.
3. Find the school of your dreams at the HoneyKids International School Digital Fair
Happening on 12 September, you'll finally get to experience our uber-popular school fair in the comfort of your own home. Here's your chance to interact online and get ALL your important school-related questions answered by school representatives from over 15 international schools. The best part? It's absolutely FREE! Register to start your search for the perfect school today!
4. Go on a healthy food crawl
If you're like us and are on a constant quest to get the kids eating healthier, the folks at Deliveroo have got you covered. This September, they've planned two afternoon sessions of a Healthy Food Crawl on 12 and 13 September. Finally, the littlies will see for themselves all the goodness that goes into nutritious feasts from Haakon, Poke Theory and Shake Farm. Don't forget to book your tickets ASAP!
5. Beat the heat with snowy paintball and see cool animals at Science Centre Singapore!
Run, duck and slide through an exhilarating winter wonderland at Snow City Singapore, and even battle it out in a game of paintball as you escape from the boiling Singapore sun. Yep, there's lots of fun to be had at the Science Centre Singapore this September, including our fave Living Worlds: An Animal Planet Experience Exhibition. We can't wait to hang with the fam at our go-to spot in the west!
6. Explore Coney Island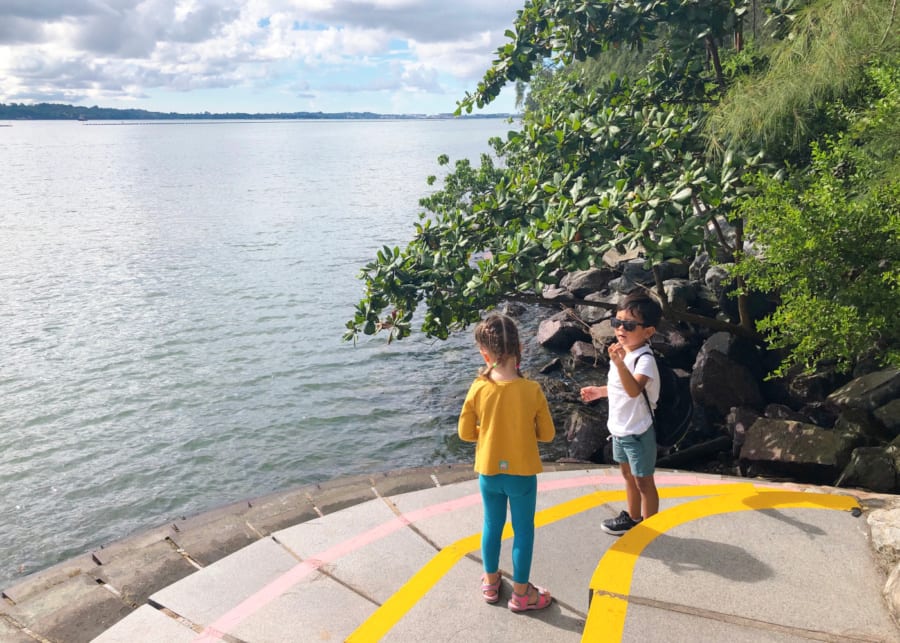 If you haven't yet, we say head over to Coney Island in Punggol this September. Whether you've got a toddler or a hormonal teen, they're bound to enjoy this little adventure that's just a few minutes away from home. Luckily for you, we've got the ultimate guide on how to spend an awesome day at Coney Island with kids. You're welcome!
7. Treat the girls to a mani-pedi sesh
Sure, mani-pedi sessions are usually reserved for me-time, but this time around, why not bring along your special girl and get your nails did? We've found the best mother-daughter mani-pedi salons on the island for a pampering sesh that your mini won't ever forget. The best part? They all have kiddie-friendly nail polish so you can ease your worries away and just enjoy!
8. Get the kids reading some 'zines
Although you might get an eye roll from the kid for asking them to do more reading (cue: "It's the school holidays muuuuummm…"), they'll hopefully change their minds once they see that glossy cover. We recently raved about Kookie Magazine, a mag aimed at youngsters aged seven to 12+ filled with girl power galore. It's great reading material over the September school holidays! Check out our other fave picks here.
9. Treat 'yoselves to a staycay
Now that lockdown is finally over, many hotels in the Little Red Dot are finally open for a special getaway. Make sure to do your research before you lock in your reservation – lots of hotels have special staycation rates and offers going on. Our tip? Pick a hotel with an awesome pool or cheeky indoor and outdoor play areas!
10. Jump around at Jewel Changi Airport
It's a bummer that we can't travel anywhere at the moment. Wanderlust is real – though we can curb our urge to travel by heading to Jewel Changi Airport for some fun! There are tons of fun activities you could do with the kids. For example, you could expend the little ones' energy by taking them to the Manulife Sky Nets in Jewel. Or, you could explore Canopy Park. Better yet, if you spend a minimum of $30, you can redeem two 30-minute play passes to PLAY! indoor playground (one of our kids' favourites). Psst, we hear, the tallest slide in an airport, [email protected], is also reopening, so keep your eyes peeled for that!
11. Feast on a barbecue
Barbecues are great. Endless amount of hotdogs, corn, pulled pork and more under the glow of the setting sun… if only we needn't worry about a global pandemic. But don't let that stop you and the family for some fun! Head to W Singapore Sentosa Cove for premium cuts of meat and grilled seafood on Friday 4th or 11th September for a BBQ sizzle! Feast on gourmet spreads from the live carving station and the BBQ grill with grilled Iberico pork secreto, lobsters, king prawns and more. Oh, and the chefs will also be serving up prime cuts of meats in traditional Churrasco style. Prices are at $80++ for adults, and $38++ for children. Yum!
Where: W Singapore – Sentosa Cove, 21 Ocean Way, Singapore 098374
12. Discover Mount Faber
Mount Faber is commonly known as the start and endpoint of the cable car journey into and out of Sentosa, but did you know it's also home to the highest Merlion statue in Singapore? (We didn't either). This September, hop on the Gai Gai Tour at Mount Faber to learn more about its heritage and explore the peak in a private tour. It's the perfect activity to do during the September school holidays, and it comes with a complimentary round-trip cable car ride on the Mount Faber line. How exciting!
Looking for more ways to keep the kids busy this September? Check out our ideas for what to do this week!