Still from Peter Rabbit. Photography: Sony Pictures
It's not Easter at all unless you spend a snuggled-up afternoon watching one of these hoppy kinda bunny-themed movies with the family...
Easter is coming around real soon! If you haven't already made your Easter crafts, well – you're running out of time. Get to it! But if you're sorted, here's an easy parenting activity for you to do with the kids. It's so simple, you could even take a nap or do some work at the same time. Snuggle up with a plate of hot cross buns and catch one of these bunny-themed movies, perfect for Easter.
Bunny-themed family movies for Easter viewing
1. Rabbit School: The Guardians of the Golden Eggs
This 2017 animated comedy features young shoplifter Rabbit Max as he gets trapped in an old-fashioned bunny school. Here he acquires the secret skills of a true Easter Rabbit. Pretty cool! But this bunny finds it hard to keep up with the daily routine of the school, from dorm rules to exercise, because in all honesty, he is too cool to be living in this hood. Brace yourselves for tons of action and bunny attitude as he battles a sneaky fox family through his adventures at Rabbit School.
2. Presto
If your little fluff tails can't make it through a movie, we highly recommend switching the channel to this all-time favourite short film. The comical animated film by Disney Pixar features famous magician Presto as he sets the stage on fire with his showcase of magic tricks. But when he forgets to feed his rabbit Alec one too many times, his magic show takes a hilarious turn as the bunny co-star takes revenge. We reckon the fam will be in splits at the end of this one!
3. Alice in Wonderland
This all-time favourite Disney classic created in 1951 is always a winner with the fam, hands down! And it features a few madcap bunnies that the kiddos will love. The story is about a curious little girl Alice as she becomes curious-er following a frantically late White Rabbit into Wonderland. Journey with her through fantastical places as she crosses paths with kooky characters like the Mad Hatter (another funny bunny) and others. All in the quest to discover why the high-strung White Rabbit is in such a rush, all the time. Psst, take hints from the Mad Hatter's tea party for your Easter do. Very cool!
4. Peter Rabbit
If you're talking about a bunny-themed movie, you've got to put on the 2018 feature-length adaptation (pictured up top) of Beatrix Potter's lovable, naughty rabbit, Peter. It'll charm the socks off kids and grown-ups alike – there's a little bit of Peter in all of us, after all!
5. Peter Rabbit 2 – The Runaway
Can't get enough of this little rabbit rogue? Peter Rabbit 2 (2021) sees James Corden return as the voice of Peter for another raucous adventure! Bea, Thomas, and the rabbits have created a makeshift family, but despite his best efforts, Peter can't seem to shake his mischievous reputation. Adventuring out of the garden, Peter finds himself in a world where his mischief is appreciated, but when his family risks everything to come looking for him, Peter must figure out what kind of bunny he wants to be. Lots of fun for the whole family!
Psst: There's also a super cute Peter Rabbit TV series on Netflix for little ones who can't sit through a full-length movie, or check out the much-loved books for more woodland adventures!
6. Miss Potter
Where did Peter rabbit come from? This film could be an invaluable history lesson for the fam to discover how the famed storybook character came into being. Miss Potter is a classic film set in the bustling high streets of London and the laid-back countryside of the Lake District. It journeys with best-selling author Beatrix Potter and how she defies all odds to pursue her storytelling voice as a woman in Victorian England. The film features a few cute bunnies that inspired many of Miss Potter's storybook characters. Plus, Renee Zellweger does a fab job bringing Miss Potter's character to life.
7. Hop
E.B., the Easter Bunny's teenage son, heads to Hollywood with stars in his eyes, determined to become a drummer in a rock 'n' roll band in this bunny-themed movie. Does it go to plan? Of course not! But it's hilarious to watch and will definitely give the whole fam a big case of the warm and fuzzies.
8. Rise of the Guardians
If you have kids who are starting to wobble in their Easter Bunny beliefs, Rise of the Guardians will sort that right out for another year or two. Heck, it even had us believing not only in the Easter Bunny, but in Santa, the Tooth Fairy, Jack Frost and The Sandman, too!
9. Winnie the Pooh: Springtime with Roo
It's springtime at the Hundred Acre Woods! And at every Easter, Rabbit becomes the Easter bunny, but he's too busy cleaning to play the role this year. He's even making the rest scrub and clean alongside him! What will happen to Easter celebrations then? It's up to Pooh and friends to bring the Easter spirit back into Rabbit.
10. Zootopia
In a city of anthropomorphic animals, rookie bunny cop Judy Hopps meets and becomes friends (kinda) with a cynical con artist fox, who she ends up working with in order to uncover a dastardly conspiracy. So much love for this fun film! Also: Shakira as a sexy gazelle is genius.
11. Wallace and Gromit: The Curse of the Were-Rabbit
Not exactly the bunny-themed movie you're looking for, but this award-winning stop-motion animation is sure to delight your Easter weekend! Wallace, an inventor with a love for cheese, and his silent dog Gromit investigate a town that has been infested with bunnies… except, these are not ordinary bunnies. An Easter mystery and mayhem? A sure-watch!
12. Secret Life of Pets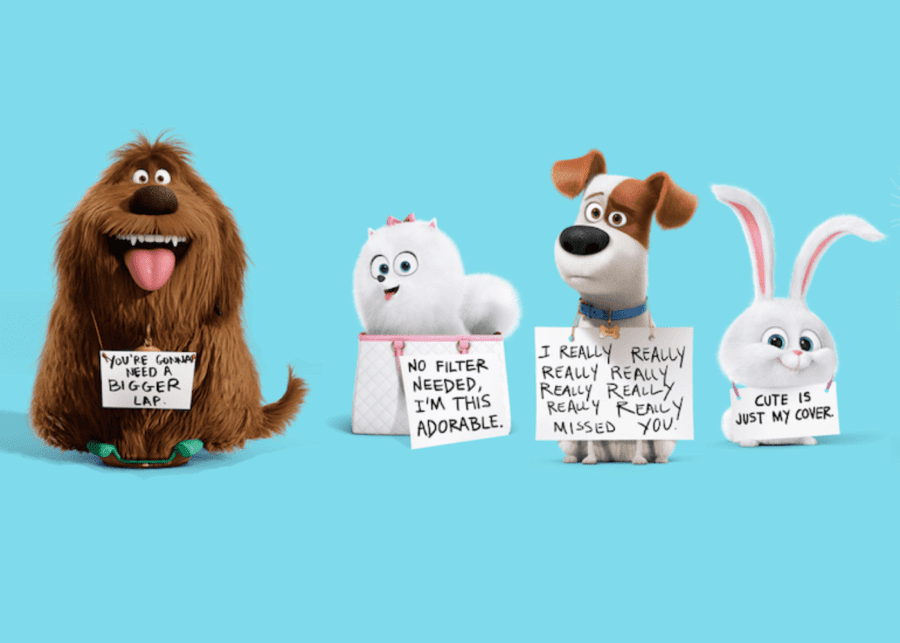 While Secret Life of Pets is mostly about a terrier named Max having his life upended by a new pooch addition to his home, Snowball the rabbit is definitely our fave character in this kooky movie. He might look cute and cuddly, but he's harbouring pure disdain when it comes to pets and their owners. #abandonmentissues. Psst, there's a sequel too.
13. Who Framed Roger Rabbit
An oldie but a goodie, this 1988 movie features a toon-hating detective (Bob Hoskins) who is a cartoon rabbit's only hope in proving his innocence when he is accused of murder. And all these years later, we not only still love the animation/live-action combo in this film, but we also still want to look like Jessica Rabbit! (Note – this one might be better for older kids!)
14. Bambi
Can you believe that this timeless, adorable Disney classic is almost 81 years old? Yes kids, that's even older than us. And while obviously the main character is a cute deer, every time we watch the movie our hearts are stolen by Bambi's BFF, Thumper. Too adorable!
15. Watership Down
Not one for younger kids (you'll have them refusing to ever go near a bunny again), but this gritty movie adaptation of Richard Adam's 1972 novel of the same name is as powerful today as it was when it was made back in 1978. It follows the (less than fluffy) tale of a group of rabbits who need to find a new home because of the upcoming redevelopment of their existing home by humans. Not as easy as it sounds when they have to contend with a warren full of the meanest rabbits in the history of rabbits. We're not even kidding when we say General Woundwort is one of the scariest cartoon (or otherwise!) characters ever. Netflix released a remake in the form of a series, which, in our humble opinion, is not a patch on the movie, but still worth a watch.
16. Space Jam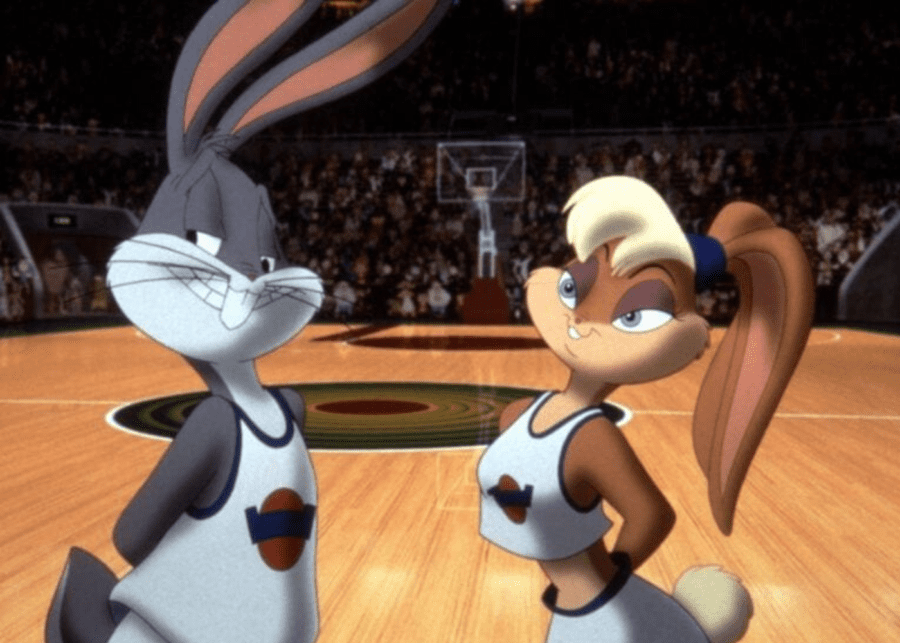 We can't have a round-up of rabbits without one of the best-loved rabbits of all time: Bugs Bunny! Catch him and basketball legend Michael Jordan in the mad capers of the Looney Tunes gang attempting to win their freedom via a basketball match. It's a classic that's definitely worth watching!
BONUS MOVIE: Charlie and the Chocolate Factory (any of them!)
It's not a bunny theme, but there is chocolate, and what is Easter without that?! Our favourite is the original, but Johnny Depp gives it a good crack as the chocolate maker handing out tickets to visit his wonderous factory.
Hoppy viewing!