Photography: Pan Pacific Singapore
Chocolate eggs, bunnies, and hot cross buns... yes please! Here's where to stock up on your Easter eggs and treats this year.
With Easter fast approaching (Easter Sunday is on 4 April this year), we're starting to put our thinking (Easter) bonnets on and prep for this chocolate-fest of a holiday. Besides all the crafts, camps and staycays to consider, there's one thing that springs (or should that be 'hops'?) into mind: chocolate! Stock up on your sweet and savoury treats with our rather egg-cellent guide to where to buy your Easter eggs in Singapore this year…
Where to buy Easter eggs (and Hot Cross Buns!) in Singapore
1. Pacific Marketplace, Pan Pacific Singapore
Is it art, is it chocolate? Either way, we're game for the goodies at Pacific Marketplace (pictured above). Our top picks? The show-stopping large beehive egg made with dark, milk and almond chocolate, adorable round rabbits and the scrumptious marshmallow eggs. Don't forget your hot cross buns, too – these ones have fillings of chocolate or blueberry cream cheese. Get. In.
Pacific Marketplace, Level 1, Pan Pacific Singapore, 7 Raffles Boulevard, Singapore 039595
2. Marks & Spencer
We love good ol' Marks & Spencer at the best of times for its tubs of treats and can't-stop-at-one Percy Pigs. Come Easter time, it is definitely a place you want to make a pitstop at. Stock up on its varied hot cross bun offerings, then take a mosey at the chocolate goods. Each year, we've been thrilled at the range of Easter eggs and treats for the whole family, such as chocolate lollipops, chocolate bunnies and more. Resist at your peril – you'll be a stronger person than us if you do!
Marks & Spencer, various locations.
3. Godiva
There's something about Belgian chocolate that makes us go weak at the knees… especially if it's on a stick. And bunny-shaped. Bounce over to Godiva for some seriously good eats this Easter: even if you aren't tempted by the seasonal treats (how would that even be possible?), we're sure the ice-cream, dipping chocolate, signature pastries and soft serve will float your boat. Five locations, five opportunities for a chocolate-induced binge-fest.
Godiva, five locations across Singapore.
4. Anjali Chocolat
Stop what you're doing and just LOOK at the cuteness that Anjali Chocolat is rolling out this Easter. We're talking Belgian chocolate bunnies, eggs and chicks for you to stock up on. We also love the semisweet options if you're trying to be slightly more sugar-aware. Nom!
Anjali Chocolat, Units #01-15 & #01-16, Block 73 Loewen Road, Singapore 248843
5. Redmart
Don't discount Redmart for your Easter egg shopping: last year, we reckon we bought out the entire range, all from the comfort of our sofa! While you can't physically see what you're committing to before purchasing, there's something to be said about the convenience of doing your treats buying at the same time as your weekly food shop…
6. Leela's Fine Chocolates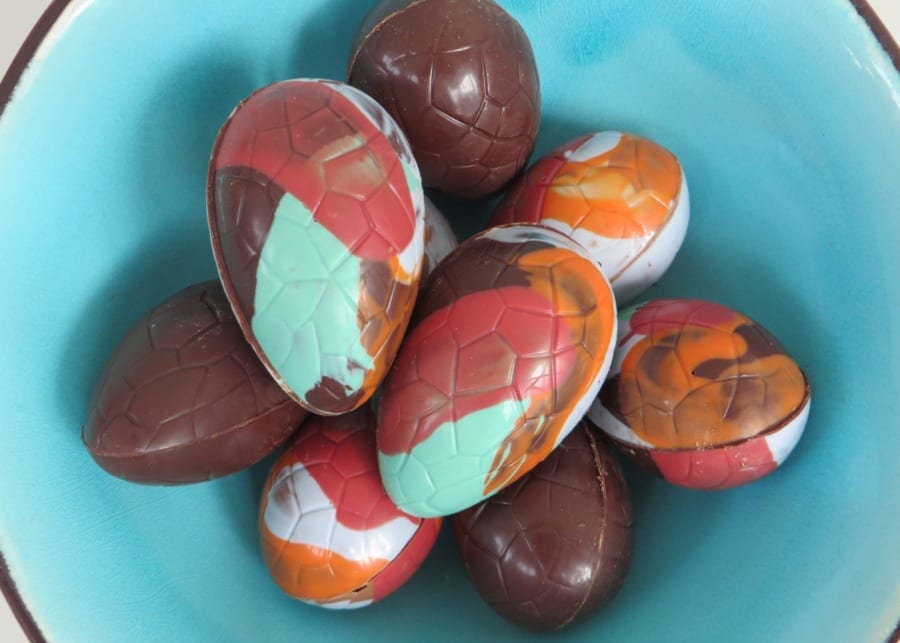 Now taking orders for Easter goodies, Leela's has some fabulous goodies on offer if you want to go down the gourmet route. From mini (and regular-sized!) Easter eggs to chocolate lollipops, everything is cute as a button and delicious to boot. And it's locally produced here in Singapore, so yay to that, too!
7. Hello Chocolate
Get in early and preorder your Easter hampers before they hop out of here – they look pretty epic to us! We love Hello Chocolate's range of cute-as-heck Easter treats, including vegan-friendly offerings for all you plant-based peeps out there. The best part? It delivers to your doorstep, so there's something sweet and delicious to look forward to the next time you open your mailbox.
8. Venchi Chocolate
Duck on down to the basement of Takashimaya and pay a visit to Venchi Chocolate for its wide selection of Easter goodies. We love the mini morsels of yumminess – one is never enough! The good news is that there's also an outlet at Marina Bay Sands, so there's now double the opportunity to tuck into these chocolate delights!
Venchi Chocolate, 391 Orchard Rd Singapore Eataly Takashimaya, Singapore 238873; N.2 Bayfront Avenue Marina Bay Sands, Singapore 18972
9. See's Candies
This American family business gives us serious heart eyes! Come Easter time, we love the range of chocolate bunnies and Easter eggs on offer, as well as the sour jelly bunnies… mouthwatering stuff!
See's Candies, #01-K2 The Forum Shopping Mall
10. FairPrice, Cold Storage et al
Also… many of Singapore's supermarkets have mainstream Easter egg offerings that are lower in price but definitely high up on our lists! Think brands such as Cadbury, Lindt and Mars and you're on the right track. Keep your eyes peeled at your local haunt and snap them up, pronto.
Happy Easter, honey bunnies!