Our favourite ideas and tutorials for cute-as-a-button hats and bonnets. Glue guns at the ready...
It's official: we're gearing up to hop on into the Easter festivities! Have you booked your brunch and bought all your Easter eggs and treats yet? While we've already considered the Easter school holiday camps and ideas for how to spend the school holidays, there's still one thing on our list. Yep, the kids' Easter bonnets for the looming school Easter hat parade! And no, we're not going to leave it until the last minute again this year, so we'll be busting out the craft kits and whipping up these cute, super-easy Easter hats and bonnets…
DIY projects: how to make Easter hats and bonnets
For the boho mum: floral bunny headbands
Make 'em for your child, your fur baby… heck, even yourself! We are cooing over this modern alternative to Easter hats and bonnets. Two options here: the bunny ears headbands by Lavin Label use fresh flowers which we love, but the tutorial is based on having a bunny headband to start with (check Amazon, Cotton On Kids and Daiso to see if you can pick something cheap up). Then there's option numero dos: going total DIY and fashioning the actual ears yourself out of pipe cleaners. Bebeh Blog gives a fab tutorial for this method (pictured top of page), and it won't cost you the earth either. Check out our guide to where to pick up craft supplies in Singapore and job's a good 'un.
For the crocheting mum: knitted chick hat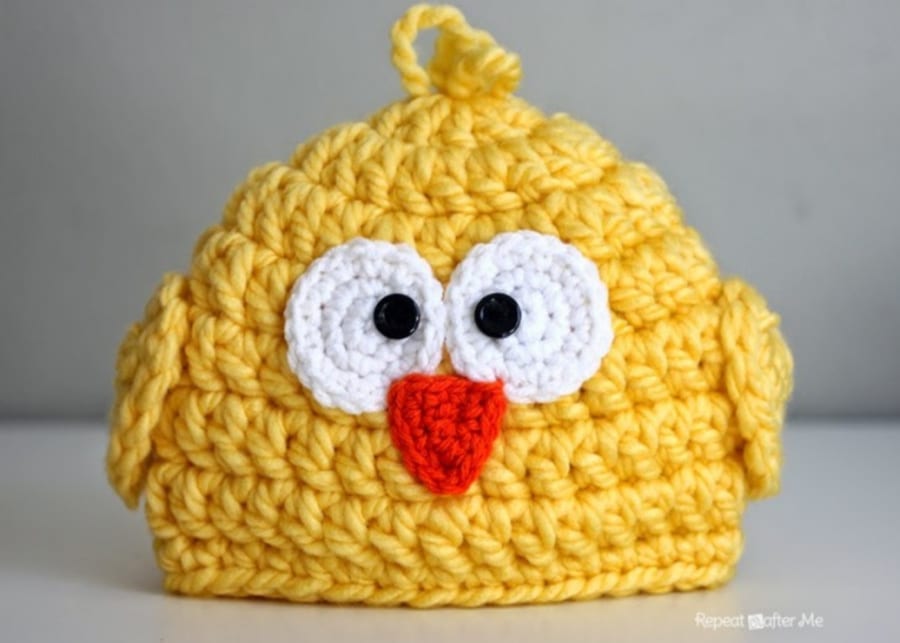 If you love to crochet and you don't tend to leave things to the last minute, then let it be known that we salute you. Your next step? Grab your needles and yarn and get cracking on this gorgeous lil Easter hat – it's a cute knitted chick! Bookmark Repeat Crafter Me's instructions on how to rustle up this oh so cute holiday accessory.
For the last-minute mum: paper plate bunny ears
We've all been there: you didn't read the memo, life got on top of you and you forgot. Oops. Never fear! Thanks to this very clever tutorial from Alpha Mom, all you need is a paper plate, some scissors and felt-tip pens and voila – a DIY Easter hat your littlies will rock. Even better, this method can be adapted for all the big holidays: shamrocks for St Patrick's Day, hearts for Valentine's Day and so on. Hoorah!
For the busy mum: Easter bunny party hats
This one's pretty simple too, and because you don't need a fancy craft kit, it's great for mums who are busy, busy, busy! You can also rustle them up quicksmart for the whole family if you're keen on twinning. The House That Lars Built has a great tutorial and template for these DIY Easter hats – we love the added touch of sprinkling homemade confetti in your hair too for a fun touch. Psst… have you checked out our tutorial for making mini party hats for your kids' toys?!
For the craft-challenged mum: bunny baseball Easter hat
If you're finding it hard to convince your little rabbit to don a hat, why not consider this minimalist option? It's basically cardboard bunny ears stuck to a white baseball cap – easy peasy (in theory), right? Kidspot has a fab video tutorial to guide you through the process. Got questionable drawing skills? The article also offers a free printable template for those bunny ears so you don't send your littlies to the parade with lopsided lugholes.
For the traditional man: the glue gun approach
Armed with your trusty glue gun, you can achieve greatness with your DIY Easter hats and bonnets. Just ask At Home With Ali if you don't believe us! The good news is that you can pick up this sort of Easter paraphernalia easily enough, so long as you don't leave it to the last minute. Spotlight has a great range of goodies, and even sells the hats to start with. You could always go old-school and swap a shop-bought hat for a homemade cardboard crown as your base. Check At Home With Ali's tutorial for the other option too and get creating!
For the well-prepped mum: Easter chick headband
Oooh, this is a goodie from Children Salon. Grab yourself some art supplies, fuzzy chicks, painted eggs and a headband, fire up the glue gun and get sticking. Delicate, dainty and delightfully adorable, this is the ultimate Easter hats and bonnets inspo. Let's just hope it doesn't end in a Pinterest fail…
For the foodie mum: the carrot top
Kate's Creative Space's photo of a straw hat festooned with baby carrots has us squealing with excitement. We love it… hard! It's giving us serious Peter Rabbit vibes. And a case of the munchies.
Happy crafting, chicks!