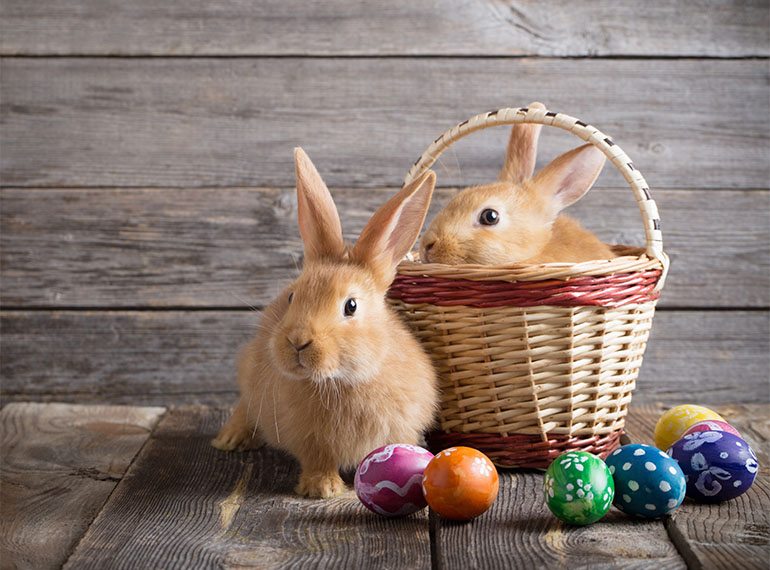 Bunnies and
Did you know 80 million chocolate Easter eggs are sold in the UK alone each year? Read on to find out what else you didn't know about this festival...
Easter. A word mostly associated with eggs, chocolate and bunnies! But regardless of belief or religion, did you know Christianity's most important celebration, is actually not Christmas, but Easter? We think it's time we took a proper look at what Easter is all about, why we're feeling the need to turn toilet rolls into DIY Easter craft at this time of year, and what the deal is with decorating eggs with glitter. Jump in for our fun – and surprising – guide to all the cool facts about Easter you never knew.
1. Whether you believe in Jesus Christ as the son of God or not, history suggests that this rather cool dude did exist, and was indeed crucified on a cross by the dastardly Romans. No one really knows when that happened, but Good Friday became the day that Christians commemorate Jesus' earthly demise. Good Friday is also known as Holy Friday, Great Friday and Black Friday, and coincides with the Jewish Passover.
2. Fast forward two days from Good Friday, and Jesus busts out of his tomb to the surprise and joy of all who followed him. His resurrection became the most important date in the Christian calendar and remains so to this day. The relatively modern term of 'Easter' was first coined by Bede, a monk from the 8th Century. He 'borrowed' it from Eostre: the Goddess of Spring.
3. Yep: Easter actually started, as with many important Christian dates, including Christmas, as a Pagan festival. The Pagans were also responsible for the egg association. They were traditionally used in pre-Christian celebrations as a symbol of new life and fertility.
4. What's with the Easter bonnets? We again have the Pagans to thank for the tireless hours we put into our creations for the Easter hat parade every year – sticking eggs to hats is NOT an easy task! Pagans wore wreaths of leaves and spring flowers that eventually morphed into full-on bonnets, sprouting foliage left, right and centre.
5. The lovable Easter Bunny started life as a hare rather than a rabbit, and can be traced back to the 1800s in Germany. The Easter Hare would only bring treats to the kids who hadn't been sent to the naughty corner on a regular basis. Back in the day he held as much kudos as Santa!
6. Easter eggs are one of our biggest diet downfalls at this time of the year. But did you know when Easter eggs became a 'thing' back in the 18th century, they were in fact made from papier-mache? We love that parents have been enjoying craft with the kiddos for hundreds of years – although we're guessing they didn't have the same access we do to awesome art supply stores!
7. The most famous Easter eggs were first designed by Peter Carl Faberge in 1885 for the Russian Tsar and his family. The beautiful gold and enamelled eggs were such a hit that the custom was upheld by the family every year until their sad demise. 50 were made in total, and if you happen to stumble across one in your attic, they are worth around $20 million today!
8. The first chocolate Easter eggs were produced in 1873 by Fry's in England. Cadbury cottoned onto the genius idea two years later – and now 80 million chocolate Easter eggs are sold in the UK alone each year. The world's biggest Easter egg, however, was whipped up by the Argentinians in 2015, using 8000 kg of chocolate.
9. Any ideas on the most popular Easter egg around the globe? It's the humble Creme Egg! This little morsel of deliciousness was first created in 1971 and 500 million are produced each year, with over a third of that total being shipped overseas. Thankfully Singapore is one of its destinations!
10. If chocolate isn't your thing (we're not sure we can be friends…), then you may have spent Easter devouring hot cross buns instead. The cute little buns mark the end of Lent (the period of fasting for Christians in the lead up to Easter) and the cross on the top represents Jesus' crucifixion. The spices used to create these tasty treats symbolise the spices used to embalm the body of Christ at his burial. Ewwww… suddenly those buns don't seem quite as appealing.
Like this story? Here's more we think you'll enjoy:
10 fun facts you never knew about the chicken
Holiday camps for the Easter holidays
Easy getaways for the school holidays
Lovely Easter-themed books to read with the kids
Don't forget to subscribe to our weekly newsletter and follow us for sneak peeks and fun moments on HoneyKids Instagram!