Photography: Jeshoots.com via Unsplash
Because it isn't Easter without toilet roll bunnies, neon eggs and spring floral wreaths, here are our favourite craft ideas for kids!
Hop to it, bunnies! We love cool art and craft projects for the kids that encourage creativity, plus, we're also fans of easy activities to do with the little ones (which we love as much as they do)! Easter is not only the perfect time to ditch the diet (oh, chocolate Easter eggs, how we love thee), but it's also an egg-cellent excuse to break out the art supplies. Need some cool Easter craft ideas, besides your Easter bonnets and hats? We bring you some of the best blogs that have step-by-step guides to making easy, fun and inexpensive handmade decorations that'll add a little festive cheer to your home and everyone around you.
DIY Easter craft ideas for kids!
1. Easter egg piñatas
Party at home with these papier-mâché balloon piñatas (pictured above) from Oh Happy Day. Break them open for a choc-filled surprise, or stuff them with confetti for a fun, sugar-less alternative. Psst: it's not only great for Easter, but birthday parties, too! You'll want to bookmark this for later.
2. Easter egg wreath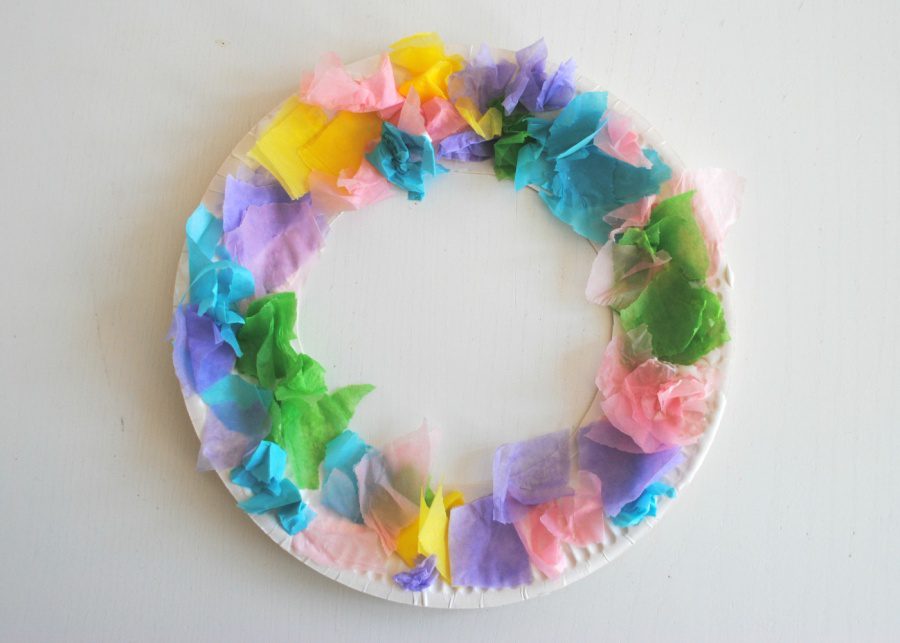 Need some decorations around the house this Easter? Make this simple Easter egg wreath to hang in the house. All you need are paper plates (or just regular cardboard if you prefer), glue, a ribbon, scissors and tissue paper. It's simple, fuss-free and we're sure the tots will definitely enjoy all the scrunching up.
3. Twisty bunny ears
Make Easter even more fun with some dressing up! Why not try these adorable bunny ears from The House That Lars Built? They're really easy to make for the little ones – and incredibly cute, too!
4. Bunny candy pouch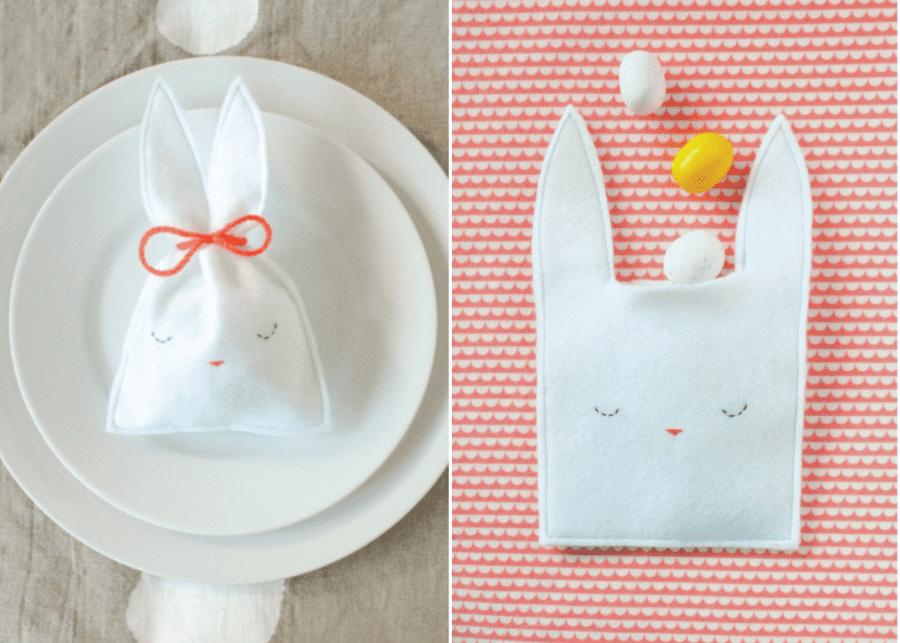 Instead of buying an Easter basket this year, make a cute bunny pouch instead! This version by mer mag has bunny ears, which tie together to close the bag on the lollies inside. An egg-tremely simple way to add a punch to your party favour bags.
5. Egg floral wreath
Bring smiles to the breakfast table this Easter as you top your eggs with pretty crowns made of tiny fresh flowers. A superb idea from Flax and Twine! Cuuuute.
6. Easter egg rocks
This craft by Projects with Kids is super easy-peasy and will add a splash of colour to your Easter home decor. All you require to make these cuties are a few smooth pebbles, paint brushes, acrylic paints and mod podge to seal your beautiful paintwork. For that extra cute look, group up a few painted Easter pebbles in a basket. Here's to a rockin' Easter folks!
7. Sock bunnies
Have a few old socks lying around the house? We have a great idea to put them to good use. Transform your old socks into cute little Easter sock bunnies – an easy craft by A Pumpkin & A Princess you can put together in a jiffy! To make the bunnies you will need rice to stuff the sock and rubber bands to create your bunny shape. For the final embellishments, you will need pompoms, ribbons, felt and moveable eyes. Voila!
8. Bunny pom pom parade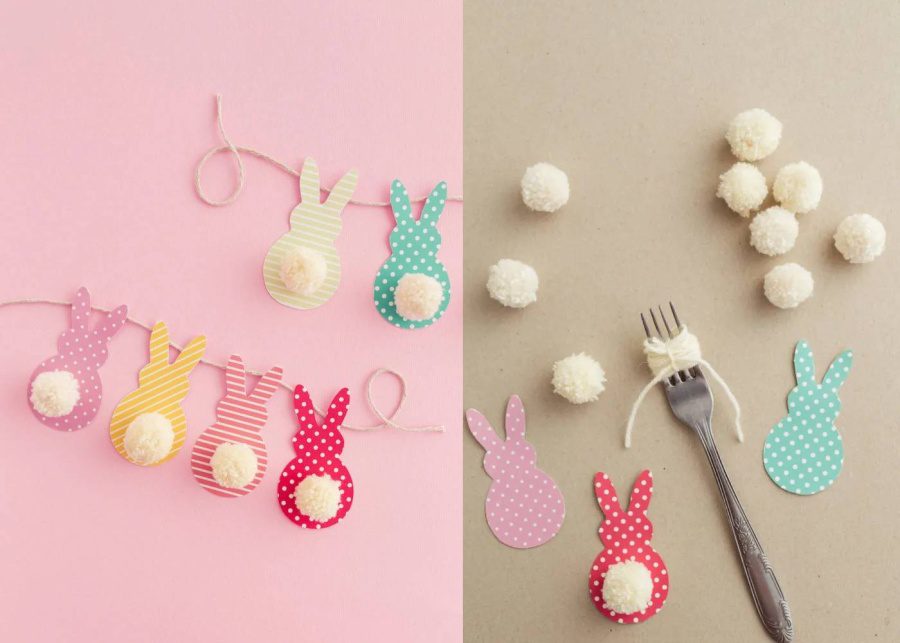 We can't get over how adorable this pom pom parade craft by DIY Candy is! Best part? It's so easy to put together that it will be ready in a hop. All you need are scrapbook paper, yarn, and a few tools like a fork, scissors and craft glue. DIY Candy also has the bunny template to help you cut out those perfect bunny shapes.
9. Carrot Easter baskets
These carrot Easter baskets by Kids Craft Room look so delish we could take a good bite off them. We love that it's so easy to make. Plus, you can stuff it with the mini eggs for an attractive Easter gift.
10. Easter Mason jars
Got some Mason jars lying around? Spruce them up with a lick of paint to make these cute offerings. Not only are they easy to make, but they're also super-pretty to look at. Fill them with flowers, chocolate eggs or candy once you've followed this tutorial by No.2 Pencil.
11. Easter treat holders
We're always looking for fun new ways to upcycle our toilet rolls and these adorbs Easter craft bunny and chick treat holders by Powerful Mothering are definitely going on our Easter DIY 'must do' list.
12. Origami bunny book marker
Are the little ones avid readers? Keep their books dog-ear free by turning your bookworms into book-bunnies with these lovely origami bookmarkers by Easy Peasy and Fun.
13. Neon dip-dyed eggs
Unleash your inner-80s child with these neon dip-dyed eggs from Oh Joy! The tykes can unleash their creativity and dip them in any way they want – our choice for a fun, messy Easter craft that'll keep them occupied.
14. Glitter pastel eggs
If neon doesn't float your kid's boat, how about these glitter pastel egg delights? Here's a step by step guide on how to create them…
You will need:
Eggs
Liquid food colouring
White vinegar
Warm water
To decorate:
PVA glue
Glitter
Tip: If you can find duck eggs, go with those. The shells are much more fragile than chicken eggs, but they're great for this project as they're lovely and white – good for pastel!
Method:
1. First, hard-boil the eggs.
2. For each dye colour, half fill a bowl with warm water. Add two tablespoons of white vinegar and the whole 38ml bottle of food dye. The mixture needs to be deep enough to cover an egg in the bowl.
3. Carefully place the egg in the bowl on a spoon then leave it in there for 10 minutes.
4. Take your eggs out and lay them on some paper towels. Once they are dry they may look a little faded compared to when they first came out of the dye. You can dip them again to strengthen the colour.
5. To decorate, make a mixture of PVA and water that is syrupy, like the consistency of balsamic vinegar.
6. Dip your egg in the cup of glue, then dip it in the cup of glitter.
7. Sit it in the egg carton that it came in, glitter side up, for about half an hour until the glue dries. Once it's done, don't touch it too much because the glitter will come off pretty easily.
15. Dip-dyed rainbow eggs
Want to go one better? Bring rainbow eggs to the Easter table with this cool idea…
You'll need:
A needle
Eggs
A barbecue skewer
Paintbrushes
Food colouring
Drying rack (made from a foam board and pins)
Bowls
Vinegar
Method:
1. Use a needle to pierce both ends of the egg.
2. Twist the pin into one of the holes to widen it slightly. Then use a longer needle or a barbecue skewer to stir and break the yolk.
3. Hold the egg above a bowl (larger hole down) and blow the contents out through the smaller hole.
4. Rinse the remaining contents out by placing them under running water.
5. Mix 1 teaspoon of vinegar and 20 drops of food colouring (use more to intensify colour) with 1 cup of water in a bowl.
6. Use a brush to stir the mixture. Repeat with each colour you're using.
7. To start colouring your eggs, dip them into the bowl for 10 seconds. To create different tints, vary the dipping time. Tip: the longer you leave the eggs in the coloured water, the brighter they'll turn out!
8. Use a tissue to dab off the excess coloured water.
9. Rotate your egg and dip it into a different bowl of coloured water. Keep dipping different parts to create your rainbow-tinted eggs!
10. Place your eggs on your drying rack until the colour has set.
Happy Easter, honey bunnies!