Photography: One Little Project
Break out the art box and busy the little ones with some Valentine's Day craft for kids! At least this way we can guarantee we'll get something this year...
Need a way to remind the other half that Valentine's Day is here? Get the kids to whip up adorable Valentine's Day crafts and then pin it somewhere for everyone to 'admire'! It won't hurt to pin our list of the best Valentine's Day menus in the same vicinity either, closely followed by these 52 date night ideas for every week of the year!
Valentine's Day crafts for kids
1. Origami puffy heart
Origami hearts! These 3D art pieces are perfect for Valentine's Day. Fold a few of them, and you can use them for many things. Hang them from the ceiling, string them together to make a garland, or turn them into gift boxes. The possibilities are endless! We followed the tutorial by The Spruce Crafts, and we're very happy with what we came up with!
2. Stained glass heart suncatcher
These suncatchers are easy to make and don't require a lot of materials. Adventure in a Box has instructions on making the black glue as well as the suncatcher. When you're done, just place your final product onto a window where it captures sunlight easily. Notice the colourful shadows the light cast from your suncatcher? Pretty, isn't it…
3. Paper doily flowers
So you completely forgot that it's Valentine's Day, and all flower shops only have limited selections left. What can you do? Gather up the kids and have everyone help out to make these paper flowers! All you need are brown paper, doilies (you can get these at Art Friend or Spotlight), and loads of creativity. Follow I Heart Crafty Things' tutorial, and before you know it, you have a pretty bouquet. Psst, these can double up for Mother's Day too!
4. Fingerprint heart poem
Here's a baby keepsake craft idea that you can turn into a Valentine's Day gift. Prepare paint in one or a few colours, dip your finger, and fill the cutout heart shape with your fingerprints. Messy Little Monster has the full instructions as well as the poem that you can copy after the art has dried. Or, come up with your own poem.
5. Salt dough heart garland
This is a fun and satisfying activity that the kids will enjoy making. The salt dough is easy and quick to prepare, and the fun part comes when you're moulding it into the heart shapes. You can use as many hearts as you want or use just one heart as a necklace. Follow the instructions from Lazy Mom's Blog for this creative craft.
6. Yarn-wrapped hearts
Looking for a cool Valentine's Day craft idea to keep the kids entertained? Easy Peasy and Fun has a tutorial for making yarn-wrapped hearts. When you're done with this craft, you can keep it as is or add some thread and make a loop so that you can hang it anywhere you please.
7. Pipe cleaner heart rings
Isn't this craft idea (pictured top) just adorable?! These finger rings are so easy to make, and you'll definitely be happy when you're done making them. The kids will like them, and, who knows, adults might want one too? As the great one decreed: "If you like it, then put a ring on it". One Litte Project has the deets on how to make these cute accessories.
8. Paper heart mobile
Surprise your special someone with this simple but effective paper heart mobile. Just grab your scissors, paper, string, and tape, and follow the instructions by Buggy and Buddy. Once done, just hang this up, and you're all set. Psst, make loads of this and use them as decor.
9. Valentine's Day Minions cards
Busy your little minions with these adorable Housing a Forest Minion Valentine's card ideas. You'll need coloured craft paper, scissors (adults only), glue and a sharpie to draw in the minions' mouths. It's adorably cute and really easy to make. Go bananas, kids!
10. Bee mine toilet roll craft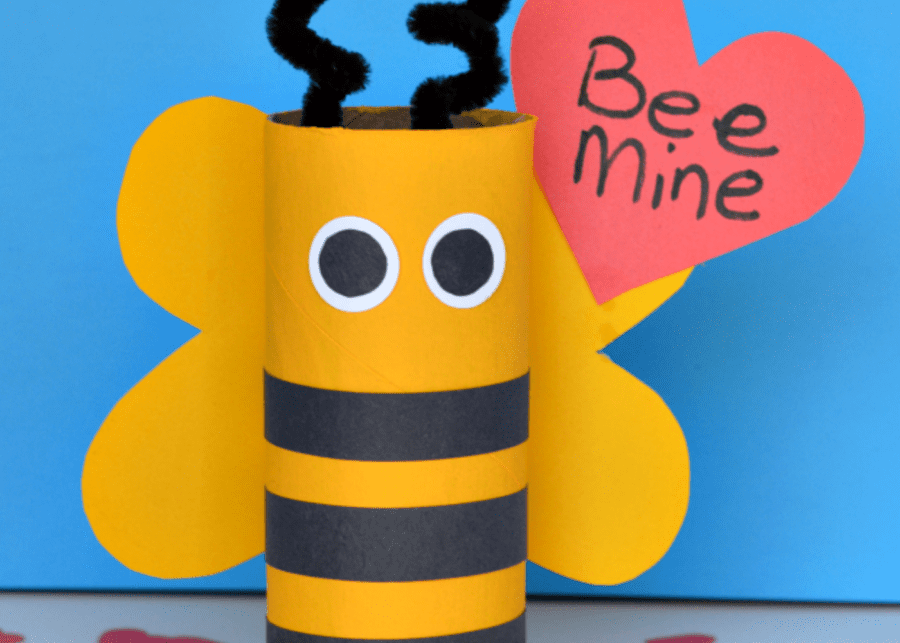 It's no secret that we're big fans of recycling our loo rolls into cute craft ideas, so we're buzzing about this craft idea by The Resourceful Mama. Sustainable and fun to make at the same time!
11. An animal-themed Valentine's Day card
You won't be feeling crabby come Valentine's Day with this fun pinch of love by Crafty Morning. The kids can start off by drawing the shapes of the crab's legs, claws and eyes before sticking them to its heart-shaped body and writing a little love note to Mum and Dad. Awwww!
12. A tree of hearts
The kids will love making a whole tree of hearts for Mum, Dad or whoever else they want to spread a little love to this Valentine's Day, and these easy instructions by Krokotak will have the art projects blooming in no time. Psst. This is also a great one for rainy days any time of year!
13. Valentine's Day banners
Sweet and effective! We're totally loving the Valentine's Day crafts for the kids offered up by Better Homes and Gardens. This garland is perfect for bringing a pop of colour into the house. And better still, all you need is a deck of playing cards and some ribbon!
14. Secret Message Valentine's Heart
We love this easy-peasy secret message idea, and we think the kids will too! Simply use a white crayon (or a candle also works!) to add a secret message, and then watercolour paint over the top to decode.  Super fun and super easy Valentine's Day crafting!
15. Suncatcher hearts
Because we can't get enough of suncatchers! Given how sunny it is (most of the time) in Singapore, we thought we'd add another lovely little suncatcher to the list to catch the hearts and interests of your little ones. And the best part is you don't need to go raiding the craft store for too many items, as they are pretty easy to make. Winning!
Happy Valentine's Day crafting, folks!