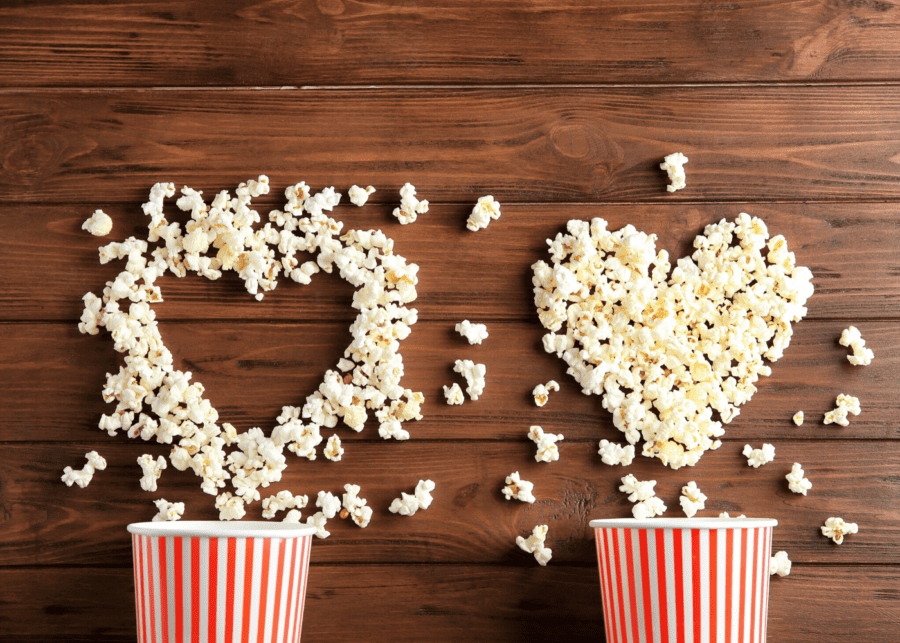 Popcorn and movies. What's not to love? Photography: Shutterstock
Better than half a dozen roses is a snuggle with your loved one, a decent bottle of something and a good ol' romantic movie...
If you couldn't get a babysitter for that romantic feast you had planned for this Valentine's Day, fear not. All is not lost in the world of romance: put the kiddos to bed early (or at least try!), pop open a bottle of something cold and snuggle up with these feel-good, lovey-dovey flicks. Rom-com and love stories are where it's at this Valentine's Day! We've got recommendations from past to modern favourites. Happy watching!
The best romantic movies to watch on Valentine's Day
1. Silver Linings Playbook
This offbeat romance/comedy/drama gets us right in the heart. Two slightly broken and unconventional people (played by Bradley Cooper and Jennifer Lawrence) cross paths and heal each other through an amusing dance partnership. Then love blossoms, warts and all. If there's one thing we've learnt from watching this movie, it's to always see the good in all experiences.
2. When Harry Met Sally
You can bet we'd definitely include this classic Valentine's Day film in our list of romantic movies to watch. We'll never get tired of watching all the to-ing and fro-ing of emotions that go into it. What makes it fun is not just Harry and Sally, but their best mates and the hairstyles. Oh, and that scene!
3. Garden State
We're suckers for the soundtrack, and the story isn't bad either. In his directorial debut, Zach Braff plays depressed, struggling actor Andrew, who returns to his home town for his mother's funeral. He catches up with old mates, faces demons and meets Sam (Natalie Portman). Although Natalie Portman classes it as one of her all-time performance fails, we love it.
4. Love, Simon
While this feel-good movie is as much about teen angst and the worry of living under a cloud of social disapproval, it's also about love. Simon is gay, only nobody knows this yet. He's not embarrassed by it and he's not worried about it, but he wants to tell the world on his own terms, in his own time: preferably after high school. What Simon doesn't bank on is meeting an online love interest who may just be The One, but who won't reveal his identity. Funny, witty, sensitive and bucketloads of smiles in a movie that your other half will like just as much as you will.
5. The Notebook
Oh, that kiss. While Crazy, Stupid Love gives us amazing shirtless Ryan, The Notebook gives us romantic Ryan. Yes, the story isn't the best, but we can't help but wish we were in it. Plus, we have a bit of a girl crush on Rachel McAdams.
6. Four Weddings and a Funeral
An oldie but a goodie: love is all around, left, right and centre in this nuptially-focused film, and there are plenty of tears too. An American meets an Englishman and the path to true love runs anything but smoothly in this super funny, super lovely movie, but of course they get there in the end. Plus, who doesn't love Hugh Grant?
7. Date Night
Awesome comedy combo alert! Tina Fey and Steve Carrell play a married couple who have lost a little bit of their romantic spark but rediscover it in some unlikely situations. Marky Mark and Kristen Wiig feature in this one too. There's nothing we don't like about it!
8. Bridget Jones's Diary
A perennial charmer of a movie and one we never tire of, no matter how many times we see it. Colin Firth is perfectly British and stoic, while Hugh Grant is epic as a cheeky bad boy. And what's not to love about Bridget and her 'bottom the size of Peru'? We've all been 'Bridget' at some point in our lives which is probably why this is one of our all-time favourite movies, romantic or otherwise.
9. Titanic
There simply cannot be a roundup of Valentine's Day movies without a nod to the epic romance that is Jack and Rose in Titanic. If only there had been more room on that damned bit of wood from the shipwreck…
10. Collateral Beauty
Kate Winslet is up again in this utterly charming movie that you WILL need a box of tissues on standby for. With its stellar cast including Will Smith, Edward Norton, Keira Knightley and Helen Mirren, it is the clever tale of a father who writes letters to time, death and love following the sad passing of his daughter. It's clever, it's funny and yes, it's a little bit (okay, a lot) sad in places. It got panned by the critics, but we loved it!
11. Crazy Rich Asians
Crazy Rich Asians showcases Singapore at its very best, and it's worth a watch for that alone (and also to salivate over the amazing clothes and jewellery adorning the cast). If we're honest (and we are) the movie wasn't a patch on the book by Kevin Kwan, and the cheese factor ramped up too high even for us in places, but it still left us with smiles on our faces and a decent feel-good factor. Also: Henry Golding is hot.
12. Pretty Woman
One of our favourite retro-but-still-cool movies of all time: Julia Roberts and Richard Gere give the age-old Cinderella tale a bit of a twist (disclaimer: we're not for a moment suggesting Cinderella was a lady of the night…). Poor girl meets rich boy and voila: it's love. Vivienne shopping at posh Hollywood boutiques in that outfit above is a movie moment for sure. Oh, and we challenge you NOT to be singing that song right about… now.
13. A Star is Born
Music vet Jackson (played by Bradley Cooper) discovers and eventually falls in love with young, struggling vocalist Ally (played by Lady Gaga). Get the tissues ready – this movie destroyed us and left us with a newfound respect for Lady Gaga. And yes, you'll want to add the whole soundtrack to your Spotify playlists.
14. Call Me By Your Name
Everyone remembers their first summer romance and heartbreak. In this movie, seventeen year old Elio learns about the many different kinds of love through his relationship with his girlfriend and secret relationship with the older graduate student, Oliver.
15. BONUS ROMANTIC MOVIE: The HoneyKids' kids talk about L.O.V.E!
Happy Valentine's Day, lovers!
All images credited to imdb