Photography: Ron Lach via Pexels
Better than half a dozen roses is a snuggle with your loved one, a decent bottle of something and a good ol' romantic movie…
If you couldn't get a babysitter for that romantic feast you had planned for this Valentine's Day, fear not. All is not lost in the world of romance: put the kiddos to bed early (or at least try!), pop open a bottle of something cold and snuggle up with these feel-good, lovey-dovey flicks. Rom-com and love stories are where it's at this Valentine's Day! We've got recommendations from past to modern favourites. Happy watching!
The best romantic movies to watch on Valentine's Day
1. Valentine's Day
We're kicking off this list with the aptest Valentine's Day movie. Featuring a star-studded cast, this movie intertwines stories with different kinds of love represented, as they navigate the (supposedly) most romantic day of the year. You can say this is the Valentine's Day equivalent of Love, Actually, another holiday-themed romantic comedy.
Watch on Amazon Prime Video
2. The Five-Year Engagement
Parents, how long did you have to wait until you finally get to say "I do"? This rom-com stars Jason Segel and Emily Blunt as a couple whose relationship becomes strained when their engagement is extended. Don't worry, folks, there's a happy ending to this one (of course), but it's such a fun watch, and you'll root for the couple till they finally get married.
Watch on HBO Go
3. Ever After: A Cinderella Story
If you still believe in happily ever after, this movie's for you. A 16th century spin on the classic fairy tale, the film follows a young woman who pretends to be a princess and falls in love with an actual prince. She struggles to hide her true identity after learning that one of her stepsisters is going to marry the prince.
Watch on Disney+
4. Persuasion
Jane Austen's novels have been adapted countless times, and here's a Hollywood take on her last novel. What do you do when "the one that got away" comes back into your life? That's what happens to Anne Elliot when Frederick Wentworth, to whom she was previously engaged, returns after his stint with the military. Should Anne get back together with him, or should she put the past behind her and move on? This film was negatively received upon its release, but we thoroughly enjoyed it for its modern spin.
Watch on Netflix
5. Moulin Rouge!
Even if you're not into musicals, this movie should rank pretty highly on your list. Nicole Kidman and Ewan McGregor portray star-crossed lovers who confess their feelings for each other through various musical numbers. This film deftly mixes a touching love story with bombastic show tunes, gorgeous sets, and amazing costumes. You wouldn't realise two hours have passed since you pressed play. The great Ms Kidman turned in such a performance that it's no surprise she was nominated for an Oscar for this. Plus that luscious red hair (even if it's a wig)!
Watch on Disney+
6. Bride and Prejudice
Most folks swear by the Colin Firth version of Jane Austen's timeless classic, but this Bollywood-esque adaptation definitely deserves a watch. This movie transports the premise from 19th century rural England to modern India. Elizabeth Bennet is now Lalita Bakshi, who has to contend with wealthy American Mr Darcy. If you know your literature, you'd know how this ends, but you'd still enjoy this fun and flamboyant film. Plus, this version's Mr Darcy is not bad to look at.
Watch on Amazon Prime Video
7. Monster-in-Law
What's a Valentine's Day movie list without a film starring the ageless J.Lo? She has released plenty of movies, but we have a soft spot for this one since it's pretty relatable! Charlie Cantilini is an aspiring fashion designer who meets doctor Kevin Fields and thought she's found the right man. Their relationship is smooth sailing until he introduces her to his mother, Viola – and all hell breaks loose. Who will emerge victorious? This film may be over the top, but there are a few things (read: sabotage tactics) that we can learn from this…
Watch on Amazon Prime Video
8. Hitch
Will Smith is in top form in this romantic comedy, where he portrays a dating coach teaching men how to woo women. As he's assisting a client, Will's character finds himself falling for a gossip columnist, played by Eva Mendes. He tries to connect with Eva's character but realises that none of his romantic methods work on her. Does that make him a fraud? Gasp! Tune in to this flick to find out if he's really a sham…
Watch on Amazon Prime Video
9. The Handmaiden
If you like your Valentine's Day movie with a side of eroticism (not porn, mind!), then save this to your viewing list. Inspired by Sarah Water's highly acclaimed novel Fingersmith, this Park Chan-Wook written and directed film mixes crime, historical fiction, and sapphic passion into a gripping 145-minute saga. You'll probably never look at fingers the same way again after the credits roll.
Watch on Amazon Prime Video
10. Definitely, Maybe
This rom-com is basically How I Met Your Mother before the hit television series aired. Ryan Reynolds is a single father who regales his daughter with the story of how he and his daughter's mother met and fell in love. Three women, vastly different from one another, feature prominently in the story, and it's up to the daughter (and viewers) to figure out who's the mother. This is an enjoyable and smartly-written film. Maybe you can do something like this if the kids were to ask how you and your spouse met. Idea!
Watch on Amazon Prime Video
11. Gentlemen Prefer Blondes
Let's take it way, way back in time – to the 1950s, in fact – with this satirical musical comedy about two showgirls en route to Paris. The ladies are being pursued by a private detective as well as a few other doting admirers. This was the film that cemented Marilyn Monroe's "dumb blonde" persona (she's anything but dumb, TBH) and featured the iconic rendition of "Diamonds Are A Girl's Best Friend" alongside that gorge pink dress.
Watch on Amazon Prime Video
12. Always Be My Maybe
What happens when you reconnect with an old flame after a good few years apart from each other? Do you resume from wherever you left it, or do you maintain the status quo? This Netflix film was warmly received when it was released, in large part thanks to the winning performances of the two leads. Keep a lookout for an extended cameo appearance from Keanu Reeves. Who knew that the guy could play funny?
Watch on Netflix
13. 10 Things I Hate About You
Plenty of films are inspired from, have adapted, or revised Shakespeare's works. Out of the many, this coming-of-age romantic comedy stands out the most. It remains fresh even after repeated viewings, and we can't help but regurgitate that particular scene whenever it comes up. You know, the one with that poem. Bring us back to our teenage years, please!
Watch on Disney+
14. Your Name
No, this is not that South Korean revenge drama (that's My Name). This is a Japanese anime about a teenage boy in Tokyo and a teenage girl in the Japanese countryside who are able to swap bodies. But what happens when they fall in love with each other? Animation, romance, and science fiction all wrapped up in one movie. We suggest watching this in its original glory. It hits differently compared to the dubbed version.
Watch on Netflix
15. Love Me If You Dare
When it comes to anything and everything love, no one does it quite like the French. This romantic dramedy follows two best friends who started playing a game of dares as a kid, which continued into their adult years. If you think this is going to be a messy end, well… we won't spoil it for you. They say love makes you do the craziest things. This film attests to that statement a little too well, we think. Kids, don't even think about doing any of this!
Watch on Amazon Prime Video
16. The Lovebirds
As they say, till love do us part. This hijinks flick certainly makes sure to remind us of that particular line! Issa Rae and Kumail Nanjiani star as a bickering couple who go on the run after witnessing a murder. Who does that? Only in Hollywood! What follows next is a series of unfortunate and surprising hilarious events that really test their relationship.
Watch on Netflix
17. The Time Traveler's Wife
Rachel McAdams is back at it again with another book-to-movie adaptation. This time around, she plays the titular character who meets her future husband, Eric Bana, when she is only six years old. Similar to Your Name, this film centres around romance and science fiction (minus the animation). If you ask us, we much prefer the book. Watch this only for Rachel and Eric's sexy chemistry.
Watch on Amazon Prime Video
18. Love of Siam
Here's another romantic film about two people who don't end up together. (Oops, spoiler alert!) When this movie was released in Thailand, it took the country by storm and paved the leads' career paths. It also brought the LGBTQ romance genre – known as BL (boys' love) over there – to the forefront. There are scenes that will slap you across the face and leave you an emotional wreck. Don't say we didn't warn you.
Watch on Amazon Prime Video
19. Kabhi Kushi Kabhie Gham…
Bollywood has no lack of romantic films, and this blockbuster is often cited as the best Valentine's Day movie to watch. Boasting the top Bollywood stars in its roster, the movie touches on love, filial piety, and how background status still plays a factor when it comes to matchmaking in India. The movie is almost three hours long, but everything else about it – the soundtrack, cinematography, emotional scenes, and performances – will keep you engaged from start to finish. You may want to have a box of tissues ready before your watch. We've seen this too many times, and it still makes us bawl buckets!
Watch on Netflix
20. Valentine
How far would you go for love? If you're looking for an unconventional (to put it loosely) movie to watch during Valentine's Day, here's an option. A group of girlfriends discovers that a former schoolmate has made a reappearance in their lives and wants to settle some old scores. Will they be able to deal with him, or will they succumb to his charms?
Watch on Amazon Prime Video
21. Eating Air
If you think that Singapore doesn't have any romantic movies, think again. This cult classic, described as a "motorcycle kungfu love story", follows the lives of two teenagers during the country's hottest month. Boy and Girl are two people that couldn't be more different from each other, but that didn't stop them from falling in love. For those curious about locally-produced films, be sure to put this rom-com on your watch list.
Watch on Netflix
22. Crazy Rich Asians
Crazy Rich Asians showcases Singapore at its very best, and it's worth a watch for that alone (and also to salivate over the amazing clothes and jewellery adorning the cast). If we're honest (and we are), the movie wasn't a patch on the book by Kevin Kwan, and the cheese factor ramped up too high even for us in places, but it still left us with smiles on our faces and a decent feel-good factor. Also: Henry Golding is hot.
Watch on Amazon Prime Video
23. A Star is Born
Music vet Jackson (played by Bradley Cooper) discovers and eventually falls in love with young, struggling vocalist Ally (played by Lady Gaga). Get the tissues ready – this movie destroyed us and left us with a newfound respect for Lady Gaga. And yes, you'll want to add the whole soundtrack to your Spotify playlists.
Watch on Amazon Prime Video
24. Love, Simon
While this feel-good movie is as much about teen angst and the worry of living under a cloud of social disapproval, it's also about love. Simon is gay, only nobody knows this yet. He's not embarrassed by it, and he's not worried about it, but he wants to tell the world on his own terms, in his own time: preferably after high school. What Simon doesn't bank on is meeting an online love interest who may just be The One, but who won't reveal his identity. Funny, witty, sensitive and bucketloads of smiles in a movie that your other half will like just as much as you will.
Watch on Disney+
25. Call Me By Your Name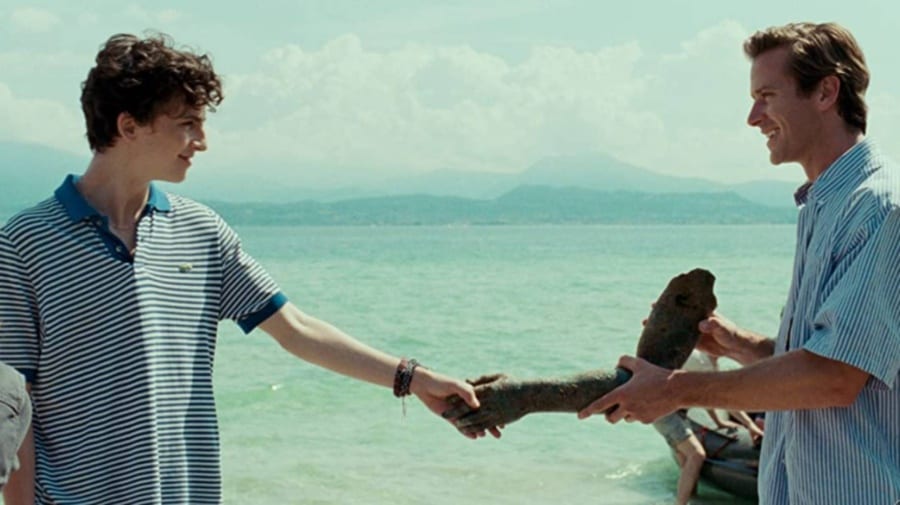 Everyone remembers their first summer romance and heartbreak. In this movie, seventeen-year-old Elio learns about the many different kinds of love through his relationship with his girlfriend and secret relationship with the older graduate student, Oliver.
Watch on Netflix
26. Silver Linings Playbook
This offbeat romance/comedy/drama gets us right in the heart. Two slightly broken and unconventional people (played by Bradley Cooper and Jennifer Lawrence) cross paths and heal each other through an amusing dance partnership. Then love blossoms, warts and all. If there's one thing we've learnt from watching this movie, it's to always see the good in all experiences.
Watch on Amazon Prime Video
27. When Harry Met Sally
You can bet we'd definitely include this classic Valentine's Day film in our list of romantic movies to watch. We'll never get tired of watching all the to-ing and fro-ing of emotions that go into it. What makes it fun is not just Harry and Sally, but their best mates and the hairstyles. Oh, and that scene!
Watch on Google Play
28. Garden State
We're suckers for the soundtrack, and the story isn't bad either. In his directorial debut, Zach Braff plays depressed, struggling actor Andrew, who returns to his home town for his mother's funeral. He catches up with old mates, faces demons and meets Sam (Natalie Portman). Although Natalie Portman classes it as one of her all-time performance fails, we love it.
Watch on Amazon Prime Video
29. The Notebook
Oh, that kiss. While Crazy, Stupid Love gives us amazing shirtless Ryan, The Notebook gives us romantic Ryan. Yes, the story isn't the best, but we can't help but wish we were in it. Plus, we have a bit of a girl crush on Rachel McAdams.
Watch on Amazon Prime Video
30. Four Weddings and a Funeral
An oldie but a goodie: love is all around, left, right and centre in this nuptially-focused film, and there are plenty of tears too. An American meets an Englishman, and the path to true love runs anything but smoothly in this super funny, super lovely movie, but of course, they get there in the end. Plus, who doesn't love Hugh Grant?
Watch on Amazon Prime Video
31. Date Night
Awesome comedy combo alert! Tina Fey and Steve Carrell play a married couple who have lost a little bit of their romantic spark but rediscover it in some unlikely situations. Marky Mark and Kristen Wiig feature in this one too. There's nothing we don't like about it!
Watch on Disney+
32. Bridget Jones's Diary
A perennial charmer of a movie and one we never tire of, no matter how many times we see it. Colin Firth is perfectly British and stoic, while Hugh Grant is epic as a cheeky bad boy. And what's not to love about Bridget and her 'bottom the size of Peru'? We've all been 'Bridget' at some point in our lives which is probably why this is one of our all-time favourite movies, romantic or otherwise.
Watch on Amazon Prime Video
33. Titanic
There simply cannot be a roundup of Valentine's Day movies without a nod to the epic romance that is Jack and Rose in Titanic. If only there had been more room on that damned bit of wood from the shipwreck…
Watch on Amazon Prime Video
34. Collateral Beauty
Kate Winslet is up again in this utterly charming movie that you WILL need a box of tissues on standby for. With its stellar cast, including Will Smith, Edward Norton, Keira Knightley and Helen Mirren, it is the clever tale of a father who writes letters to time, death and love following the sad passing of his daughter. It's clever, it's funny and yes, it's a little bit (okay, a lot) sad in places. It got panned by the critics, but we loved it!
Watch on Amazon Prime Video
35. You've Got Mail
Romance nowadays is technology first, then everything else follows. And this rom-com perfectly highlights two people who meet and fall in love online, though it's an entirely different story offline. You've Got Mail is the third outing featuring the Tom Hanks and Meg Ryan pairing. While love via email correspondences is not a big thing nowadays, the premise is still as relevant as ever. A modern romance Valentine's Day movie.
Watch on Amazon Prime Video
36. Pretty Woman
One of our favourite retro-but-still-cool movies of all time: Julia Roberts and Richard Gere give the age-old Cinderella tale a bit of a twist (disclaimer: we're not for a moment suggesting Cinderella was a lady of the night…). Poor girl meets rich boy, and voila: it's love. Vivienne shopping at posh Hollywood boutiques in that outfit above is a movie moment for sure. Oh, and we challenge you NOT to be singing that song right about… now.
Watch on Disney+
BONUS VALENTINE'S DAY MOVIE: The HoneyKids' kids talk about L.O.V.E!
Happy Valentine's Day, lovers!
All images credited to IMDB.