Load up Netflix, get that popcorn ready and prepare the tissues. These are our top 10 coming-of-age films for feel-good moments...
We admit, as crazy as we are about Disney classics and blockbusters, we're weak for nostalgic, feel-good films that tackle everything from puberty to first love, unrequited crushes to trying to fit in with the cool crowd. These are the movies that are way too good for us to label as guilty pleasures: coming-of-age movies are a rite of passage! We've had a hot debate in the office on what the best-of-the-best coming-of-age films are – the new, the old and the classics – so we say coax your teenager into the TV room and snuggle down to enjoy one of these fab picks… Life lessons in a 90-minute hit!
To All the Boys I've Loved Before
Netflix has put out a brand new movie that will have you and your teens sighing dreamily into your popcorn. Step into the shoes of Lara Jean, a teen girl who has a secret. She's written five love letters to help her deal with her feelings about the boys she's had a major crush, but has never actually sent any of then… until her little sister gets involved. To All the Boys I've Loved Before isn't just a movie about love letters that were never meant to be sent, it's in itself a love letter to teen movies. Once you've watched it, you WILL be rushing to read the rest of the trilogy written by Jenny Han.
Juno
The lovable Ellen Page plays a not so lovable, snarky Juno MacGuff, who becomes pregnant and approaches a childless couple to adopt her unborn child. It tackles teen pregnancy with blasé wit, and no small amount of wisdom. For such a delicate topic, it doesn't shy away from the details but Juno still manages to preserve an endearing innocence and idealism. This one also has one of our favourite movie tunes: Velvet Underground's 'I'm Sticking With You' – and now we have that has an ear worm for the foreseeable future.
Pretty in Pink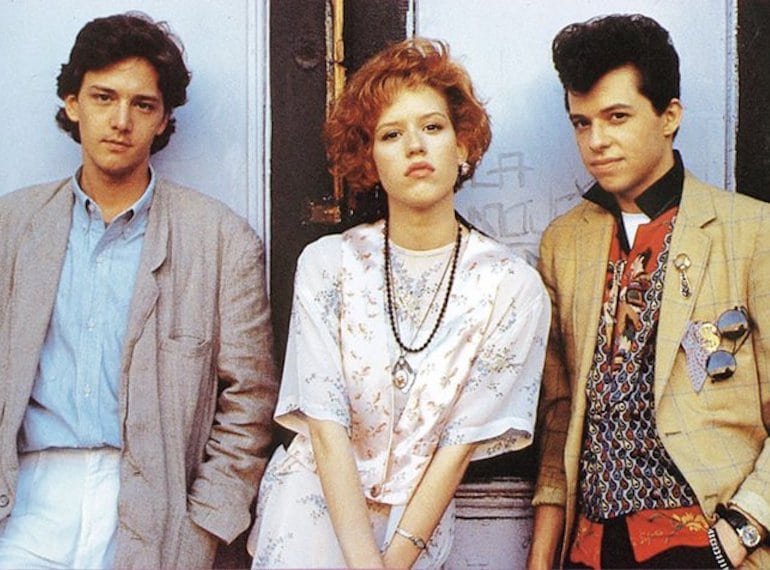 Think fitting in is tough? Andie Walsh played by Molly Ringwald, knows all about it. Andie is a working class girl bullied by the "richie" kids of the school. She endures it until preppy "richie" Blane McDonough asks her out.
Selina says, "Molly Ringwald taught us all that you can sew your own goddamn prom dress, you don't need to beg that guy to love you (he'll come crawling back), and that staying true to yourself is hard, but being quirky is cool. Basically, anything starring Molly Ringwald filmed in the '80s was a handbook to surviving the angsty teen years (see 16 Candles and The Breakfast Club)."
Clueless
Moving onto the '90s, we need to talk about the movie that shaped a generation. Clueless. Cher is popular, rich and cute to boot, but spends more time meddling with other people's lives than fixing up her own. She's got her heart in the right place, but she can be a bit Clueless…
Selina says, "At age 15 I wore a plaid miniskirt and high socks a la Cher Horowitz. And what teenager didn't have the lines 'Ugh, as if' and 'You're a virgin, who can't drive' memorised? I watched this again recently with a girlfriend and it's just as good now as it was then: writer Amy Heckerling is a genius. And, I still have a crush on Paul Rudd!"
Mean Girls
Tired of American high schools yet? This one is all about the super cliques most of us were scared of during our own high school years… At the centre of this particular madness is a group of blonde, popular girls known as 'The Plastics'. When home-schooled Cady is thrown into the mix, she goes through a lifetime of high school drama within the span of a few months and the result? Some pretty iconic lines and valuable life lessons within this fun flick. Trust us, you'll be quoting this one for years to come.
The Boy and the Beast
We can't let the Americans have all the good movies so here's one from Japan. Nine-year-old Ren loses his mother and, unable to find his father, runs away only to end up in the Beast Kingdom. Surrounded by strange monsters in a whole other civilisation, Ren struggles to grow up. Under the tutelage of Kumatetsu, a clumsy but powerful swordsman, Ren becomes a skilled kendo practitioner. But eventually, conflicted by his desire to return to the human world and his life in the Beast Kingdom, he has to deal with the darkness within him. 
Love, Simon
This heartwarming high school drama is about a gay teen who is not yet ready to announce his sexuality to the world, but gets blackmailed with the threat of being outed. Friendship drama takes centre stage in this book-turned-movie where teens make mistakes and learn how to deal with them. It also features one of our favourite lines "You get to exhale now, Simon. You get to be more you than you have been in a very long time. You deserve everything you want." Make sure you have tissues to hand.
Tracy says, "I recently watched this on a plane and blubbed like a baby. As the mother of a teenager myself, this really struck a chord (he's not gay – he would want me to clarify that – but the angst is still very relevant). This film was brilliantly portrayed by all the young cast, and it made me happy and sad all at the same time."
Say Anything
Chelsia says, "I'm a huge fan of films from the '80s and '90s, so it's really hard to choose! Say Anything, a rom-com drama about an unambitious teenager who falls in love with a valedictorian, is a big favourite. Seriously, John Cusack with his boombox on the lawn? Dreamy! Also, anything by John Hughes gets a 'hell yeah'."
Call Me By Your Name
Jana says, "This movie made me ugly cry. It's a story about a summer romance between a boy, Elio Perlman and Oliver, a doctoral student working for Elio's father. A first love and an impossible love. It's the kind of story that's always sitting at the back of your mind, festering, making you wonder… what if. Read it, watch it, love it, cry about it. Ugh."
Ferris Bueller's Day Off
Okay, so it's not really a coming of age film? But this is a definite winner for how fun and watchable Ferris Bueller is. He's got life figured out and he's living it to the fullest. That's why he's decided to skip school with his best mate and his girlfriend. You can catch all his hijinks and close shaves for yourself, and we'll leave you with one of his great nuggets of wisdom, "Life moves pretty fast. If you don't stop and look around once in a while, you could miss it".
Top image: Clueless via IMDB