Can't go out? No worries! We give you our guide to online florists so you can buy fabulous flowers and beautiful blooms... hint, hint!
Flowers are a tried-and-true gesture suited to any occasion – who doesn't love a surprise bouquet on the doorstep? And, with Mother's Day just around the corner (10 May), it's a good time to be thinking about gorgeous Mother's Day flowers for that special lady in your life. (Ahem… you.) Either that, or just send Hubs the link to this article. That should do the trick. Take your pick from these beautiful bouquets, unique posies and spectacular floral displays from the best florists in Singapore (some can even deliver in a hurry if things have been left to the last minute)…
Flower Addict
Guys, just as an FYI, if The Wife is a creative type, the style-it-yourself bunches delivered to your door by Flower Addict could rank as the best bouquet yet. Think freshly picked, pre-cut blooms ready to arrange, or if a hand-tied bunch is her thing, you can pick out something with instant wow factor too. Gift bundles also come in handy if you want to up the ante somewhat. By the way, there's also a weekly, fortnightly or monthly subscription service to keep those flowers coming.
Wonderland Botanicals
Due to the coronavirus, the physical store isn't open right now, but the florists are indeed still creating their masterpieces from home. The product range has, however, been streamlined to offer only Florists' Picks Bouquets, and Market Bundles. For the gift that keeps on giving even beyond Mother's Day, Wonderland Botanicals also offers subscription bouquets. Just one positive to make your time at home more pleasing.
Flower Chimp
Need a bouquet, pronto? Flower Chimp's your place. For same-day delivery, just place your order by 1pm – delivery is also island-wide and free. Prices start from around $35. Online only.
Charlotte Puxley
Wow wee, we love us a Charlotte Puxley boho bunch – Charlotte was part of the team that created Kate Moss's wedding bouquet! Think English countryside meets the tropics: large blooms, lots of colour, lush foliage and wild beauty. Definitely one of the best florists in Singapore, in our humble opinion. The studio is currently closed for a month due to the circuit breaker, but do check in soon. Promise it'll be worth it!
Charlotte Puxley, 315 Outram Rd, #08-07 Tan Boon Liat Building, Singapore 169074
Mirage Flowers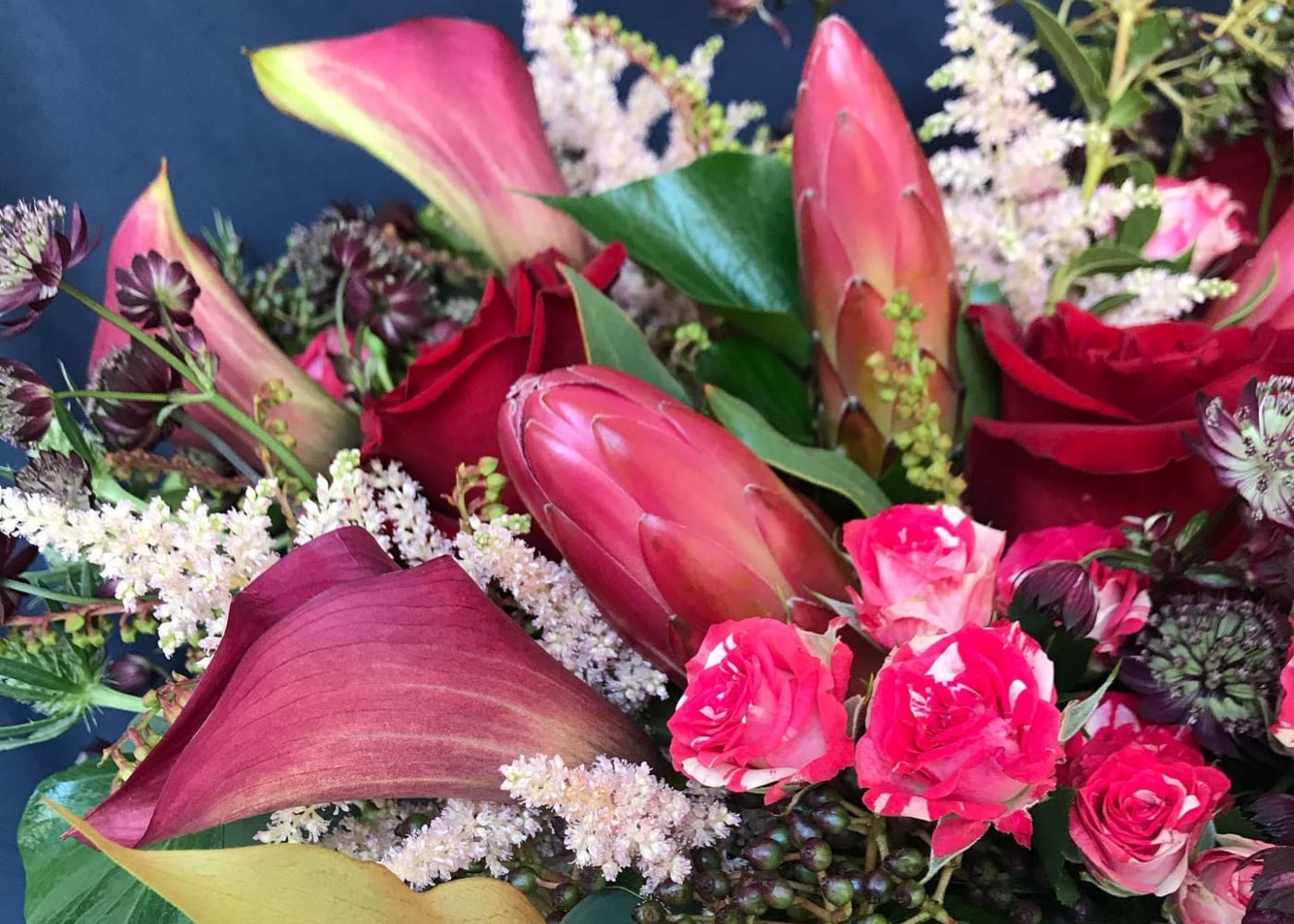 The folks behind Mirage Flowers really know their stuff – just take a peek at their portfolio on their website and you'll see why. The store in Seletar Mall may be closed temporarily thanks to Covid-19, but they are still happily taking orders online. They also are offering flower jamming packs, where you can order yourself all the essentials you need for a merry afternoon or weekend sesh of arranging. Let your creative spirit run free! Great if you have tweens or teens at home and want something to do while you're all stuck at home.
Cotton & Sage
We're wowed by Cotton and Sage's rustic vibe and perfect mini posies: it creates loose, natural looks we just love. Sadly it's shut up shop at the moment during the circuit breaker, but we couldn't not give these guys a mention, as they're one of the best florists in Singapore. Bookmark them on your to-do list and get yourself or someone you love an arrangement as soon as poss.
Floral Magic
Pretty as a picture, we love the blooms from Floral Magic. The store is currently closed during this circuit breaker, but its website states it's still taking online orders for delivery after Friday 8 May. Which leaves your other half juuuuuuust enough time to get your Mother's Day flowers sorted…
Twig and Twine
If you really want to amaze and impress, turn up with one of Twig and Twine's bespoke floral arrangements for your special lady. Although note that in conjunction with the latest government measures, the studio will be closed. The florists still can be reached by email, DMs and WhatsApp for all enquiries and pre-order, with schedule of delivery after 4th May.
Sing See Soon
For something big like a wedding or corporate event, Sing See Soon are one of the best florists in Singapore. Five generations of industry experience are brought to bear in sculptural and themed arrangements. We've checked in and it's still taking online orders, plus has some exciting kits coming out soon so you get creative at home. Perfect for the kids to rustle up their own take on Mother's Day flowers!
Poppy Flora Studio
Who ever said floral arrangements have to be girly? We love Poppy's wild, vintage-inspired bouquets (not a baby's breath in sight). These guys have incredible skill in creating bouquets that impress that set them apart as one of the best florists in Singapore, without doubt. Keep an eye out for its workshops too. Note: currently not taking orders until after 4 May.
Floral Garage
Floral Garage has no shortage of passion, which is pretty apt when it comes to flowers. This team of hobbyists-turned-professionals will rustle up the bouquet of your dreams – whether traditional, modern, rustic (or a bouquet of veg) – without busting a hole in your wallet. Also: speedy delivery! It's still business as usual for these guys (online, mind) if you need Mother's Day flowers, fellas.
Triceratops
Fill in a quirky yet simple two-minute questionnaire form on Triceratops' website and enjoy a personalised bouquet delivered straight to your doorstep. Easy, huh husband?
Simply Flowers
Simply Flowers is our go-to for quality blooms that won't cost the earth. And the range is pretty sweet: choose from your typical bouquet to potted posies and even floral sculptures. The stores may be closed, but the floral folk are still offering online orders.
24 Hrs City Florist
If you're faced with an emergency and need flowers asap, 24 Hrs City Florist is your go-to. Providing you put your order in before 4pm, it can even pull off same-day delivery. Choose your petals by occasion and category, or simply handpick the flowers you want.
Roses Only
For traditionalists, head over to Roses Only where beautiful blooms are classy and stylish. This Aussie brand found its way to our shores in 2013 and whips up the finest roses for all occasions. Guaranteed to impress if you're looking for Mother's Day flowers! Still open for orders and still delivering. You can also subscribe for savings!
Top image: Amy Shamblen