In a rush and need flowers? We give you all the florists in Singapore (with same-day delivery options!), so you can buy some beautiful blooms… hint, hint!
Flowers are a tried-and-true gesture suited to any occasion – who doesn't love a surprise bouquet on the doorstep? Whether it's a special anniversary, Valentine's Day, Mother's Day or just because, nothing says "I love you" like some fresh blooms! Roses, lilies, or something a bit more tropical? These florists in Singapore have got you covered. Take your pick from beautiful bouquets, unique posies and spectacular floral displays from the best florists and flower suppliers in Singapore (some can even provide same-day delivery if things have been left to the last minute)…
The best florists in Singapore (with delivery options, too!)
1. Fav Florist
When it comes to bouquets for special occasions, you can't go wrong with Fav Florist. This flower delivery in Singapore uses only farm-fresh flowers that are ethically sourced. Every bloom is carefully selected by its team of highly-experienced florists to create beautiful, handcrafted bouquets. And you don't have to worry about cost either because Fav Florist's bouquets are some of the most affordable ones in town (from as low as $37.90). Plus, delivery is free, and you can even get your bouquet delivered on the same day! In a bit of a rush? Fav Florist offers an express one-hour flower delivery service at a small fee. So just sit back and relax with your loved ones, because they're in for an amazing floral surprise!
2. Flower Addict
Guys, just as an FYI, if The Wife is a creative type, the style-it-yourself bunches delivered to your door by Flower Addict could rank as the best bouquet yet. Think freshly picked, pre-cut blooms ready to arrange, or if a hand-tied bunch is her thing, you can pick out something with instant wow factor too. Add a special gift to your flower delivery order – there's everything from local artisan chocolates to balloons, as well as TWG tea or a bottle of Champagne to pick from. We also love Flower Addict's reminder service, so you won't forget another special occasion or anniversary again (so no more excuses!). By the way, there's also a weekly, fortnightly or monthly flower subscription service to keep those flowers coming.
3. Bloomen.co
Keen to get some Blumen? Then head over to Bloomen.co for the freshest flowers. Bloomen is a play on the word Blumen, which means flowers in German. Bloomen is made up of a husband and wife team who arrange florals based on the customers. If you are looking for flowers with designs that are unique, playful and artistic, you have come to the right place!
4. Floristique
This humble florist was founded by Wendy Han, who used to work in banking and finance. Her love for flowers spurred her to set up Floristique. This floral studio offers exotic bouquets at friendly prices, and there's no charge for delivery. You won't be burning a hole in your wallet after your purchase here.
5. LVLY
Looking for authentic, fun, and thoughtful floral arrangements? You can find all that and more at Lvly. Flowers come in both jars and bouquets; you can also opt for the Lvly bundles if you want an extra touch to your flowers. Last-minute blooms for your loved ones? No problem. The order cut-off isn't until 5pm, which is more than enough time to make your purchase. What's more? LVLY follow waste minimisation practices to ensure less than one per cent wastage!
6. Flowers and Kisses
Flowers and Kisses doesn't compromise on quality, despite selling at affordable prices. There are fresh flowers and preserved roses to choose from, and all bouquets are stylishly made-to-order. If you'd rather self-collect, you can drop by its floral studio at New Industrial Road. You can also head down and pick something on the spot, though it's recommended that you make your purchase online.
7. Wonderland Botanicals
With its very own Flower Studio and online store, this Singapore florist creates interior-inspired blooms in handpicked vases. The product range offers everything from Florists' Picks Bouquets to Market Bundles, and for the gift that keeps on giving, Wonderland Botanicals also offers subscription bouquets. They've worked for Hermes, Jo Malone and many more big names, so you know you're getting the very best here…
8. Little Flower Hut
Got a last-minute flower emergency? Little Flower Hut has a personalised 'round-the-clock' flower delivery service that can deliver anywhere, anytime, right here in Singapore. With hundreds of flowers to choose from and an extensive gift hamper selection, you and your lucky gift recipient will be spoilt for flowery choice!
9. Flower Chimp
Need a bouquet, pronto? Flower Chimp's your place. For same-day delivery in Singapore, just place your order by 2pm – flower delivery is also island-wide and free. The prices are pretty reasonable too! Online only.
10. Charlotte Puxley
Wowee, we love us a Charlotte Puxley boho bunch – Charlotte was part of the team that created Kate Moss' wedding bouquet! Think English countryside meets the tropics: large blooms, lots of colours, lush foliage and wild beauty. Definitely one of the best florists in Singapore, in our humble opinion.
11. Mirage Flowers
The folks behind Mirage Flowers really know their stuff – just take a peek at the portfolio on its website, and you'll see why. They're also offering flower jamming packs, where you can order yourself all the essentials you need for a merry afternoon or weekend sesh of arranging. Let your creative spirit run free! Great if you have tweens or teens and want something to do while at home.
12. Twig and Twine
If you really want to amaze and impress, turn up with one of Twig and Twine's bespoke floral arrangements for the special person in your life. These flowers are STUNNING! Drop them a message and chat through your floral creation – you won't be disappointed.
13. Floral Magic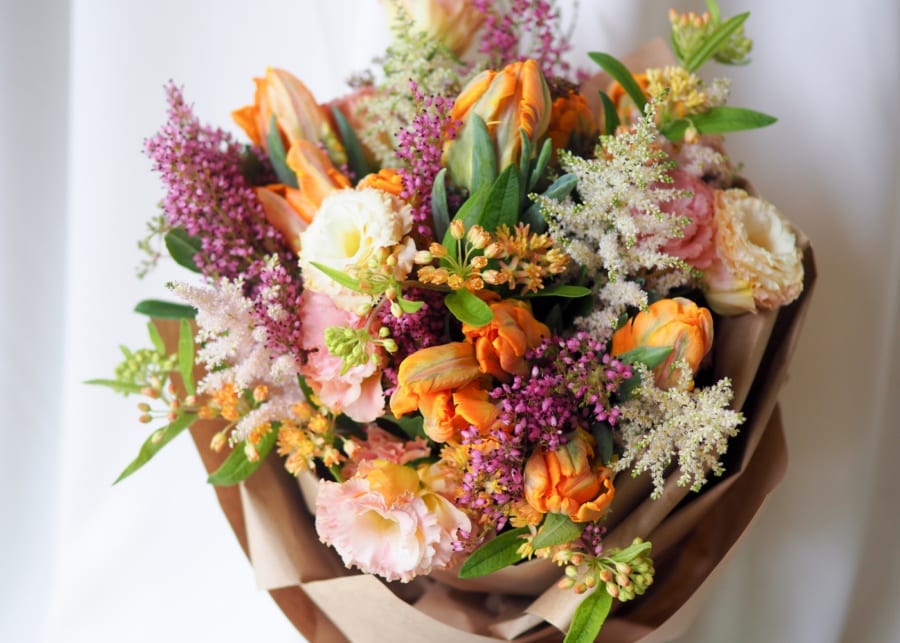 Pretty as a picture, we love the blooms from Floral Magic. Pop in your online orders, then sit back and wait for the magic to arrive. If you wish to visit the store for a browse or to discuss your wedding or event, give them a call beforehand so you don't miss them!
14. Sing See Soon
For something big like a wedding or corporate event, Sing See Soon is one of the best florists in Singapore. Five generations of industry experience are brought to bear in sculptural and themed arrangements. They take online orders, plus they even have some exciting kits for you to get creative at home. Perfect for the kids to rustle up their own take on flowers for mum!
15. Poppy Flora Studio
Who said floral arrangements have to be girly? We love Poppy's wild, vintage-inspired bouquets (not a baby's breath in sight). These guys have incredible skills in creating bouquets that impress that set them apart as one of the best florists in Singapore, without a doubt. Keep an eye out for workshops too.
16. Floral Garage
Floral Garage has no shortage of passion, which is pretty apt when it comes to flowers. This team of hobbyists-turned-professionals will rustle up the bouquet of your dreams – whether traditional, modern, rustic (or a bouquet of veg) – without busting a hole in your wallet. Also, they nail the speedy delivery if you need last-minute flowers for a gift or special occasion.
17. Farm Florist
Looking for a special, customisable bouquet? Check out Farm Florist's surprise bouquets! Each surprise product is fully customisable — just tell them the occasion and what the recipient is into, and they'll do the rest. And you can be assured that each bouquet is fresh. All flowers are imported daily and kept in a special cold room to ensure and prolong freshness!
18. 24 Hrs City Florist
If you're faced with an emergency and need flowers ASAP, 24 Hrs City Florist is your go-to. Providing you put your order in before 8pm, it can even pull off same-day delivery. Choose your petals by occasion and category, or simply handpick the flowers you want.
19. Simply Flowers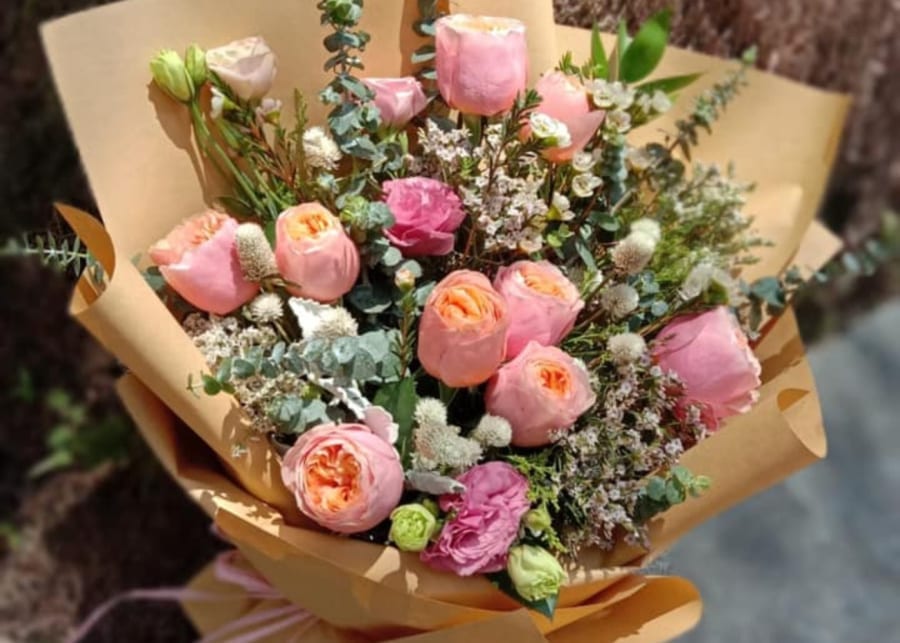 Simply Flowers is our go-to for quality blooms that won't cost the earth. And the range is pretty sweet: choose from your typical bouquet to potted posies and even floral sculptures. The physical stores are at Primax, Parkway Parade and Jem, and the floral folk also take online orders.
20. Roses Only
For traditionalists, head over to Roses Only, where beautiful blooms are classy and stylish. This Aussie brand found its way to our shores in 2013 and whips up the finest roses for all occasions. Guaranteed to impress if you're looking for the best flowers in Singapore!
21. Hello Flowers
Flowers with a side of social cause? We love! This social enterprise works with various groups and organisations on excellent social initiatives to reach out to the wider community. Hello Flowers aims to empower people through flower therapy, and what it has done so far really highlights that. Plus, the selection of blooms it sells are nothing to scoff at – they're all real beauts. Hello, flowers!
22. Petite Fleur
If you're looking to gift your loved ones with bouquets made of premium blooms, check out Petite Fleur. There are choices for every occasion and a selection of dried and preserved flowers, floral boxes, and even "hot air balloon" arrangements. Click to add an additional gift, like plushies or fairy lights, to spruce up your bouquet further. Your recipient will surely be wowed by your thoughtful gesture.
23. Rainbowly
Here's something a little unique – edible fruit-and-chocolate bouquets! The first (and probably the only) of its kind in Singapore, Rainbowly offers an assortment of freshly made gifts in the form of fresh fruit bouquets and chocolate-dipped strawberry arrangements. Anyone would be happy to receive these edible gifts! If sweets are not your thing, how about a money bouquet? This one is truly one of a kind and will definitely get your recipient's attention! Very IG-worthy, to say the least.
24. Beato Fiore
For exceptionally crafted floral arrangements, Beato Fiore is the florist that you want to hit up. A lot of thought is put into its floral artistry, which shines through with every bouquet we spotted on the website. Beato also provides omakase styling – an entirely unique arrangement based on the recipient's traits and moods. It even runs workshops, so you can understand flowers and learn how to arrange them.
25. FarEastFlora.com
FarEastFlora.com is a veteran when it comes to flowers and floral delivery. You can find practically everything that you need – and then some – at this florist. This well-established company also send flower bouquets and arrangements overseas. Perfect for sending your love to someone who's living halfway across the world. Just make your selection via its International Flowers collection, and leave everything else to these pros.
26. Floral Story
Hit up Floral Story if you want to customise the flower bouquet that complements your recipient's personality, a special occasion, or even your budget. Two other things that we like about Floral Story – its rainbow pride series channels a portion of its sales towards suicide prevention organisations and a collection of bouquets made for the guys!
27. The Bloom Box
If you find it a hassle to choose from the many selections a florist offers, we suggest you look into The Bloom Box. This bespoke florist offers one type of flower arrangement that comes in three sizes and changes daily. Flowers come in customised bloom boxes that make them easy to be carried around. Delivery is free across the island and Sentosa too!
28. Floracent
Gift long-lasting preserved flowers to your loved ones courtesy of Floracent. Each floral piece is uniquely handcrafted in-house upon order confirmation. Floral arrangements that come in domes are fitted with built-in lighting that gives the flowers a warm, gorge glow. These exquisite floral gifts will bring smiles to anyone who receives them!
29. Humming
This local brand specialises in customisable flowers and gifts that suit every occasion (or non-occasion, even). There are over 600 flowers and gift ideas in Humming's catalogue alone! If you want your orders to be delivered within the same day, be sure to place them before 3.30pm.
30. The Floral Petal
May we interest you in some paper flowers? These realistic and unique blooms by The Floral Petal are made out of Italian crepe paper and cardstock. These flowers will never wither and are suitable for those allergic to pollen. You can request for any flower to be made in any colour that you desire. This brand runs workshops, too, if you're interested in making your own paper florals.
Love this list of florists in Singapore? Check out these dessert delivery services, too, for more treats and pressie ideas!
Top image: Flowers and Kisses