We've rounded up all our fave sweet treats from our go-to bakeries and home bakers for delish desserts we can enjoy in the comfort of our own homes...
If there's one thing we love better than a great meal, it's the dessert that comes after it. Yep, we at HoneyKids have got an insatiable sweet tooth – which is why we're doing mini happy dances now that we can enjoy all our sweet faves in the comfort of our own homes. Goodbye, coming home with an ice-cream stained shirt and upset toddler and hello, having all our cleaning gear within our reach. Without further ado, here's the best dessert in Singapore with delivery options:
Ice-cream
Birds of Paradise
If you've ever been to Birds Of Paradise, you'd know that the queues are nothing short of horrendous. Here's our hot tip for the remainder of the circuit breaker: skip the queues and order online for your fragrant blue ginger or strawberry basil ice-cream fix. If you can, get some of those thyme cones to go!
Swensen's
Treat the whole family to awesome sundaes from Swensen's, available on all your favourite delivery platforms. Pictured up top is the tasting flight sundae, containing 15 scoops of ice-cream so that everyone at home can have their favourite flavours. Yum!
Udders
One of our fave local homegrown ice-cream brands, Udders has been serving up interesting flavours like Bailey's & Bourbon, Snickers Mars Honeycomb Vanilla and our fave, Milo, for years. Don't forget to try the equally awesome fluffy waffles!
Kind Kones
For a healthy and guilt-free sweet treat, we love the ice-cream at Kind Kones. It's free from dairy, soy, refined sugar, egg, preservatives and any artificial additives – yep, filled with all the good stuff!
Cake
Fluff Bakery
We've always sworn by their cupcakes, but Fluff Bakery's whole cakes are pretty darn tasty, too. This halal bakery offers local flavours like ondeh ondeh cake and teh tarik cupcakes, but its Strawberry Shortcake and Ferrero Rocher cake is high on our list of faves too! We recommend getting a box of six cupcakes to get the ultimate Fluff Bakery sampler to make your dessert delivery in Singapore worth it. Bye bye, diet.
The Ugly Cake Shop
Don't be fooled by the name – The Ugly Cake Shop uses real buttercream for its frosting – yep, both aesthetically pleasing and delish! All the cakes are completely customisable (Elmo face cake, anyone?), which makes it perfect for a circuit-breaker birthday. Also, the owners are really easy to talk to, making ordering – you guessed it – a piece of cake!
Edith Patisserie
From being a small home-style bakery to owning its own shop on North Bridge Road, Edith Patisserie has been everyone's go-to for scrumptious birthday cakes for yonks. From chocolate truffle to cookie dough speculoos chocolate cakes, you'll be spoilt for choice. We recommend ordering waaayyy in advance though; the shop can get quite busy, even during the circuit breaker!
Cake Spade
Although we love Cake Spade's uber-cute pink shophouse cafe, we're equally enamoured with its crazy-good selection of baked treats. Don't forget to check out its Strawberry Tofu Cheesecake and Chocolate Royaltine Cake!
Doughnuts
Krispy Kreme
You can never go wrong with a classic and Krispy Kreme's Original Glazed Doughnuts never fail to hit the spot. Oh, and if you order a dozen doughnuts for dessert delivery during the circuit breaker period in Singapore, you'll get a pack of half dozen original glazed doughnuts for FREE! Sharing is caring, people!
Symmetry
We get it, some days you just want a bombolini and a good cup of coffee. Luckily for us, the folks at Symmetry are there to help us with a caffeine and sweet treat fix. We especially love the Nutella bombolinis – you can't just order one box! And while you're at it, try the plain custard, mixed berries, raspberry, caramel and lemon curd flavours too!
Doughnut Shack
Here's our secret source for all things doughnut – Doughnut Shack has bombolinis and doughnuts in every flavour imaginable. Each doughnut is pure soft and chewy goodness, generously filled and topped. We recommend the salted caramel flavour or lemon cream and, for the adventurous, chilli crab!
Cookies
Cookie Guilt
Our favourite guilt trip? Cookies from Cookie Guilt stuffed to the gills with super-amazing taste bombs like honeycomb, marshmallow and brownies. And, with cookies named Walk of Shame, Tinder Surprise and Fifty Shades of Grey, you'll want to keep these droolworthy bakes away from the kids and all to yourself.
Ben's Cookies
Chocolate lovers will love these soft-baked cookies. The folks at Ben's Cookies don't scrimp on the chocolate – each loaded bite oozes with chocolate goodness! Our personal fave? The Triple Chunk Chocolate Cookie and the White Chocolate Chunk – nomz. Don't forget to eat it warm!
Guilt Free Food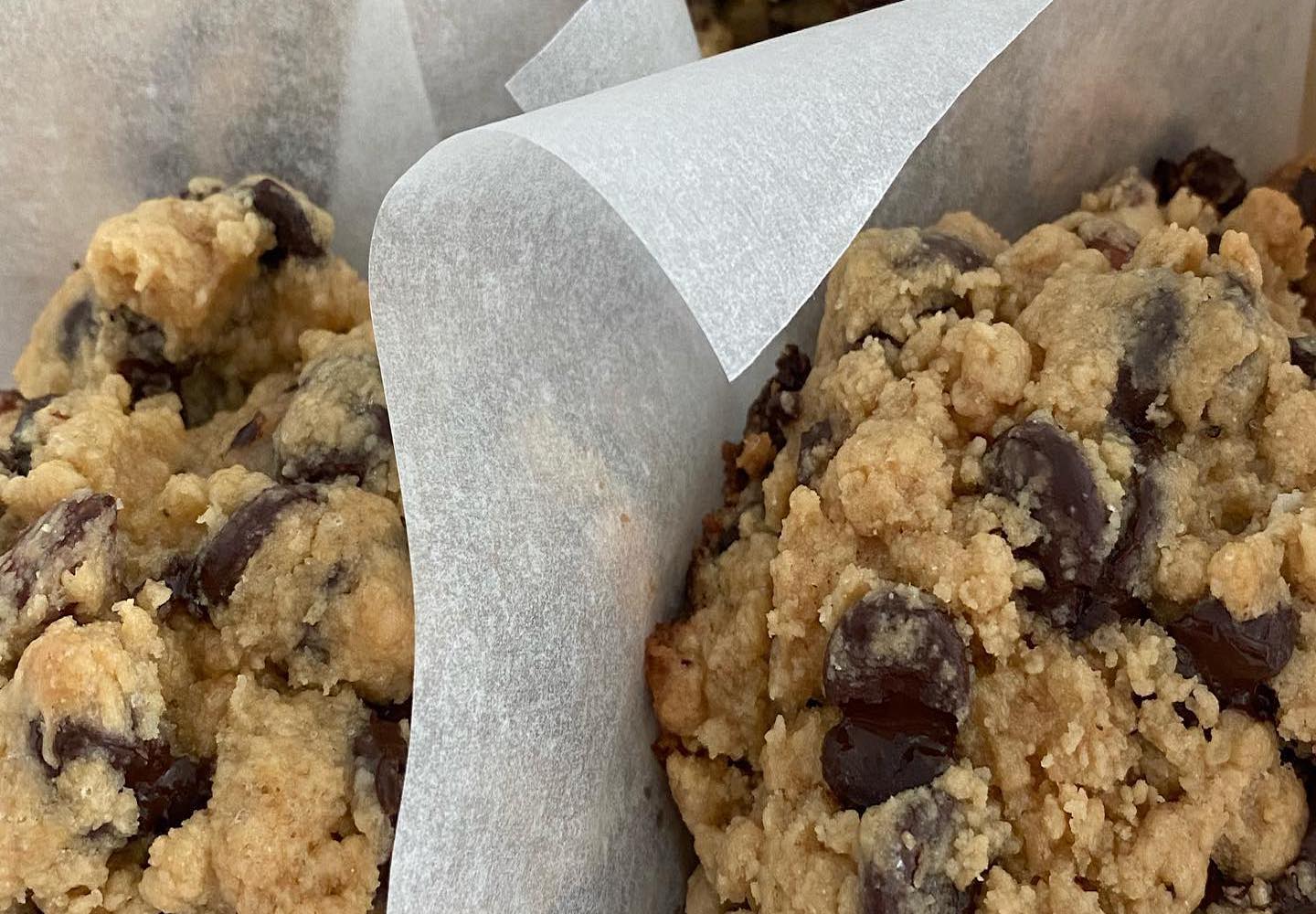 Levain-style chocolate chip cookies with a conscience? You'll find them at Guilt Free Food! Home baker Joyce uses only the freshest ingredients and takes great pains to reduce unnecessary sugar. Everything is made in small batches so you can be sure that they're made with love and care.
Pastries
Bakery Brera
It's more known for its freshly baked artisan breads, but family-owned Bakery Brera also offers a delectable range of pastries, tarts and cakes made only with the finest ingredients. From Taiwanese cheese tarts to the trending Burnt Basque Cheesecake and cruffins, they're your one-stop shop for dessert delivery in Singapore!
Brotherbird Milk & Croissants
Mochi. Croissants. Yes, you heard us right, and you can only get them at Brotherbird Milk & Croissants. Think a delightfully crispy outer layer with soft, fluffy layers on the inside, filled with your favourite flavours! We recommend ordering way in advance because these bad boys sell out really quickly.