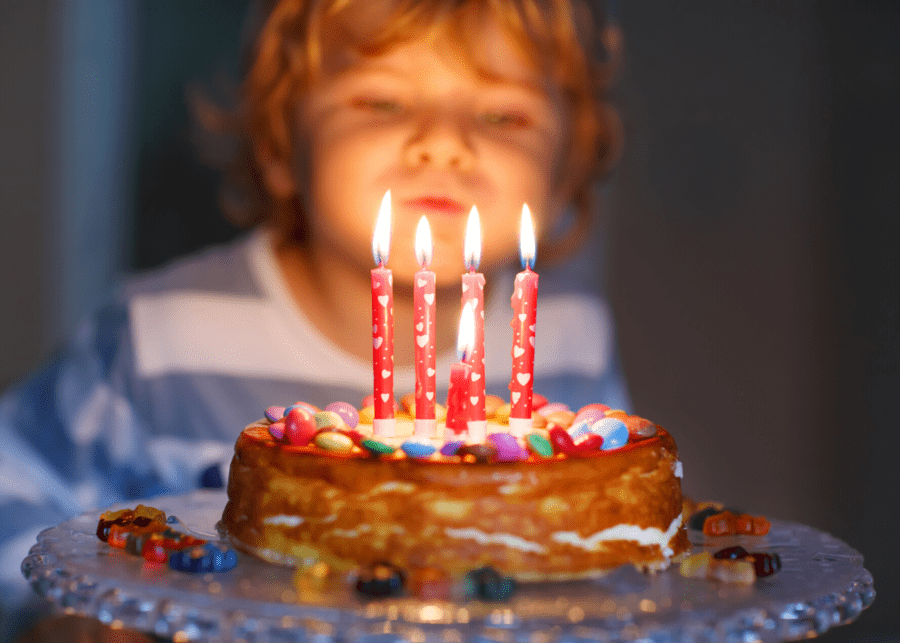 Celebrating a family birthday in this current climate? Here's how to make your little one's day extra special with a birthday party at home.
Just when we thought we're out of the woods, the government announced we're encouraged to stay home for a while longer. Which means, if you've got a little one's birthday coming up, then you'll need to get creative with the celebrations. While you won't be able to head out or invite friends and family over, you can still have heaps of fun. Our suggestion? Throw a birthday party at home! Whip out the craft kit, make your own party favours, kit your toys out with some mini party hats, whip up some DIY decorations… and don't forget the cake! Read on for more recommendations on how to throw a kids birthday party at home.
How to throw a kids birthday party at home
1. Host a virtual party
Technology has been a lifesaver these days. Between helping with the kids' home learning and providing countless hours of entertainment (TikTok dance, anyone?), it's also been great to catch up with friends and family who we can't visit in person. And what's a party without loved ones to celebrate with you? Make your child's birthday party at home special with a Skype, Zoom or FaceTime call. We personally prefer Zoom – it's easy to set up and you can see everyone at the same time.
2. Ask the birthday kid what they want to do
Celebrating birthdays as an adult means getting to do whatever we want on our special day, whether it's a spa treatment, brunch with our girlfriends or just having some me-time moments. So why not put the ball in your kid's court and get them to use their imagination? They could pretend to be a spy for the day, be a princess or spend the day finding gold on a treasure hunt (psst, you can try hiding the birthday presents around the house!). The possibilities are endless!
3. Order or bake a special birthday cake
Birthday parties aren't complete without a birthday cake! In fact, if you ask us, it's probably the best part of a birthday celebration – after all, who doesn't like cake? Make your little one's birthday party at home special by ordering a birthday cake from one of your favourite local bakeries. (Just check they're still operating during these tighter restrictions.) Or, you could bake your own birthday cake with the kiddos yourself. Psst, we've got top tips here to get you started…
4. Have family and friends mail presents and cards in advance
As a kid, one of the best parts of celebrating your birthday is opening up presents and reading cards from loved ones. And even though we're on Heightened Alert right now, that doesn't mean your little one still can't receive gifts on their special day. Get the family and friends to mail presents and cards in advance, or order something locally on their behalf. Psst, plan well for this one!
5. Have a yes day
Treat your munchkin like a king or queen for their birthday by having a 'yes day'. Yup, this is exactly what you think it's going to be. Ice cream for breakfast? Yes! Watching your favourite movies all day? Yes! Playing your favourite console games without parents nagging? Yes! The birthday kid will have a field day with this one! On second thoughts, maybe a 'yes hour' is more bearable…
6. Celebrate with a special meal
Chocolate chip pancakes for breakfast? Or your favourite Tex-Mex takeout for dinner? Celebrate your little one's birthday with a special meal from their favourite place to eat. You could either order takeaway from these restaurants, or you could recreate your own. Sounds like a scrumptious birthday party at home to us.
7. Compete in a baking contest
Does your sproglet love to bake? Kick off the birthday party at home with a baking contest! Whether you want to go all out and try to decorate a cake like in Nailed It! and Cupcake Wars, or want to come up with your own baking competition of sorts, we bet it'll be tons of fun. Plus, you can eat your baked goods after, too.
8. Spend a day 'riding' rollercoasters
Can't celebrate your birthday at a theme park? Thankfully, YouTube has a ton of videos that allow you to virtually ride your favourite theme park attractions. From Disneyland to Six Flags, there are plenty of options for you to choose from!
9. Decorate the house with these easy tutorials
Other than cake and presents, a birthday party at home isn't complete without some decorations. Whip out your craft kit and make these easy decorations for the home. You could get the kids to help to craft these cool zigzag streamers out of coloured paper, string together this easy birthday tassel garland. You don't even need fancy supplies, just some coloured tissue paper, scissors and string, and you're good to go.
Or, you could go nuts with scrap paper, fabric, glue and other materials to make your own cardboard collage – this one by ArtBar is in the form of a rainbow, but it can be any shape the birthday kid prefers.
10. Turn up the party with some tunes
Party time! Put on some tunes for the birthday party at home by curating your own playlist or checking out Spotify for some great hits. There's even a top 100 kids party playlist with the hottest hits that we're sure your young 'uns will enjoy. And, it'll give the kids a chance to live out their DJ dreams.
Make the best of a birthday party at home, folks!