This Teachers' Day, if you know an A for Awesome teacher, check out our guide for some lovely gift ideas!
Having a great teacher can make a world of difference to your child's experience in school. And there's plenty to thank our kids' teachers for. Well, this Teachers' Day (2 September 2022), take the opportunity to say "thank you", "xiexie", or "terima kasih" to those teachers who have made a difference to your children. But no matter what language we say it in, it definitely needs to be said. So, we asked several teachers to share with us the best gifts they've received and rounded up some solid thank you gift ideas for teachers.
Teachers' Day in Singapore 2022 – The HoneyKids gift guide to thank you gifts for teachers
1. Handmade Teachers' Day gift ideas
Say thanks with homemade cookies…
A personal favourite in our household for handmade gifts is a batch of biscuits baked by the kids. You can even cut them out into apple shapes for an extra teacher-friendly vibe! Use a clean old jam jar to put your cookies in, and then tie a ribbon around the lid. Then, add a label, and they are good to go
…and don't forget the card!
Homemade cards are another good crafty idea that teachers will love. Teachers want nothing more than to see their pupils producing amazing work, and a drawing or card is a personal gift that will mean a lot to them. Psst, all of the teachers we spoke to put homemade cards on their list of most treasured presents. You can't go wrong with this one.
We love these practical homemade gifts, too!
A handmade bookmark is a handy teacher's day pressie and is something your teacher will definitely need. Get creative with decorating them – paste on some buttons, sprinkle over some glitter, or even paste dried pressed flowers- your creativity will speak volumes, and your teacher will love their snazzy, new bookmark in their book.
An easy-to-make paperweight is a great present to show your love and appreciation towards your teacher. Choose a large pebble and make an artsy composition with acrylic paints. A suggestion – a caricature of your teacher alongside their name would look lovely on the pebble!
A sweet treat box is a super fun gift to put together and is so easy to make. Take a cardboard box (a recycled box would be great), and fill it up with your favourite sweet treats, candies, and confetti. Put your craftsy hat on and decorate the box with doodles and a thank you note!
Let's be honest, teaching is not an easy job at all! Every teacher deserves a few words of encouragement along their journey, and what better way to show this to them than by framing a quote art poster made by yours truly? Take a brightly coloured sheet of paper and pen down your favourite teacher quote that defines what your teacher means to you. Frame it for that final touch…and voila! A work of art!
Or, great gifts for Teachers' Day in Singapore at pocket money prices
Teachers absolutely do not expect students to spend much, if anything, for their Teachers' Day pressie. Our children use their own pocket money to purchase gifts for their teachers, so if they are not feeling crafty and want to buy something instead, we do try and keep the cost relatively low. Here are our picks for great gifts below $40.
1. A teacher stamp
Now in case you didn't already know, teachers love stationery. We're talking pens, notebooks, anything craft-related. But instead of just buying them something in-store, why not go all out and order something customised instead? We found this adorable teacher stamp from PinkPueblo2 on Etsy. It's cute, it's fun and it's personalised – we're sure it'll definitely bring a smile to a teacher's face!
2. A handmade bag charm
We love the handmade goodies and beautiful bag charms created by Ryan Koh, an amazing young man who doesn't let autism get in the way of creating gorgeous gifts not just for Teachers' Day but year-round too. Have a look around Mustard Tree, his online shop – we love the leather beagle bag charm: perfect for a dog-loving teacher.
3. A baked treat
Everyone loves a baked treat – especially if it's chocolate-covered. And if you can't bake yourself, we say, just buy a cake instead! There are plenty of solid options around town, from the beloved chocolate chiffon cake from Lana Cakes to your store-bought but delightfully decadent chocolate cakes from Chocolate Origin. We also love to source out cakes from small businesses like the Ugly Cake Shop which has cakes, cookies, cupcakes and more. Yum!
4. A quirky gift
Oh Happy Fry has an adorable collection of items that we've fawned over for years. And it's a great option if you're looking for a quirky gift for teachers! Perhaps a cloud cushion for when they're sitting at their desks busy marking assignments. Or why not get an anatomical skeleton or dog puzzle instead? If you ask us, the puzzle takes the cake.
5. A gift bundle
The Art Faculty is a platform to promote the special talents of people with autism and related challenges and it encompasses an art gallery, training ground, studio and art cafe to bring great works into the public arena. Take a look at The Animal Project range, which is full of teacher-worthy presents from pencil cases to mugs, totes to tumblers: all with bright and funky designs created by students from Pathlight. Or, check out its gift bundles! Very cute.
6. A handmade bar of chocolate
Leela's Fine Chocolates creates sweet treats for all occasions. And we know teachers can definitely do with some sweet treats at the end of a long week. Check out the delicious handmade choccie bars in scrumptious flavours, including salted dark chocolate, chilli, hazel crunch, and caramel.
7. A bath bomb
A nice, soothing soak in the bath is sure to calm and alleviate worries and stress at the end of the day. We love this pencil bath bomb (above) from Etsy, or check out the range of bath bombs from Lush! And while you're at it, you might as well add some to your cart too… you know we will!
8. A local twist
For 'made in Singapore' gift ideas, we think all teachers need a weekly planner, tote or brooch pin to show off the Singapore pride. Need more options? Check out the Strangely Singaporean collection the little dröm store has for locally-inspired gifts. Psst, we also love the pop art pieces of iconic Singapore buildings, Peranakan cork coasters and a giant colouring poster of Singapore from Gifts Less Ordinary.
9. A fountain pen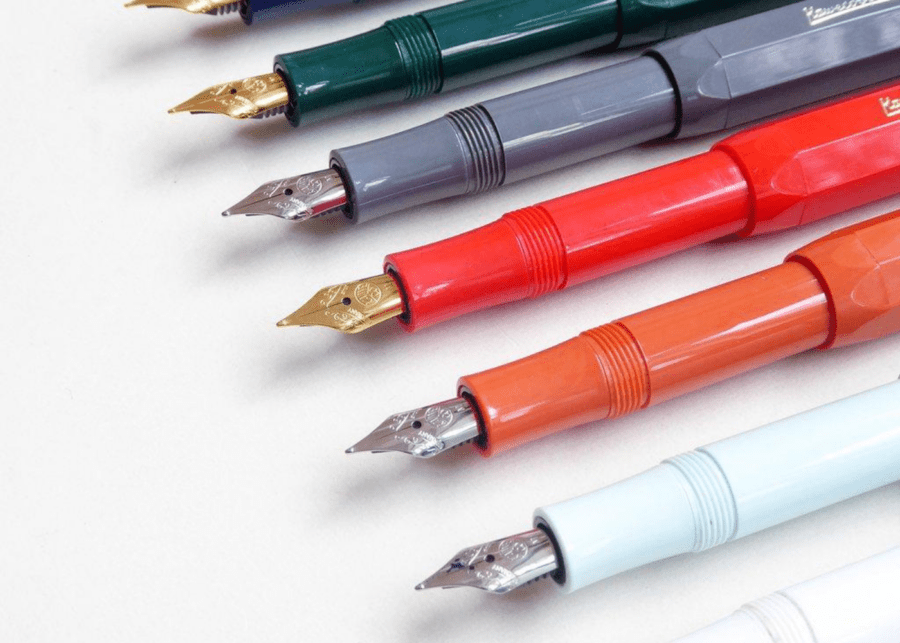 Fountain pens are a classy way for your kids' teachers to mark assignments, and the HoneyKids team is no stranger to these. You can get affordable and easy-to-use pens from one of our favourite stores, Tokyu Hands. Or, check out City Luxe for its range of fountain pens! Our pick? The Sport fountain pen range from Kaweco – it's pocket-sized and perfect for a teacher on the go. We use ours regularly for our day-to-day, and the ink refills are easy to source, too. Plus, it comes in a variety of colours!
10. A notebook or bullet journal
This is a fail-safe gift option, as teachers will always have use for notebooks. Typo has a great selection of colourful notebooks that will surely put a smile on teachers' faces. While you're there, get some stationery to complete a "writing set". Looking for something simple and utilitarian but still dreamy? Options galore at kikki.K; you might just be tempted to get one for yourself! If you have more moolah to spend, head to Bynd Artisan and customise a notebook to gift to your child's favourite educator.
11. Flowers
Yes, we know it's basic, but honestly? Nothing says it best than a lovely bouquet of flowers! Our colleague recommends getting the cotton and lavender bouquet from Petite Fleur – simple but still chic and oh-so-effective. We're also in love with the Teacher's Day Rainbow Bouquet from Happy Bunch (pictured above). The set comes complete with five mini bouquets of rainbow-coloured baby's breath flowers, so you can treat all your kids' teachers! Need more options? We've got a list of the best florists in Singapore for you to get pretty stems for your kid's teacher(s).
12. A succulent pot
Flowers are not the only thing that can do the trick. An adorable succulent in a pot equally qualifies as a lovely prezzie to gift your teacher. The best part- there is a wide variety of succulents and pots to choose from! You can even add a few micro landscape ornaments (like mushrooms) into your succulent pot to amp up that cuteness score. We love the options of succulents (and all that goes with them) available at Succulent Succulents.
13. A candle
Nothing calms the nerves better than a scented candle after a long day of teaching. And your teacher definitely needs one to relax. We recommend this adorable crystal scented candle by Sienna Blue Handmade that not only looks and smells amazing but has a secret message in a bottle hidden in the candle wax. Now that ought to surprise your teacher! There are many candle gift pack options available too that do not cost the earth and will score you big brownie points. Our pick? Check out the Teachers' Day Gift Pack by the rituals co. Packed with scented goodies in a dainty eco-bag, we reckon this will be the absolute treat for your teacher.
14. A customised gift
A customised gift might need a bit of planning ahead of time, but it is completely worth the effort. Cause, honestly- we all love personalised gifts! There is a tonne of gift options you can explore and customise for a snazzy gift your teacher will love- like water bottles, clipboards, coffee mugs, tees etc. We love these customised tumblers by Well Threaded US. Not only do they look stylish to carry around, but your teacher will be mindful to keep a tab on staying hydrated in the Singapore heat. Super handy!
15. A tea hamper
We all love a hot cup of refreshing tea at the end of a long day. Clipper Tea has an assortment of tea hampers you can choose from, and we know it will bring a smile across your teacher's face. Our pick? The Sip of Singapore has two tea tins with exotic tropical flavours inspired by Singapore, including orchid tea. A perfect tea-chers day treat!
The most important thing? Showing all the amazing teachers our gratitude
Gifts are all well and good, but Teachers' Day is all about showing our gratitude to those wonderful people who help shape our small people into becoming successful adults they will one day be. We all remember our favourite and most influential teachers from our own school days; the ones who went the extra mile to help us understand, develop and thrive. All of them played a part in making us the adults we are today. Teachers are some of the most important people to have crossed our paths, both as pupils and as parents. They all deserve a little something to say a great big thank you.
Psst, here's what teachers really love to find on their desks
We have asked a few teachers around the Little Red Dot what their favourite presents over the years have been, and we have also come up with some great ideas at pocket money prices for your little one to wrap and bestow on their own teachers this year.
"I have been touched hugely over the years by a number of really thoughtful gifts. One really special present came in the form of a scrapbook with a photo and a message from every child in my class.  The class mums had passed the book among themselves, getting their kids to add their own sentiments until it was finished. It was presented to me as a thank you gift I will never forget, and one that I have treasured through the years. I was recently reminded of the present when I ran into one of the boys from my class who now towers above me and has grown into quite the charming young man."
– Paulina
"I still use a very special gift I received from one of my students, which is a daily reminder of how much my profession means to me and those I teach. It is a simple metal keyring with my name engraved on one side, and the words "Teach. Laugh. Inspire" on the other. It was just so touching, so personal and thoughtful."
– Lisa
"I love each and every one of my mugs, brooches and teddy bears from my pupils, and I keep them all! I am super sentimental, so have been filled with joy at each and every gift presented to me. A particular gift that sticks out was from a little boy in my class who made the teachers in school a chocolate bouquet of flowers using pipe cleaners, cellophane and a whole pile of love.  He then took the bouquet apart once in school and handed each teacher a stem of their own."
– Rachael
More thoughtful gifts for Teacher's Day:
"I've taught in various countries over the years and I've had some really memorable gifts. My list includes a half-eaten bag of sweets, a voucher for slimming pills and a Christmas tree! I've also been given pre-loved teddies, which obviously come with huge sentimental value and bring a tear to my eye. I was even the very lucky recipient of airline tickets one year from a student!"
– Lesley
"My name is Mark and I am a coffee addict. And my students all know this! So along with a fantastic collection of 'best teacher' mugs, a present that really stuck out for me was when one of my kids bought me a voucher for Starbucks for just the right amount for a cup of coffee! And it turned out perfectly because it was such a great idea, the other kids took note and so I have been happily receiving Starbucks vouchers ever since."
– Mark
"Being from the UK, I was super chuffed to find a packet of my favourite British crisps on my desk here in Singapore from one pupil on Teachers' Day! So if you have a teacher who is from overseas, then sourcing a little gift from their home country is always a great gesture. And my oddest present yet? A vibrating hamster that attaches to my laptop!"
– Catherine
And psst – there's no better gift than a thank you from the kids themselves… so here's ours!
Happy Teachers' Day to all the wonderful educators out there! 💕🏆We appreciate you BIG TIME… and so do our kiddos! 😍#honeykidsasia#teachersday#teachersday2021

Posted by HoneyKids Asia on Friday, September 3, 2021
Happy Teachers' Day, folks!