Photography: Nataliya Vaitkevich via Pexels
Mid-Autumn Festival means mooncakes galore! Here are our best picks of these indulgent and tasty treats for you and the kids!
Growing up, the Mid-Autumn Festival was one of my favourite cultural holidays of the year (and it still is!). The family would get together and enjoy the evening by sharing these lotus paste-filled pastries, and the kids would play with their cellophane lanterns (before they caught on fire… thankfully, there are battery-operated ones now!). And the highlight of every Mid-Autumn festival is checking out the range of mooncakes and the gorgeous boxes that double up as storage tins or gifts for friends and family. So, mark your calendars: this year, the Mid-Autumn Festival will take place tomorrow (29 September 2023), which means now's your last chance to find the best mooncakes in Singapore. There's something for everyone! Don't forget about the durian-flavoured ones, too – if that's your thing!
The best mooncakes in Singapore 2023
1. Ding Mooncake
Ding Mooncake is back with its award-winning mooncakes for this year's Mid-Autumn Festival! You can expect flavours like Signature White Lotus and Traditional Pandan, all with double yolk options available. Durian fans will also love its Durian Snow Skin Mooncake, made from Pahang Highlands Black Gold Mao Shan Wang durians. We love that Ding's mooncakes are all freshly handmade with zero preservatives and additives. The popular mooncake brand comes in beautiful designer boxes, too, great for gifting friends and family. Psst… Order soon to avoid disappointment – these mooncakes sell out pretty quick!
When and where: Order online now for delivery.
2. The Marmalade Pantry
Love baked mooncakes? The Marmalade Pantry has introduced three new flavours on top of its signature White Lotus with Double Yolk. New flavours to look forward to include Assam Tea and Hokkaido Milk with Raisin, Taro Coconut with Red Bean (I like this!), as well as Red Lotus and Black Sesame with Pecan. The mooncakes come in an elegantly designed Jewel Vault jewellery box as well, crafted from sustainable material. We love!
When & where: Now till 29 September 2023. Pre-order in-store or online for self pick-up at any of The Marmalade Pantry's outlets. 
3. Bynd Artisan + Sunday Folks
Bynd Artisan and Sunday Folks are collaborating again to launch their mooncake collection for the third consecutive year! What you can expect this year: delicious custard mooncakes and a beautifully weaved leather basket. Sunday Folks has prepared two fresh flavours: Yuzu Custard and Lava Custard, whereas Bynd Artisan created a vegan-weaved leather basket and a nylon dust bag featuring The Letter J Supply's art prints. It's the perfect gift to get Tugether in Harmony with family and friends!
When & where: Pre-order in-store or via Bynd Artisan or Sunday Folks' websites for delivery or self pick-up at any Bynd Artisan and Sunday Folks' outlets. 
4. Hong Kong MX
Hong Kong's super popular MX Lava Custard Mooncakes are available in Singapore! Made from French butter, coconut cream, and salted egg yolks, these yummy treats are double-baked to achieve the effect of oozing golden lava yolk when cut. Hong Kong MX is also celebrating Disney100 with a limited edition musical mooncake gift box featuring all of Disney's iconic characters to the tune of It's A Small World (After All).
When & where: Order online now or purchase in-store from authorised resellers (list of outlets here).
5. Thye Moh Chan
Personally, I feel that nothing beats Thye Moh Chan when it comes to Teochew mooncakes. This bakery is one of the local masters of Teochew pastries and has been a favourite among Singaporeans for many decades. Thye Moh Chan has been creating handmade pastries for 80 years: ranging from traditional tau sar and yam and all-time favourite Yuan Yang. This year, the bakery is celebrates its 80th anniversary with two new mooncake flavours – Jasmine with Salted Egg Yolk and Pistachio – perfectly baked within its signature flaky butter pastry.
When & where: Purchase in-store at any Thye Moh Chan outlet, as well as selected BreadTalk and Toast Box outlets.
6. Tai Cheong Bakery
You may know Tai Cheong Bakery for its egg tarts, but did you know the bakery makes delicious mooncakes too? Its lotus paste is made from the choicest lotus seeds that are sourced from Hunan, a province in China known for producing some of the best lotus seeds in the region. There are also the traditional Wu Ren (five nuts), chewy Black Sesame Mochi, rich Custard, and comforting Red Bean Paste with Tangerine Peel. All these are airflown directly from Hong Kong too!
When & where: Purchase in-store at any Tai Cheong Bakery outlets (except Changi Airport Terminal 3). 
7. La Levain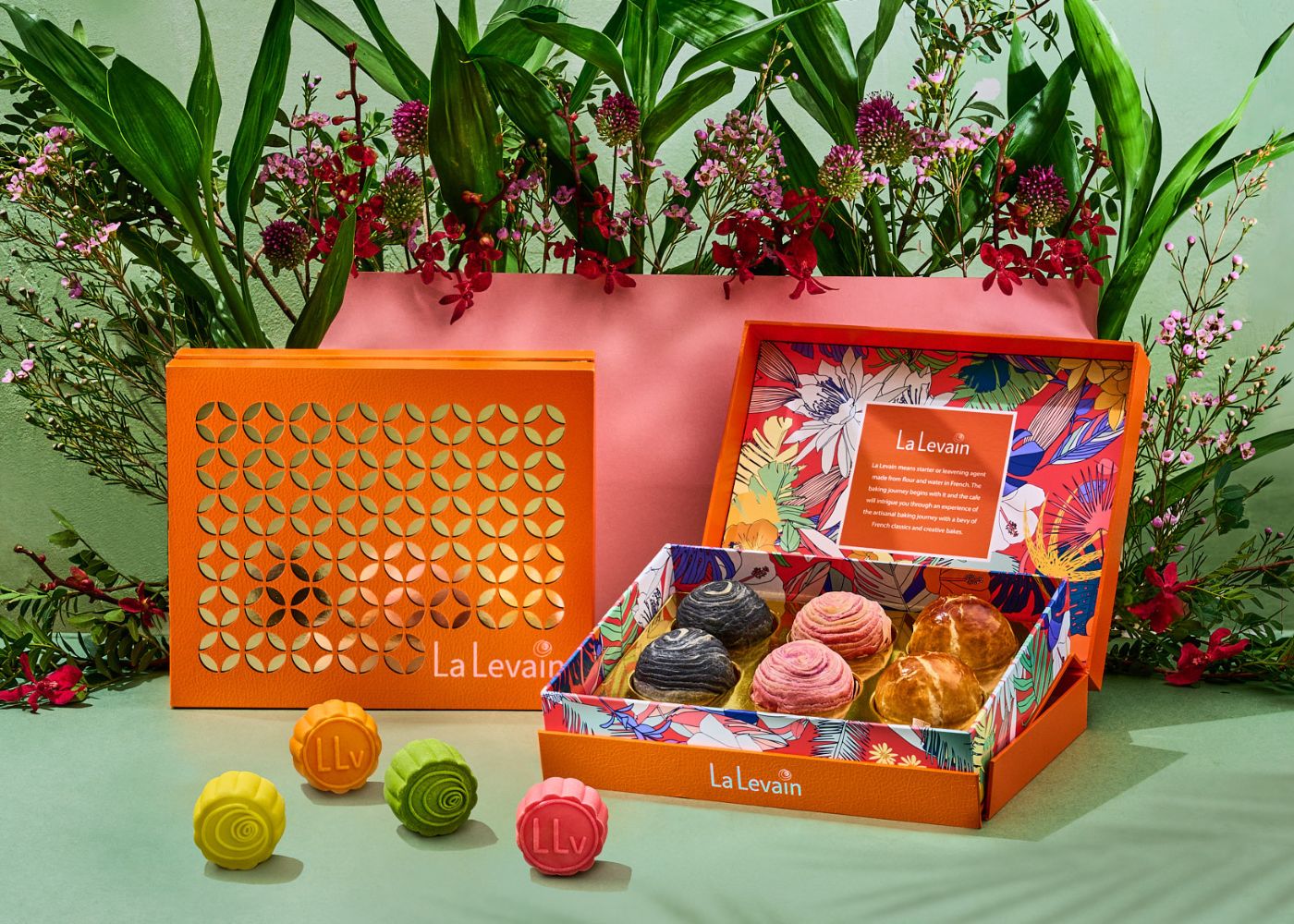 Aficionados would know that when it comes to mooncakes, Teochew mooncakes are of a different league. These are layered and flaky mooncakes that require superb skills and techniques. As such, you can imagine that each of La Levain's Baked Teochew Mooncakes are individual labours of love. In this range, there's Molten Salted Egg, Bobo Chacha Mochi, and Black Sesame Latte. Oh, and did we mention that La Levain's Teochew mooncakes are made using the legendary Lescure butter? But that's not all — you can look forward to boozy mooncakes from the bakery's Truffle Liqueur Snow Skin range! Your tastebuds are in for a treat with Apricot Passion Fruit (with Liqueur D'Abricot), Ispahan (with lychee liqueur), Yuzu Pomme (with Pomme Vert Liqueur), and the alcohol-free Strawberry Lime.
When & where: Order online for delivery or self pick-up. 
8. JU Signatures
Love orh nee? You'll love JU Signatures' best-selling Signature Flaky Teochew with Pure Orh Nee mooncakes. We were told that the chef behind this creation has over 30 years of experience making them! Each of these Teochew mooncakes are made in-house, and its orh nee paste are made from high quality yams that have been cooked over four hours to achieve a velvety smooth texture. JU Signatures also has two snow skin collections: two truffle mooncakes and four fruit-based ones. Looking for a healthier choice? The restaurant also has low sugar Cantonese-style mooncakes!
When & where: Order online for delivery or self pick-up. 
9. Summer Pavilion, Ritz-Carlton, Millenia Singapore
Make a fashion statement this Mid-Autumn Festival with Mooncake Vanity Boxes from the Michelin-starred Summer Pavilion at Ritz-Carlton, Millenia Singapore. The restaurant's mooncake collection is packaged in exquisite leather-woven vanity boxes, coming in baby blue and blush pink colours (just in time for Barbie!). Popular snow skin mooncakes include the mini lycheetini and Irish coffeetini, Mao Shan Wang, Green Tea, and White Lotus Seed Paste.
When & where: Pre-order online for delivery (minimum order of $80 required) or self pick-up. 
10. Chuan Ji Singapore
Hainanese mooncake is a disappearing legacy that Chuan Ji Singapore is fighting to save. This Hainanese bakery and cafe use a near-century-old family recipe to create the mooncakes, which are also known as Hainanese Flaky Biscuits. These unique mooncakes have a buttery and flaky crust, with fillings made from melon seeds, orange peels, sesame seeds, and fried shallots. Definitely worth a try if you're looking to sample different traditional mooncakes!
When & where: Orders closed for 2023. Stay tuned for next year!
11. Hilton Singapore Orchard
Hilton Singapore Orchard honours harmony and heritage this Mid-Autumn Festival with a collection of baked mooncakes with timeless flavours. Choose from White Lotus (plain, single, and double yolk options available), Matcha Black Sesame, and Gula Melaka with Azuki. All these come in a botanical-inspired box together with a furoshiki cloth as a carrier, as well as an AR surprise — watch the flowers bloom!
When & where: Pre-order online for delivery or self pick-up. 
12. Swensen's
Here's one for the serious dessert lovers — ice cream mooncakes from Swensen's! These icy delights are made with chewy mochi skin, with eight different ice cream fillings. On top of all-time favourites like Sticky Chewy Chocolate, Cookies 'N' Cream, and Durian King, there are five new flavours for you to discover. This includes the ultra indulgent Mao Shan Wang, sweet Strawrry, earthy Ube, Genmaicha for green tea fans, and the refreshing Lychee Rose. Another thing to love about this mooncake collection is that it comes with a box and reusable bag designed by The Art Faculty, a social enterprise by Autism Resource Centre that showcases the talents of artists with special needs. A sweet collaboration with a good cause, win-win!
When & where: From now till 29 September 2023. Pre-order online for delivery or self pick-up. 
13. W Singapore – Sentosa Cove
This is W Singapore – Sentosa Cove's first mooncake collection! On top of that, it's couture. The first edition of the hotel's Mooncake Lunar Couture collection features baked mooncakes in four flavours: White Lotus Paste (single and double yolk), Assorted Nuts, Lychee White Lotus Paste, and Royal Osmanthus White Lotus Paste. These come in a runway-worthy round carrier bag, available in both luscious red and emerald green. Opt for the Hamper Box, and you'll get a Turkish peshtemal beach towel, a W Singapore – Sentosa Cove sun visor, and (gasp) a bottle of Moët & Chandon Champagne. Fancy enough to fly us to the moon!
When & where: Order online for delivery or self pick-up. 
14. Mdm Ling Bakery
The world's first Monopoly Mooncake (Street Smart Edition) is back, courtesy of Mdm Ling Bakery. What's more, the bakery's popular Signature Baked Skin Mooncakes makes a return too, this time in floral designs. But what got us really excited is its new Fruity Truffle Snow Skin Mooncakes, available in flavours like Yuzu, Lychee, Peach and Passion Fruit, as well as the fun Popping Candy (with natural sweetness from dragonfruit!). We're also looking forward to try the new and unique Kueh Lapis Mooncakes, a collection of mooncakes that are meticulously layered, just like the an actual kueh lapis!
When & where: Order online for delivery. 
15. Gardens by the Bay x The Capitol Kempinski Hotel Singapore
Say hello to Gardens by the Bay's first mooncake collection, crafted in harmony with The Capitol Kempinski Hotel Singapore! The mooncakes are inspired by the Gardens' beautiful floral displays (as expected), featuring two flavours: Rose Macadamia and Chrysanthemum Melon Seed. These baked mooncakes come in an exquisite box illustrated with icons of the Gardens, which also comes with a special edition bag from the hotel. On a side note, don't you think it goes with the whole Barbie theme too?
When & where: Order online or purchase in-store at Gardens by the Bay's gift shop. 
16. Shangri-La Singapore
Shangri-La Singapore has a number of different mooncake collections this year. Ranging from the boozy Origin Bar Cocktail Snow Skin Mooncakes, the plant-based Shanghai Mooncakes, to the luxurious Shang Palace Spirulina Mung Bean with Bird's Nest Charcoal Mooncakes, the list goes on! But what we really like is the Kid's Mooncake Brick Set. We've got HUGE brick toys fans here – and we're not just talking about our little ones. This colourful set comes with Mini Chocolate with Chocolate Chip Mooncakes, a collection of bricks, and a manual on how to create your own mooncake carrier bag. What a great way to bond with the kids this Mid-Autumn Festival!
When & where: Now till 29 September 2023. Pre-order online for delivery or self pick-up. 
Now the hard part – choosing which ones to buy! Good luck!