Lucky enough to be jetting off to Hong Kong? Here's how to make the most of your family vacation in the city that never sleeps.
The New York of the East, Hong Kong, is a tiny yet mind-blowing island. It's a city of juxtaposition, where Chinese tradition meets international modernity. While it's an adults' haven with uber-luxe hotels, wild sporting events (Hong Kong Sevens and Happy Valley races), high-end dining and fabulous shopping, it's also a brilliant family-friendly holiday destination. The glittering metropolis draws families from far and wide with some of the best theme parks in Asia, invigorating hiking trails, great beaches, unique local attractions, awesome parks and delicious food. It's THE city break you can't miss this year.
Hong Kong weather
The months of January and February are usually cloudy in Hong Kong. May to August are when it's the most hot and humid. May to November are also the months with the most tropical cyclones that may strike Hong Kong. Hong Kong's weather in December is clear and dry at around 16-20ºC. Pack long sleeved shirts and pants/jeans, with a light coat or jacket in case it turns chilly if you're traveling around this time. Don't forget good walking shoes!
How to get to Hong Kong
As Hong Kong is just four hours away from Singapore by plane, it's great for a weekend trip. Direct flight options include Singapore Airlines, Cathay Pacific, Scoot and Jetstar. We recommend catching a night flight the day before or an early morning one around 7:30 – 8am, so you can enjoy at least a full afternoon in Hong Kong!
Psst, did you know we have a sister site dedicated to all things Hong Kong? Head on over to Honeycombers Hong Kong for all the info you need to plan an awesome trip with the family! 
What to do with kids in Hong Kong: family-friendly attractions in Hong Kong
There's heaps to do in Hong Kong – check out these free things to have on your list, as well as our top pick of best attractions for kids in Hong Kong. Oh, and don't miss these Instagrammable spots, historical buildings and experience gifts for an unforgettable family trip!
1. Hong Kong Disneyland, with the new World of Frozen launching 20 November 2023!
No self-respecting kids' guide to Hong Kong can start at any place other than Disneyland! It's truly a magical place where every child's eyes will shine bright with wonder (and, ahem… adults too). It's well connected to HK Central by the efficient and affordable Mass Transit Railway (MTR). The kids will go wild when they board the Disney train with iconic Mickey Mouse-shaped windows and themed decor. It's also manageable in terms of crowds, making it easier to navigate with tots in tow. Not to be missed: the quintessential fireworks-infused Disney parade and Broadway-inspired shows.
Plus, the world's first and largest 'Frozen' themed land, 'World of Frozen' is set to open on 20 November 2023! Visit the 'real life' Arendelle with iconic scenes from Frozen and Frozen 2 such as North Mountain, Ice Palace and Arendelle Castle. Look forward to fun-filled rides such as Frozen Ever After and Wandering Oaken's Sliding Sleighs, a 'Frozen Ever After' experience where kids will get to meet Elsa at her Ice Palace, and enjoy a unique interactive play experience with Anna and Elsa at Playhouse in the Woods! Keep your eyes peeled for more details, and find out how you can be among the first to explore the World of Frozen an hour before the official opening with an exclusive hotel package.
Hong Kong Disneyland, Lantau Island, Hong Kong
2. Ocean Park Hong Kong
Ocean Park is another fun-filled theme park to entertain your little adventurers. It caters for all ages but is probably more suitable for the slightly older child than Disneyland (ages five and up). It not only has a good array of amusement park rides but also boasts an amazing mammal park and aquarium.
Ocean Park, Aberdeen, Hong Kong p.(852) 3923 2323
3. Hong Kong Zoological and Botanical Gardens
Animal lovers should head straight to the Hong Kong Zoological and Botanical Gardens, one of the oldest in the world, for a wonderful Sunday stroll. Look out for birds and monkeys: a jungle within the concrete jungle. You can also take in a game of Chinese chess, played religiously by the locals out in the open air under the trees.
Hong Kong Zoological and Botanical Gardens, Albany Road, Central, Hong Kong
4. Hong Kong Space Museum
Get your head out of the clouds and head straight to the Hong Kong Space Museum to learn more about our solar system, thanks to the establishment's numerous exhibits.
Hong Kong Space Museum, 10 Salisbury Road, Tsim Sha Tsui, Kowloon, Hong Kong
 5. Take a hike
With its majestic mountains and spectacular harbour views, Hong Kong is an awesome place for family hiking. The age and stamina of your kids is key; you don't want to find yourself schlepping them up the hills on your shoulders, so we've hand-selected four trails with gentle undulations and paved tracks. Your junior entourage should be capable of surviving a ramble at Pok Fu Lam Country Park, Tai Tam Country Park, Bowen Road and Sai Kung Country Park at Pak Tam Chung. For more info on Hong Kong's 24 Parks, check out the Hong Kong Agriculture Fisheries and Conservation Department website. And like a good scout leader, be prepared with maps, water, Dora the Explorer Band-Aids, sunscreen and snacks.
6. Hit the beach
The mere mention of Hong Kong tends to summon up images of gritty, edgy skyscraper-lined streets, not idyllic beach landscapes. Surprisingly, there are some lovely, well-equipped beaches where the South China Sea ebbs onto clean white sands (think lifeguards, swimmers pavilions with showers and toilets, kids' playgrounds and BBQ pits). But we aren't talking pristine turquoise waters, so best to check the pollution levels and water quality on the Hong Kong Environmental Protection Department website before donning your swimsuits.
A few of our fave spots to park your beach umbrella are Repulse Bay Beach (for easy access); Shek O (for beachside cafes); Trio Beach (for clean water); St. Stephen's Beach Stanley (for serenity); Clearwater Bay beaches in the New Territories (for facilities); Chung Hom Kok Beach (for a brilliant playground); Turtle Cove (for calm waters), and Big Wave Bay Beach (for surfing rollers).
7. The Peak Tram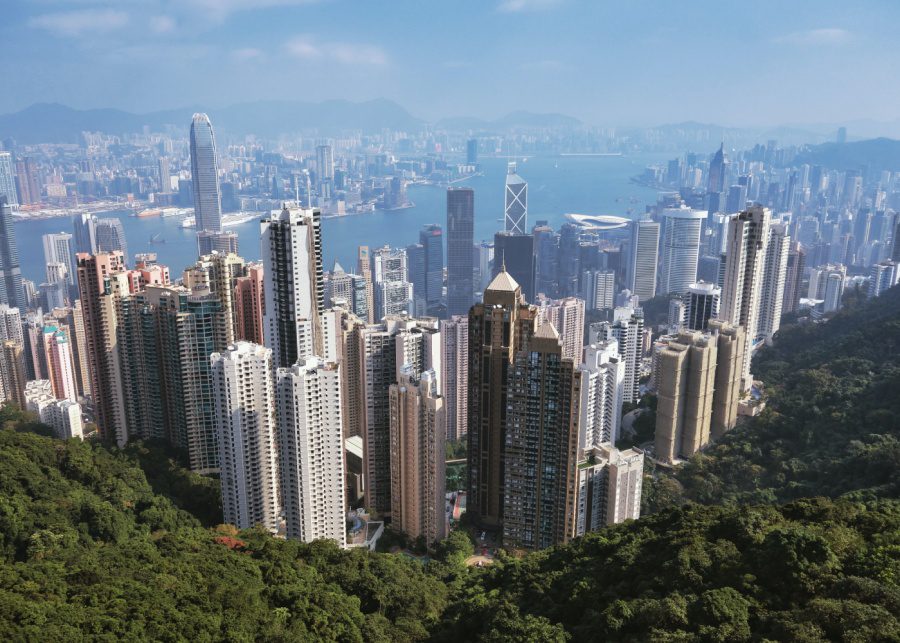 No visit to Hong Kong is complete without a jaunt on the vintage Peak Tram as it climbs near-vertical slopes to the Peak viewing platform. It travels up past the achingly hip mid-levels amidst green trees to reveal the stunning Hong Kong skyline. There are also plenty of small souvenirs for kids to take home. Stop in at the top at Madame Tussauds wax museum and strike a pose next to your fave celeb!
8. Hit the parks
Hong Kong has plenty of wide open spaces to take a breather from the bustling city and the shoebox Hong Kong hotel rooms. Two parks we tried, tested and approved are Hong Kong Park and Kowloon Park. Hong Kong Park is brilliant because it is pram-friendly; it features a six-level play space, greenhouse, and a ginormous (3000s square foot) caged bird aviary. Kids of all ages will happily wander through the park and bird enclosure for hours.
Hong Kong Park, 19 Cotton Tree Drive, Central, Hong Kong Island, p.+852 2521 5041
Kowloon Park has a total area of 13.3 hectares, perfect for those who like to roam! Our favourite part is the tranquil Chinese Garden, complete with immaculately manicured spaces, lotus pond, rock waterfall and resident turtles. And, if you're staying on Hong Kong Island, it will give you a chance to enjoy a ride on the old-school Star Ferry. If you have any local friends with contacts, see if you can score a ride on a traditional wooden junk with iconic red sails.
Kowloon Park, Tsim Sha Tsui, Kowloon, p.+852 2724 3344
Where to eat in Hong Kong with kids
When in Hong Kong, one must eat as the locals do. Streets are lined with traditional Chinese dim sum/yum cha joints. Pick one that's bursting at the seams and join the queue. It can be a bit of pot luck with Chinese-only menus, but ask for a picture menu, and if all else fails, pointing at fellow diner's choices should suffice. Kids love dumplings and rice, and it's a cheap way to fill hungry tummies. Also, don't miss the heart-warming hotpots!
1. The Verandah and Spices at Repulse Bay
Spices and The Verandah, both on the island's south side, overlook the famed Repulse Bay and allow kids to roam their garden. To enhance your outing, couple your dining experience with a double-decker bus ride out to Stanley Market.
The Verandah and Spices, 109 Repulse Bay Road, Repulse Bay, Hong Kong
2.  Cafe Med
Kids are sure to love this teddy bear-themed cafe in Hong Kong. Bonus that you can enjoy Western-style cuisine if you've got fussy eaters in your midst who are pining for pasta or burger and chips!
Cafe Med, No.38 Wang Chiu Road, Kowloon Bay Level 11, Enterprise Square Five, Megabox
3. Zuma
Craving Japanese cuisine? Head straight to Zuma, which offers one of the best family brunches in town. Kids will not be bored thanks to the restaurant's playroom as well as colouring books and pencils. Parents won't mind the free-flowing Perrier-Jouet champagne or delectable sashimi, either!
Zuma,15 Queen's Road, Central, Hong Kong,+852 3657 6388
4. Jello and Mellow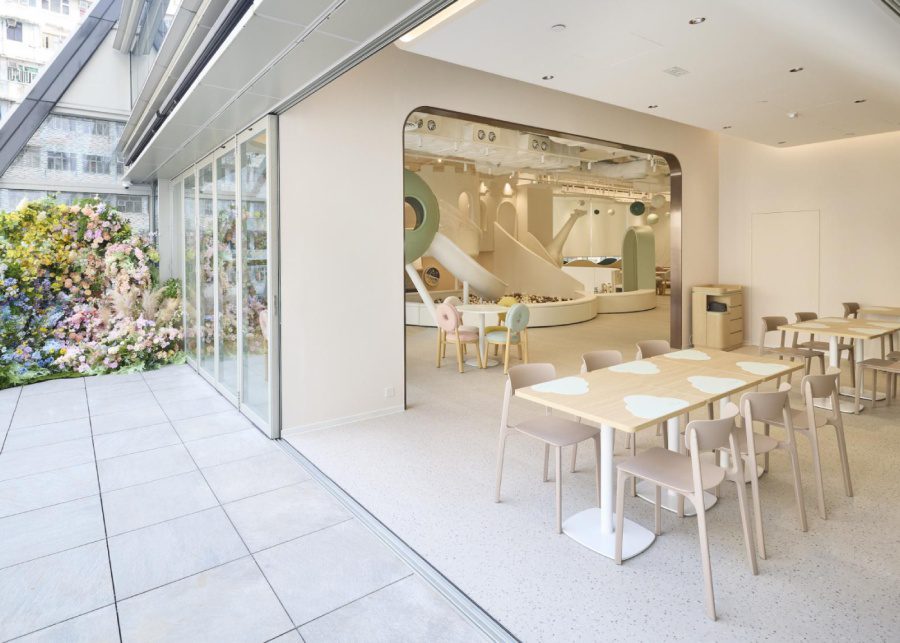 This indoor playroom come cafe is sure to be a hit with all the family, and we love the Nordic-inspired design and pastel shades going down inside. Book ahead to bag your slot before you travel!
Jello & Mellow, 9/F, 1001 King's Road, Quarry Bay
5. Dining out sans kids in Hong Kong
Book a babysitter and hit the town. Hong Kong is renowned for its vibrant nightlife, so it would be a shame to miss out on the action. We felt young and alive again, lining up outside the no-booking resto Chom Chom. Fresh, spicy, local Vietnamese food, beer and cocktails went down a treat. Post-dinner, take a HK red cab to Ping Pong Gintoneria, the self-proclaimed hip spot for stylish sipsmiths and cocktail casualistas alike. We like the industrial warehouse chic vibe and the provocative artwork adorning the concrete walls. Check out our sister site for more date-worthy restos and bars to hit up. Heading out in the day? Don't miss these popular high tea spots.
And there you have it – how to have a great stay in HK! Need the lowdown on where to stay, too? Check out this rundown of all the very best fam-friendly hotels for the perfect break with kids in Hong Kong. 
Lead image: Jacob Dyer via Unsplash